Acer's latest Windows 10 announcements are a new convertible and a 'portable' all-in-one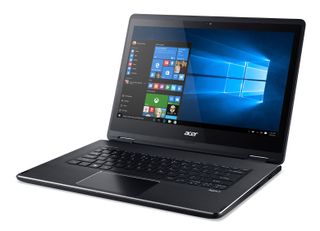 Out in Taipei this morning, Acer has announced its latest new products to join the ever growing Windows 10 ecosystem. One of them is this, the Aspire R 14, a new convertible that'll cost a reasonable $699 when it goes on sale sometime later this month.
The other is a new all-in-one PC that believe it or not features a built in battery.
Hardware wise, the Aspire R 14 is packing the latest 6th generation Skylake Intel Core i CPUs, 8GB of RAM, SSD storage and a form factor boasting 18mm of thickness and a 1.9kg weight. As the convertible nature implies the display is touch and besides using it like a regular notebook there are also the tent mode and the full on, fold it all the way around tablet mode making use of Continuum
Pricing outside the U.S. is set to be €799.
The Z3-700 all-in-one looks a lot more like a giant tablet with feet than many other products in this category and that's not a million miles from the truth. The built in battery means you can actually move this away from the desk and take it to other rooms in the house.
It's also a more budget conscious offering for someone looking for an all-in-one PC but without shelling out mega bucks to get one. It'll start at just €599 sometime later this year. It's 'portable' nature does mean you're trading off on the size a little, though. The display is 17.5-inches at 1080p with touch, and with the price point in mind inside it's using Intel Pentium or Celeron CPUs with options for 8GB of RAM, SSD or HDD storage and support for input by a dedicated stylus. And, along with the R14, it'll have support for Dolby Audio.
There's still details to fill in on both of these, but for now check out the full press release below.
Acer Showcases New Windows 10 Devices
New Portfolio will Help Empower People to Connect and Interact in Whole New Ways
TAIPEI, TAIWAN (October 12, 2015) Acer today announced two new Windows 10 devices, the Aspire R 14 convertible notebook, and the Aspire Z3-700 portable all-in-one PC. Joining Acer's extensive Windows 10 device portfolio, both of the new innovative Windows 10 devices will change how people interact and connect with what's important in their world.
"Acer has a heritage of delivering the best user experience through innovation in technology and design," said Jason Chen, Corporate President and CEO, Acer. "With Windows 10, we can now deliver a unique and consistent experience across our comprehensive product portfolio, be it notebooks, desktops, tablets or smartphones, and empower users to do great things with more personal and human technology."
"We worked closely with Acer to help ensure their devices would make the most of Windows 10," said Terry Myerson, Executive Vice President of the Windows and Devices Group, Microsoft. "With Cortana, the personal assistant that helps you get things done, Continuum, which enables Windows Phones to act like a PC when paired with a larger display, great gaming with Xbox, and our new browser Microsoft Edge, we are excited to welcome these Acer devices to the Windows 10 family."
Optimized for Windows 10
Acer today announced two new devices that bring Windows 10 to life, namely the Aspire R 14 (R5-431T/471T) convertible notebook, and the Aspire Z3-700 portable all-in-one PC. Both devices with dual-digital microphones feature Acer Purified.Voice with enhanced digital signal processing (DSP) that cancel background noise and improve speech accuracy, allowing people to have an optimized Cortana experience.
For a better Windows 10 audio and visual experience, the Aspire R 14 and Aspire Z3-700 feature Acer TrueHarmony Plus technology with Dolby® Audio™, providing powerful audio with immersive surround. Both devices also ship with Acer BluelightShield™, with four professionally tuned modes to choose from, which can effectively reduce eye strain by reducing blue light emission from the screen. In addition, Acer demonstrated the Liquid Jade Primo smartphone, since revealing it by showcasing Continuum on Windows 10 at IFA 2015. The 5.5-inch smartphone with Windows 10 mobile provides ultimate productivity for professionals through Continuum, allowing Windows 10 universal apps to provide a PC-like experience when the device is connected with a secondary display.
Ultimate Flexibility with the Aspire R 14
The Aspire R 14 has evolved with a new hairline-brush metallic finish, diamond-cut edge design, and a thinner 360-degree dual torque hinge for incredible flexibility between four usage modes. When paired with Continuum, this helps people switch easily between PC and tablet mode. People can maximize productivity with the most efficient method of keyboard input in classic Laptop mode, and switch to Display mode by hiding the keyboard at the back or laying 180 degrees flat, ideal for collaborating, sharing and entertainment. Converting to Tent mode gives users the option to use in a confined space, while a masterfully-crafted magnet design allows the device to be fully converted into Tablet mode – without any gaps whatsoever.
"The new lineup of Acer Aspire devices show the versatility of the latest Intel processors," said Kirk Skaugen, Senior Vice President and General Manager, Client Computing Group, Intel. "Leveraging the power of Intel technology, these new devices are thin, light, fast and perfectly suited for productivity and entertainment at home or on the go."
At only 18.5mm thin and weighing in at just 1.9kg, the Aspire R 14 incorporates 6th Gen Intel® Core™ processors, up to 8GB DDR3L system memory, and SSD storage for powerful performance both at home or on the go. For faster connection speeds, the new Aspire R 14 includes MU-MIMO wireless technology, allowing up to three times faster downloads compared to other 802.11ac products, especially in crowded networks.
An All-in-One Made to Move, the Aspire Z3-700
The new Aspire Z3-700 all-in-one PC features a built-in battery that will last for 5 hours, allowing consumers to perform desktop productivity or entertainment tasks anywhere around the house. The 17.3-inch Aspire Z3-700 has a chassis of just 15.6 mm slim and 2 kg light, while two kick stands allow it to stand or lay flat like a jumbo tablet.
Powered by Intel® Pentium® or Celeron® processors, up to 8GB of DDR3L system memory, and SSD or HDD storage options , the Aspire Z3-700 provides ample performance for infotainment tasks. It features a Full HD (1920 x 1080) 10-point capacitive multi-touch screen, which also supports input via a dedicated stylus for even more precise control.
Pricing and Availability
The Acer Aspire R 14 will be available in North America in late October with prices starting at US$699, in EMEA in late October with prices starting at €799.
The Acer Aspire Z3-700 will be available in EMEA by the end of the year with prices starting at €599.
Richard Devine is an Editor at Windows Central. A former Project Manager and long-term tech addict, he joined Mobile Nations in 2011 and has been found on Android Central and iMore as well as Windows Central. Currently you'll find him covering all manner of PC hardware and gaming, and you can follow him on Twitter and Instagram.
What is "EMEA"?
Is it Europe and Middle East?

Europe, Middle East & Africa.

Thanks for the reply buddy

I do. It's not that bad for budget conscious buyers. But I was rooting for a smartphone announcement from them.

Yeah, me too. That Jade Primo is a compelling alternative to the flagship lumias.

Check this. They did show the Liquid Jade Primo today. The sad news is it won't be out until next year. Maybe on Verizon? (that's a joke BTW ;))

Keep the news coming. Would love to see an affordable covetable/2in1 with decent enough specs.

Nothing comes close to surface book

True, but it would be nice to see a nice 2-in-1 in the affordable price range. You know, something the average person can afford.

ASUS T300 Chi is $600, Surface 3 starts at $500 and the Dell XPS 12 will start at $999. You also have the Acer Aspire Switch and the Toshiba Click for under $400.

So what's going on with the Jade Primo ?

Nothing right now that we know of. They showed it off again at the event but considering they told us 2016 at IFA anyway...

Ah ok I must of missed that guess I will be getting the Lumia 950 after all then.

Great just what the world needs, more cheap c*%p from Acer.

Don't know about you but I got a Acer Aspire model (the one with the touch controls on the left side) from the Vista days and it still runs pretty good. Must have been a really powerful device back in the day.

Nothing wrong with Acer I have had far more problems from apparently superior and more expensive branded products.

My aspire 5755G still kicking and running great

Just because you may have had a poor experience don't write the whole company off. For example Dell always gets a bad rep but my parents use their Dell desktop everyday and its just celebrated its 11th birthday!! still running XP but never had any hardware problems at all. Check out Apples support forums and you'll see more than a Million posts in the Hardware sections even though they are not cheap.

I wasn't writing them off, their gaming laptops and top end ultrabook are great machines. It's just at a time when other manufacturers are bringing out innovative new hybrid devices (finally the promise of Windows 8 arriving) Acer are still bringing out machines that look like they're from 2003. I know there's a market demand for such things at such prices, but towards the end of 2015 it'd be nice to see them making a bit more effort. But I guess even when your CEO says the company is for sale, but it's not even worth a dollar, what can you expect.

Awww, come on man. Cheap hardware is good for the ecosystem. (Writing this on an Acer Aspire E1 running windows 10)

Yeah I know it is, after all I said it's what the world needs.

So, how many Windows Central accounts do you have?

Two it seems! I think one's my old gmail and the other my outlook account. I must be signed in with one on my phone and the other on my computer. No wonder I couldn't use my main username, *I* had already taken it!!! Anyway, gotta love Windows Central, so can never have too many accounts, I can talk to myself when nobody else will.

Not sure if Daniel would like the idea of multiple accounts though.

But these cheap products are actually something most people can afford, unlike the high end pricey stuff. I guarantee these will sell in higher numbers than the surface book.

My wife's 4 year old Acer is still kicking just fine for what she uses it for. That damn laptop has been dropped so many times is not even funny anymore.

This is something I have been looking for. I mean the all in one with battery. But how do these processors compare with those in the Surface Book?

You're comparing a 17-inch all-in-one that costs about a grand less with a Surface Book?!

I am looking at the maxed out specs of course. Wouldn't there be a high end configuration or something?

Almost 2 kilograms for a laptop is a bit on a heavy side, made of lead or what?

Heavy plastic is heavy, I guess.

and lightweight plastic is... lightweight?

Acer is one of the worst partner/OEM to usher in the new era of Windows. Historically they churn out tons of devices that break down fast. Their only virtue is that their devices are usually at lower cost. Also, their keynote was atrocious without Microsoft being there.
Windows Hello broke down duing their demo and the guy got his login pin wrong on the first try? The audience and terry myerson was clearly not impressed.

This is why OEMs crap all over MS image and why they made Surface Book.

Atleast they got the stylus

Where are the darn affordable i3s, at least, from upper $300s to lower 400s? Man, we need AMD to throw in those Carrizo chips on laptops, pronto, or prices will continue being extremly high for Intel. Talking about Skylake before I get thrown links about older i3 models.

I know it's a budget device, but all I can think of when looking at that first picture, is "dat bezel!" I mean look at the space where the Acer logo is... Wow. The task bar is almost a 1/4 of the way up the screen lol

Ed, that bezel is meant for track and field athletic events. That is my best explanation for it.

U wonder why Ms have to do hardware these OEM keep produce uninspired pieces and expect to made money or blame MS .

We still call it Lync, not matter what the MS sales rep says.
Windows Central Newsletter
Thank you for signing up to Windows Central. You will receive a verification email shortly.
There was a problem. Please refresh the page and try again.