Achievement Art is a universal app for downloading beautiful gamer backgrounds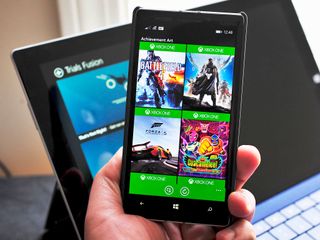 One of the neat features of the Xbox One is the ability to set your Achievement art as your background. Now, you can apply the same images to your Windows Phone or Surface using a new third-party app aptly named Achievement Art.
Developed by Matthew Chartier, Achievement Art is a free, universal app that lets you enter your Xbox Gamertag and pull up your unlocked achievements. Once you do so, you can download the 1920x1080 images to your computer or phone to use as you wish.
Achievement Art is simple enough to use, and the browsing is quite intuitive. Once your Gamertag is entered, the app downloads all your games in which you have Achievements. You can then tap the game image to load up each achievement, including its corresponding image. Sorting is possible by name or date the achievement was acquired.
There is a 99 cent premium purchase to unlock "additional features", although we do not see those just yet.
Since the app is universal, once you enter in your Gamertag, the corresponding app on your phone (or PC) syncs that info across them. Likewise for the 99 cent premium purchase, which carries across platforms should you choose the option. There are no ads, and Achievement Art is fully functional.
Scrolling performance on our Lumia Icon is a bit rough, but since you will not spend much time in the app it is hardly a deal killer. We had no issues running it on our Surface Pro 3, where the artwork really popped out. Our Peggle 2 artwork, for some reason, failed to render correctly. Downloading the artwork is straight forward and in Windows 8.1, you can set the image directly on your lock screen.
Overall, Achievement Art is a clever, well-done app that should make achievement hunters happy, making it easy to recommend!
Via: Reddit
Windows Central Newsletter
Get the best of Windows Central in in your inbox, every day!
Daniel Rubino is the Editor-in-chief of Windows Central, head reviewer, podcast co-host, and analyst. He has been covering Microsoft since 2007 when this site was called WMExperts (and later Windows Phone Central). His interests include Windows, laptops, next-gen computing, and for some reason, watches. Before all this tech stuff, he worked on a Ph.D. in linguistics, watched people sleep (for medical purposes!), and ran the projectors at movie theaters because it was fun.
I have the ryse background on my Xbox one it'll look beautiful on my 1520.. Posted via the Nexus 1520!

Thought of an app like this last week....glad now.

For Xbox one only, no thank you, other wise, creative!!

If it were Playstation it'd be called Trophy Art

I've Xbox 360 :P, I hate PS

Can you guys share some with us here, COD11 please!!

This is cool. I'll download it and play around with my achievement pics.

Looks like unfortunately the app isn't finding my gamer tag. I don't know maybe its because my tag is fourteen characters long.

There was a problem as the result of the initial traffic hit. We should be able to handle the load now. Please do try again!

Only for Xbox one games... No mobile games?

I love Xbox-enabled games on Windows and Windows Phone, but unfortunately their achievements aren't associated with any of the high-res art which is the focus of this app. If that changes in the future, I'll be very happy to feature games and achievements from those other platforms.

Thank you for replying Matthew. The app is working correctly now.

You're very welcome. Hope you enjoy it!

I tried my gamer tag and says there is a problem. Not good for 1st try.

Sorry for the bad first impression. Couldn't handle the initial traffic hit, but I made a change on my end enabling us to support the heavier load. Should work now!

Thank you for not requiring access to every feature of my phone for this to work.

You're quite welcome. I hate that, too!

tried on 2 gamertags mine and other halfs and neither work.

Should work now! Had to make an upgrade on our end to handle all of the additional load. Wasn't expecting this much visibility!

Not working for me. I don't have an Xbox One or 360, but I thought it'd work for Xbox Live enabled games on phones.

Unfortunately right now only Xbox One achievements have high-resolution achievement art associated with them. If this changes in the future, I'd certainly support viewing and downloading achievement art for Xbox-enabled games on Windows platforms!

Worked fine for me on first try, not sure what the issue is

Should work now. The initial traffic killed the service but I made a change on my end so that I can handle the load.

Not working for me either, guess you need an active xbl sub? Edit: put this down as odd, after I connected smartglass to my x1. I got another error messaging indicating the the app & game history must be set to everybody for the app to work. Changed it from Friends to Everybody and now it works. Edit 2: Download all is a "premium" function therefore needs the one-time inapp purchase. Which is fair, however my only gripe is that once you download a single item no dialog is displayed indicated it has been downloaded / saved in your photo hub. Feedback provided in the store + rated.

Good feedback. Thanks for leaving a rating and review in the Store as well! I'll consider improving that part of the user experience in future updates.

Sounds like a great app. Just a shame there's nothing similar for Playstation or Steam.

I'm in the not working category, I tired my GT and my wife's GT both say it can't find the tag. Shame though, looks like a cool app. /edit it's randomly just started working. Try it again people!

Glad you tried it again and it worked! It wasn't actually a random failure, just got slammed by the increased traffic and had to quickly make an upgrade on this side to handle the load. Should be good now.

Dev here! Sorry if this wasn't working for some of you when you initially tried it out. Hadn't expected this much visibility. Made a change on my end which will allow the app to handle all this new traffic. Give it another shot if it didn't work for you before! It's working fine on my devices now.

A 360 version would have more flavors than Sonics drink combinations...

No Xbox enabled phone games. So sad! :(

Unfortunately only Xbox One achievements come with HD achievement art. If at some point in the future Xbox-enabled Windows or Windows Phone games support this kind of achievement art, I'd be happy to include them.

If it doesn't come with achievements i don't want... (Heavy sarcasm)

Achievement Unlocked - Downloaded this achievement's achievement art.

Seeing a huge increase in traffic today which caused some failures for a bit after this article went live. If you try again now it should work!

This plus tileart could make for (some) amazing results.

Lol. WordFlow strikes again.

Very cool idea. Downloading and sharing.

I don't hav xbox one sorry Mathew...

Xbox 360 user. Gamertag not found. :(

Unfortunately the app won't find any games or achievements for Xbox 360. Only Xbox One achievements have associated high-resolution achievement art, so there's nothing to display for Xbox 360, Windows, or Windows Phone achievements.
Windows Central Newsletter
Thank you for signing up to Windows Central. You will receive a verification email shortly.
There was a problem. Please refresh the page and try again.