Alcatel seems to confirm plans to bring Idol 4s with Windows 10 to more markets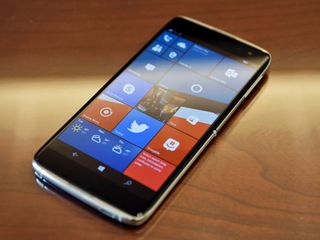 Alcatel France has today confirmed that it's planning to bring it's highly requested Idol 4s with Windows 10 to more markets. As of right now, the Idol 4s with Windows 10 is available only in the United States, and is currently a carrier-exclusive phone for T-Mobile.
The Idol 4s with Windows 10 is one of the most most powerful Windows 10 Mobile handsets on the market right now, trailing behind the HP Elite x3. Alcatel have build an excellent device with the Idol 4s, bringing a premium design to Windows 10 Mobile along with VR support and more.
First spotted by WindowsBlogItalia (via Neowin), Alcatel France posted the following tweet confirming its plans to bring the Idol 4s to more markets, listing France as one of those markets.
Vous avez été nombreux à nous interroger sur l'IDOL 4S Windows 10. Good news : quelques pays en Europe (France 😀) vont l'avoir ! #staytunedVous avez été nombreux à nous interroger sur l'IDOL 4S Windows 10. Good news : quelques pays en Europe (France 😀) vont l'avoir ! #staytuned— alcatel mobile FR (@alcatelmobileFR) 13 December 201613 December 2016
It's also worth noting that Microsoft recently updated the Windows Device Recovery Tool with support for an Alcatel Idol 4s with Windows 10 for open-markets, furthing confirming plans to bring this device to more markets. This is great news for Windows phone fans across the globe who are still waiting for a good, consumer-friendly replacement to the Lumia 950.
Windows Central Newsletter
Get the best of Windows Central in in your inbox, every day!
Zac Bowden is a Senior Editor at Windows Central. Bringing you exclusive coverage into the world of Windows on PCs, tablets, phones, and more. Also an avid collector of rare Microsoft prototype devices! Keep in touch on Twitter: @zacbowden.
I'm so mad that all the VR apps can't be removed.

Jeez, some people.....just be glad that we have another phone in the depleted range!

Bloatware was an android issue. It's a huge turn off with this device, it's not just a couple apps. There's 10 or so apps that can't be removed. No business will use this now. Ours was about to buy 25.

The VR Apps take up 7.3MB. Out of 64GB. That is a deal breaker.

They take up a lot of space on the app list. I shouldn't have to see them and scroll through them. They'll also use data every time they update and who knows what kind of permissions these apps have. When using this device in a business, it looks like a joke with all these vr apps and games.

you can just set up start screen and use apps you want only... I don´t scroll through app list often. Its like once in a month... I do understand that it is weird not to be able to remove those apps, but I really don´t see it as a big problem or deal breaker even... Besides in coming years it will appear weird if the phone won´t have VR stuff no matter if it´s consumer or business class imho.

if you dont want the apps running in the background or updating then just disallow them in the settings. All apps will only update over wifi so there isnt an issue there either! I agree in an ideal world they would be removable but its not the end of the world!

No idea anyone would replace a 950 with this. Camera is not even in the same ballpark and nothing else other than looks gives it an edge.

Snapdragon 820 gives it a performance edge. Battery life is majorly better. It looks nice. You shouldn't complain about there actually being new Windows 10 phones. The phone doesn't begin and end at the camera for everyone.

Nice one matey! For some, NOT ALL, camera etc isn't the be all and end all. Batt life and general operation count. If people want an all singing all dancing camera get a bloody camera. Ive got a 950xl, and the only use the camera gets is snaps with the family etc. As you say any device at all should be welcomed, but alas, there are those who have to have big numbers and specs just to play top trumps with.

Looks better, more ram, more device storage, better processor, 8mp front camera with a flash and the lumias are not being made anymore.... There's plenty of reasons pick one

Well we've got ours. Finally

I don't find it looking better;). The same time, lumias with mozo covers look great, especially the woody ones;)

i could care less about the camera. The 950 has awful battery life, poor performance and it gets boiling hot with the snapdragon 810. If i could trade my 950 xl for this phone i would. But no companies offer any trade in value for windows phones.

i could care less about the camera. The 950 has awful battery life, poor performance and it gets boiling hot with the snapdragon 810.

I haven't really had an issue with battery life compared to the other Lumia phones I've used. In my experience, the performance lag really becomes noticeable after about 5-10 minutes of use when the phone becomes "boiling hot."

Compared to the Idol 4S the battery life on most recent Lumia phones is an 'issue.' It's that good.

I had the 950, and I agree with comments about it. That darn phone got hot. I hated the battery life, but long story short. Some one wanted to trade for it. So now I'm rocking a 1520 again and I have the 650 as back up.

I could care less about the camera, meaning that I actually do care somewhat about the camera. I'd also like to see the screen res upgraded to 1440p and NFC included. The feature set on Lumina's has left us with expectations that are pretty hard to reach for a given budget.

No need for higher screen res on this phone. The screen is fantastic.

Also fingerprint reader works much better than iris scanner

It has better sound, nice speakers. Some people like stuff like that. Plus it looks nice!

How is it less powerful than the elite x3 if they have the same ram and processor?

It's about the add-ons like NFC, Pogo Pins, battery etc..

None of that makes it more powerful tho

What do you mean by powerful in your terms? For example, HP Elite X3 screen resolution is higher than Idol 4S. It's all depends on what do you take.. May be author has his own terms what powerful means..

Does the term 'more powerful' actually mean anything? Do specs actually mean anything in the real world? Unless you are a 'bragger' or suffer insecurity in your self esteem, what does it actually mean? I tried the x3. Then bought another 950xl at a third of the price! When calling, texting, surfing etc, the odds of using 8 cores is miniscule. If apple have got along with their dual core chips for so long, they obviously didn't need anymore, in part because of the OS. Android is still such a car crash, that even an S7 still has issues, and that is supposedly 'powerful'. I think the alcatels specs are more that adequate, and if you want to take proper pictures, because apparently, the camera is poor, then a proper camera is required. It's ok saying its 'powerful or not' but at the end of the day, your biggest spec is the OS. Thankfully W10M, is quite good at resource management, as is iOS. You need to worry about specs when you go android because it still suffers memory bleed, it is in no way optimised, and basically is trying to be all things to all men, and we know that is a near impossibility

My thoughts exactly. If they have the same RAM and processor, but the Idol 4S is running at a lower screen resolution, I would imagine the Idol 4S should get better performance overall.

I just don't like seeing people downplaying the Idol 4s it has less problems than the elite x3. It just doesn't have as many features in comparison to the elite x3.

I understand that fully. I own one and I absolutely love it. Does everything I need it to do with no real hiccups or anything. No lag, no waiting on apps to load and no random app crashes.

I think everyone here is miss reading what the author meant. Not powerful in the sense or raw processing power, but the power to do more, like wireless charging, nfc, the hp suite out apps, etc.

It could be because the 4S has a FHD (1080p) screen, while the x3 has a QHD (1440p) screen.

Simply putted: HP Elite X3 is the phone to beat atm :) And I don't know why everyone complains about the performance of L950? My current phone is L950, no boiling hot, no glitches, no performance issues whatsoever. Battery life is great on my L950. The phone works like a charm.

I have 950XL. It does get hot like really hot even if you just browse web for longer period of time.... It has poor performance in games (could be bad optimization of the game) Battery life is crap compared to android phones. - let me specify... I had Xperia Z1 previsouly and that phone lost 0-1 % of battery in 24h if the phone was in "sleep" - locked and screen off. Now my 950XL loses around 10% in the same state during night. Yes it has glance screen on, but it was advertised that glance screen has ZERO battery consumption which turns out not to be true. Don´t get me wrong. It is a great phone and I love it, but it is not perfect and it has its list of issues (like every single phone)

Any idea if this will ever work on Verizon? Rocking the Lumia Icon since my 928 was not supported for Windows 10 . My Icon had major issues on the Insider Builds. Just used the Recovery Tool to reset the phone over the weekend, which brought it back to WP 8.1. I upgraded back to Windows 10 and it is now working great again in the production build. Staying on the production build until we get closer to the next major production release.

You need to let it go. Verizon is unlikely to ever have Windows phones again.

Unless by some miracle Windows 10 mobile becomes popular in which case Verizon will cave in.

Take a look at the cerulean mobile forum. Sound like they are testing CDMA bands for their potential phone.

Good. Sell it in the markets where you can actually shift some units and make a difference.

What about glance? Does this phone support it?

No it does not. Glance is a lumia only feature.

I wish Verizon would have Windows 10 phone with continumm it would be awesome

I was surprised but I don't miss Glance at all. I don't understand why it's not being made available to OEM's, but perhaps there are licensing issues. It certainly was not a feature to keep me from having a high quality Windows phone.

I like Glance but with double tap to wake, I don't miss it. Just double tap to see all your status updates from the lock screen.

Let's see how they'll price it in the UK. Wife is still rocking a 1020, but is looking for an upgrade next year 😁

As in processing and computing power. All those others are extra features of the phone. They could've said less features as the x3 but as far as computing power they ate the same

Really? I am curious what is the AnTuTu for this compared to the Elite X3?

Very nice :). Hopefully this will hit the streets here in germany soon :).

I have had mine for two weeks and besides the problem with the fast build, it is the best phone I've had. Lumia users will be driven nuts by the button placement as I have been but I'll get used to it. VR is not really what this phone is about. Sleek, cool & W10M is what you'll get!

Don't run Fast or Slow ring on your daily driver.

Probably not the smart choice but I've been doing it since early 2015.

I was surprised that it only took me a couple of days to get used to the power button being on the left side. I've decided I like it and it actually makes mores sense to me than the Lumia placement. I also use more DTTW and DTTS than I ever have before. I love this phone in spite of the camera being average.

Great looking phone! I hope it will come to Croatia, but I doubt it.

Hope this comes to the uk.

I find the camera superior to the 950. Its quicker and I really believe it takes better pictures for my liking. I'm no camera expert though.

I wouldn't go that far, but most of the time it takes good pics. I personally believe that MS and Alcatel could make this camera better with software/ firmware updates. There's nothing wrong with the camera itself.

@editguy; I quite agree. If Microsoft is not going to build phones or even if they do and if it's in their power they should allow Acatel and others to license their camera tech because it make's no since to just sit on it. And my thoughts further is HTC and Microsoft could partner and make wp some of the best camera phones to enter the market.

It would be nice if they released an unlocked version in the U.S. Not sure if I would buy it, but if the price was nice, it could be tempting. I just wish it had a QHD display (instead of FHD) and supported tap-to-pay!

The display is gorgeous. I'm glad it doesn't have QHD because of battery life. I don't know why they didn't include NFC, but that wasn't an issue for me because I don't care about tap-to-pay and would never use it. I've never used NFC on any of my phones. But I understand it's an issue for some. Maybe in the updated model in the future.

I would kill (not literally) for a Windows Phone that has the performance of a X3 or Alc 4s but with the camera of a 950xl

I have had the phone for over a month and it is a beauty. It feels good in the hand. It is a solid phone, not too heavy but not too light either. I think the camera hardware is fine, but I think the software side of it can improve for sure. I was waiting on WDRT to support this phone and I have jumped into the fast ring with it and at least for me, it is smooth with no major show stoppers. What I miss from my 640 is the living images and dynamic HDR. I am glad that they will be releasing it to other markets. It is a great phone.

I have yet to see this phone in a store. I visited three T-mobiles and the Microsoft Store in the Mall of America and none of them have had it on display or even in the back.

tmobile at Eden Prairie Center has it on display mixed in with the androids

That's great news. I contacted Alcatel and Acer about their respective phones and Acer replied saying they aren't bringing their phone to Aus. Sad but not the end of the world. Alcatel didn't get back to me, but after reading this I have confidence they will. As far as the HP goes, I checked it out at the Sydney store and it's f***ing awesome but $1099 is too much for me. However, in saying that, Microsoft website has been doing funny things the last two nights at about 8.30pm. It drops the prices of phones (Aus. Not sure about elsewhere). HP both times went from $1099 to $989. Bundle went from $1199 to $1079. 950XL dropped from $499 to $449. So, I took the plunge and upgraded from my awesome 640XL to the 950 XL! Woohoo! I also have a bid on the HP on ebay for $700 (with dock) but with 2 days to go and 7 bidders I feel little hope, and that's why I am telling everyone. I wasn't 100% on the HP until I picked it up. It IS an AWESOME KICKASS phone. Camera was better than I thought. Sleekness and quality are superb, AND only very slightly bigger than my 640XL. Can't wait to get my 950XL 😀

I have this and the elite x3. I like both, but my only true gripe with the device is the small fingerprint sensor and how perfectly you must place your finger to get an accurate read.

I held this in the store at the t-mobile near me. That is the first thing I noticed too.

That's good. They must be gaining interest for the phone.

I would consider this phone as an upgrade to my 950xl if it comes to the uk. Despite its flaws, I still love my 950 tho. I am still hoping there will be a surface phone at some point in the future but it could be a long wait! 😒

I was thinking about replacing my 640 XL for a 950 XL I don't think this would replace 950 it's a beast man, but it might, personally looking for a one up from 950xl since it's really old now and apple fan boys use it as a comparison for 7s and android fans compare it to s6 edge and pixel, the 950 still has better specs against new phones, I mean Hexacore and 551 ppi, 20mp vs 12, 3 led flash dual sim, 4 mics and 4k HDR video come no brainer but this phone's a beast also so all I know is my next phone gonna be boss son! Ok guys see ya and hey much love to my British citizens and soldier as an ally you guys kick ass in war wouldn't have no other country watching my back, spot on as you say, seemed like all commentary was from UK could be wrong but you guys are hands down some d
Funny ass people I sit and watch you guys playing sniper n **** bout ******* myself, not at you for sure just hilarious ass shenanigans get going on weather driving a bus simulator or popping"bullocks" lmfao in sniper 3, go look up eurogamer and ukgamer and you'll see, oh better yet just hit YouTube and search for popping bullocks dude goes "ob **** I was robbed of 3 kill cam Bullock pops, and runs out of ammo says "I'm going loud, gotta go loud not a us phrase just sounds hilarious I would say **** covers blown going full goin in hard no backup just ne and the jerries'! Omg I'm gonna watch him now god bless him he plays bus simulator and breaks the game has 15 attached to the bus door and he is apologizing "look I'm sorry guys but I tried to give him a ticket and the little boy wouldn't move!" This at every stop, see the kid bugged game blocking entrance to his British double decker which he said was weird driving cause he was used to playing US bus simulators lol and lives in London for shot sakes, driving on left everyday but that's what makes him funny, picture carl Pilkington oh god I'm sorry eurogamer don't kill me but kinda reminds me of him a little oh well peace and GOD bless and haha GOD save the Queen!..

From what I can tell with the ARM announcement and the 835 chip coming out, it will be late 2017, early 2018 that MS brings out the Surface Wallet! I think the Pro line will be bringing back cellular like the Pro 3, but thjs time it will be to smooth the way to bringing mobile/laptop/tablet things together. Then, after they iron out bugs and get over obstacles, AND educate the general uneducated public (yes, talking about you iOS and Snoredroid fans), they'll then release the Wallet or whatever they call it. Mainly, we're going toward proper pocket pcs because who the f*** makes a call any more?! Data is king. Taking a call is convenience and secondary. Why isn't everyone walking around with the 10" Surface Pro 3 cellular? Because it's not practical, NOT because it's all we need. Reverse that with an awesone small device, that can do exactly what any Surface can do, and can be projected to a bigger screen. Bonus, would be the fold up thingy on West World! As far as I can see, all three OS' are on the track, but who'll make it there first?! MS, hopefully!

<p>My *****, MY *****, tell em bro aint nobody gonna **** with a lame ass tablet or phone in a couple year Hans free bro, lights out, shut I will be wireless wit AR hands free got no time for talking on phone voice text. All yall;Windows haters time to pay the piper daddy Microsoft has something up their sleeves, if you dont know by now might as well kick your own ass I cant help ya.. Btw you took words out my mouth a good job Aden your my daily hero take care the business bro...

I hope this phone comes to mexico very soon... We dont have any Windows Phone right now...

Hope they sell well and help increase w10m market share.

I don't know what business you're in. You obviously have standards. I can understand your concerns. Personally I'd reach out to Alcatel with your concern. This really is a great Windows Phone. And I can see the potential of VR in a professional environment.

When this mobile arrives India??????

Great news but if only it was a tad smaller (5", yes I'm one of the few who prefer a smaller phone) and had wireless charging i would pick one up in an instant

I have small hands and it fits very well in my hand.

Yeah if it was smaller, I would like to take a chance on it too!

It would be good to see this device arrive in India with x86 emulation support...

I've lumia 950 should I switch to this

I wouldn't bother personally....do you really NEED a new phone?

Great its time to replace my lumia 735

Absolutely briliant phones those Lumia 735! I replaced it a few months back with Lumia 950
I want to buy the Alcatel for my wife, but I don't know when it will come to Austria

https://www.windowscentral.com/e?link=https2F%2Fclick.linksynergy.co...

Link is for aussies who want the HP at $989.00

Add NFC and I'll buy this in a heart beat

I hope its coming to Canada, we don't have any windows phone from any carrier here anymore since a while... Microsoft are really bad to push their phone !!

I hope it becomes available in the USA without the VR for about $369

There's nothing about the VR that would add $100 to this phone. The VR is basically a freebie. The phone is easily worth the asking price.

If I was looking for a phone right now and this was out in the UK I'd probably get it. If we ever actually get NFC payments in the UK it would put me off this handset but right now and for the foreseeable future that won't be an issue. Sadly MS won't seem to confirm or deny whether they are actively working to sort it out here (Every other company has managed it some time ago so this is one time I can't really stick up for them). If they need to work with specific banks they should look to Natwest who are the biggest supporters of WP and W10M since WP8 when it comes to banks

The Mrs wants to dump her s6 after playing with my windows on my new 950 but alas there ain't any stock remaining in Oz? Fingers crossed I'll get my hands on one of these and who knows, a swap may be on.. She has seen the light!!!!! Long live Windows Mobile...

How easy is it to switch this device from one network to another? I've done it to other phones but the updates were difficult. I'm not presently on T-Mobile but would consider getting this device.
Windows Central Newsletter
Thank you for signing up to Windows Central. You will receive a verification email shortly.
There was a problem. Please refresh the page and try again.