Creators Update installed on just over 35 percent of Windows 10 PCs, AdDuplex says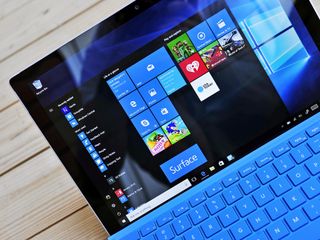 AdDuplex has pushed out its latest monthly report, giving us a snapshot of certain aspects the Windows ecosystem for the month of June. With this month's report comes news that the Windows 10 Creators Update is now installed on 35.7 percent of all Windows 10 PCs. That's up from an even 18 percent coverage as of AdDuplex's last report in May.
The surge in Creators Update coverage has taken a chunk out of the Anniversary Update's install base, but the latter still dominates for now with a 58.3 percent share of all Windows 10 PCs. That is down from the Anniversary Update's 75 percent coverage in May, however.
On the Mobile side of things, the Creators Update takes the top spot, sporting an install base of 58.9 percent of Windows 10 Mobile devices. The Anniversary Update comes in at a 31.9 percent share, while Windows 10 Mobile version 1511 is installed on 4.6 percent of devices. AdDuplex also pegs Windows 10 Mobile devices running Insider builds at 4.6 percent.
Also included as part of the report is a very early look at how the Surface Pro and Surface Laptop are faring. So far, according to AdDuplex's numbers, the Surface Laptop makes up a 0.4 percent share of Surface Devices, while the new Surface Pro comes in at a slightly larger 2.2 percent share. Keep in mind that we're only 2 weeks out from the launch of both devices, so it's way too early to come to any conclusions from the data.
Again, the numbers are interesting to look at, but there's nothing too surprising about the pace of the Creators Update's spread yet. So far, as AdDuplex notes, the Creators Update is tracking at around the same pace as the Anniversary Update before it.
As always, it's worth noting that AdDuplex's numbers are based on data collected from a sample of 5,000 Windows Store apps that use the AdDuplex SDK. Actual figures likely differ, but AdDuplex's reports can be useful for tracking general trends from month to month. This month's number were collected throughout the day on June 26.
Get the Windows Central Newsletter
All the latest news, reviews, and guides for Windows and Xbox diehards.
Dan Thorp-Lancaster is the former Editor-in-Chief of Windows Central. He began working with Windows Central, Android Central, and iMore as a news writer in 2014 and is obsessed with tech of all sorts. You can follow Dan on Twitter @DthorpL and Instagram @heyitsdtl.
Isn't MS still rolling out the creators update? Not all of the computers I manage are getting the update. I've been setting up new workstations and it appears that the longer a workstation has been in operation the sooner it gets the creators update regardless of how I update it. I can't. Use the Windows Updater because these WS are on Win10 Enterprise.

They found a horrible bug, so they halted the roll out.

I haven't received it on any of my 8 computers, yet.

Yes this is the problem! Even general users with Surface 4 dont know the update exists and they have yet to receive the update unless informed about it, so they can do a force update. After patiently waiting for it, I eventually resorted to doing a forced update.

My pc runs fine on CU but my L950 has a lot of bugs now.

I constantly have an issue with photos when i turn my phone and the image is displayed outside the screen ....

My 950xl has more problems on CU too. Mine seem mostly around audio apps

I got update on some of my personal PCs, and for the rest I used the Upgrade Assistant to install the update. However my work computer is still way behind. IT at work is lazy and any new version of windows takes at least a year to roll out. They just rolled out some update to Windows 10 in Feb so creators update is not going to be there at my workplace at least till Feb 2018... I just hate that, it's so painfully annoying.

I think my desktop and Surface have this, I don't pay much attention to updates, last one I noticed much change was when we got Windows ink.

My surface pro 3 is not getting it yet...

I got it on my Surface Pro 4, had to manually install it on my homebuilt PC, and haven't gotten it on any of the four Dell computers at work. All the Dells are 2012 vintage that originally came with Windows 8 so there may be some wait for verification of driver functionality.

Well, now that song is in my head...

One of the older Dells in the house just got it this week. Most have been forced so can't tell if they would have on their own.

Still haven't got the update on my Dell laptop!

It appears to be the slowest release yet from Microsoft.

Also, if you have a 32GB Tablet there's a large chance you will never receive it. I never get these Windows 10 updates on my 8" ASUS tablet (Signature Edition from Microsoft Store). The only way to update it, is to manually do it, which deletes all the device drivers and forces me to reinstall them all manually (and finding them was quite a task, to be frank). As a result, I just stopped updating it and bought an 8" Kindle Fire instead. That receives updates ;-) The Windows Tablet is retired, now. I wouldn't be surprised if a lot of those Windows devices never receive the Creator's update, for that very reason. The way Microsoft rolls out updates is a problem (it's very "Android"), and the fact that many devices are simply being dropped (they will never receive it through Windows Update) is also a big problem. Not only from a "Windows propagation," perspective, but also from the perspective that these people are going to be left behind on version of Windows 10 which may have residual security holes that have not been found or patched by Microsoft. I'll never buy a Surface or any other Tablet-type Windows device. I don't trust the platform for support anymore. They feel like Android OEM devices. They may get an update, or they may just be dropped altogether.

I think there is a way of updating using a USB stick to get around this problem - I have never done it myself but seem to remember reading several times people have updated this way.

That's what I did for my 8" tablet. None of our devices were getting the CU at all. I still have to make a trip out of town next month to update my father-in-law's PC if it hasn't updated by then. Updated my wife's laptop last night. Updated my tablet and laptop the day after it came out using a USB stick.

If you have had an Android device, you would know this is very different. I have to wait and hope for a blessed version of Android on my phone to arrive. In contrast, I put Win10 CU on a USB stick and updated all of my Surface devices on Monday evening. Big difference. Your biggest problem was probably getting a 32GB Windows Tablet. Those things just don't have much drive space. Surface devices have a minimum of 128GB and have a USB port for things like this.

It's a shame really.. Bought myself a cheap Acer aspire one with 32gb of storage last christmas. Almost didn't work at all out of the box, version 1507 paired with a lot of bloat.. So I have manually clean installed both AU and CU on it. Installed drivers from Acer:s website manually to. There was an OEM update assistant to download but that didn't do much. Runs buttersmooth now actually. Problem is, nine out of ten people don't have the time/knowledge to do this and therefore get a ****** Windows 10 experience :(

Exactly. You have to root and install custom roms on android, you just need to tell microsoft to install on a windows 10 computer. I was updating my parents computers, and creators was available but would not install right away! I will get them back next week and get them updated.

.. Because i can not update my ZBox IQ90 and Intel Stick. IT DOES NOT WORK NOR INSTALL!!!!!! Even clean install!!!

Manually updated my Surface Pro 2 to the CU, working great, Edge has been fully reliable to be my only browser, but File Explorer libraries is still broken.

What else do you expect if most existing windows phones are not supported by the creators update. Staying with the L520/521 all were promised they would be win10 ready. Then ms failed to deliver. Later it was announced that the list of devices that could get creators update was reduced even if ask other devices like the L735, L830, L1520, and L930 were capable of running it even better than the L950/xl. It is a much higher than expected number if you take into account also that one has to run the update advisor and it won't offer you to update from 8.1 cyan unless all that is done. I have bumped into lots of windows Phone users and they don't even know they have to do all that update.

Terrible experience with CU on my end, a number of our SP4's have been having excessive fan noise and over heating issues. While on the dock the battery shows plugged in and not charging causing performance problems when it gets to low percentage. Everything was stable on AU so a big step back.