Affinity Photo officially launches on Windows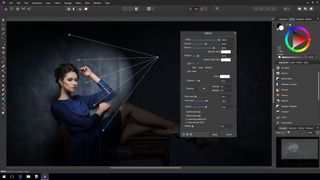 After just a month of beta testing, Affinity Photo for Windows has officially launched (opens in new tab). The solid photoshop alternative, which has already enjoyed quite a bit of success on Mac, is now feature-complete and has even added the ability to edit 360-degree photos with its latest update.
With the full release, Affinity Photo is ticking up to version 1.5, which, in addition to 360-degree photo editing, includes some other notable features. Here's a look:
Macros to record and replay a set of commands
Advanced HDR merge producing deep unbounded 32-bit images
A full tone mapping workspace for both HDR and LDR images
Focus stacking to achieve large depth of field from multiple images
Full batch processing to process large folders of images in one go
An all-new way to edit 360 degree images
Direct PSD write-back
32-bit editing including OpenEXR import & export
Automatic lens corrections based on profiles of thousands of lens & body combinations
To celebrate the launch, Affinity Photo for Windows is available on sale for $40 through December 22. Following the sale period, the app will move up to its normal price tag of $50. If you're interested in giving it a shot, you can grab Affinity Photo at the official website now.
See at Affinity (opens in new tab)
Windows Central Newsletter
Get the best of Windows Central in your inbox, every day!
Dan Thorp-Lancaster is the former Editor-in-Chief of Windows Central. He began working with Windows Central, Android Central, and iMore as a news writer in 2014 and is obsessed with tech of all sorts. You can follow Dan on Twitter @DthorpL and Instagram @heyitsdtl.
The software looks freaking great. Shame I don't have the skill necessary to take advantage of it.

Same here. Installed the public beta but haven't used it more than a few times.

If you are tired of menu diving, look into ON1 Photo. It's comparable in price to Affinity. I just upgraded to ON1 Photo Raw and no complaints thus far. Tons of presets to look at and real time preview of all of them to get you ideas. It works as a standalone or an Aperture/Lightroom plugin. Does layers and color channels. Affinity is great, don't get me wrong, but if you don't need all the horsepower of PS and hate all the menu diving. there are better options for Win users. What won me over with ON1, besides the quality of their effects was:It works natively with OneDrive! There is literally zero import. You link it to OneDrive and it works with photos directly in OneDrive and saves them back onto OneDrive. No more hassle with cloud vs local library. I run it on my Mac as well. You get a full featured download for 30 days, then you buy. Good thing is, if you let the demo expire, they will start sending you promotional offers with deep discounts. I got mine for the same price Affinity costs.

Or buy PaintShop Pro at a deep Discount on Amazon, like I did. Corel also gave away AfterShot 3 Standard Edition over the Black Friday holidays, but you had to visit their website to find out about it. AfterShot + PaintShop Pro + VideoStudio Pro + Nik Collection + ON1 Photo Effects = I'm set. I do have Affinity on Mac, because it was quite cheap (on sale, so I got Photo and Designer) and integrates well with Apple Photos. There are already superior products on Windows. Even $40 is a lot to ask for given how stiff the competition is. That's kind of sad for start-ups and companies who want to break into the market (they'll be completely dependent on tech bloggers pushing their products to get decent market penetration), but for consumers, money talks...

Good call!
Yep, I got PaintShop Pro as well, including ParticleShop.They included Athentech PerfectlyClear filter plugin with it, which is the best I've seen to work on skin and sky. Bar none. For day-to day post production, I prefer ON1Photo Raw for its effects presets, speed, ease, price and the fact I don't have to import anything, but PaintShop Pro is awesome for heavy retouching work, if you are on W10 and don't want to pay for Photoshop. On a Mac, look into Pixelmator. That's my tool of choice for compositing and channel mixing. Cheap, speedy, dependable and rather powerful.

Get the software and develop your skill :)

Perhaps all of you not having the skills to use it should not offer your oppinion, but listen to what those who do have the skills, and it is their line of work, have to say about it. Just a suggestion. Feel free to do whatever feels right to you. I have to say I was delighted to see a serious contender for Photoshop and llustrator. Adobe has monopolized the market for a long time. On the other hand, rightfully so. ;) And while Designer is comparable to Illustrator, and in many ways an improvement, Photo, while fully capable, falls short in a couple of important things. A. Workflow. B. Performance. While overall workflow is modern and interesting, it often leads the user to make extra work to reach the results they need. (Compared to Photoshop, if you use GIMP, by all means do not hold back, grab this wonderful tool. You will be most probably doing yourself a favour.) It performed slower than Photoshop on the same machine performing the same tasks. ( a machine that does all sorts of 3D animation, rendering, post production, high end music editing, game development, a professional workstation) So while I do welcome Photo in every way, great price, perpetual license, compact, and fresh, I am not confident enough to switch my pipeline, and I do not see many others doing it. It will be hugely popular with students, and other people who may be cost conscious, but otherwise can't see it seriously threatening Photoshop any time soon.

Struggling with online tutorial of photoshop and lightroom already. The video kinda demotivates me

What is it you are struggling with in Photoshop? Can I help?

What does that have to do with the affinity app?

All I said is I liked the amazing video in the article. I'm sorry you didn't get it.

Does it do RAW convertion?

Wonder how well it works with Windows Ink...

I wouldn't recommend it for drawing concept art. If you just do sketches for fun, go with the new Paint 3D it is wonderful and super simple.

Anybody try using this for Fuji raw files? Does it do well?

The way it handles RAW development is so cool! I'm done with the Photoshop CC subscription! One time purchase and it's all mine!

Agreed, same here! I would LOVE to get Photoshop but the price to actual time I use it doesn't add up for me. At least with Affinity it's a one time purchase.

Yes, it is better for photographers. In fact, this tool is better stacked against Lightroom, than Photoshop.

I would say it's positioned against PS Elements. Features and Price. Since i'm planning to upgrade from PSE10 to a new version, i will for sure consider it.

That is a hell of an advertisement. Worth the price just to commend them on that ad.

I replayed the ad just to hear that awesome beat towards the end.

I've played with the beta and it works well. It's amazingly simple to erase people and objects that you don't want in the photo. That directional lighting thing looks amazing. No more Adobe-forced subscriptions. This is a ridiculously cheap price for the power AND you don't buy updates. I guess it is like a $0/year subscription. :)

It's not bad; I bought it. I still prefer photoshops workflow (adjustments as layers seems to add extra steps that photoshop doesnt have) but for $40 it's worth having

Adjustments as layers are always better because they're non-destructive, no? Even PS offers some of them.

I am still running beta version and its good and running well

Really nice promo video. As an adobe CC subscriber. It's hard to consider using anything new. But if I wasn't, this looks pretty capable and for a really low price.