Afrikaans language support added to Microsoft Translator apps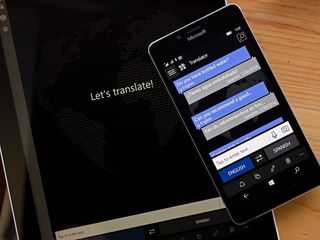 Microsoft has added text support for the Afrikaans language to all versions of its Translator apps, including the one for Windows 10 on PC and Mobile.
In a blog post (opens in new tab), Microsoft stated:
In addition to its dedicated Translator apps, the new Afrikaans language support has been added to the Skype translator feature for Windows on the desktop.
Download Microsoft Translator for Windows 10 and Windows 10 Mobile (opens in new tab)
Windows Central Newsletter
Get the best of Windows Central in your inbox, every day!
Ek is baie bly om dit te hoor! Haha, this is great news!

This will be super helpful in South Africa! Next on the agenda: isiZulu :)

Back on topic... This is a good move! Lekker! Nice to see Afrikaans getting some more love!

Microsoft jou lekker ding!

How do you type the *tik* noise they add in their language? There's always one where they tik or whistle

No you are refering to one of the "black" languages, to call it so. Zulu, Xhosa or so on, they have those sounds. Three of them actually, the letters "c", "x" and "q" are all different tounge clap sounds. Afrikaans is a Germanic language

Hey Callahan, maybe you should delete this article and never do one about this language of land grabbers.

Nigeria is Africa's biggest technology market tho, Over 170 million citizens but Microsoft keep ignoring that huge market for some 70 million population. Android rules in Nigeria cos' Google support the regional OEMs like Tecno, Infinix, Innjoo and others. Tecno alone sits on 50% market share of phones in Africa. It's mostly used in Nigeria. Microsoft should do a sales review of Africa. Nigerians use Lumias cos' they are unique but Cortana won't work here neither would they translate the three major languages. So pathetic.

This will make some South Africans happy.

I would like Esperanto to be added - so I don't have to use Google translate.

Baie dankie Microsoft, now where is Cortana for South Africa