Age of Empires: Castle Siege to add player leagues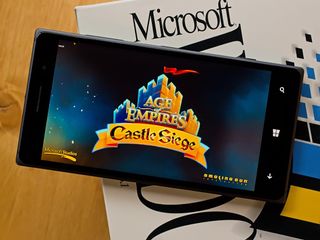 Microsoft will be adding some new ways for players in its free-to-play strategy mobile game Age of Empires: Castle Siege to rank themselves against other players. Currently, the game's leaderboard for Windows Phone and Windows 10 only shows the top 200 players, but the upcoming leagues feature will offer a more even way to compare gamers at their current skill level.
Microsoft says:
The names of each league, and their positions on the leaderboard from highest to lowest, will be:
Duke
Lord
Noble
Champion
Knight
Squire
Villiager
Peasant
Player will be placed into a league at the beginning of each "season", based on their total number of crowns. Each season runs four weeks, and the top three players in each league will win some extra rewards.
Download Age of Empires: Castle Siege (opens in new tab)
Source: Age of Empires blog
Nice looking forward...add me as xbox live friend. sagargarag92

Where is the other one? Will it ever see Win10M? MSFT is a laughing stock.

Look like Microsoft is copying "cloud raiders" gameplay, which is very good than this age of empires game.

Where is clash of clans ms!!!!!!

Yes, because they develop it... /s

Microsoft has absolutely nothing to do with CoC. Frankly... I thought that game died years ago.

Best rated game coc is not on windows platform.. Really disappointing..

No cares about that game. No where close to this one!

best rated is not always "the best"

This game is broken until they fix the stupid green glowing hero guy. Way too over powered and everyone is using him. So lame. This game was once great. I'm a day 1 player.

We want clash of clan not these copy cats. These lazy people have copied it fully

There are so many changes. Have you even played this game?

I have played it. It don't even stand a chance against coc

Is it because COC easier?

Uh, what? This is WAY better than CoC. Better interface, heroes, troop control...

You know nothing about AOE don't make a joke of yourself

I played CoC and got bored for about a month (I'm already in TH 8), it's just my opinion but AoE is way better in strategy.

Unable to make purchase..why ??

Retire play this game.. Haha.. Bored

So sort of like happy wars ranked play

I love the thumbnail! If you look closely, you'll notice Windows 3.1's box =D

Have just reinstalled this after a few months of messing with w10m. I can't start the game it just feels me to open the Xbox app to accept the terms and conditions. I have signed into the Xbox app and the Xbox website but it still won't start

Can i get coc on windows phone?
Windows Central Newsletter
Thank you for signing up to Windows Central. You will receive a verification email shortly.
There was a problem. Please refresh the page and try again.