Age of Empires: Castle Siege to shut down in May 2019
May 13, 2019, will mark the end of Age of Empires: Castle Siege.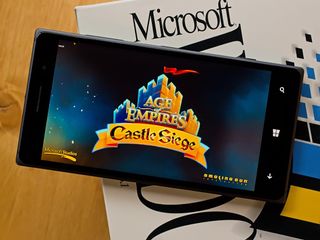 Age of Empires: Castle Siege is set to end its lengthy run in 2019. The Microsoft Studios team behind the title announced that it will shut down on May 13, 2019.
From Microsoft:
While gamers will get to keep playing the tower defense game through its closing date, Microsoft is actually beginning the sunsetting process now. Starting this week, you'll no longer be able to purchase gold to use in the game, though you'll still be able to earn daily free gold from trade routes. Further, players will receive refunds for all gold purchases going back to May 8, 2018.
Finally, the Castle Siege forums will be archived on December 13, 2018.
Age of Empires: Castle Siege has enjoyed a fairly lengthy run across Windows 10 and mobile platforms. The game initially launched in September of 2014. Its shutdown is sure to be a blow to any players that still actively jump into the game from time to time, but Microsoft is now turning its attention to the various Age of Empires definitive editions it has on deck, along with Age of Empires IV.
Thanks to John and Jose for the tips!
See at Microsoft (opens in new tab)
Windows Central Newsletter
Get the best of Windows Central in your inbox, every day!
Dan Thorp-Lancaster is the former Editor-in-Chief of Windows Central. He began working with Windows Central, Android Central, and iMore as a news writer in 2014 and is obsessed with tech of all sorts. You can follow Dan on Twitter @DthorpL and Instagram @heyitsdtl.
I stopped playing years ago. It was a good game, and had a good run.

This is the only game I play on android because of xbox achievements. Why would u do this Microsoft? Atleast launch an Xbox/surface mobile

Z.z good thing I didn't spend that much time and money on it, figured it would be shut down. Spent a little, as I really wanted to see a proper RTS game but when WM10 got shelved my interest in the game disappeared instantly. No point wasting time in a game that will be shut down. This was really a spin off game imo albeit heavily flawed one at that. Always wanted a proper RTS game on mobile... but doubt we'll get that any time soon now. The best we can hope is for UWP games which happen to have compatibility with mobile devices lol.

Proper RTS on mobile... That's a contradiction.

You can, use a Bluetooth keyboards and mouse 😶. So yes, prior to this feature (as well as colour and touchscreen smartphones) it would have been a contradiction and now it is not anymore. With UWP, you can use continuum or cshell... One should always think both inside and outside the box 😉. RTS games are click heavily, your finger replaces the mouse. The text box can be easily handled and so can the UI. You simply pin the common actions to where it's easily accessible. As actions are usually square buttons which lend well to touch. The drag and select, can be replaced by tap+hold then drag once actions is completed you either get auto dialogue box for quick actions or use two finger scrolling to move the map and single tap to move the units etc. So yeah, it's easy to do.

Played for a while, but it was actually quite an infuriating game. Basically, if you weren't prepared to part with hard cash to bolster defences and speed up building work, your empire was constantly under threat. Lost count of how many times I'd log on to a burnt out ruin of a castle :P

Yup it was, I got the logic behind it and given studios need to make money I really didn't hold it against them. Never the less it was heavily flawed, as you either need to spend money or go on countless raids then in one fell swoop everything you got is gone lol. At higher tiers, you had to spend money to get resources to upgrade... Those who clearly spent large amounts of money are clearly able to circumvent any defense... so at higher levels the game became pointless (hence flawed)

Isn't it odd that we buy things that can be shut down? The Hulu app on my Panasonic TV was shut down. I just watch Hulu on my Xbox 360.

Well come to the profit grabbing of the digital age. Everything is now stats and telemetry. Zero levels of empathy and want to create brand synergy + loyalty.

Good game back in the day, but quickly became a slog and just lost interest.

Still playing this game since the start, played at first on windows mobile devices, after the end of windows mobile, moved and played thru ios. A great game, big difference between other similiar games, a positive one, never spent a dime for gold, growing up to the max level organic. I'm in a great alliance, we feel disapointed by Microsoft. Microsoft disapoints every day.

Game wasn't that great anyway.

I played this for a while, but haven't for a while. I am disappointed to see yet another sign Microsoft refuses to take mobile seriously. I think Microsoft needs to be investing heavily in mobile game studios. This is an over $40 billion a year market that they are more or less ignoring. Why won't they open up Xbox Live stack to mobile game studios?
Why won't they invest in making their own cross-platform mobile games?
Why can't you filter for touch input games in the Microsoft Store? If they wanted to tell me a story on why I should buy a Surface, mobile gaming would be the biggest one. They need to get the big games into the Microsoft Store, and they need to create their own games for iOS and Android. Period.

Not just ios and android, they need to create UWP games.

Well in my opinion, I love the game so very much playing it on my Windows Phone!, I play AOfE in PC too.. My mind was set to this game (of all other tower defense game) because it's like real life and not fantasy... I think age of empires is so very unique! I AM NOT HAPPY about Microsofts decision... I like it better than playin Clash of Clans, no offence

That's why I never spend money on online only games...