Age of Empires: Castle Siege update adds player leagues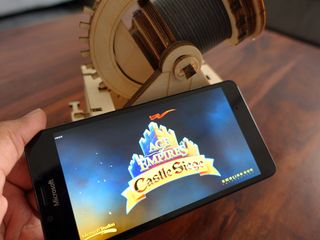 Age of Empires: Castle Siege has picked up an update, adding leagues that lets teams of players compete against each other. Also new are customizable in-game controls, and improved matchmaking logic.
Here's the list of new additions:
Leagues: a brand new tournament that divides players and alliances into smaller groups to compete against each other for in-game prizes. Players will now easily be able to compare themselves to other players without having to be in the top 200.
Wonders Boost grace period: there is now a 3 day waiting period before activating Wonder Boosts if players are new to an alliance.
Improved connection logic when enemy players are previewing your castle for potential attack. Players will now have priority to their own empires and have improved access to the game.
Added the option for bigger buttons in game on all mobile platforms. Players will now be able to switch the size of in-game controls.
Added a new submenu for "Country and Region Flags" under Honor Items to further organize the market place.
The update also fixes bugs encountered when buying Gold, connection issues during alliance chat, and includes notification fixes. Check out the game — available for Windows 10 and Windows 10 Mobile — from the link below, and let us know how you're liking the player leagues in the comments.
Download Age of Empires: Castle Siege (opens in new tab)
Thanks Sudharsan, Georgia, and Sanjeet!
Windows Central Newsletter
Get the best of Windows Central in in your inbox, every day!
Harish Jonnalagadda is a Senior Editor overseeing Asia for Android Central, Windows Central's sister site. When not reviewing phones, he's testing PC hardware, including video cards, motherboards, gaming accessories, and keyboards.
No need all these we need is coc

you can't control your troops in CoC, its like drop and watch game

Tell that to Supercell, stop whining here.

Hey yc167 this post is for AOE CS, not some crap ****.....children RTS game..........His (chetan) comment is irrelevant....you should think before taking sides and calling people whiners'...... Though I Would be glad if u tell that to supercell yourself....huh....amazing people making amazing comparisons....CoC is nowhere near AOE...

I think you yelled at the wrong person.

No "download app" link? Come on Windows central stop slacking.

COC never will be a match for AOE:CS!! Time to grow up with AOE!!

Still, AoE for Lumia 525 stutters alot and unplayable here, frequent crashes too. Anyone experiencing same issues for W10M?

Few apps may not perform well in preview builds... Will work much better in final build of Windows 10

What happened to age of empires world dominition
Looks like they shelved the plan to launch it on windows after receiving just 2 stars in android

They should have released the game no matter what. They repeatedly delayed the game. And even now they didn't even release the game to windows phone. It was sure a long wait, I was hoping this would be a coc replacement.

Indian Emperors Gonna Rock :3 but they delayed start of leagues. Now its going to start at 5:30AM IST on 22 January. :(

iOS users are having few issues after this update. So, they delayed leagues till Thursday. And offered PT to them. Leagues will start after next bug fixing update for iOS.

One thing that I really want to be fixed is the loading time of the game

Better internet will surely degrade loading time

Was really into this game a few months back but I'm now in Age 7 and the time it takes to get anything done has made it tedious. 5 days to upgrade an Army Camp?? Not to mention the length of time it would take to accumulate the 575,000 food required for that. There's just too much waiting around and not enough doing. Plus, the 40-50 minute wait for the army to get itself together every time you fancy a battle (which only lasts five minutes) means that I just don't see the point of this game any more. I think that they need to adjust the balance, or people will drift away through boredom.

You don't know how an RTS works.........leave it

Clearly I do if I've got as far as I have. Stupid remark!

This is not how RTS games work, this is how freemium games work.

You clearly haven't played any real RTS games.

Well that is not how RTS works, so clearly you don't either. This is how Mobile games that try to suck you of your money work.

Playing these kind of games(strategy) is nothing less than having a girlfriend,you need to show commitment and dedication every day

Actually it lowers the addiction so we will focus on real life battles :)

For only top 200 clans :/

Who said that? Read first point carefully

Relatively new to the game. Need an alliance. :/ Posted via the Windows Central App for Android because the one on my Lumia 550 sucks! :)

Gamer tag? I can invite you if you are active user.. Fighting4-5 battles per day.

You can join mine.....gamertag:RiskyRevengerX

I quit this game it gets too boring because if you revenge to your attacker then he too can get revenge to you. If no one would stop attacking each other the game gets boring.

Never will....make great strategies to earn higher crown (100% win) and make strategy to defend repetitive attacks from same player

How does these leagues work? Can I set up a tournament with a friend who has orange flags (forget the civilization) and get those flags from him that way? They are difficult to find through endless searching normally.

since the beginning of this year I got "error connection to server.." in my mobile phone...I have changed the phone and also the same problem, got the update yesterday but the same.....anyone having this problem too? my troops are worried :(

Is it available on android?

All those retarded people above saying AOE is better please stop boasting. This game is **** honestly. I played it since the day it was launched and reached Age 7 in about 6 months i remember and it got **** from there on. I used to think the same as you people. But when i reached Th6 and above in COC i realised that the game is not jokingly the best strategy game played by almost all the world countries. You say you control troops, how many troops do you think you can control at a time??? COC is designed smartly you don't need to control them. The AI is perfectly designed. You just need to deploy them at the right place and the right time but also need to watch over them with heal spells and there are tons of strategies when you reach higher TH levels. AOE even without clan wars is designed like **** honestly. The AI is poorly designed. And so many troops but really confusing use of them and s*** ton of heroes half of them are useless. Sorry if it hurts the devs but tbh you need to make it better not just copy other games. And yes we are not whining we need people to change supercell's mind just like people did to get the crappy candy crush.

So you are promoting CoC? If you are not able to control troops in AOE that's your fault not AOE's. You find Coc better cuz its a childish game and easy to play.. And AOe also has AI.. Just deploy the troops and don't control them.. They will do that thing only for what they are capable of. This game is not for children. Go play CoC and stop commenting here -.-
Windows Central Newsletter
Thank you for signing up to Windows Central. You will receive a verification email shortly.
There was a problem. Please refresh the page and try again.