Age of Empires: World Domination out for iOS and Android, but not for Windows Phone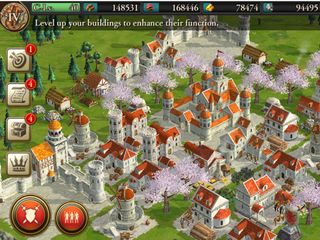 Well over a year after it was first announced, developer Klab has finally released Age of Empires: World Domination for Android devices, along with a soft launch on iOS. The free-to-play mobile strategy game is based on the classic PC RTS game series from Microsoft. However, a previously announced Windows Phone version has yet to be launched.
Here's a look at the game's features:
A Revolutionary Real-Time Battle System
Manage your battle resources, deploy your troops and wage war with your opponents on the battlefield - all in real-time!
Adapt to the tide of battle and respond to your enemies in kind with the best tactics
Explore the map and lay waste to your enemies hidden in the fog-of-war
Limitless Empire Customization, create your own empire with structures from history's greatest civilizations.
Choose your own progress with fan-favorite Technology Trees available with every empire!
Recreate historical empires by mastering all technologies of a single empire or...
Grow your original empire and create the finest army from selection of the world's greatest civilizations!
With over 100 legendary heroes to choose from, let your heroes take charge
Heroes include: Joan of Arc, King Arthur, Oda Nobunaga, Cao Cao, Knut the Great and more!
Team up your heroes with distinct troop types to create the ultimate battle unit!
Manage your empire and deploy advanced tactics in battle with simple & intuitive touch gestures.
Tap, drag, swipe your way to victory!
Become a pro by starting with simple guide missions!
Rule the world effortlessly by enabling AUTO mode and letting the A.I. fight your way to the top
You can download Age of Empires: World Domination right now on the Google Play Store (opens in new tab) and the iOS version is being soft launched in a few countries. We have contacted Microsoft to find out the status of the Windows Phone version.
Via: TouchArcade
Windows Central Newsletter
Get the best of Windows Central in in your inbox, every day!
Numbers say a lot! Posted via the Windows Central App for Android

May be it's JUST a game.. But MS should understand that world is watching.. They are observing W10M.. Even though it's not official yet, releasing AoE on iOS and Android before W10M is a terrible idea.. The Verge is going to celebrate this for sure.. **** MS for being foolish...

No, you're right. It's not "just a game". It's Microsoft stabbing their most loyal customers in the back and then stepping on them as they climb the fence over to Apple's and Google's teats. It is bad enough that they have put games like Halo on enemy devices like iOS, but doing it BEFORE it launches on their own platforms is absolutely unacceptable.

I suggest they release the next Minecraft game first to PS4 and let Xbox One users wait. Microsoft still has separate divisions working against each other. Satya haven't changed anything.

Klab paid MS for a license to make the game. Its not a Microsoft dev issue.

Microsoft controls the IP. They dictate what is done with it. This is their decision.

This isn not Microsoft game. Microsoft sold a licence to use the name Age of Empires and independent company developed it and now released for their choice od OSes. The other thing is, Microsoft should hire some developers to develop good WP exclusive games.

Microsoft owns the IP. They decide what happens to it. They let this happen.

Wrong, stop pretending you know how this things work... if you pay money, you can release it when you want, Microsoft didn't have to fund anything and only received the money, they can't force people to release it on Xbox or WP or PC. ​I don't even know who upvote you but it's probaby ignorant people like you.

This is just more of Microsoft's strategy that's helped obliterate Windows phone over the last two years. What, you expect them to prioritize their own platform and used? Pffft! Posted via Android because Windows 10 Mobile is trash.

Could we all be wrong? And Microsoft is trying to destroy WP and plans on making Androids when everyone switches??? (Sarcasm) Posted via the Windows Central App for Android

Aaah! The cry-babies.
A lot of wp users are going to cry if it is launched as a non xbox game. I feel it need a lot of work. Not to mention UWP.They are not a fool to ignore windows 10 users

This is not Microsoft... the studio paid license and do whatever they want with the name of the game, if they want to release only for Wii, they could.

Its sad that we have come to just accept this. Why would this not come on Windows first? I get that WP has small share, but surely this would be an awesome universal app. Maybe we will get the app soon, but why make your customers feel second rate? Can you imagine google or apple doing something like this? No way, if they develop the app its going on their platform first. Its honestly bizarre. It's like Microsoft forgot they have their own OS.

Because releasing it first for wp would be too easy, that's what they expect us to do, confuse the enemy

Next thing ya know it'll be on n3ds eshop

Nothing new... Msft has done this multiple times before... That zhows how much they value their own product Posted via the Windows Central App for Android

Leaving WP comments in 3....2......1

I'm a mega Microsoft Fan Boy, but I have to say this is the only game that I would actually consider buying an Android for, Age of Empires is king and it's so frustrating to see I can't play this right NOW!

I bought an Android tablet for Game of War. I know what you mean.

Why not get a windows tablet and run an android tablet?

I cant use bluestacks. Every time I try I get the notification, "windows driver stopped working and has recovered" or something like that and then I have to restart bluestacks for the same result

Hmm if only there were a way to play a more featured version of this game on a computer...

If you're in the US you still woudn't have acess to this one yet. It says "This item isn't availble in your country" when I go to the Play store.

Yea like what the **** is that bull crap!?!? Posted via the Windows Central App for Android

Remember back when Microsoft had rights to AoE? /s

Had? Microsoft still owns Age of Empires. That's what makes this announcement so vexing: they are literally choosing to support enemy platforms over their own. It's unacceptable.

Enemy platforms? LOL You've chosen your side and you're digging in! You're about to get carpet bombed soldier. Good luck...

Haha, that was hilarious, truly priceless...LMAO!

https://www.youtube.com/watch?v=TMATD2qk564&feature=youtu.be&SEMID=1&WT....

They're focusing on Windows 10 mobile. I'm going to bet as soon as the OS hits general release this game will be out not long after. No point releasing it when there could be issues with the OS and then it receiving negative reviews etc.
Calm yourselves down and get a grip. Posted via the Windows Central App for Android

The state of affairs for mobile gaming is garbage nowadays anyway.

Another way of saying this is "Grapes are sour".


Turn the lights off when you do.

I'll leave them on along with the gas and light a big cigar rather than leave

He will have a high energy bill

This just made me laugh way too hard. @NIST

I'm going down with the ship too, it's the only honourable thing to do, I'll use a landline when they finally shut up shop

So why don't you leave when you feel like that?

Lol :) yeah, I've invested way too much time and energy trolling android and ios sheep over the past 5 years to just up and leave....even if this goddam platform and it's ultra weird owners do the craziest, most batshit stuff sometimes

It's an adventure though, ios and android don't appreciate highs because they haven't suffered for it like us, the time will come my friends, we will reach the promised land, and then we will glote

LOL that was funny. I feel the same way

I'm going down with ship as well. Love WP and still have faith

I sank with webOS a few years ago...I'm on the WP train now, waiting to see the light at the end of the tunel.

I have a small table with spare batteries and rations to operate my Frankenstein Windows phone long after all other smartphone users have succomb to mind melding. ahmadcrofton I have spare batteries if you to join the fold...lol

Going down with the sinking ship

**** this, im jumping on the ios life raft and getting the **** off this sinking piece of crap. 4 years selling WP to my mates and it's not getting any better. Had my mozo back cover ordered for the 950 but that's getting cancelled, iphone here I come.

I turned in my Lumia Icon for the Iphone 6. Hate the UI...LOVE the apps. I've found out that it really is the apps that makes a difference. WP is just a hobby to MS. The iphone is Apple's bread and butter. It will alway be better...I had to finally admit that. MS still has the best desktop OS.

Good for you, only cowards quit, real men stare oblivion and lack of apps in the face, ios and android may have the apps but they'll never take our FREEDOM!!!!!!!!

Trust me droid has much more freedom.. It's like you are choosing to be a slave to a bankrupt mal nourished master

Nope, even with the freedom of custom ROMs and rooted device, they won't get me back to Android. Constant crashes, lags, they broke their own UX. I'm returning to the continuity of Windows 10.

I feel that I have to come back from Lagdroid to Windows. It broke my experience entirely. Windows 10 is the next ship!

Count me in....as long as ninja cat makes random appearances

Maybe they're taking longer because of Continuum support? >_>

If they don't release it I'm going to sell all Microsoft stuff and never use their products again

I'm gonna kidnap Nadella and make all MSFT employees my slaves!

Im going to make you my slave ;)

Make all MSFT employees use Windows Phone.

whoa!.. easy there hitler.

Where's the updated windows central app for wp

I know right, im sure it's coming soon. Just wish Dan was more transparent about progress, if there are issues stopping the beta release then write an article about it, would be a lot more interesting to read than an article about yet another game not released on Windows Phone, I mean come on, this is a news site right?

Dan's joined the dark side with thurrot dissing wp

Aaaaannnnnd.......... not available in your country... :-( Posted via the Windows Central App for Android

Well fortunately it looks ****, thats nice

I'll leave the gaming to my SP3 & Xbox Consoles. WP......."sigh"

WP users just get LOLed on our faces again and again.

Just get bluestacks for your PC. That's what I do for missing games.

Can't install Astonia anymore on WP, otherwise you could have played it on the phone using the Android subsystem.

Yeah it can still be done if you can find the right links for your handset on xda

Seriously why would any developer consider Windows Phone. Microsoft has declared it dead platform, for enthusiasts only. Serious Game developers have to consider return on their investment, and its is simply not there with Windows Phone user base.

Because we users want em like dat.

Where in all **** have they done that? Close to the dumbest thing I have read on here.

Oppps. Better be careful. A fickle dev in the forums band me for using censored (****) words.

MS and WP is so slow period.

Even Microsoft doesnt take a sh*t about Windows Phone... About his own OS... Why should 3rd devs make apps then ? Shame

This isn't a Microsoft released game, read the article.

Microsoft owns Age of Empires

Yes it is.., ******* Microsoft, this is really funny they don't care about w10m.. That's why the market share is the lowest

1. The game is made by Klab, 2. They've been developing W10M for months so clearly they care about it, 3. Take your negative attitude elsewhere. There's a planned release of this game on WM for crying out loud.

It's like castle siege kind of attack others empires? I know it looks a lot more like the original one. But looks like that kind of game right ? Anyways royal revolt 2 (wich keeps updating at the same time and support cross platform) and elements epic from game troopers got all my gaming time on phone

How does this compare to Castle Siege?

U build ur base and attack others base...

Dont worry, just trust The Mastermind!!!

Ahahahah oh for f*cks sake, Microsoft, you're making this too easy for me :'D Posted via the Windows Central App for Android

Neogaf is made for complaints about nothing guys... Just saying after reading some drama queens comment again. Be patient and drop the pathetic nagging.

Microsoft just testing our patience, bcz we are known as a patience platformers. What the **** MS want do???????? Somebody Eliminate MS :'(

They are doing this since Nadella took over control...

I thought this was a Microsoft game...

Why it is so hard for them to do WINDOWS first, other later..

I'd guess they're making it a Universal app for Windows...and since the phone OS was just finished recently, they're probably behind on finalizing things. That's the problem with our regularly scheduled OS overhauls.

So they had enough time to make, finalise and publish the game for Android and IOS, but not enough time to do the same on their own operating system? Yeah I think they've forgot its one thing "showing what wp has to offer via apps from MS on other platforms" and "actually deliver them things on their actual OS" :(

They are ignoring windows platform, but they will surely return to Windows when hololens land

Microsoft: "Please buy our brand new, overpriced flagship phones that you waited two years for, that doesn't have a finished OS on it, that is only available on one carrier in the U.S., and please ignore the fact that all of our own apps are better on other platforms and sometimes don't even come to Windows phones at all. Money please!"

Not kidding at all now :D **** Microsoft :D gonna get the gs7 when its released, if MS doesn't give a **** about its own OS then **** ms and the OS they are both useless

MS targeting the numbers in the market that's why they gave android and ios first. I believe they do that because the turnover will be bigger for them, but the fact remains they are having an uphill battle on their own mobile platform. And it was that easy to put android and ios versions out before win10...surprise!!! You see the difference now?? lol

Why did they not just launch it as a Universal app, for both Windows 10 and W10M. What the **** Microsoft. I have been patient and supportive, but this is just getting dumb. They tout Universal apps, yet they do this, sorry I hate complaining, but I am tired of this crap.

WP is not a priority for MS...not even a hobby at this point. I went thru this with the Zune (had 4 of them) and 2 windows phone before I realized you go with the ones you are outwordly commited. So you can choose IOS or Android. You do get to choose...but you only get to chose between the two.

So you're saying I can't yet waste my money on annoying time consuming micro-transaction?

No worries! Tha,mastermind is just playing a super smart trick that only he is capable of seeing the brightness of.... Or, he is just a another retard at MS put there to kill the system ​

PC/Windows, Xbox and Android are my go to devices now screw off WP/M.

Will there be a desktop version? AOE II is probably my favorite game of all time, but it is BADLY showing its age even withthe little love that it has gotten recently. It still is not optimized for newer hardware. If they could do that and bring in many of the improvements from later AOE games, it would be a killer. It is just soooo slow and basically unplayable as it stands now. AOEIII and AOM are much more playable, but the civs of AOE II are what I really want. I really wish someone would just rebuild that game from the ground up to work on todays hardware. Very little would have to be done otherwise. Dont mess with units or anything like that ... sigh, I guess I can dream, right?

I have more games on my wp and Xbox than I can play. After a stressful day a simple endless run or magic duels is enough. So, I don't care. There will always be a next dev that will give me an app I like. So far I have app for everything I need on WP even Onkyo HT. The day I can get Xbox streaming on my WP phone, I will be most happy.

Why doesn't just Microsoft pull the plug off their phone platform and relieve us all?!! Back in the day, they said wait till W10 mobile so it can use universal apps, and now what? Can't they make a universal app themselves? Why do they ask others to develop using UWP, then? If they haven't finished it yet, why didn't they wait and release all three together?? It is really becoming ridiculous. Really, I have almost had enough. The straw that is about to break the camel's back is near for me.
It is not about just a game(we have been saying this for quite a long time now). It is about the concept of Microsoft doing this over and over and over. With Windows 10 mobile is out with its hardware, I don't know what excuse should I make up for Microsoft anymore?!. Posted via the Windows Central App for Android

I'm the same but stay on Windows Phone not because I'm loyal. I'm just lazy and don't want to change.

This is depressing, really.

Not compatible with your device. Lovely.

I'm very happy to be an iPhone 6S Plus and a Lumia 1520 owner.

That's what im tempted to do, I would go all apple, but i really love the U.I. and fluidity of WP, but I love the apps of ios, and I don't want to go android. I like the idea of android, but the security issues, and how bugged down the os gets after a while, really bugs me, also Microsoft is great at long term device support (please forgive the 900), apple is pretty good, google is terrible, you have to get a moto, or nexus (I might be forgetting some) to get more than one os update practically, and even then, they won't last as long as apple or microsoft. Im still really holding out for Surface Phone, but ios is getting more and more tempting.

Windows phone should run Android apps

Dream isn't dead yet just needs more work. Why else would they have bothered to relight the dev page for it

Where is the Project islandwood?

Driftwood or deadwood either way its being used to port ios apps to osx

Should I laugh or cry??? Confused being a wp user..

Eye catcher... Looks greater than castle siege.. But iOS and Android have already CLASH OF CLANS!!!

Waiting Windows 10 Mobile ?

Did a google search on "microsoft lay off " no wonder developers are cautious. They are afraid that they too will get laid off :P :D Gosh I really liked this UI. Not what it has become I liked it for what it was, which is far from hamburger menus :D windows Hello kinda a good but fingerprint sensor would have been more energy efficient and convenient when one would have been looking at unlocked screen at all times simply slide over your pocket and press the power button. continuum cant say much lets see how it diversifies in device portfolio or micrsoft plans it to be a flagship thing than W10 feature. UI WP8 needed some polishments like the settings page. It was the apps that people cared more for. You are the ones who preaches WP as the best OS then why are your own apps better and frequently updated in other platforms.

I think becuase they're working on it to be universal.. Stay positive windows fans :/

Beeing universal is not something you work on but something you just decide.

**** MS, they lack sincerety towards loyal windows customers, they support for ios and android is better than windows customer, i have been using Windows Mobile 7 years and now i think its time to switch to ios. Atleast MS services is good on IOS than it is on their own ******* OS.

**** you AoE for ditching your beloved Windows

I've just had enough of this. I've been loyal to Windows Phone since its launch with WP7, but it's just constant waiting and waiting for apps and justifying it to myslef, maybe it will get better next year. But it never did. I am getting Galaxy 6 Edge Plus this Christmat and make a change to Android. FInally I'll have all the apps that I need and want.

Congrats in advance for s6+,
Microsoft phones makes me disappointed bcz of their lack in games and win 10m. I'm waiting for Nokia Android phones, and will definitely get after one year.

I already knew this since it was announced, of course a stupid studio would not do it for WP just like telltale games didn't release Minecraft story thing for WP. they are paying money and they do whatever they want. ​All this drama about this it's like pretending a studio with a PC should automatically be forced to release everything on Xbox or PC or WP. and these clowns saying how they would switch platforms over a stupid game, that is from a dead franchise... well it shows how stupid some people is. And this is one of the reasons I Have stopped coming to WindowsCentral, so much crap from the articles. it was already reported that this game wouldn't have a WP version when it was announced some studio paid license for AoE. If I had my studio and I licensed a game or something about a game, I wouldn't want anyone to get in my business, how would people feel if Sony fans complained at Motiga for choosing to develop Gigantic for Xbox One and Windows 10? or what about Square Enix with Tomb Raider or Capcom and dead Rising... or the same company not plannig to release Street Fighter V for xbox one? companies do whatever they want, especially when marketshare on Windows Phone is not a priority. many developers don't care, others do. So Windows Central should stop being stupid and reporting it like if it was unknown that this game wouldn't have a windows 10 or WP version. it's probably another sucky game anyway, so make a clickbait crap over something that was already know, sounds a bit desperate. if it hurts you so much how a game is not on WP well you can always get iOS or Android and get the game and fuse with iMore or Android Central.

Nothing gives me more hope for the future off this platform than them releasing software for the other platforms first. Man I love that! I mean who needs new games? If you want to play games you all ready own a android phone!..... Where is bill gates walking into a scene from doom... Where is if you want to play games you'll need windows?

Is w10m even considered officially launched yet? I know it's out on 1 phone but still. I don't really see the point of releasing a WP 8 versions when w10m rollout is just around the corner. It kinda make sense to launch it as a win 10 app.

Here is what I am wondering. Since Windows 10 has 'Universal Apps' should we even be discussing why "Windows Phone" doesn't have an app and instead be talking about why Windows doesn't have and app? I think this would be good for 2 different reasons. One, it would remind devs that their app wouldn;t be limeted to the small number of people who own Windows Phones, but rather the entire Windows 10 deployment. I think they need to realize that their games and productivity apps could be available for everyone with a windows 10 computer, XBox or Windows Phone. That will be quite a few people sitting in offices across the planet every day and though it might not initally be as many people who have iOS phones and Android phones, it will be close and the number of Hours they spend on those apps will be orders of magnitude larger then what they see on phones.

I will be curious to see how this game turns out. So far the trailers have me worried. While I enjoy AoE:CS, it is NOT AoE II.

I have to be honest, There are no mobile games that i really care for... I dont use them so its nothing i will cry about. What i actually would like to see is Swedish Bank apps and Snapchat would be nice, but its not something i reallllllyyy realllyyy need.
(I would like spotify to make their app more stable tough)

First things first.. M is on it's way to eat the pizza, just in time. Well, most developed OS on planet, just came up with best smartphone on planet, can't wait to buy SurfaceBook, can't wait to play XBOX10 at home, whatever.. don't know what are you guys talking about o.O ..we have ressurected that titanic some time ago.. Now it's spawning updates moreover every week (reminds me of Xiaomi), now I can type this in a moment rather than installing Swype and some MagicArrowStick.. Now, you see how HALO blinks on OLED Lumia, ..to be honest, I can see me playing some new AoE with pixel perfect graphics made just for sDragon810 for A DAY when it will be available :) (you with iPhuck go for another batt cover then).
Or better run for a new Lumia, then.

Another Clash of Clans clone?

Why is anyone shocked? All of Microsoft's games/apps are released for rival platforms first. This is nothing new. Don't get me wrong, it still hurts but it's not surprising.
Windows Central Newsletter
Thank you for signing up to Windows Central. You will receive a verification email shortly.
There was a problem. Please refresh the page and try again.