Alcatel Idol 4S with Windows 10 is officially announced for $470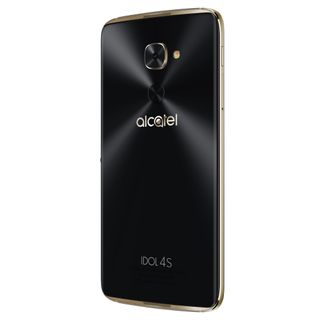 In a complete non-surprise, the Alcatel Idol 4S with Windows 10 has officially been announced for T-Mobile U.S. The phone will go on sale on November 10 and will cost $469.99.
The Idol 4S is bundled with not only a VR headset but a few other goodies:
Spec wise we're looking at a Snapdragon 820 processor, 5.5-inch 1080p display, 64GB internal storage with microSD expansion, 4GB of RAM and a 21MP rear camera. No denying that the Idol 4S is an incredibly well put together phone, that looks great and packs top of the line hardware. You'll be good for Continuum and with the fingerprint sensor on the back, Windows Hello, too.
While this is great news for U.S. customers, anyone who isn't either American or a T-Mobile customer is currently left out in the cold. Hopefully that changes soon enough, because there's no doubts a number of us who'd love to pick one of these up!
Check out more at the Windows Blog.
Windows Central Newsletter
Get the best of Windows Central in in your inbox, every day!
Managing Editor - Tech, Reviews
Richard Devine is a Managing Editor at Windows Central with over a decade of experience. A former Project Manager and long-term tech addict, he joined Mobile Nations in 2011 and has been found on Android Central and iMore as well as Windows Central. Currently, you'll find him steering the site's coverage of all manner of PC hardware and reviews. Find him on Mastodon at mstdn.social/@richdevine
It windows hello ready right??

Yeah has a fingerprint sensor on the back.

Yes. Has a Snapdragon 820.

And it's powered with latest Windows 10 Mobile right?

Idk if he got your sarcasm

didn't you check video, yeah it has continuum

At :30 second mark in video it says "Incipio Continuum Dock not included" Has there been a review on this dock? Anybody know about this?

Not even listed on the Incipio website

https://www.windowscentral.com/e?link=https2F2Ft%2F...

just almost any usb-c hub/dock with HDMI/video out could act as continuum dock.

Don't need the latter. I only turn it up.

Don't mention the boom button. It'll just confuse everybody

Battery life, price, frame rate, smoother graphics, same res as iPhone.

You would be right if this was not marketed as a VR phone

Nope everything else is highend so that's exactly the point it's an highend phone missing only the highend screen.

Lol ok. I had my mi5 for 300€ and it is high end. Hardware defines the tier. Everything in this phone is highend except the screen and for a VR markdted phone it's nit a great move. You know it doesn't have to be overpriced to be highend.

Luckily we're smart enough to not believe marketing is everything. It can do more than just VR and I would rather have a high end battery life than a high end VR experience on my phone.

Luckily we are smart enough to admit that the first VR phone for windows would have been better with a proper screen. It's obvious that it's a good phone for everything else.

Maybe cause i have a 1520 and a 950XL ... one FHD and one QHD... and I cannot really see a difference. Battery savings.

I can definitely see the difference between my 950 and 1520.

So can I, but really I'd swap resolution on 950 for better battery life. 1520 is just enough, 950's qhd is overkill

Honestly, anything above 720p in a 6 inch (or less) screen, is stupid, there is no real noticeable difference, and higher resolutions kill the battery (1080p should be the maximum). That's proven with video playback, a 720p video will look the same in any screen of that size regardless of its resolution. What matters is the screen quality itself. OLED is the best so far.

You clearly never tried mobile VR. Even 1080p is sh*t for VR. 720p on a 5.5" would be idiotic.

Not with good DPI and PPI. But yeah, I forgot the VR part

Dpi is given by resolution and screen size so your reply to him makes no sense.

Read about it. Two screens can have the same resolution and not different DPI and PPI. It happens all the time with smartphones.

He gave resolution AND screen size so the density is not a variable I don't need to read about it :D

I'd prefer to buy it without the VR headset and save a few bucks.

The VR headset is the box. Same on the Android version. It's the very packaging the phone ships in.

you're probably paying about $10 for the VR headset

Was thinking exactly the same thing. These "headsets" are even sold in grocery stores around here for anywhere from 10 to 20 bucks... even less on Amazon in some cases. It'll be interesting to see how the included VR apps shape up against the ones in the store now (hopefully an improvement).

Me too. And by saying this, I'm obviously also wishing there was an offering that used standard packaging.

Why don't you want the VR?

Just not my thing. I don't like eyewear of any sort. Not even sunglasses. Plus I don't play games or watch many videos on my phone other than news clips.

Then bin it, it's virtually free anyway.

Oh good. They had the price set to $999 this morning. Must have been a place holder.

Great news . Thanks Mr Richard.

Great! I hope they arrive to other countries.

very interesting, if only I have money

I hope an unlocked version becomes available shortly after its released. Would love to get this phone on my Att plan.

>OR Verizon... Good luck with that...

Windows has an obsession with weather apps

Ummm.....didn't you guys just run the 'release' article yesterday??!?!??!? What's the point of telling us the exact same info and re-post it as if its new news?

Yesterday was a leak, now it's official. Pay attention, man.

LOL ....love these comments ...

Because Alcatel finally said something.

Because yesterday it wasn't released. We had a tip with a bunch of T-Mobile stuff in it. Today it has been announced by both Alcatel and Microsoft. Which is why it's official. Leaks are fun. But they're still leaks.

Squirts are fun, leaks are just...leaks.

It wasn't official until today pay attention

Any chance Sprint picks it up?

Sprint need a Windows Phone fast. My Samsung Ativ S Neo is gettin old. Come on Sprint get it together.

Only if they acquire T-mobile. I jumped off of CDMA (VZW) last year so I could pick any windows/android phone I wanted...

I wish I could get off Verizon, but where I live if you are more than 2 or 3 miles from the highway the signal from the other carriers drops off. :-(

Yep, we left Sprint once it became clear they weren't getting any more Windows Phones.

I am in the process of switching my company from Sprint to t-mobile. Sprint stinks in Central Florida. T-mobile is so much faster here.

You will enjoy T Mobile Tuesdays, except for things you can't redeem due to lack of apps.

Wanting one so hard. It's a gorgeous phone

As a long time customer on TMO, I can only hope this device will turn the heads of people who have not considered a windows phone before. Wishing all the best for Alcatel and windows !

It's probably the best looking Windows phone in recent times, especially in that black and gold. Here's hoping!

I'm not a T-Mobile customer, but from the previous leaks, it at least looks like they are properly training their agents to be able to push this phone, unlike AT&T. If you take this, and the fact that the phone is one of the best looking Windows Phones we've seen, this hopefully will get some people buying. I just hope that an unlocked and unbraned version comes to Microsoft Store or other places so I can get one too.

TMO's last flagship the 925 was a beauty but I have to say I think the design of this Alcatel has it beat. Liking this phone more and more without having seen it live yet.

Don't hold your breath. They will try to persuade you to buy an iPhone or Android instead. I've never seen anything like it. Salespeople trying to stop you from buying what you want, but it happens at the T-mo store all of the time when it comes to Windows phones. I had to threaten to walk out to get them to sell me my L925.

Actually I just chatted with a tmobile online person, and mentioned this phone and their exact words, "That phone is awesome and going to be one of the coolest phones this holiday." - I was kind of dumb founded lol

They mentioned "Windows 10 Mobile" in the ad. :-)

They're more "all-in" than HP, apparently... Go, Alcatel!

AT&T doesn't bring a lot of Windows devices to market. Maybe it's time to switch carriers. This thing looks like a great device at a great price!

AT&T is only place that has been releasing windows phone

No one brings a lot of W10M devices to market... There's like 3 OEM's making 4-5 phones

Perfect time to launch a pretty new phone that I like... while also looking for a job D:

Do phone reviews on YouTube starting with this one

Now don't keep to limited world Alcatel, bring it to rest of the world as well

I so want to get this one!

Come to Greece, come to Greece, please baby

And a pretty decent commercial although a bit long.

Nice, clean ad. No bashing on others ....

So does this mean T-Mobile has fixed the problems with Wifi Calling on Win 10 Mobile? Still doesn't work on my upgraded L640.

I think it's different for native Windows 10 Mobile phones.

It's because the 640 wasn't a t-mobile branded phone and doesn't get those added features. Another BONUS this phone is T-Mobile "EXTENDED RANGE" compatible.

That's incorrect - my L640 is TMO branded. It also came with Wifi Calling under WP8.1, and it's still there after upgrading to W10M. The boot sequence is different with W10M however, so the Wifi Calling driver isn't started properly - that's why it doesn't work. I do get it to work sometimes, but it's rare and only when soft resetting or pulling the battery (I suppose that affects the boot sequence somehow). An MS engineer commented on this exact issue on MS Answers some time ago, ending with saying MS was working on it, but there's still no solution.

Interesting, I didn't know T-Mobile sold L640's. Mine is a Unlocked AT&T version and thus I don't have WiFi calling. I suspect with a phone running W10 Mobile out of the box it wouldn't have issues. But who knows. I'm trying to decide weather to get this of the L950XL. I go back and forth..

Where is the dedicated camera button though? Are they going to use the boom key for that? I may consider this IF they really put some thought and care into the camera quality. I hope they did. Edit: re watched the video and see that they are indeed using the boom key for the camera.

The TMO page says there is a dedicated camera button: http://www.t-mobile.com/cell-phones/alcatel-idol-4s-with-windows-10-vr.html

The camera button looks to be in the middle of the phone on the right side... Unless that's the power button and the camera button is top left side.

From what I've seen with the Android version that's a multifunctional button. So it can be used for a number of things and some are user assignable if I'm not mistaken.

What is this boom key you speak of?

the little metal nipple on the side

F**k you won thousand internet from me worth your comment sir!

My English was broken. His comment was too much for me hahaha.

If the camera is that important for you, i'd suggest getting a 950/XL instead.

It is located on the right hand side of the device, the circular thing in the middle.

Love this phone and really tempted for the first time for a non lumia phone, the camera should be far better than the one in te overprized HP Elite X3

Errr......the Elite isn't aimed at regular folks. Hope that helps.

I don't find the X3 overpriced at all. It comes with an iris scanner, dock, water resistant, larger battery, wireless charging, better screen and dual sim/micro sd slot to name a few.

This is very confusing. The article and WC in the contents state that the actual box is the VR adapter for the phone. Aka Google cardboard. Then in the video it appears to show a plastic moulded adapter and states VR in the box. Can you please clarify?

check yesterday's unboxing video

The Android version ships in a plastic box which then becomes the VR headset. Alcatel could have a new headset just for this but we know what we know from current versions of the phone.

VR "in the box" means that the Virtual Reality headset is included INSIDE of the box. Not the same thing as the "VR headset IS the box." No Cardboard VR headsets on the Idol 4 bundles (Android or Windows Mobile). Maybe you read a typo somewhere.

Look at the unboxing video in yesterdays article to understand.

I need to look back at this, because I don't remember seeing a video. Whoa...

Can I see myself not getting the LG V20 for this? Hmm. The price is crazy tempting.

If there's a way you can try this, why not try it?

I will if the app store has the Uber Partner app available. Without that app I cannot use W10M since I am a driver for Uber.

Ooh that's a fair point. Hopefully someone can report back if that is there.

RaRa85, if you dont need all the apps that Android has get the Alcatel. I have the V20 and while its a nice phone there are a number of things that right now are not polished. Mention of WiFi calling was noted and I can say that the WiFi calling on my v20 is crap, cant use it. My wife can use it on her iPhone same network. For some reason the Bluetooth on my V20 stops connecting to my car.. just stops not sure why. Im sure they will fix it, but... Coming from W10M to Android is painful at least for me and I had Android prior. There are just things W10M does better, plain and simple. If you NEED to holds barred apps... well... :)

Nice phone really nice phone congratz to US customers

It is beautiful phone....thinking of Chritsmas gift for my girlfriend! What app is for VR? 360 video does not work on facebook app. There are very limited options right now unless they have their own app?

Alcatels own VR apps come preinstalled on the phone.

I think this alcatel will replace my nokia lumia 930 when it comes out

I actually really like the commercial a lot, good job! 9 more days for the people waiting.

It has its own CONTINUUM DOCK as well? Shows in the video.

Anyone else notice he was using Gmail and Hangouts while in Continuum?

It's all about productivity, man. No locking you out of other sites/services like some other vendors (*who owns/killed that YouTube app again?*).

maybe he isn't worried about his personal data

Just someone who likes advertisement in his personal emails. I think is annoying, I'll stick with outlook here.

Kind of funny that the guy in the office using the Continuum dock appeared to be chatting in Google Hangouts window. Speaking of that dock, I see it isn't included. I wonder how much that dock will cost. I wasn't even aware that Incipio made a Continuum dock (according to the video).

Most usbc docks work with continuum. You don't need special docks for each phone...

I know this sounds weird...but lack of wireless charging is holding me back from switching to Tmo and snatching this phone up. I have 4 wireless charging accessories that I use daily.

Me too. No Qi means no sale.

Not weird at all! Same for me.

Looks good. Waiting for reviews before I commit.

This maybe my upgrade from Lumia 1520 while waiting for Surface Phone ... :D ....

Does it come with display dock or have to buy separately

So wre to get it and how much does it cost??

Hang on I'll check the internet and get back to you

comes with vr headset, dock sold separately

Opened the blog and viewed the ad. Really nice.

6 years on and they still haven't meant the lesson of this stupid one carrier exclusivity. Pretty much sums up why platform has failed.

this is Alcatel's phone not msft

It's not Microsoft that made that decision.

It will be interest to see if that advertisement actually makes to the TV and how much it gets played.

Yea, Windows 10 Mobile needs all the advertisements it can get.... Cool ad tho but, not sure if it will save W10m... Hope it does well.

having both the 950 and 950xl I can say I would rather have the fingerprint reader, as well as I like the front facing flash. My kids and I take a lot of pictures and that would come in handy. Looks like a good device for our T-Mobile friends.

Bummer. From the TMobile site. Mobile Pay No

3rd most selling brand in Australia. Hope you will release this phone in Australia too. Hp is great phone but very expensive.

Great device. Nice price to boot too

One step closer to ordering.

wow that is a fantastic price for a great bundle! But I agree with others here that they need to sell an international version and have a bigger screen and have wireless charging... I heavily invested in my L950XL with wireless chargers and docks so I wouldn't want to lose those... also I CANNOT go back to a smaller screen, which is 1 of the reasons I wanna get an HP X3 phone... but the phone looks like it rocks! hope it does well!

this phone will do well indeed

The T-Mo page says storage expandable "up to 32GB" via sd card. Is that all we can expect?

No it'll support the SDHC standard meaning anything up to 2TB (theoretically).

Gettin this day one. How does it work with jump 2? Never did the jump plan before do u have to pay a down payment or u just pay the taxes up front?

For well qualified customers and you have paid 50% of your current installment plan, you can simply trade-in your current phone and pay the taxes for the Idol 4s. The remaining EIP of the old phone will be waived then start a new one for the Idol.

What about for new jumpers? I have a unlocked phone now and was going to get the idol through jump id keep my current unlocked phone and just jump to a new one would I need a down payment or just pay the taxes?

Alright, thanks for the details. Depending on the account, you may pay for the down payment (this depends on the equipment credit limit, AKA credit class) and taxes. Otherwise it's just taxes.

Otherwise you will just pay the applicable down payment plus taxes and trade in your existing device on EIP. If you have fully paid your current phone then same process for well qualified and not well qualified less the trade in.

That's a really great price.

The time has come and so have I

Wow, $470 after MS charged $600 for the 950 on AT&T and $550 from MS, plus the 950 XL was $650. Not sure if MS pumped the price up for profits, or if that iris scanner and the camera were really that expensive.

this phone was in the works for quite sometime, Alcatel had to price it well

I don't think that's necessarily the issue. It's more about how overpriced the 950 family was. When the 920 launched, I'd say it was on-par with what the Idol is, and it launched at $450. In the case of all 3 releases (920, Idol, 950 line), they released in the fall, near the end of the life cycle of the included Snapdragon chips. Nokia nad Alcatel seem to realize that, while MS did a shoddy job with the build quality of the 950s and priced them like elite devices, even as they shipped unfinished software and imperfect hardware.

Well, now we can really see why all Lumias were pulled, and Surface phones are delayed by a year. It forces us diehards WP fans to seriously look at the these OEM offerings, without a MS distraction. Windows Mobile isn't dead, it's just no longer called Lumia. LOL.

You might be onto something.

I hope they will launch it elsewhere also. US is not the only market for Windows Mobile. A reasonable price tag and a good quality of marketing can make it a success. I am a fan boy, not a fool. I know the reality that without promoting a product, you cannot sell even an underwear.

Will the others be able to access the VR apps that was meant to be for this smartphone?

I really like this phone. Verizon better join the party soon or I'm done with them once my Lumia Icon finally dies.

The Icon is a good phone and will last you a good while. Unless you help it along. ;)

Verizon is finished with Windows

Good price and decent specification and has all the bells and whistles available pretty much on Windows Mobile so good stuff. Hopefully gets a wider global launch.

same chipset and similar other sepc but almost half price of HP x3 . PLUS VR headset included.

Memory 4GB RAM, 64GB ROM, Expandable up to 32GB (Sold Separately)

Come to India Alcatel. Trust me, you will find more customers here.

Looks like a really nice phone. I'd like to see one in person, but if it's as nice as I suspect I might just get one of these, rather than holding out hope for a surface phone which may never arrive.

Will accessories from the Android version work with this one? I assume they will, but I'm not sure if button placement, etc. are identical.

I'm pleased to her this, Windows is held in such low esteem for phones and very few manufactures are using it - until recently. I get on well with my Samsung Ativ S and hope it lasts a while yet but when a replacement is necessary it would be nice if I could stay with Windows rather than Android and certainly not iPhone.


Wow, anytime I see this device, I keep saying wow

Looks like the new blackberry to much.

will those VR apps Alcatel exclusive or open to other w10M phones?

Not just T mobile, at least in Rogers Canada always prevent customers to buy/upgrade to a device that is not apple or Samsung. I assume apple or Samsung offer better bonus to them to sell .

Not a bad looking device...too bad Verizon customers wont get a chance at it..

I would like to suggest ALCATEL to sell its Windows Phones paired with Reliance Jio offerings in India. It will definitely help ALCATEL to promote its devices. Many of Indian customers are eagerly waiting for it.

i've been saying it for a couple of years now...the problem with Windows on phones is not the hardware at all, but the software, more specifically the lack of popular apps. the average consumer is so heavily invested on one of the two top ecosystems (iOS or Android) and all the apps that come with them that Windows Mobile is completely nonexistant to them. you can have the best hardware out right now but without the likes of snapchat and chase and many others no one outside of diehard fans will ever buy it

would it be an improvement over the 950XL because of the processor, specially in the battery life department?? Battery life in mine sucks!!!

Nice looking device and good price; however, when it comes to a Windows 10 device I'm just going to stick with the 950. I'm not seeing any reason for me to invest in any of the latest Windows 10 devices and retire the 950.

Aren't they going to sell it unlocked too?
Windows Central Newsletter
Thank you for signing up to Windows Central. You will receive a verification email shortly.
There was a problem. Please refresh the page and try again.