Alcatel Idol 4S with Windows 10 packaging reportedly leaked, with VR headset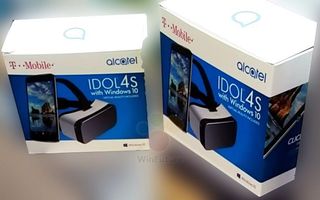 An image leak reportedly shows the packaging for the upcoming Alcatel Idol 4S with Windows 10, which may be the final name for the Windows 10 Mobile smartphone previously known as the Alcatel Idol 4 Pro. The packaging shows both the T-Mobile logo and that it will include a VR headset.
The image leak was posted by Windfuture.de's Roland Quandt on his Twitter account (via MSPU):
If accurate, the packaging leak would seem to confirm previous rumors about the phone including a VR headset. However, it also seems to indicate that Alcatel will use a familiar branding for the phone, as the Idol 4S with Android has already been released. The Alcatel Idol 4S with Windows 10 is rumored to include a 5.5-inch display, along with a Qualcomm Snapdragon 820 processor, 4GB of RAM and 64GB of onboard storage. There is still no word on a release date or price from T-Mobile.
Windows Central Newsletter
Get the best of Windows Central in in your inbox, every day!
Windows Phone with VR .. Great !! But Next year, Alcatel will also launch Nokia Android phones... Interesting!

This will be cool, but I worry that the only apps built for it will be those made by Alcatel or their partners. A general app dev for W10M likely won't target something that's specific to one phone when there's so few of them. Excited to see a review by WC on the actual product though and cool that somebody is doing this on W10M!

There are already a couple of VR apps in the store that should work with this. It's not much, but it's something.

We can try HoloLens Apps for this, although you might see black in the background, hmmm maybe that is a good thing.

wp vr ok but for what?? 0.0 app support it :D

Maybe some info as to why the VR headset? As far as I know this is a first.

Yeah, we got the first. OEMs have started to push msft for new feature and app support, and that's a good thing...

Does the W10 Mobile OS even support VR? Do we even have VR apps if they are supported?

From the previous rumour the VR ability is in the phone's ROM, not the OS.
But they most likely worked with MS, so who knows what will be available in the future.

There are VR apps and games on the Store, yes. You can buy any VR headset from Amazon and just slide your phone in.

I just searched the Store and saw there are VR apps available. I didn't even bother searching as it common to not have stuff as a Windows user. That's great.

Like so many...assume there isn't an app on Windows for something that they haven't even searched for

we'll all know when they are announcing it, the capabilities and such with demos

Mobile VR can technically support any phones that have good gyroscope and can fit to the headset and high-resolution high-framerate screens to make the experience really better. Its the apps that really needed which is sadly not much on Store currently. Unfortunately MS seems not doing anything to encourage to have VR ecosystem around W10M, even though MS already have great expertise to share from AR to have at least first-party apps for W10M.

It would be stupid not to support VR considering they can be sued for misrepresentation.

Misrepresentation.... He said.

It doesn't need to be supported by Windows as the developers can write their own software.
We had fingerprint scanners on laptops for example long before Windows Hello came along. Infact HP's software had more features than Hello

really, an 820? :O the android version is a 652 iirc. any idea on pricing?

Hmmm... I've been rather dissatisfied with W10M lately on my 640XL, but that may just be because it's too underpowered (and that it's really unstable on insider). I've been considering getting a cheap Android to last a few months until a Surface Phone (hopefully) materializes with stylus support. This Alcatel changes things, though, depending on the price point and release date! I hope it's announced soon!

I'm on the same boat, 640xl was responsive and fast with wm8.1, now it's laggy with wm10. Maybe this will have the hardware to power wm10 without lag.

It packs a snapdragon 820 and 4 GBs of ram, so it's definitely powerful enough to run W10m without lag, though it's probably gonna be a lot more expensive than the 640xl.

Yea, I'm happy to drop the money on a good W10M device. The Android option was just to tide me over until such a phone existed.

L950 or XL have decent hardware, and they're going down in price so, you have options...

I mean a discounted upgrade from my Alcatel Fierce XL. I want to be able to use JUMP to get it.

I didn't know that windows 10 mobile started lagging on such decent hardware. What the hell is going on now? Posted via the Windows Central App for Android

I'm on release preview for RS2 branch and dont' really have much noticeable lag on my 640XL. I had it a few builds ago, but the 221 build resolved many issues adn my battery got even better, it now lasts 2 full days with still some juice left. I'm actually really happy with the state of W10M as it is now. NOt sure why yours has lag. Have you tried to do a hard reset?

It just means you got used to the lag :-) Try using a WP8.1 phone, do some basic tasks like contact or email lookups, and then go back to the 640XL+WM10, you'll feel the difference. And yes, I have the latest updates/version of WM10.

If you're on Fast Builds get off those for sure. Release Preview and Production have some outstanding Anniversary bugs but nothing too major. I never get random reboots or anything on my daily driver. Fast Ring is rough right now, as expected. Only using that on my dev devices for testing. I'll move to fast on my 950 eventually though when it gets a bit more stable down the line which always is the cycle so far

I jumped on fast to try out the Skype/SMS integration after I did a factory reset a week ago, which is quite the let down on a slow phone - takes ages to launch Skype! On fast, my phone also seems to be dropping cellular and unable to reestablish, so no texts or phone calls come or go. I'll head back to release preview and hope for the best, thanks for the tip!

Re: Andygoes,
Hope you reported the problems.

With a snapdragon 820 and 4 gigs of ram, it's probably not going to be cheap.

agreed...I still don't get why we must buy 3rd party oem device..dont get me wrong i dont think 3rd party oems camera are going to beat Lumia...Samsung camera are way better than lumia..

Sorry, I'm not sure what exactly you're going for here...

Um Samsung is a 3rd party for Android


Not my Lumia 950 camera takes better photos then my brothers s7 he could believe it will megapixels don't lie

samsung cameras are not always superior with lumias...i have a galaxy s7 and the camera is overhyped/overrated. i compared it to my lumia 925 and the 925 did not beat it but it was close...

I saw that Droid version of Idol 4S retailed for $350, so I'm assuming W10M version could be 5-100 more?
I too was surprised that the Droid one was Qualcomm 652, 3GB and 16MP cam.
This W10 version is rumored to have Qualcomm 820, 4GB and 21MP cam? ​I have hard time believing that an identically numbered device woudl hve totally different specs. Something doesn't add up here.
​Has Alcatel done this before?

I noticed an intersting patern with my 640XL. Any time I have an OS update, the phone runs like a ****. I reboot it manually after the update is done and it acts like a completely different phone. No lag, no OS crashes. The only thing still bailing on me is Camera app, when I launch it directly from the lock screen. Everything else is running as it should.

I get app crashes constantly. The latest fun bit is that websites requesting location cause my phone to reboot. Yay! I did a hard reset a couple weekends ago because I was experiencing a bunch of problems and also had an update that wouldn't install. After the hard reset, I updated to latest available and did another reset to start from scratch on the then latest build, all to no avail. I'm going to do another reset and then just stick with release preview instead of fast.

It looks like a great phone from the internals... Maybe Alcatel is also releasing its own VR software too??.. Hope this comes in under the Elite pricing and in time for Xmas with a little promotion...wish it was 6 inches

I hope it's significantly under the HP Elite pricing. I don't think the X3 is priced badly for what it is (~£700), but I can't see people forking out £400+ for an Alcatel phone. I could be wrong but experience with Alcatel has always been lower quality hardware, so I'm surprised it even has these specs tbh.

You wish what was 6"? The phone? :-)

Packaging looks cheap
Snapdragon 821 is out and we r getting 820
Fine Probably my next device if i win the giveaway hosted by windowscentral :D Posted via the Windows Central App for Android

The 820 is the processor that's powering the Note 7. It is more than capable. Posted via the Windows Central App for Android

Cool, now add the Xbox stream to Windows Mobile and we would be a small step closer to VR. well maybe not VR, but a virtual big screen anyway ;)

That would be freaking amazing! Can you imagine the complaining about the lag if you could stream XB1 through your phone? Nevermind the great technical accomplishment that that would be, people would b*tch that they can't play CoD online.

Interested. So far with the all the phone VR stuff Windows 10 Mobile fans feel like the lonely guy walking out in the cold while families are inside celebrating Christmas.

Lol whatever. Let them all beat off on Adroid & iPoop with their new VR stuff while having to charge battery every 2 hours. At least I still have my Untappd app. I'll be walking around in the cold hitting up bars on Christmas and checking in my beers!

Sounds like a nice way to get people even more disappointed in Win10 mobile. Let's get people to buy this thing and have them think there's a cool VR element to it! Wait until they buy it and find like 4 poor VR uses available. lol :(

There are a lot of vr apps and games in the store. Any headset can work with any phone as long as it fits. Any phone with a gyroscope is capable of vr. It works perfectly with my 930. I watch 360 videos on tubecast all the time. U can find other apps and games in the store. I think with the ability to connect an Xbox controller to a Windows phone, the possibilities are limitless. Haven't tried it yet, and i don't know if there are any apps or games that support the controller.

Ooh so it's coming! Packing is a GREAT sign that this is happening! Awesome.

There are several games and even a Nintendo emulator that supports Xbox1s controller. They work awesome in continuum too. Another one of our issues is alot of folks don't even realize we do have google apps, we do have vr apps, we had augmented games in the store for a year before anyone even really searched for them. Hopefully everything brightens up eventually. Not sure what that will take though at this point.

Which Google apps? Are you talking third party made?

If it runs Continuum I'll definitely look into it. Been looking for a decent replacement for my 1520 that doesn't break the bank. I have my S7 for my Mobile VR fix, so though it's a cool, that is not really a standout feature to me

Locked to T-Mobile, not a good thing considering their record and no sign of an unlocked version. Good luck to anyone who buys this.

You can get unlock codes from carriers. It would still have to be on a GSM band though.

I've been on TMO for over a decade and no complaints thus far. Decent service where I live, price is alright and they leave me alone.

i recently went back to t-mobile prepaid ... they have good coverage and speed here in south kansas city.

HoloLens via vr headset all uwp apps would work? Surface phone feature...

with out youtube app what great is vr headset..

Tip: TubeCast
​or did you just wanna complain about THE Youtube app?

The youtube app :( not complaining just saying..

So really saying nothing. Just complaining. Or even whining. We have great YouTube apps on our phones.

Aren't you bitter? It's a valid complaint. Posted via the Windows Central App for Android

Not for VR, but I use MetroTube and it works alright for me.

I'm happy any time a new Windows phone is released. VR is a bonus!

Yep, I consider this the best news of the last 7 days.
​With depressing news about app exits and graveyard mood at this forum as a result, this was like a shot in the arm. I don't care at all about the VR capability, but I do like the fingerprint scanner for Hello support at last.
​If this undercuts current Lumia 950 price, I may postpone my switch to iPhone.

Need this, hopefully it's soon. My M8 is starting to lose battery life, also can't stand the noise that comes into my car audio system when I charge the battery.

I expect this to launch for $599. Wouldn't be surprised if it is 699.

Just go to their site, it's $399

I'm definately buying it at that price.

Where is the link? Can you share? The one I found says the page doesn't exist. They must have removed it.
I see that teh Droid brother costs $350, so this phone cannot cost more than $400. It better not...

It should launch at the same price as its Android counterpart (if it's the same specs). There is nothing 'windows specific' about the price.

It's the same deal with the Android version. Why exclude it? I don't care for VR but it probably doesn't take much for them to do it.

Seems like a gimmick to me.

So this VR headset should work with some other W10M devices like Lumia 950(XL) or HP Elite X3? or ...

The phone is suppose to ship with proprietary VR software.

Does this support VR porn? *cough*

Not sure. I see only goggles, but no groinal socket on the box.

Appears to be the same rebranded device Alcatel is building for BlackBerry as the DTEK60 and the TCL 950. It also has a fingerprinter reader on the back among other specs listed. Maybe take this with a grain of salt as I believe even the devices I mentioned had slightly different screen resolutions. http://www.phonearena.com/news/The-TCL-950-the-phone-that-the-BlackBerry...

Everyone need to support this!! We need to show other oems that were not all Lumia fanatics. Specially Tmobile users. Get on board btchez.

Looks like this might be my new phone.

Me too. Cant remember if this was a nano sim or not... would like to swap my SIM between this and the 6s+ ive got.

I think it must be.
​Even if it isn't, you could get an adapter.
​See the discussion about the camera tests from yesterday. One member talked about using the adapter for his 1020 to use a nano sim in it

I thinks is time for upgrade my Nokia 1520 with this IDOL SN820 4gb ram and 64gb ssd VR and T-MOBILE with wifi-calling the best option!

But...but... I thought Microsoft was canceling Windows Mobile, and Satya was going to use his recent bonus to buy all the existing Windows phones so he could rent out Seahawks Stadium, and hold a televised event where he burns them all on the 50 yard line, then have Joe Belfiore come on stage and tell all the remaining Windows mobile users to buy iPhone 7's.. at least that's what I heard someone said they heard someone who thought they heard someone else read it somewhere

I think you may have heard wrong. ​Walmart has Q-tips on Rollback this week :-)

SWEEEET IM PICKING THIS UP

Wouldn't it be good if they had just made custom rom for the existing idol4s, although mi5 & oneplus3 rumored roms are nowhere to be seen

crap ... too expensive ... no one is making a mid range windows phone these day ... you can only get low end 200 series snap dragon or high end 800 series ...

As a Lumia 950 owner. Another company to lose money with wm
Windows Central Newsletter
Thank you for signing up to Windows Central. You will receive a verification email shortly.
There was a problem. Please refresh the page and try again.