Is Alcatel OneTouch really planning to launch a Windows Phone-based 10-inch tablet?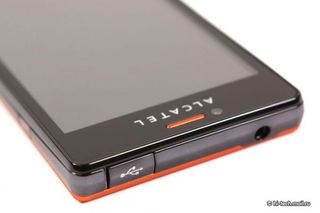 If a new report is correct, Alcatel OneTouch could be planning to launch a 10-inch tablet that will use the next major update for Windows Phone, rather than the PC-based version of Windows.
Freelance journalist Tim Anderson has posted an article with quotes from Dan Dery, the VP and CMO at Alcatel OneTouch, during an interview conducted at IFA 2014 last week. In the interview Dery stated:
There have been reports that Microsoft plans to merge Windows Phone with Windows RT for its next major version, which may be launched alongside the next Windows release for PCs, code named "Threshold". Indeed, a recent report on ZDNet claimed, via unnamed sources, that a preview version of Threshold that will run on ARM and Windows Phone devices could be released in early 2015.
However, today's article from Anderson isn't entirely clear if Dery means Alcatel OneTouch will release a tablet that runs on Windows Phone, Windows RT, or the PC port of Threshold. Keep in mind that Dery's first language is French and there could be some translation issues. Finally, it could be months before this product is officially announced, let alone released, or it may never come out.
Dery is also quoted on comparing Windows Phone to Android, stating that in his opinion Windows Phone is more efficient than Google's OS in terms of its use in low end devices. Dery said:
Alcatel OneTouch released a Windows Phone 7.5 smartphone in 2012 but the company decided to bypass making a phone for Windows Phone 8. What do you think about the possibility of a 10 inch tablet that uses Windows Phone instead of the PC version of Windows?
Source: Tim Anderson's ITWriting via Neowin
Windows Central Newsletter
Get the best of Windows Central in in your inbox, every day!
Good idea, there are hardly any apps in the windows store but plenty in the windows phone store.

In windows store y it requires apps when windows has 4 million programs

Because these 4 million programs are not optimised for mobile devices.

Most of those programs are old and out of date and come with spy/bloatware.

Their are apps check it bro. Photoshop, Disney games , Vevo,twitter ,facebook,accu weather,utorrent., Modern combat 5, GTA san Andres ,plex ,assassins creed Pirate, halo Spartan assault,Asphalt 8, Unrar Metro, ice age adventure, Flipboard, VLC Beta, GT Racing 2, Netflix, Tunein radio,six guns, Dropbox, iDjing, Amazon, Wikipedia, ebay, order and choas , soul craft. All this apps are optimized for tablets.

Of course it has apps. But you can't argue that the quality of the windows store is lacking when compared to iOS, and even Android in some ways. Third party developers are awesome, but they don't cover everything and they don't pen credibility in the same way official apps do.

Everyone (iOS & Android people) is jealous of my 6snap becuase I can do multiple lines of text on the screen. And i can push it and see the pic without holding it down. Some of the third party apps end up having more/better features becuase the developer is looking outside their box. AND I CAN CHANGE THE RINGTONE!! Not that annoying apple budadink.

Bro take one afternoon and check the store you will be surprised

I would love to see the WinRT and WP getting meged because then we would be able to have tabs with calling facility and more & more OEMs would use that version of WP in their tabs. Even the market share of WP would surely rise after the merge of WinRTY and WP.

Would love to see it. But even more with Threshold (WP+RT) on it. It could happen at the end of this month :)

Don't think this month. Just Windows 9 preview, RT / WP version isn't going to be ready till next year for preview.

WP/RT merged together with Office Gemini (touch office) would be all I would need on a portable basis. I'm not expecting it before summer though, but when it does come out, it will be my next tablet.

Seems like common sense and hardly worthy of a rumour. We all know RT & WP are being merged and that is going to kick-start the Microsoft tablet market. For me that'll be the first time, finally, that tablets become interesting.

What's the benefit of rt and WP getting merged. I mean what new thing will it be? Is that gonna provide windows phone updates faster?

Not everything in an OS is about 'giving updates faster'. If WP and RT are merged, the range of WP devices increases and integration grows tighter. People need not pay for the same apps twice. WP has more apps and is more mature while there have not been any RT devices for two years now except from MS/Nokia. This will help MS increase their tablet market share and reach lower price points. Further it may introduce new hardware to WP such as bluetooth keyboards or even usb devices.

And the hallowed surface phone with a mini keyboard cover

The hardware support alone from the rt merge is worth it.

I wouldnt bank on anything kick-starting Windows tablets. Merging the OS's doesnt resolve the biggest problem for both, apps. Then there's the negative perception of anything Windows so there's really no telling how things will turn out.

It would actually help the app situation as there would be more users on the platform therefore more developers developing

As long as rt doesn't lose api advantages over wp that will be good

Thank you! This doesn't seem like a big deal, more common sense. The fact that Alcatel is making it may come as a surprise, but the os and form factor shouldn't. This isn't something they're going out of their way to do, they will use the de facto tablet os from Microsoft after threshold comes out.

The font of the rum'o'meter is too light, you can barely read it in the app :(

As a 1520 user I can vouch for this being a good move.

Yeah, imagine the dialer in 10"... Or the HORRIBLE experience using Excel on WP... Lol

Does that mean they are gonna pay for license fee, since it is already bigger than the 8 inches?

its not windows phone any more after the merger its windows for tablets and phones

Actually, it's going to be "Windows for ALL screen sizes"

Actually noone can tell for sure what it will be. I bet not even Microsoft :)

Well that would be a good idea, a 10" WP. The L1520 is already falling HEAVILY in some places because WP is not developed enough to take advantage of the big screen..

Which would dash hopes of higher resolution displays like those featured on the LG G3. Android reviewers of that phone all at least mention the response/draw time or lag. I'm guessing they mean FPS. If android is a little heavy, and WP less so, then perhaps it would run just fine on such hardware. But as you stated, there isn't optimization to consume information/ apps at that resolution even if the OS might support it.

As awesome as I think the G3 is as a phone, I honestly don't see too much benefit to having that high resolution of a display. Hell, so far, only one app (YouTube) can actually take advantage of that display. And, yeah, the phone suffers not so much from dropped frames as it does from high temperatures and the phone getting incredibly hot when the brightness is up past 50 percent. Also, prolonged usage has a drastically higher power draw than that of the G2, which actualy had/has amazing battery life. Windows Phone absolutely needs to be optimized for bigger displays, before Microsoft even thinks about upping the resolution past 1080p or releasing a successor to the 1520.

Any resolution higher than 1080p on a phone is stupid imo

HIgher than 1080? It breaks the compatiility with 1080 TV via Miracast Eats batteries Phone gets hot Way past Retina with no real benefits Slows the graphics down More expensive

This would be a strange decision if it is true. Now, if he really meant the converged platform (Threshold or beyond) then that would make more sense. It would also be interesting.

Cool. Much prettier OS. WP 8.1 should replace the Metro UI in Windows.

It's not exactly the device I was hoping that would usher in the merge, but welcomed nonetheless I suppose, should it be true.

I like the idea for so many reasons but mostly I've always wanted to see some one holding a10" smart phone to their face. Seriously though I think they're are tones of great situations for a device like this.

Haha, I believe there's some videos online of people using the Galaxy Note 8, iPad Mini, Nexus 7 (both versions), and OG Samsung Tab as a phone. That should help put things into perspective, lol.

You mean something like this?
http://boygeniusreport.files.wordpress.com/2013/02/note-8-phone-call.jpg... :P

Part of the Demin update is to allow for larger devices based on Windows Phone. Also, I believe OEMs will have the ability to strip the OS of the ability to make phone calls. So I doubt this will be used as a Phablet. Although, you could still use Skype.

Correct, the phone software can be stripped from Windows Phone 8.1. I believe MSFT have to ship it that way to the OEMs if it's requested. Why do you think MSFT made Windows Phone available for zero dollars for devices with screens of 9" and under?

The largest phone is Samsung Galaxy S Pro 8,4
It still has the microphone & laudspeaker in the right places
The largest speakerphone / BT phone is the 12.2" version
While driving you use BT and it's handy always.
At my home I use speakerphone almost always.

People think the 1520 is a big device to use one handed. Imagine the hands of a person who could dial a 10 inch device using one hand. Of course that would be followed up by holding the device to the side of his head.

Guys if the next major update for WP could merge it with Windows RT and it will use ARM chipset. Dose that mean our current qualcomm devices won't get the update??

Why are you asking this question now? Obviously, no one here knows. Hell, no one even knows when this merger is supposed to take place or when the next version of Windows will launch. Be patient, lol.

Look at it this way, MS burned alot of people with wp7 transition (even Nokia, look up the N900 beta smartphone ads). So it would be highly unlikely they would do the same thing again. However this is MS and they more than often don't follow any logic lol.

What do you mean? Qualcomm CPUs are ARM.

It's all ARM, the processors can be optimised for whatever you want to do...

The Lumia 2520 has Snapdragon 800 and it's running Windows RT

The Snapdragon 800 (plus the 400/600 familiy of SoC's) is based on the ARM arcitecture; the specific instruction set is ARMv7. The Snapdragon 410 and 610/615 use the ARMv8 instruction set. The Snapdragon 805 uses ARMv7-A and the Snapdragon 808/810 use ARMv8-A. Windows RT (and likely Windows Phone) is optimised for ARM, not x86. Perhaps with Core-M, we'll see an Intel powered Windows Phone.

Are there any news whether the current devices will get the new windows phone? I mean Lumia 520

Huh. That's new. The possibility of a track pad for WP.

By the time it is released the OS won't be called "windows phone" anymore. It will just be "windows", and the same OS will be used on phones and tablets, just like iOS and Android. So this is not a phone, it's just a tablet with the new version of the OS. I'm excited about the prospect of Microsoft finally merging the mobile versions of it's OS like they should've done from the start. I may just wait until a new flagship comes out with the new OS before I upgrade from my 1020.

Exactly. I am surprised that more people haven't made this leap in understanding. It seems that Microsoft is finally getting its Windows house in order.

It won't strictly be the same OS, MSFT will still have 3 SKU's. Remember, the only thing they share is the kernel. Windows RT and Windows Phones are closer to each other than either are to "big" Windows running on x86.

I think I would prefer WP OS over RT for any kind for mobile touch CONSUMPTION computing. It's smooth, it's slick, the design is good, lots of apps, consistency across mobile formats (phone/phablet/tablet), optimized for mobile. And the current 8.1 (and it's evolution) is great for productivity devices like Surface, laptops, desktops, touch all in ones. Of course, tablets will also have the option to run Win or WP, but for devices running strictly mobile consumption, WP OS is the way to go IMO.

Great news, hopefully Microsoft can keep pushing the boundaries on efficiency within the os that along with unification will be excellent all apps across all devices.

Priced right and I'd be all over it.

I'll truly buy something made by Alcatel cause they do very good looking devices, specially a Windows phone

I wonder how would WP look like on such screen

Hnmmn without Flash? Nay then

I'm just curious to see how my surface 2 will handle threshold or if it'll be abandoned.

Was wondering the same thing.

I'm a bit confused as to why someone would want to use WP on a tablet when full Windows 8 is an option. Is there any real advantage to merging WP and RT? It seems to me it'll just allow us to run apps on devices they aren't optimized for.

More choices, more fun, under the sun!

I think this idea has potential. I'm not sure I'd do it as a 10 inch device right out of the gate- 7-8 inches seems like a better fit. I'd be curious if the WP version of Office would seem less cramped in a larger mode.

Windows Phone and Windows RT both run on ARM with a few differences, though I'd expect any tablet running Windows Phone to have a screen size less than 9".

Windows Phone TABLET? Why not RT though??

I can't say I hate this idea. Why not? The Windows phone apps I use on a 10 inch tablet would be a great idea. Not to mention whatever quality apps Alcatel would come up with. Lets do this.

I wonder what will be the future of back ,home and search button for wp based tablets

it was weird having a tablet with the full OS ANYWAY


Good idea. Lumia 2520 can run wp8.1 that means 220.000 apps more

Nobody is going to line up to buy this......
Windows Central Newsletter
Thank you for signing up to Windows Central. You will receive a verification email shortly.
There was a problem. Please refresh the page and try again.