Alcometer for Windows Phone, keeping an eye on your adult beverage intake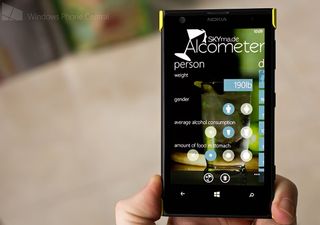 Alcometer is a Windows Phone app that will provide you with a rough estimate of your Blood Alcohol Content. The results are not guaranteed and should not be used to determine your ability to drive.
Alcometer is a Windows Phone app that will help you monitor your adult beverage intake and give you a general idea on how it is affecting your body. The app will provide an estimated blood alcohol content based on your alcoholic intake and physical characteristics, along with an approximation for how long it could take you to sober up after indulging in the adult beverages.
The app shouldn't be used to justify sobriety (or roadworthiness as the disclaimer notes) but is an interesting way to keep tabs on your adult beverage intake and the effects it could bring.
Alcometer is laid out simple with your personal profile being displayed on one page, your drinks consumed on another and your BAC results on the third. Your personal profile includes your body weight, gender, average alcohol consumption and amount of food in your stomach.
The Drinks Page will display a listing of any alcoholic beverages you have consumed. Just tap the "add a drink" button at the bottom of the page and a list of pre-defined beverages will appear. You also have the ability to customize drinks to add to the list.
The Results Page will list a wide range of results based on your personal profile and drink consumption. The Page includes when you will be sober, an estimated current BAC level, a general description of your intoxication (slurred speech, staggering, vomiting, unconscious, etc.), peak BAC level, and the amount of alcohol consumed.
Throughout the app you will have a three-dot menu that can be pulled up where you can view the help pages, rate the app, buy the developer a beer (make a donation), view the about/disclaimer page, and access the app's settings.
Alcometer's settings cover various units of measurement, turning on/off notifications, turn on/off tips, and enable lockscreen support. Alcometer will display your current BAC stats on your Windows Phone lockscreen for handy reference.
Alcometer does give you a rough estimate of your BAC after consuming alcoholic beverages. As the developer states in the app's disclaimer, alcohol intake and reduction varies from individual to individual. Alcometer should not be used to determine your ability to drive after drinking.
Even if the app could be 100% accurate, it is dependent on self-reporting. After a few drinks, I can see some forgetting to add a beer or two along the way. Alcometer could be used to set yourself limits before you start drinking or maybe see how long it could take to sober up. Alcometer is an interesting Windows Phone app. However, it should not replace personal responsibility when enjoying a few adult beverages to not drink and drive or make use of a designated driver.
Alcometer is a free app that is available for both Windows Phone 8 and 7.x devices. You can pick up your copy here (opens in new tab) in the Windows Phone Store.
Windows Central Newsletter
Get the best of Windows Central in in your inbox, every day!
George is the Reviews Editor at Windows Central, concentrating on Windows 10 PC and Mobile apps. He's been a supporter of the platform since the days of Windows CE and uses his current Windows 10 Mobile phone daily to keep up with life and enjoy a game during down time.
Wow am gonna start drinking to use this app so that windows store can grow

I will become an alcoholic just for the sake of windows phone platform app store growth :P

Russia may ban MPs from using iPhones over spying fears: http://sayannet.ir/B188B38C87-A7ADAA8584A7-A7B3AA81A7AF87-A7B2-A28C818886-B1A7-A8B1A78C-86/

"But officer, the app said I was safe to drive!" It is bound to happen. People looking for excuses will always find them.

Is the law people using this app to catch drink and drive wow

Looks nice, but really this app could be much simpler:- If getAnswer("Have you had more than one drink?") = "yes" show("You can't drive"); Else show("You can drive");

Except that's not remotely true... If you had 2 standard drinks then you're just on the limit. After an hour you're more than fine to drive. You could have 10 drinks and still drive after enough time (9 hours)

I can't imagine anyone waking up as rough as a bears arse after a night on the lash wanting to be bothered to fiddle about with this. The last thing you need is to remember what you drank and when, when your eyeballs are screaming out of your head and your throat's like a long jumpers arsehole.

WPCentral, promoting alcoholism since 2013.

Awesome a reason to drink more ah ha joke!

I have developed a similar app (Too drunk to text) but this one only tries to guess if you are sober enough to know what you are writing to someone :D Just as he_shark said the algorithm for driving after you had something to drink should be much simpler :D

Can stomach in settings be adjusted throughout the night? Does it have impact on new drinks only?

@gamato: You can change it, but it affects all drinks. I'd set it to the final amount, since the faster digestion with an empty stochmach only affects the timespan before you ate something. In general it is an interesting idea and I'll see if it is possible to implement something suitable =) @bitnisse: Thought of that as well, so I made the disclaimer to show up every time you start the app...

Wisely done. Might save your ass from a civil lawsuit.

I've got something like this in the cocktails app I installed a couple of weeks ago.
Windows Central Newsletter
Thank you for signing up to Windows Central. You will receive a verification email shortly.
There was a problem. Please refresh the page and try again.