All India Radio, India's public radio broadcaster, arrives on Windows Phone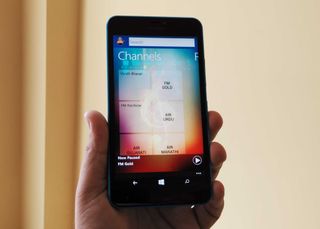 All India Radio (AIR), officially known as Akashvani (literally, 'Voice from the sky'), is the national public radio broadcaster of India. Established in 1930, it is the sister service of Doordarshan, the national public television broadcaster. All India Radio is one of the largest radio networks in the world.
A few days ago, the official All India Radio Live app arrived on the Windows Phone Store. The All India Radio Live app offers a bouquet of infotainment and public service broadcasts rendered in Hindi, Urdu, and some major regional Indian languages. The app also aims to knit Indians cutting across geographical boundaries, especially the ones living abroad who crave for channels where their mother tongue is spoken and folklore is enjoyed.
The app features several popular stations available via a single tap on the home screen of the app. These are Vividh Bharati, FM Gold, FM Rainbow, AIR Urdu, AIR Gujarati, AIR Marathi, AIR Punjabi, and AIR Malayalam. You can add one or more stations as favorites, but that doesn't really help, since all stations are available on the home screen without too much scrolling anyway.
There's a link to AIR's Facebook and Twitter page, and a banner that displays email for feedback. These could definitely be better done. There's no social sharing, and the email banner could be replaced by a form to submit feedback or something. Lazy execution, really.
Still, if you want to listen to an AIR radio station with the ability to skip forward to jump back (unlike usual radio broadcast), this is a handy app. It could be much better, yes, but maybe the intent was just plain vanilla broadcast.
Thanks, Gurinder Singh, for the tip!
Windows Central Newsletter
Get the best of Windows Central in in your inbox, every day!
Give him a holiday break. He's been working too hard!!!

So it works using internet or radio?.. Did'nt get that.. Anyways.. Good for those who use it.. Not my cup of coffee

Released like a week back......

Then , tip करना था ना भाई 0.o

Lol.
WhatsApp par toh reply ni karta tu. WC par bahut bolta.

App looks very.... blah! AIR stream can be added through other existing radio steaming apps.

Update default 'FM Radio' to all radio stations in India. Why separate applications?

Because one is made by Microsoft and one by AIR?

Cool. I like how our public sector services are upgrading to new technology.

It must good news for Indians live outside of India.

It will eat much internet data

Exactly... This app is not for Indian users.. We dont even have real unlimited data plans (here plans comes with FUPs )

you can use Mix Radio, https://www.microsoft.com/en-us/store/apps/mixradio-client/9nblggh0pshc

Well there are such plans, just way too pricey. That's why I use local networks than the private ones. Unlimited, good speed and cheap.

Not really..i have been using it since 4-5 days works well on 2g network..using very less data..wonderful app by all India radio..

This was released over a week ago. Anyway, it's a shame that this app only works on mobile phones and not on PC.

The AIR General Overseas Service is also included as a stream on this app??

Could anyone clear this up to me..will there be an update path to directly update my build 10512 to the upcoming build? Anyone please..

The guy who designed that icon deserves a red dot design award /s

Basically to broadcast "mann ki baat" ;)

Nice background..; Kinda like it.
Windows Central Newsletter
Thank you for signing up to Windows Central. You will receive a verification email shortly.
There was a problem. Please refresh the page and try again.