All you need to know about the Dual SIM experience on Lumia 630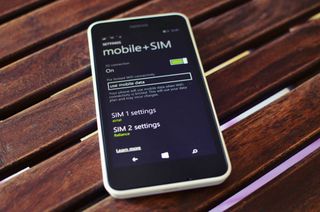 The Lumia 630 is the first Windows Phone 8.1 device to go on sale in select markets this week and is also the first Dual SIM Windows Phone. The ability to use two SIM cards in one device has been a much requested feature amongst potential Windows Phone customers in certain markets like India.
Microsoft claims that the Smart Dual SIM implementation in Lumia 630 offers seamless switching to help people manage their contacts and communication with ease. While we'll bring a comprehensive review of Lumia 630 here on Windows Phone Central soon, let's have a walkthrough of the dual SIM experience on the device.
Personalize
The color coding of the two SIM cards keeps calls, contacts and calendars separate so that it is easy to juggle between the two. The Start screen has separate phone and messaging tiles marked 1 and 2 that also notes the service providers' name. You can also link the individual phone and/or messaging tiles into one unified tile.
You can personalize these names as well for an easy recall, such as 'work' and 'personal', 'home' and 'roaming', 'wife' and 'girlfriend' (not recommended) to avoiding any confusion between call and messaging history of the two.
While data is defaulted to use one SIM at a time, you can go into settings and configure which SIM you'd like to default for data use at any time.
Easy Switch
For a contact, your messaging thread appears integrated and switching to the other SIM is very easy without running a parallel thread or changing settings. All you need to do is toggle between the two SIMs through the button on the top, and continue the conversation without breaking a beat.
Similarly, for each individual contact and further for each individual number, you can set a default SIM to make calls to that particular number. Of course, you would always want to call your boss from your work number and the girlfriend from your personal number. Again, using the toggle button you can easily change it within the contact's profile details.
Smart Dual SIM
The Smart Dual SIM feature has been built by Nokia on top of Windows Phone 8.1's support for two SIM cards. The feature ensures that a user is always reachable on both SIMs and calls are forwarded to the available SIM of the intended SIM is unavailable.
As soon as you insert the second SIM, an Action Center notification informs you to configure the Smart Dual SIM settings. When you proceed to configure the Call settings, you get four options for the Smart Dual SIM feature.
You can keep the setting off, and if one of your SIM is unreachable, the caller on that number would be informed of the same like in a single SIM phone.
You can configure the option between SIM cards in which case when either of your SIM would be unavailable the call would be seamlessly forwarded to your other SIM and neither you nor the caller would have to bother about broken communication.
You can also configure the forwarding from SIM 1 to SIM 2 or the other way around unidirectional. This is helpful for example when you are travelling internationally, and you want the calls to your home SIM to be forwarded to your local SIM, but not vice-versa.
Of course, call forwarding would incur the operator charges, but it's a very useful and well-executed feature.
Dual SIM phones allow consumers to have two phone numbers on a single device and are quite popular in certain markets. The Lumia 630 packs in the functionality with an intuitive user experience that should help the platform win a lot of customers.
Would you prefer to pick a dual SIM or a single SIM variant of the Lumia 630?
Is this phone coming to the US? I have a personal phone and a work phone and I would really like to just carry one but can't right now.

US carriers don't support dual SIM :( You can import a 630 from India though.

Dont say that. US carriers have different frequency bands, and most of them might not work with indian phones.
Btw Abhishek types an article at 4:30AM, and there are indians commenting on it at that time too ? Wow !

What do you mean carrier does not support dual-sim? They have really nothing to do with carrier supporting a person having two phone numbers. Will you be able to buy one from a carrier in the US, probably not as dual sim phones are not that sought after in the US.

When did i talk about dual sim ? I said frequency bands ! For example, if he is on a carrier using CDMA, it wont work as here in India 99.9% phones are on GSM.

The variant (RM-978) sold in India and Europe has 2G connectivity only in the US. You therefor would like to wait for the Americas version for Brazil and may be other countries in June. RM-979 variant supports 3G 850 and 1900 but lacks 3G AWS band used by T-Mobile US. So 3G with ATT will be supported, 3G with T-Mobile US in some areas (3G 1900 cells) only.

is coming to america. http://www.t-mobile.com/cell-phones/windows-phones/nokia-lumia-635.html

Sir, Kindly hide your no. from the pics.. posted, otherwise it would be a hell for u.. recieving all the calls from unknown nos.

Would like a dual sim version of the Lumia 720 w/1gb ram!

That should be the 730/830...as the third generation phones are already out.

Dual sim does not have lte, only single sim? Posted via Windows Phone Central App

Yeap, this one it's a 3G version. 635 it's a 4G version single SIM though.

You try a service like knowroaming

I'd prefer the dual SIM variant. Sounds cool

Could this work if you imported it

Only if you put a question mark at the end of your sentence.. Lol !

Can we switch off one sim card, like after 5h pm im off work and i dont want to be call by my boss or compagnie, but want to receive call from friends on my other phone number or vice versa ???

Seams that this can be easily done...

SIM Status - Off ... Should work!

I guess cortana will handle it, although she has quiet hours. She will bifurcate the data's accordingly. I don't know how it will work outside USA for non cortana users. Or there will be some option in further update.

I think I want this as a test device ...and as a personal phone.
I'm waiting the WP 8.1 Lumia Cyan final release...

Does both sim support 3G? Or only sim 1?

Like it said data from 1 card

That doesnt answer his question though. He's asking if both sims support 3G.

Right. I wonder the 3G support is on both or only in sim 1. Like Nokia X and other nokia dual sims. Only sim 1 that supports 3G.

Both SIM slots can support 3G - just select the SIM which you want to use for data and the device will automatically use 3G for selected data SIM and you will be able to enjoy great data performance. Many other devices force 3G to SIM slot 1 only, but not Lumia 630 DS version.

If this phone had 1gb ram, it would be the be the perfect entry level WP. With just 512mb it's just too limited if you need certain apps, like the GoPro app that I use a lot.

Yeah, Moto e is going to flat out beat this in the emerging markets

Still.. It has an older GPU, no autofocus, only 480p video, lower ppi, much much thicker, badly built, non-removable battery, only 2.2gb for apps with no provision for apps to sd.. I think we have a clear winner in the 520, which costs just 5-10 dollars more than moto e in India.

If People already get the lumia 630 then where's the full WP 8.1 features why no one talked about it !! and the Lumia Cyan features Too !! Will Lumia 630,630 Dual SIM,635,930 Get The Offical Update like us or what ??

These phones already have Cyan Update, at least 930 I have no doubt about it.

Anyone know what's new in Cyan Update ??

It already ships with the official Lumia cyan update !

Why is it popular in some markets like India?

Because you have different fees if you call a contact who is not on the same gsm network.
In France it is also useful if you need to call in a foreign country

Many factors , You get charged for Roaming if you travel interstate . Eg you buy SIM card from Telco in State 1 , same Telco will charge you roaming if you goto State 2. Data coverage is not good in certain areas , where you might want to use secondary SIM for internet where as primary SIM for calls only which has cheaper call rates. i also beleive the social culture is very different which inturns makes you have bigger social network ie you may want to give your VIP number to certain close family , and give secondary non-important number to electrician , or mechanic or work collegues. lastly >> GF1 and GF2 ;) Cheers,

This is also true in the Philippines, one of the major target markets for this phone.

one sim for cheap data , another for cheap calls

Hahaha I died from the wife and girlfriend comment. Just made a whole room laugh out loud from it.

Yeah.. Lol. (not recommended) LOL !

This is a valuable feature that is all but ignored in the US.

I tried a prepaid service called knowroaming(still in beta) they use a sticker that goes onto your sim & uses sim toolkit to control the active sim. roamly from what ive herd is same idea just is ready for more customers then what knowroaming is. Nice thing will be when knowroaming launches their app

Would be nice to have Lumia 930 with dual sim. Why only low end phones have it? Now I have L920, it already weights like 2 phones and I still have to have another one.

Yes! I'd love a 930-like device with dual SIM! Would be useful for contacting the lady if I visit Denmark.

Hey ABHISHEK, Is it dual active as well? (From the forwarding part, I think so) Like, if I am on call on one sim and if other calls on 2nd SIM, will it ring? Moreover, currently data stays on even if I am on call. Does that happens in 630 as well? Thanks,

Probably if you have call waiting on the other line

Lumia 630 is already selling in Croatia for less than kn1500: www.mobis.hr

Abhishek that status though. :P Modi supporter? :3
Anyways great review.

I guess all are Modi Supporters here :3 :/ >:(

I wont buy this phone, only have 512mb ram, no flash, no front camera, battery is only 1830 mah for dual sim Phone which is off no use, in that price bracket moto g is a good buy

Waiting to get one for my way wife in Ghana

Would be interested to know if there are active Sims, so if on one line and a call comes through to the other will it ring as well? And what is the battery like? That 1800mah... Will it get drained fast?

It will not ring.. it will be busy or in call waiting just as the signle sim variant handles it.

Ah, ok. I had an old Samsung slider that was dual active - so you could swap calls across Sims etc. Battery life was not too bad, buy then it was 2g only. Oh well.

Is it possible to use data from sim1 and if you cross the border to another country data is automatically used from sim2? Or do you have to switch manually?

You have to switch manually.

Which size of SIM card into it?

Sry fr interjection. Correction... One micro sim and other is a standard sim.

Will it be available in Singapore? I don't want to carry 2 phones :(

It would be very nice if the remote management of a BYOD handset could be limited to a single SIM. That way, Work could have all the control it wanted over 'your' phone, and pay the entire bill for work usage, while you have your personal side that you pay for separately.

Got a Lumia 630 for my mother-in-law last week. I'm getting the Lumia 730 as soon as it's available on Orange. In South Africa there is an on-going price war between networks and coverage and quality between the four networks vary so a dual sim phone is ideal to stay connected and reduce cost of calls. Switching data connections to better quality network when working is what I'm really excited about as Telkom is very fast and stable on their own 3G network while other networks slow down or loose connections often.

Never used a dual sim mobile and planning to buy 730 so looking for an answer. If data connection is enable on one sim can the other sim use the data connection as well. For instance I am registered with 9891xxxxxx on whatsapp etc but this sim doesn't have data enabled (it had 3G services earlier) now I buy a new SIM card with a number 9899xxxxx can the later be used to provide data connectivity? coz generally we have to register with same number which has data connection. thanks in advance.

Has anyone got denim update on Lumia 630 (India)

Got to say Microsoft has done it again!!! You can select Tray One for data 3G/4G-LTE and then Tray Two is only GSM (2G)
You can toggle the data over to Tray Two and there is a pause while the Trays reset
Then Tray Two has 3G/LTE and Tray One is only 2G-GSM. There are 2 radios and both SIMS have their own dedicated GSM (2G) radio. There is only one 3G/LTE capable radio so only one SIM at a time can use that radio. The problem I have is, my data contract is 'VirginMobile', my secondary SIM is on 'Three' which does not support 2G. I have to turn off data to make both SIMs available receive calls, but then I cannot receive emails without manually turning data on again. What a nuisance, as far as I can see there is no Lumia dual SIM phone that supports 3G or above on both trays. As usual it seems that only some Android phones have this capability. This reminds me completely of the first X-Box which had a 486 processor, the designers wanted to save money, Bill Gates did his nut and forced the designers to use high end processors in subsequent models. Who will make the designers wake up now????