Alleged Lumia 550 spec sheet reveals more about upcoming budget Microsoft phone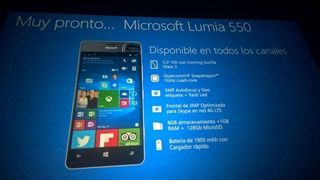 Rumors of the Microsoft Lumia 550 are starting to pick up as more and more information is coming forward. Today, an alleged internal spec sheet for the device has appeared on the Forever Nokia Latinoamérica Facebook page.
The document is very brief and appears to be a slide that was presented to Microsoft employees during a briefing. The specs include:
Lumia 550 (Rumored)
HD 5-inch screen with Corning Gorilla Glass 3
Qualcomm 1Ghz Snapdragon Quad-Core (presumably would be 210).
Rear 5-megapixel camera with autofocus and LED Flash Geotagging +.
Front 2-megapixel camera (no mention of an LED flash)
8GB internal storage + 1 GB of RAM 128Gb + Micro-SD
1905 mAh battery with rapid charger
Perhaps the biggest news there is the inclusion of Qualcomm's rapid charge technology for faster recharge rates. Noticeably absent is the front-facing flash that we saw on an early prototype. Microsoft may have backed off from the feature in later versions (our understanding is new prototypes went out in the last few weeks).
The rest of the Lumia 550 appears to be quite basic, although some details are off from earlier reports. For instance, earlier the Lumia 550 was thought to have a 4.7-inch 720P display. Now, it appears to be a 5-inch one (presumably Microsoft here means HD and not Full HD at 1080P). Likewise for the processor, which has been reported to be 1.1 or 1.2 GHz, but is now reported as 1 GHz.
What to expect from Microsoft's Windows 10 devices event in NYC
For those reasons, we'll have to wait and see what the final information is regarding this device. There is still no predicted date for its release. We are also not expecting this phone to be announced at Microsoft's New York City event in October. However, they could easily slide it in there due to it being a low profile device.
Source: Nokia Forever Latinoamérica; via WindowsPhoneApps.es
Update: Looks like those images must have been legit as Microsoft evidently made Forever Nokia... take them down.
Daniel Rubino is the Editor-in-chief of Windows Central, head reviewer, podcast co-host, and analyst. He has been here covering Microsoft since 2007 when this site was called WMExperts (and later Windows Phone Central). His interests include Windows, Microsoft Surface, laptops, next-gen computing, and for some reason, watches. Before all this tech stuff, he worked on a Ph.D. in linguistics and ran the projectors at movie theaters, which has done absolutely nothing for his career.
It's The on screen buttons silly.

That doesn't look like on screen buttons

On screen buttons
Try zooming the image Posted via the Windows Central App for Android

its got CAMERA BUTTON!!!!

What about the top bezel? It is monsterous on all these leaked renders. More than double the currnt phones.

It's a budget phone, what do you expect?

Lol what are the chances they wont even ship a qc 2/3 charger

Lumia 620 is super budget and has a very small bezel. It's got nothing to do with being budget.

Two different shots, the recent slide shot shows it with less bezel on the bottom. Besides, it's a budget device.

The rendered image has more bezels and no-on screen keys. But the image shown in the slide has on screen keys as well as less bezel at the top.

No notification LED ... absolute crap

we dont need more budget low end we need more mid - hihg ends wake UP Mic!

as someone who cannot afford a high end phone we DO need this phone ... but thank you Pappale for speaking for everyone.

The question is, does it have an AMOLED display though? Why does nobody seem to care about that? Do you know how beautiful Windows Phone looks with its dark theme on AMOLED displays? <3

It doesn't seem like a successor to 640!!!

In Microsoft logic a CPU downgrade is mandatory when designing a successor to an older device, so yet it is...... /s

The Snapdragon 210 is around the same speed as the 400.

Yes both are almost same speed but snap 400 have a much better gpu

Because it isn't? Why would the 550 succeed the 640 duh? 5xx series is belowe 6xx series

Lol 640 successor? This is 540 successor

It has worse specs than 540 though. Look at the cameras for example.

How much does 2 frontal button cost?

If it's more than a few cents, imagine just 15 cents multiplied by a million phones.

And then you have the added weight, work time, integration, pages on the manual, testing, etc. One extra part adds a substantial cost!

You have to then sell a million phones....which is unlikely unfortunately

No, you have to build and prototype a million phones

The son of my Lumia 640...proud of you my future son 550...he he he

didn't know you were married to L640. congrates on your baby.

I really hate that's on screen buttons....

For phones like 640XL, on screen buttons are really good because the screen comes a long way down.. But for phones like these, its better to have hardware keys... Because there is lots of space....

Do you really hate "onscreen buttons"? Here's my Lumia 1520 http://imgur.com/qPUtQ6j

Yes, i like to see the windows logo even when the screen is powered off

Could also come in 2 models... Just like others.. 550 and 550XL?

Could, but have not heard that happening yet.

I don't think XL should be applied if it's only .3 inches bigger. 4.7 - 5.0. I'm hoping for it to be 4.7

I sincerely hope that Microsoft is not going with the xxx and xxx XL mashup when phones are released. I just want a 4.7" phone.

Why do the icons on that poster look like the old ones and not the new Windows Mobile 10 icons. Example, see the people's app, calender app and the camera.

Because the OS is still in development, the image is at least 2 months old (the calendar says Thursday the 30th, the last time the 30th was on a Thursday was July and the photo of the presentation says Monday the 13th, which also was in July), if you look at the filename it has the word "render" in it, and since Microsoft has not announced the device yet this is not an official image.

Great....mother of observation

Aw, I actually wish its 4.7 inch instead, we got too many large phones. Also its quite disappointing to only have 1Ghz, which isn't that bad but I wish it wont be too low-spec. Alot of Android got decent specs despite of cheap prices, unless this phone will be really that cheap which well have yet to see.
Also if the render in that image is final, then it wont have front flash as it should be visible. Its actually a nice feature to have especially for selfie trend these days, though I hope it wont get the cost too high. Lumia 550 has to be competitively cheap in relative to other phones on the same rank.
We'll see when it comes. Oh yeah, I wish they just choose different more colorful image to use in press images, not that Hero Image. It doesn't looks too exciting nor classy.

Even 4.7 is too big. My friends want a 4 or 4.3" option.

4.7" would be my ideal if the sidebezels were veeery thin, but otherwise I'd rather have a 4.5" 720p (with SD808+, 2GB+ RAM, 16GB+ storage, MicroSD, and camera from 830).

Same. I was really considering it because it was said to be 4.7. It being the same size as my 640 makes it pointless to buy it, even for a backup phone

I too like a 4.7 inch one but I want a 5 inch one just coz when I hold my friends 5 inch phone my phone looks small and I don't like that...

The time on the clock for the phone says 950... ;) conspiracy! Lol.

Sadly the front of the 950 looks just like the front of the 550 :-/

Why not 1.2 GHz Snapdragon 210 processor with always on-die LTE and Gorilla glass 4, and where are new designs for Lumias and the bezels are too much?

I think we should forgive not having Gorilla Glass 4, its not common to have that kind of glass in entry level anyways. Bezels is forgivable also (but not 950 and 950 XL). But yeah, they should've gone to 1.2Ghz Snapdragon 210. It should at least little more decent on paper at in the ocean of entry-level phones already out there.

Agree with you, but a little less bezel would be nice and plus new design, not old design like that of Lumia 530 and 540.

Well unfortunately Microsoft is fond of that shape that even 950 series are inspired of. I actually wished for 435-like design with those glassy body. Looks more pop and unique design.

Lol even the Lumia 950 & 950 xl have only gorilla glass 3. Then how can u expect gorilla glass 4 from 550

Is it only me or do i find the charging icon on the battery icon too small?

No, the battery icon also seems small for me.

Also for L950 n L950 XL http://wmpoweruser.com/new-pictures-of-the-lumia-950-xl-and-lumia-950-le...

with unlocked lumia 640 selling for little over 100 bucks on amazon, this gotta be sold for like 65 bucks

I really don't understand the ned for a whole new budget phone given the 640's price. Seems like it woud be easier to juest "refresh" the 640 and call it a 650 at the same price.

Really there would be 6 models, low end 5**, 6** Lumia series; mid range 7**, 8** Lumia series; and high end 9**, Intel Phone & may be XL versions for some models. Plain and Simple. But, Microsoft may change the naming scheme in 2016.

Not looking great hope the actual phone comes out different!

Where is fly out live tiles, 3d touch, and more that we heard about from MSFT , all are lies, fu*k you MSFT. Poor operating system for phones , no features , nothing characteristic to WP just few changes . I'm going back to android after more than 2 years with your foolish mind which is disable to touch our needs

It's only a lie, if they announce the feature then renig
Idiot

Word about XL model? 1ghz CPU is a weak spot. Rest is ok for budget phone, but camera will decide as always. If camera going to be very bad, this is going to be very dead model.

Great replacement phone for our four kids 520's and far more functional than an ipad/pod. If the replacement screens are under $20 or near the 520's $4, we won't hesitate to upgrade them all.

That render looks exactly like the 950. Ffs what shit are they giving us for a flagship?

I bet SoC is SD 210 but MS clocked it at max of 1 GHz to conserve battery juice as it's still 28nm tech :( Also 210 supports quick charge 2.0. Hope this will be 2016's L520.

The round profile is really throwing off the proposed square design. That guys face and the girl on the calendar is making it look odd. I really liked the square design.

Even the Iphone and Galaxy devices have round profile, Lol.
But, wish the phone would come with new design language, not similar design to that of Lumia 530/540.

Well round photo isn't that bad but yeah how they use it is kind of tacky and horrible. I really hate the fact that its also rounded photo during and having incoming call, which is a massive downgrade from WP8.1 calling UI. It feels like we gone back 2007. iOS9 and Android M got now beautiful Call UI that is inspired from Metro.

But our tiles are square,windows is square,so why change everything round??or will they even change tiles to round?

Why hey there, is that a huge bezel in your pocket or are you just happy to see me.

These days every phone should have at least 2500 mAh battery and 8 mpx rear camera (5 mpx is old).

So , if there is low end(550) ,Lumia 730/830 successor (mid range) , and a high end , there isn't a mid-to-high end phone , we need a phone that has 6xx series Qualcomm processor Lumia which is great

Yeah me too waiting for a Lumia with snapdragon 6xx series processor

So much hate in these comments over a budget phone lol.

Why does the first picture have hardware buttons.. And the second picture have on-screen buttons? Even the top speakers are different...

Same old specs with a new name LOL microsoft

This thing has failure written all over it.

it is downgrade from 540 except processor

Hey Dan, what does 1 Gb RAM of 128 Gb means???

This is a budget phone and is 100% fine if it's less than $100. It's got a better screen than the Moto E, for one.

Is it just me or do all these new Lumia phones look the same?

No more 480p display from Microsoft. :)

Dumb device, still 640 is way better and budgetary device

Maybe you want to e.g. wait to hear its price first?

Is... THAT A CAMERA BUTTON?! OMG!!

They may well have just used a wrong render.. I would not get my hopes up yet.

Any guesstimations on the pricing for the 950s. I know its early days but what has the prices been historically for the phone only flagships

Anything about glance ???

Why they downgraded camera?? Is Microsoft compromising? Phone should cost ₹5000 for 5 & 2mp camera

This and 950 may actually get people to buy Windows Phones. Wow. I'm really interested in this.

I think they are trying to eliminate the 4xx series & put the 550 at a lower price point

Y can't they go with 4.5 or 4.3 inch screen ? We need mobiles like xperia z compact series. I love my lumia 520 just for the small size and the power it's packing.

In the 1st pic there is physical buttons while in 2nd pic there is on screen buttons. I think first one is true.

Battery is small at 1905 or 1950 for 5" HD display. BLU Win Jr has the same battery with 4.7" display.

It's same specs as my current 535 minus the 5mp front camera the 535 has

Well not much improved from the 640. A massive decrease in battery a weaker SOC. I think a Snapdragon 400 or 410 would be better but thats just me Posted via the Windows Central App for Android

It looks good for a budget device.
Windows Central Newsletter
Thank you for signing up to Windows Central. You will receive a verification email shortly.
There was a problem. Please refresh the page and try again.