What to expect from Microsoft's Windows 10 devices event in NYC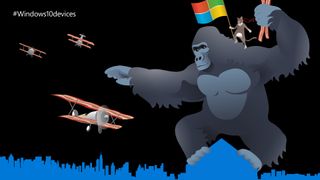 Earlier this morning, Microsoft announced that Tuesday, October 6 they are going to share some news about Windows 10 devices. The event is going to be held in New York City, live streamed, and we'll be on the ground live covering the all-day event.
Microsoft's #Windows10devices event FAQ
So, what is Microsoft going to reveal? Many of you have a good idea, but I'll share my thoughts on what you should expect. Let's go!
Surface Pro 4 - Two sizes
The Surface Pro 3 was announced in May of 2014. That date makes a Surface Pro 4 successor long overdue, and there are a few reasons for that delay:
Windows 10 Threshold 2
The 6th gen Intel 'Skylake' processors
Of those two reasons, the second is the real hold up. Microsoft, unlike in the past, is looking to release a device with the latest hardware. Intel's sixth generation processors are just now hitting the market, and the timing of Surface Pro 4 is not a coincidence. This delay is one of those you want as Skylake is a significant upgrade.
Skylake brings some modest performance improvements, but the real story is the smaller die of the chipset resulting in a more power efficient and a cooler PC. For desktops, this advantage is not as big a deal as it is for mobile devices like the Surface. So here is what I am predicting we'll see:
1. Surface Pro 4 12-inch
This is the true successor to the Surface Pro 3. Physically, the 2-in-1 is likely to look very similar to the older version. Microsoft said to expect accessories, like the pricey docking station, to work on future devices, and you can only do that if you maintain the current design. However, there are benefits I am expecting due to the introduction of Skylake:
Fanless system – My internal reports suggest that this device will not have a fan. What that means for the exact processor type is not known, but I would bet on this feature
Better battery – With the performance enhancements of Skylake and the smaller components, expect a bigger battery on board giving a double-whammy for increased battery life on the go
Improved display – I have heard reports of a 4K display. Seeing as companies like Dell are doing this in their 12-inch two-in-ones it is certainly within reason. Combined with Windows 10's excellent scaling ability for high-resolution screens and this could be a killer combo
What I am not sure about is Windows Hello. The Intel F200 RealSense camera (it's three cameras, IR, 3D and traditional RGB) is a rather large component to squeeze into a 12-inch device. Still, it could be done although I'm not 100 percent sure at this point.
Besides all of that I'd expect the usual engineering improvements we have come to expect from the Surface team, including numerous other enhancements to the hardware.
Release Date: Expected late October
Pricing: Unknown but likely similar to Surface Pro 3, including CPU ranges
2. Surface 14-inch (Surface XL?)
Yup, there will be a second Surface Pro 4 announce in a 14-inch form factor. I have also heard reports of it going by a different name e.g. Surface something besides Pro, possibly Surface XL, but details are scarce. Here is what I do know:
Fan – This does have a fan implying a beefy Skylake CPU
Storage - Up to 1 TB SSD storage
Thin - It will be thinner than Surface Pro 3 (which is what happens you stretch out the whole body)
Facial Recognition - Windows Hello with Intel F200 camera
4K Display - Very high display resolution (likely 4K)
Other than those details, not much else is known at this point. The 14-inch version will need new accessories, including Type Cover and Dock, due to the new size. Still, as someone who prefers laptops in the 14 to 15-inch range, this device has me interested. Seeing as it is physically larger (but also thinner), it means it should also pack some more robust hardware including Windows Hello.
Release Date: Expected early November
Pricing: Unknown but likely similar to Surface Pro 3 probably higher, including CPU ranges
Flagship Windows Phones – Lumia 950 and Lumia 950 XL
It should be of no surprise that Microsoft will finally unveil the Lumia 950 and Lumia 950 XL. Windows Central has already revealed a lot about these phones with other sources leaking renders and even photos. Let's recap.
Talkman (Lumia 950)
Matte White or black polycarbonate body
5.2 inch WQHD (1440x2560) OLED display
Snapdragon 808, 64-bit Hexa-core
Iris scanner (infrared) for Windows Hello
3GB of RAM
32GB of internal storage with a microSD card slot
20MP PureView rear camera
5MP Wide-angle front facing camera
3000 mAh removable battery
Qi wireless charging with flip cover
USB Type-C
Cityman (Lumia 950 XL)
Matte White or black polycarbonate body
5.7 inch WQHD (1440x2560) OLED display
Snapdragon 810, 64-bit Octa core
Iris scanner (infrared) for Windows Hello
3GB of RAM
32GB of internal storage with a microSD card slot
20MP PureView rear camera with triple LED flash
Aluminum side buttons
5MP Wide-angle front facing camera
3300 mAh removable battery
Qi wireless charging integrated
USB Type-C
For the U.S., I expect AT&T to be the primary carrier for the Lumia 950. I have not heard of any other carriers launching the phones in the U.S. However my lack of confirmation on that does not mean it is 100 percent the case.
Speaking of AT&T, expect an mid to late November launch date for that phone.
Seeing as these phones sport newer Qualcomm chipsets, they should have universal radios on board. Due to the cutback in carrier deals it would seem like an obvious game plan for Microsoft to direct sell these phones to consumers within a few weeks after the announcement. After all, they do have the resources online and for physical stores to do so, so why not? They know these phones are "for the fans" so I would fully expect them to lower the barriers for purchasing. What that means for CDMA carriers like Sprint and Verizon, however, remains to be seen.
Release Date: Expected early November; later in November for AT&T
Pricing: Unknown but likely very competitive
Smart Cover and Pen for Lumia 950 XL
The Lumia 950 XL has an optional smart cover that lets users interact with the phone like seeing incoming calls and messages. It'll have a circular window to view those messages heavily implying a yet-unseen calling display for Windows 10 Mobile.
The Lumia 950 XL can also use a pen although I have heard some mixed things like 'inking' in Microsoft Edge may not be ready for launch. Either way, combined with OneNote it should be an interesting accessory for the 5.7-inch display on the 950 XL.
Release Date: Expected early November
Pricing: Unknown
Continuum Dock
Although those two new flagship phones should keep people happy, the added Continuum Dock codenamed Munchkin is the real deal. The small, square device is rather heavy so that it does not slide around your desk, and it allows various connections through the USB-C connector including display port and USB for connecting mice and keyboards.
Release Date: Expected early November
Pricing: Target $99
Microsoft Band 2
Microsoft's fitness and health accessory is going to get updated to version 2.0. What does the Microsoft Band 2 look like? No one is quite sure although I have heard it will now have a curved display and fixes for the most common complaints about version 1.0. I have also heard it is going to run Windows 10 for IoT, which would make sense.
Expect this device to launch in all the current Surface countries on day one. I'd also expect AT&T to tie it into Lumia 950 sales with a special promotion for the U.S.
Release Date: Expected early November
Pricing: Unknown; probably $199
Microsoft ProClear Speaker
A few months ago an internal document leaked regarding some upcoming Microsoft accessories. One of them was called 'Livana' and it looked like an updated Nokia MD-12 Bluetooth speaker.
Not so fast.
This device is the first Skype-certified hardware being released with a focus on enterprise customers, and it is called the Microsoft ProClear Speaker. Here are the details:
Skype certified
Three directional mics
Digital Signal Processing (DSP)
Up to 15 hours operational time
Bluetooth 4.0/A2DP/BTBT
Microsoft's ProClear Speaker should be a hit with those in business looking for a portable conference call system to work with Skype. The target price is just $129, so I could imagine companies picking up a half dozen of these things.
Release Date: Expected early November
Pricing: Target $129
New Treasure Tag
Microsoft is set to release an updated Treasure Tag accessory. The little gizmo attaches to your keychain to help find your keys, luggage, or anything you attach it to. The device recently passed through the FCC so this one is a nearly guaranteed.
Release Date: Expected early November
Pricing: Target price $20-30
Windows 10 Wave 2
We have heard about a wave 2 (or Threshold 2) for Windows 10. The update is likely to be just called 'November update' at this time with no fancy demarcations. Windows Insiders already see the early seeds of this release, but there should be other additions too, including:
General OS performance improvements, optimizations, and enhancements
Microsoft Edge - Support for browser extensions, tab previews and other improvements
More UI consistency with Win32 and Store apps improved menus, etc.
There are likely other things coming with this update, so we will have to wait and see what Microsoft has to say.
Release Date: Expected November
Pricing: Free
Windows 10 on Xbox One
It is not secret that this month Preview members should start seeing Windows 10 on their Xbox One. This is a rather massive shift to the underlying OS to the gaming console.
Besides significantly improved performance the whole UI is changing. Between now and November expect fixes and improvements to take place with full disclosure by Microsoft at this event.
Release Date: Expected November
Pricing: Free
HoloLens goes on sale (limited)
Microsoft will also talk about HoloLens in October. I expect HoloLens to go on sale in November, but hold on: this likely won't be a consumer product.
I hear HoloLens will go to some top partners in limited quantities starting later this year. Think of how Surface and Band launched and Microsoft is repeating the same staged product rollout. This strategy will allow them to get feedback from companies, improve upon the hardware, modifying manufacturing and more before a (possible) 2016 or later release for the next-generation holograph hardware.
Although this may disappoint some people, let's be realistic here. If you thought you were going to buy a $500 holographic computer this Christmas to play Xbox One games on you are likely living a fantasy.
HoloLens hardware (and software) needs to get into more user hands and be developed before Microsoft takes the giant consumer plunge. Letting developers and professional industries in on it also lets them create games, apps, and more. When Microsoft does finally launch it for consumers, you will have more than a few games and apps to use.
Release Date: Expected November (limited)
Pricing: TBD
Wrap up
Microsoft is going to have a huge day on October 6. In fact, this is going to be their biggest hardware push in their history. To recap:
Two new phones - Lumia 950 and Lumia 950 XL
Wearable - Band 2 wearable
Two new Surfaces – 12 and 14-inch versions
HoloLens
Windows 10 update and Windows 10 on Xbox One
Various accessories e.g. ProClear Speaker and more
On top of all of that also expect the NYC Flagship Store grand opening. Microsoft may also do the old pre-order bit for their new hardware starting on, you guessed it, Saturday, October 10 or 10/10. It should be clear, however, that for the first time in a long time, Microsoft has a very concerted presentation and release schedule for their new lineup.
Microsoft's #Windows10devices event page at Windows Central
Needless to say, that day will be very exciting so expect to stay glued to Windows Central for our hands-on and video coverage! Stay tuned.
Get the Windows Central Newsletter
All the latest news, reviews, and guides for Windows and Xbox diehards.
Daniel Rubino is the Editor-in-chief of Windows Central, head reviewer, podcast co-host, and analyst. He has been covering Microsoft since 2007 when this site was called WMExperts (and later Windows Phone Central). His interests include Windows, laptops, next-gen computing, and for some reason, watches. Before all this tech stuff, he worked on a Ph.D. in linguistics, watched people sleep (for medical purposes!), and ran the projectors at movie theaters because it was fun.