What to expect from Microsoft's Windows 10 devices event in NYC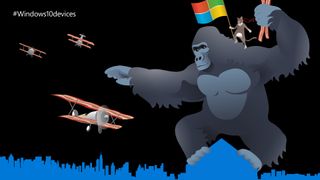 Earlier this morning, Microsoft announced that Tuesday, October 6 they are going to share some news about Windows 10 devices. The event is going to be held in New York City, live streamed, and we'll be on the ground live covering the all-day event.
Microsoft's #Windows10devices event FAQ
So, what is Microsoft going to reveal? Many of you have a good idea, but I'll share my thoughts on what you should expect. Let's go!
Surface Pro 4 - Two sizes
The Surface Pro 3 was announced in May of 2014. That date makes a Surface Pro 4 successor long overdue, and there are a few reasons for that delay:
Windows 10 Threshold 2
The 6th gen Intel 'Skylake' processors
Of those two reasons, the second is the real hold up. Microsoft, unlike in the past, is looking to release a device with the latest hardware. Intel's sixth generation processors are just now hitting the market, and the timing of Surface Pro 4 is not a coincidence. This delay is one of those you want as Skylake is a significant upgrade.
Skylake brings some modest performance improvements, but the real story is the smaller die of the chipset resulting in a more power efficient and a cooler PC. For desktops, this advantage is not as big a deal as it is for mobile devices like the Surface. So here is what I am predicting we'll see:
1. Surface Pro 4 12-inch
This is the true successor to the Surface Pro 3. Physically, the 2-in-1 is likely to look very similar to the older version. Microsoft said to expect accessories, like the pricey docking station, to work on future devices, and you can only do that if you maintain the current design. However, there are benefits I am expecting due to the introduction of Skylake:
Fanless system – My internal reports suggest that this device will not have a fan. What that means for the exact processor type is not known, but I would bet on this feature
Better battery – With the performance enhancements of Skylake and the smaller components, expect a bigger battery on board giving a double-whammy for increased battery life on the go
Improved display – I have heard reports of a 4K display. Seeing as companies like Dell are doing this in their 12-inch two-in-ones it is certainly within reason. Combined with Windows 10's excellent scaling ability for high-resolution screens and this could be a killer combo
What I am not sure about is Windows Hello. The Intel F200 RealSense camera (it's three cameras, IR, 3D and traditional RGB) is a rather large component to squeeze into a 12-inch device. Still, it could be done although I'm not 100 percent sure at this point.
Besides all of that I'd expect the usual engineering improvements we have come to expect from the Surface team, including numerous other enhancements to the hardware.
Release Date: Expected late October
Pricing: Unknown but likely similar to Surface Pro 3, including CPU ranges
2. Surface 14-inch (Surface XL?)
Yup, there will be a second Surface Pro 4 announce in a 14-inch form factor. I have also heard reports of it going by a different name e.g. Surface something besides Pro, possibly Surface XL, but details are scarce. Here is what I do know:
Fan – This does have a fan implying a beefy Skylake CPU
Storage - Up to 1 TB SSD storage
Thin - It will be thinner than Surface Pro 3 (which is what happens you stretch out the whole body)
Facial Recognition - Windows Hello with Intel F200 camera
4K Display - Very high display resolution (likely 4K)
Other than those details, not much else is known at this point. The 14-inch version will need new accessories, including Type Cover and Dock, due to the new size. Still, as someone who prefers laptops in the 14 to 15-inch range, this device has me interested. Seeing as it is physically larger (but also thinner), it means it should also pack some more robust hardware including Windows Hello.
Release Date: Expected early November
Pricing: Unknown but likely similar to Surface Pro 3 probably higher, including CPU ranges
Flagship Windows Phones – Lumia 950 and Lumia 950 XL
It should be of no surprise that Microsoft will finally unveil the Lumia 950 and Lumia 950 XL. Windows Central has already revealed a lot about these phones with other sources leaking renders and even photos. Let's recap.
Talkman (Lumia 950)
Matte White or black polycarbonate body
5.2 inch WQHD (1440x2560) OLED display
Snapdragon 808, 64-bit Hexa-core
Iris scanner (infrared) for Windows Hello
3GB of RAM
32GB of internal storage with a microSD card slot
20MP PureView rear camera
5MP Wide-angle front facing camera
3000 mAh removable battery
Qi wireless charging with flip cover
USB Type-C
Cityman (Lumia 950 XL)
Matte White or black polycarbonate body
5.7 inch WQHD (1440x2560) OLED display
Snapdragon 810, 64-bit Octa core
Iris scanner (infrared) for Windows Hello
3GB of RAM
32GB of internal storage with a microSD card slot
20MP PureView rear camera with triple LED flash
Aluminum side buttons
5MP Wide-angle front facing camera
3300 mAh removable battery
Qi wireless charging integrated
USB Type-C
For the U.S., I expect AT&T to be the primary carrier for the Lumia 950. I have not heard of any other carriers launching the phones in the U.S. However my lack of confirmation on that does not mean it is 100 percent the case.
Speaking of AT&T, expect an mid to late November launch date for that phone.
Seeing as these phones sport newer Qualcomm chipsets, they should have universal radios on board. Due to the cutback in carrier deals it would seem like an obvious game plan for Microsoft to direct sell these phones to consumers within a few weeks after the announcement. After all, they do have the resources online and for physical stores to do so, so why not? They know these phones are "for the fans" so I would fully expect them to lower the barriers for purchasing. What that means for CDMA carriers like Sprint and Verizon, however, remains to be seen.
Release Date: Expected early November; later in November for AT&T
Pricing: Unknown but likely very competitive
Smart Cover and Pen for Lumia 950 XL
The Lumia 950 XL has an optional smart cover that lets users interact with the phone like seeing incoming calls and messages. It'll have a circular window to view those messages heavily implying a yet-unseen calling display for Windows 10 Mobile.
The Lumia 950 XL can also use a pen although I have heard some mixed things like 'inking' in Microsoft Edge may not be ready for launch. Either way, combined with OneNote it should be an interesting accessory for the 5.7-inch display on the 950 XL.
Release Date: Expected early November
Pricing: Unknown
Continuum Dock
Although those two new flagship phones should keep people happy, the added Continuum Dock codenamed Munchkin is the real deal. The small, square device is rather heavy so that it does not slide around your desk, and it allows various connections through the USB-C connector including display port and USB for connecting mice and keyboards.
Release Date: Expected early November
Pricing: Target $99
Microsoft Band 2
Microsoft's fitness and health accessory is going to get updated to version 2.0. What does the Microsoft Band 2 look like? No one is quite sure although I have heard it will now have a curved display and fixes for the most common complaints about version 1.0. I have also heard it is going to run Windows 10 for IoT, which would make sense.
Expect this device to launch in all the current Surface countries on day one. I'd also expect AT&T to tie it into Lumia 950 sales with a special promotion for the U.S.
Release Date: Expected early November
Pricing: Unknown; probably $199
Microsoft ProClear Speaker
A few months ago an internal document leaked regarding some upcoming Microsoft accessories. One of them was called 'Livana' and it looked like an updated Nokia MD-12 Bluetooth speaker.
Not so fast.
This device is the first Skype-certified hardware being released with a focus on enterprise customers, and it is called the Microsoft ProClear Speaker. Here are the details:
Skype certified
Three directional mics
Digital Signal Processing (DSP)
Up to 15 hours operational time
Bluetooth 4.0/A2DP/BTBT
Microsoft's ProClear Speaker should be a hit with those in business looking for a portable conference call system to work with Skype. The target price is just $129, so I could imagine companies picking up a half dozen of these things.
Release Date: Expected early November
Pricing: Target $129
New Treasure Tag
Microsoft is set to release an updated Treasure Tag accessory. The little gizmo attaches to your keychain to help find your keys, luggage, or anything you attach it to. The device recently passed through the FCC so this one is a nearly guaranteed.
Release Date: Expected early November
Pricing: Target price $20-30
Windows 10 Wave 2
We have heard about a wave 2 (or Threshold 2) for Windows 10. The update is likely to be just called 'November update' at this time with no fancy demarcations. Windows Insiders already see the early seeds of this release, but there should be other additions too, including:
General OS performance improvements, optimizations, and enhancements
Microsoft Edge - Support for browser extensions, tab previews and other improvements
More UI consistency with Win32 and Store apps improved menus, etc.
There are likely other things coming with this update, so we will have to wait and see what Microsoft has to say.
Release Date: Expected November
Pricing: Free
Windows 10 on Xbox One
It is not secret that this month Preview members should start seeing Windows 10 on their Xbox One. This is a rather massive shift to the underlying OS to the gaming console.
Besides significantly improved performance the whole UI is changing. Between now and November expect fixes and improvements to take place with full disclosure by Microsoft at this event.
Release Date: Expected November
Pricing: Free
HoloLens goes on sale (limited)
Microsoft will also talk about HoloLens in October. I expect HoloLens to go on sale in November, but hold on: this likely won't be a consumer product.
I hear HoloLens will go to some top partners in limited quantities starting later this year. Think of how Surface and Band launched and Microsoft is repeating the same staged product rollout. This strategy will allow them to get feedback from companies, improve upon the hardware, modifying manufacturing and more before a (possible) 2016 or later release for the next-generation holograph hardware.
Although this may disappoint some people, let's be realistic here. If you thought you were going to buy a $500 holographic computer this Christmas to play Xbox One games on you are likely living a fantasy.
HoloLens hardware (and software) needs to get into more user hands and be developed before Microsoft takes the giant consumer plunge. Letting developers and professional industries in on it also lets them create games, apps, and more. When Microsoft does finally launch it for consumers, you will have more than a few games and apps to use.
Release Date: Expected November (limited)
Pricing: TBD
Wrap up
Microsoft is going to have a huge day on October 6. In fact, this is going to be their biggest hardware push in their history. To recap:
Two new phones - Lumia 950 and Lumia 950 XL
Wearable - Band 2 wearable
Two new Surfaces – 12 and 14-inch versions
HoloLens
Windows 10 update and Windows 10 on Xbox One
Various accessories e.g. ProClear Speaker and more
On top of all of that also expect the NYC Flagship Store grand opening. Microsoft may also do the old pre-order bit for their new hardware starting on, you guessed it, Saturday, October 10 or 10/10. It should be clear, however, that for the first time in a long time, Microsoft has a very concerted presentation and release schedule for their new lineup.
Microsoft's #Windows10devices event page at Windows Central
Needless to say, that day will be very exciting so expect to stay glued to Windows Central for our hands-on and video coverage! Stay tuned.
Daniel Rubino is the Executive Editor of Windows Central, head reviewer, podcast co-host, and analyst. He has been covering Microsoft here since 2007, back when this site was called WMExperts (and later Windows Phone Central). His interests include Windows, Microsoft Surface, laptops, next-gen computing, and arguing with people on the internet.
Excited. Very excited :-) Last chance for the phones though. If the 950XL isn't good enough, gonna go to Samsung/LG/HTC/Sony as most key Microsoft apps are on Android.

I was waiting to see if you were going to give the new phones a chance. Thank god you told everyone here... I can now die in peace. /s

Lol, gotta give the 950s a chance... It'll be a sin not to :-)

I'm pretty excited to see the phones, Since I got a Surface 3, I'm very interested in looking into a window's phone (I mean why have to deal with 2 OS's if you don't have too). They sound very promising. They should be a significant upgrade over my Sony Xperia Z.

I"d love to give the 950s a chance but I'm on Verizon and ATT's coverage where I work is terrible so we'll see. I'm really hoping Verizon has the XL.

AT&T coverage is crap where I live also. I really hope these new phones work with Verizon in some way or another.

Yes me to, but don't hold your breath Verizon hates Microsoft

AT&T coverage is crap, Verizon hates Microsoft, some of USA carrier don't know that WP exists. Why MS don't organize their own network?

what? why does verizon hate MS?

No idea why but it's clear that they do. Just look at how they treated the Lumia Icon. That is a big reason that Windows Phone is doing so poorly in the US. Verizon had an exclusive on the Lumia flagship device, which was a bad idea in itself, and then they basically buried it. There was no promotion at all, it was unavailable at many Verizon outlets and their staff actively directed customers away from it even when they requested Windows Phone.

What if you just shovel 1000 USD for a no contract phone?

The issue isn't one of getting an unlocked phone. Those will definitely be available, and you'll be able to drop just about any GSM SIM card into it to use it anywhere in the world. The issue is more whether or not those phones will have the necessary hardware to operate on Verizon's CDMA network (not GSM).

How did you end up in asituation where your choice of carrier also dictates your choice of phones? It's time to yell NO! Here in Norway I can choose any combination of phone or carrier, and I can also choose to change carrier at any time. In short, I'm free to do what I want. If I choose to do so I can choose to buy a phone from a carrier, or locked to a carrier, at a good price. Usually the phone is then locked to that carrier, usually for one year. After that the phone can be unlocked and used with any carrier.

the cost of the phones are supplemented in the US ..... so you have to sign a contract for two years to get the deal. You buy your phone out right and not be tight to a carrier or a contract ... most do not pick the choice

I expect to see a wallpaper with king kong, a stupid cat, a msft flag at half mast, a dystonic satya nadella mouth and gabe auls shining bald top :)

Anything is 1000000x better than that lying sack of poop Tim Cook, and his idiot devices he is shoving down iSHEEP's throat(he LOVES shoving things). So yeah, Microsoft ROCKS, and CrApple SUCKS with their overrated, 4+ years behind other brand's technologies...........crap devices.

Yeah I stirred up a manager today who was all like "I cant wait to see force touch on the new iPhone" and I was like "here I'll show you now as Windows Phone has had it for 4 years" and showed him a long press menu ha ha -it's not the same but close enough ;) totally deflated his excitement when he realised its just a MS feature rehashed

You tell it brother sooo tired of Crapple and the stupid sheep that follow!!!

Hi men, stop cursing iGod TC end the iChurch ... you will landing in de iHell ... iHeaven is reserved for the iSheep's.

I would like to see more wallpapers of Bill Gates greased up, sitting naked on a Harley Davidson eating an apple.

Why no cyan version of the new phones? That's REALLY disappointing. It's bad enough that the designs are rather "meh"... but we don't even get the traditional Lumia colors? W-T-F?!?

Looking forward to the new Surface, especially the fanless one. I guess it will be my birthday gift to myself in November. :)

Since the first renders looked good, I expected a brighter blue

The Continuum Dock in that leaked picture had what was supposedly the 950XL, looking pretty much like the Cyan 640 XL up front.

Wait on it, they released the 1520 in Green after initial launch

Because very few people in the world want something other than black, silver, or gold.

Yes, all key MS apps are in Android. But the UI is still superior on Windows Phone. Posted via the Windows Central App for Android

its easy to see for the projected previews that the 950XL will be good enough ...... i am starting to hate my Note3

No capacitive buttons no purchase, if I have to spend money on flagship phone, MS must not build a cheap device. Removing the capacity buttons sounds cheap to me, beside the on-screen back button sometime interfere with the apps' command for one. Double tapping the screen to get the back button is not very productive. Before anyone second guess my loyalty, I've been using windows mobile since HTC Tornado aka SDA.

Well you can have mine, as they get on my nerves, I have to feel for them )at night) and push several time till i do, the iPhone has created more parts store than anything if it wasn't for iPhone that business wouldn't exist, every corner has a repair store. I doubt in future any phone will have physical and capacitive buttons. So I think it not cheap but it is forward thinking. Untill IPhones does it.

you know its good enough .....

dude you can look at specs and see theyre good enough, in some ways better. If this phone was from apple it would be best phone of the year, if it was samsung it would be best galaxy ever, but its microsoft so its like alright, image is eveything to some people, But well see.

I did not go for Windows Phone because of Microsoft's productivity apps but because of the Windows OS. I wouldn't trade it to the highest spec'd Android Phones.

I'm not particularly interested in the 950. I've enjoyed my 1520and dropping down to a 5 inch screen is too much for me. I'll wait for the surface phone at 5.5 or maybe switch to the note 5 especially if it rocks WM10.

950 XL = 5.7 (Not a huge dropping down)

But, for us in the US, we may have the option to buy this phone. Rumor has it (as Daniel said) that AT&T looks likely to sell the 950, but not the 950XL. There is some speculation of buying directly through Microsoft, but that remains to be seen. Plus, some of us still rely on contracts and phone subsidies to purchase phones, which requires purchasing through the carrier.

By the time these phones come out there may not be contracts or phone subsidies.... Look at Verizon, AT&T and T-Mobile

They replaced subsidies with installment payment. It's basically the same thing except your expense goes down once the installment payments are finsihed. With subsidies, the monthly fee was the same whether you upgrade the phone or not and it made sense to upgrade every 2 years.

That is how it works in the UK, don't upgrade at the end of the contract - price goes down and if you don't upgrade goes down even more (if the carrier allows it). If you choose a longer contract you pay nothing upfront, shorter requires some payment and the amount paid depends on the phone.

If going from a 1520, you probably want to be looking at the 950 XL which has a 5.7 inch screen.

There is the XL that is 5.7

Note 5 actually looks smaller than my Lumia 640 XL, both 5.7"

That's because it is smaller. Thinner, smaller bezels, etc.

What makes u think the Note 5 will be compatible with W10 Mobile??....... What I've been saying for a while now, is that MS wasted billions on Nokia...... They should have paid Android OEM's to release their phones with Windows phone on it....... Instead of getting half baked old hardware running an unsupported OS. This would have been a much better investment. Especially considering Nokia is going to license and design their brand on android next year

It wasn't just about buying the brand. It was marketing, R&D, the whole lot.
Besides, Nokia isn't goin​g to build their own phones, they're going to design devices and outsource them to other manufacturers to build for them.

I really couldn't care less what you will do...

Let me go and see if The Verge has this kind of article.

We can usually count on Tom Warren for MS happenings over there... http://www.theverge.com/2015/9/14/9322809/microsoft-surface-pro-4-lumia-...

All they are saying is how disappointing Microsoft's IFA stuff was and how they need to catch up with apple in regards to innovation and tablet hybrids

apple innovation: copy surface.

Microsoft had no "Stuff" at IFA so how could it be a disappointing? It was always expected they would have their own announcement.

Their writings about wow factors of apple may not provide space for others until next year . Almost in their articles you will see apple even if they write about wall clock ! NFL people are stupid enough to say surface as iPad and theverge people are sold enough to see apple in everything ! Very funny but annoying !

Brought to you by Karl's Jr.

I see what you did there.

Noo, what are talking about, these guys aren't all about apple, you're insane, no way... right?
http://postimg.org/image/nolwkze93/

Of course thier down playing the surface pro 4. What dio you expect from iSheep. losers!

It would he nice if ATT were selling both the 950 and the 950XL.

I think MS will be sell "multi-band" devices.

I really hope so - in this day and age, consumers shouldn't be limited to buying devices from specific carriers. I'm a T-Mobile customer, and while it annoys me that they don't seem to be a big proponent of Microsoft devices, I can't fault their cellular/data services or customer service. Under no circumstances would I consider changing provider just to get a new device, and it would be ridiculous of Microsoft to think that customers would entertain this thought. If you want Windows 10 Mobile to be a success, blanket the market with devices that work on all major networks, and sell direct to the customer. I don't need any T-Mobile or other provider customizations - I just want the damn devices!

I think things are going to go that direction TBH. With all the carriers going the route where you have to buy your own device, you can usually get a nice unlocked one cheaper on the internet.

I'd still like to see more devices sold subsidized on contract, which requires purchasing through the carrier. With my old plan, which I just renew when buying a new device, I pay significantly less over the course of the contract than I would by "upgrading" to the new pay up front or installment plan options.

I'm using T-Mobile too. Only thing I'll miss is the WiFi calling. Microsoft needs to sell the new lumias unlocked like Google nexus phones. They have the distribution network via their physical stores and online of course. Posted via the Windows Central App for Android

I'm a TMO customer too. I 100% need WiFi calling! My job has zero connection otherwise..and that is from mulitple carriers. What I don't understand is my son and daughter have iphones that they brough over and "WiFi calling" was part of iOS. They did not need any additional settings. They just turned it on. Why can't that be in M$'s phones?

Agree. in Brazil we have two types of sells, the first one through retail stores and internet you can buy practically ANY phone available unlocked and unbranded (and you can put any Sim Card on it). And the second one through Carriers stores with or without a contract, still all phone are UNLOCKED.

I hope so and I hope also that they break sales records, and double their mobile share in less than a week, in presales and then again when its finally released. So almost overnight night they go from 3rd to breathing down on apple neck. At least double growth from 2.6 to 5.2(or higher) to around 10 percent in less than six months by then their might be a surface phone and a lumia 1050.

I'd love it if Microsoft sold VoLTE universal banded devices direct from the store with 2 year contracts and insurance options. It would allow for more people to get the flagship devices without having to drom $500 - $700 all at once.

It would be nice if Verizon sold at least one of these. It will be quite a quandary for me if they don't; leave my family plan on Verizon and pay more to have an individual line on AT&T plus my Verizon family plan, or go with an Android or iPhone on Verizon. Hate Verizon, like their network.

I'm in the same situation. But if it comes down to the new flagship phones not being compatible with a Verizon version, the choice I've already made is that I go to AT&T while family stays on Verizon, at least until the wifes contract expires next May. Then we all bid Verizon an up-yours farewell.

Verizon will sell the shittiest WP available and then go, "See? No one wants a Windows Phone."

All my 4 lines with AT&T are up for renewal and they try pretty hard to lock me in for another 2 years. I told them flar out that that's not going to happen if they don't carry the 950 XL. I'd rather buy unlocked.

How about Surface Pro + or Surface Pro XL

wow... that is a TON of stuff! happy with half of that to be honest

Microsoft did say they were going to unveil 1 or 2 hardware surprises. Since they were able to hit us with HoloLens in January, can we expect possibly, something we haven't heard rumors about? An example can be Windows in the car? This would definitely need to be an area Microsoft would need to address given that Ford shat on Microsoft with Sync. the new Sync only really works well with iPhones.

I'd love to see them come out with something for infotainment systems that bridges apples and googles system to work with all phones. I hate the fact that what car you buy, sort of, determines what cell phone you buy, or vice versa. If you have an iPhone it shouldn't matter what car you buy, or your car shouldn't determine what phone you buy.

I guess regular surface 4 will come out next year? So the surface mini is completely done for? Posted via the Windows Central App for Android on my Oneplus One

the small tablet market is done for with the phablet rise.

Those phones need to be very aggressively priced to attract interest unless there's an unleaked 'wow factor', like £299 SIM free

I agree. The spec certainly aren't what I had hoped for, so the price better reflect that.

I'd like that! It would certainly make for some superb monthly contract prices. When I got my 920 they had some decent bundles too, like a wireless charging plate and Bluetooth speaker. I hope Carphone Warehouse stock the regular and XL versions.

I'm on the fence about what to do. At the moment, I'm likely keeping the used Lumia 930 I bought to replace my Lumia 1020. My contract with Vodafone just so happens to end in November - Originally I was definitely going to get the 950 XL on a new contract (If Vodafone will be stocking it), but not so sure at the moment whether it will be worth it over just switching to a £20 a month SIM only deal and having unlimited everything.
It's nothing specific I dislike about the new phones (Although I much preferred the WC renders over the leaked ones), but more so whether they will add enough value to be worth getting tied into a new contract for - Certainly if they ended up being £299 SIM Free then I'd probably pick one up, but I'm expecting them to be at least £400 - £450 before being subsidised with the specs listed. Possibly more - I've not really looked at what a new flagship device goes for in the past 2 years...not been able to ;)

Don't forget the VAT! If anything it would be £450 + VAT... never the less these phones the advantages of removable covers, msd card. Which means we could see a mugen extended battery with a wireless charging cover :D for the 950 (well one can hope).

Out of curiosity, what specs did you expect?

It has all the specs of any flagship phones. What is missing is the design. Most people don't seem to impressed with the renders we've seen of the phone. It's supposed to look better in person. It better look a lot better.

With the rumored internals, I doubt that the price would be that low.

You're having a laugh expecting these at that kind of price.

If only Microsoft took the "latest hardware" approach with its phones. Instead, here come an 8-month old set of silicon and cameras probably pretty close to what we got in 2013's 1520.

And still one of the one of the best cameras to date

The Snapdragon 820 isn't ready yet. So we'll likely see the 810 2nd gen in there. Would you rather an A9 chip in there?

Well, an A9 is obviously not an option, but I wouldn't be opposed to an Exynos chip (though it also probably isn't in the cards). That, or Skylake's Atom child woudl be awesome.

Sort of like the iPhone comes out with tech that's years behind, and most of android devices as well. Don't become a numbers goon like so many other are. Just because it's newer, doesn't mean it makes the device better or faster or anything. It all comes down to optimization and usage.

But, fingers crossed, many of the apps that get ported (or however you want to term it) over form iOS or Android will not be optimized. We all know that any developer taking advantage of these converters will not spend much time optimizing for Windows. They will use the same basic code as their cousins on other OSs. OSs that may have more horsepower behind the scenes.

Screw optimized, I'm first looking to see release dates for the official opportunity to port apps.

You can say "numbers goon," as much as I can say "settling fanboy." Neither actually holds weight unless you want to build an argument on petty insults. It's not about numbers. It's about the idea that we're expected to drop hundreds of dollars on tech about to be replaced. Those numbers eventually turn to real-world performance, too. You can call it whatever you want, but remember that current WP devices can't get Continuum because of missing hardware. I want my 2-year commitment to be futurproofed as much as possible.

Not really. I'm not settling, I'm realistic about what the device needs. It's like the people that are complaining about only 3GB of RAM. It's completely unnecessary and only drives up the cost of the device. As for the devices that can't run Continuum, on a phone, it requires USB-C because you have to push so much through the only connection out to the dock. There's no amount of processing speed and RAM or any other spec that is going to overcome the physical requirement of a port. I have been building computers for close to 20 years now, I know the difference between opening the box and something more powerful existing a week later, and building a system that will last years to come and still run the latest, demanding, programs. If you want to sit and wait for each noew piece of tech to release, you're going to sit and wait an aweful long time, because there will ALWAYS be something new coming out soon. If you rate a device specifically on it having the highest numbers, you have a lot more to learn.

Ahh, the ignorance of this post. Taking my words, twisting them to something different, and then trying to claim superiority. First off, you know Continuum can run wirelessly (via Miracast), right? If it were about USB Type-C alone, then you coudl easily adjust it so Continuum requires new hardware to use the dock. Instead, they're saying it needs new hardware for Continuum AT ALL. Thus, it is more than just about USB. In fact, this site covered the matter, and stated it thusly: "updated Qualcomm chipsets can handle the dual display output needed for Continuum." http://www.windowscentral.com/continuum-phones-works-over-miracast As such, it is likely a need for the better CPU and GPU to handle processing everything you do on the phone twice (once for the phone and once for the larger display). Now, with the rest of your comment, where you just pretend I said something I didn't... This is about a poor mentality within Microsoft since WP started. Microsoft chooses to release its OS and devices well after the chips are out, and this puts the ecosystem CONSTANTLY behind the competition (particularly Android, where the guts are often directly comaprable). My complaints aren't about never buying hardware because it'll be topped someday (as you ridiculously suggest). It's about deliberately aiming to release a near-replacement device, which does Micrsooft a disservice on many levels. This fall crap puts them in a bad position becuase Apple will forever be casting a giant shadow on any Windows release, and the parts Microsoft uses to power the heart of the phone are always dated and near EoL status, really. It really does end up being about settling. Standards for these devices are so low becuase they're so long overdue, and people don't care to challenge Microsoft to do something awesome. Instead, it's about replacing my 920 with something that ISN'T 3.5 years-old (from a SoC standpoint), rather than getting a high-end option in 2015. If it weren't for Microsoft's horrid management of hardware releases on WP8 in the past 17 months or so, I would have a 930 on AT&T and be waiting patiently for an Intel-based phone. Instead, I'm so far behind, from a technological and performance standpoint, that anything is going to be enough of a leap to make things work now.

They are hardly dated or EOL. Those chips won't be EOL for several years. By your argument, IF you buy an android flagship phone in may-june, it will be outdated by January when the next ARM chip comes out. Unless those chips have new features built in that are necessary, the speed bump is hardly relevent. It won't even be noticed in real world use. As long as the latest apps still run on those chips, they are not outdated. Simple fact is that most android OEM release their phones in the 1st or 2nd quarter of a year and Microsoft releases in the 4th quarter for the holiday shopping season, just like Apple. Those few months don't make their devices outdated when they are released.

I'll go ahead and say you're wrong here, mostly becuase you're using bad comparisons. The latest SD chip is usually being thrown into devices around March/April, not May/June. What's more, you then call "one year" from those devices' release January..? There's a BIG difference in being one of the first devices with a chip and one of the last. Simply saying "ARM chip" is also poor form, because ARM is a generic architecture term that encompasses Nvidia's Tegra, Qualcomm's Snapdragon, MediaTek's Helio, Samsung's Exynos, and Apple's A system-on-chip offerings. So, just because the A9 might release 6 months after the SD 810, it doesn't make the latter outdated becasue the former isn't the same thing--an Android or Windows device can't use the A9. HOWEVER, having a November 2015 device launch with the 810, only to have devices launch in March with the 820, that's pretty disappointing, especially since the 820 is supposed to involve a drop to 14nm and a new type of CPU core (Kryo, rather than a generic Cortex offering). What all we're supposed to gain from that isn't 100% certain, but it coudl be a big leap in performance, depending on the quality of the new cores. Oh, and "latest apps" really isn't a good thing to say, either. My Lumia 920 is running all of the stuff being thrown on the WP8 and W10M stores right now. That does not make my Snapdragon S4 MSM8690 that released in early-2012 a current SoC. The 810 will be EoL in the sense that you aren't going to see OEMs using it for much longer. The 950 XL will probably be one of the last devices you'll see launch with the SD 810, as it'll be likely to release in November, with OEMs like OnePlus and Sony nearing completion of their 820-packing devices (with HTC probably following at MWC next March). You might say it's for the shopping season, but that doesn't make it smart. Apple's able to pull it off becuase of brand loyalty, marketshare, and the fact its hardware is relatively unique (non-Apple hardware doesn't carry A-series chips to compare). Microsoft should be moving to a release period to match its competition, or it has to find a way to get chips early. It's too easy for a customer to see "810" vs. "820" at the mobile store and figure out which is better.

Yup, this release cycle is not going to do them any favours in the techblogsphere if they stick to it (I hope it doesn't take several iterations - like the surface line up). Given most usually like to bash Microsoft at any given opportunity. It's a numbers game for most people, the bigger the number then it must be better than it's predecessor.

Yeah, it's why I'm hoping the Intel phone isn't just an enterprise mid-range offering that doesn't run software all that well, and I'm hoping we can get SOMETHING high-end and MWC 2016. These are really just coming because nothing else has, and I'm hoping that they can get in-line with the release schedule of Qualcomm.

Ironically MS's mobile strategy has a strong chance of giving these mobile "boy racers" what they want. With Win 10 comes the end of long OS release cycles, and features like universal apps and continuum strengthen the ecosystem and increase the probability of attracting third party device makers. What this probably means is more WM manufacturers able to chase the superficial spec-obsessed market segment, which will be easier to achieve because they can focus on dovetailing with the release schedules of key hardware components instead of waiting for OS updates.

8-months old silicon is more reasonable than 4-months-into-the-future silicon. In terms of camera, I do hope they made some improvements. I don't care about specs or megapixel count, but I would be disappointed if its just the 1520/930 camera (oh, now with three times the flash!).

There will probably be some software tweaks, maybe a bit of a step up in OIS, but we'll have to wait. As for my silicon mention, it's more about how Microsoft has cosntantly allowed phones to release in the fall, even though the chips are out in the spring, meaning they're forever launching late and beign topped early. The one high-end phone that launched in the spring (930) didn't even carry the latest chip (805, it carried the 800).

So they should just wait until Spring of next year to release a new phone? The Snapdragon 810 is the latest Qualcomm CPU. You're also talking out of your behind about the camera because you have no idea.

I'd rather they not take 8 months longer than the same-silicon competition to release their devices. That's what I want. I'm still on a 920, almost 3 years later, because of how bad Microsoft and Nokia have been at delivering handsets. The camera statement is mostly an assessment based on Microsoft's general actions in hardware since buying Nokie (minimize cost, even at the risk of quality, a la the 830).

I share your desire for an 820 chip, and I expect on in a WP device next year. Sadly, my 920 screen is degrading, and I can't wait for next year. You're right, they do need to consider there release cycles, going forward. Damned shame that they were unable to get the 820 though, would have been major kudos. As for camera tech, I've not seen any rumours of significant improvements, but I have my fingers crossed.

Same here. My 920's almsot 3 years-old, and it launched with a chip that was 8 months-old (or more) itself. I'd LIKE to wait for an Intel phone, but my 920 struggles to make it through 5 hours of work over 50 percent now. The battery life is GENEROUSLY able to last 18 hours. I've needed a replacement for a year now.

Same here with my almost three year old 920...I'm getting like 4-5 hours now and so always carrying a battery pack with me. I finally had to break down and buy a used lgg3, which honestly is a nice phone...but waiting for the 950. Red​920

Luckily, I don't need to be on my phone that much. My free time people typically spend on a phone is usually spent at home, on my desktop. Otherwise, I'm at school, class, or golfing, where I'm distracted from my phone. As such, I can get by pretty well with the poor life. I'm really not sure what I'll do with a phone for myself. I'd love to get the XL over the plain 950, since the 950 looks pretty ugly and lacks the stylus support. I'm hoping we get a surprise that AT&T will get the 950 XL, or maybe Microsoft will do like Apple and lease phones directly. I can't see myself dropping $500+ in one day on a phone, my internship doesn't pay me enough.

But it pays you enough to go golfing :P.

Golfing's $15-20, not $500. I get paid enough to where I could add a $20-30/month phone lease, but I don't get enough to just throw the whole amount out there (in reality, $500 is really conservative; it might approach $700). I mean, I'm playing 1-2 rounds of golf/week at $15-20, it's not like I'm going and buying a new set of clubs with my paycheck.

yes what is the worse that can happen. drop to single digit marketshare? already there. Drop to last place in the OS race. already there. Reship an OS that has been rebooted 3 times already. already there.

Just awesome at last Microsoft drop some hope for his fans that will be nice but 950 will be just for att no unlocked?

I hope the surface pen is compatible, which is what I'm assuming. This looks to be major for announcement and me having empty pockets for Christmas. Posted via the Windows Central App for Android

who cares? unless they go the apple way, you'll get a new pen anyway if you buy a new device.

Because it's nice to only have to carry one pen around and not switch around...

I just hope they will announce a full list of phones which will be available for upgrade to Windows 10. What non-Lumia devices will get it and when...some dates would be just fine.

Unless they announce some form of offline/pc-dependent software tool for upgrading non-lumia devices to W10M, which is highly unlikely, don't hold your breath for any of that kind of info at this event.

I assume the alledged 14-inch Surface will need its own special dock and keyboard. I also assume if they intend this device to be thinner than the SP3 then they would be forced to eliminate full USB 3.0 port in favor of type-C? HAving a tablet as massive as 14-inch, with the thickness similar to the SP3, it would make for an unatractive device when compared to the iPad Pro (for better or worse, a new reference for large tablets). A full USB port on the SP4 12-inch would be more forgiving design-wise given the more compact chassis.

14-inch DOES need new accessories. Can't see how it couldn't. I'm talking 12-inch SP3 to 12-inch SP4 being the same.

so are they going to have a plastic inset to raise the thickness of the device when docked, or will it be intentionally left thicker just so you can mount it to an accessory few, if any, will ever own? I hope it is not the later because that seems like punishing the many for the benefit of the few.

I think it's more likely that the 'full USB port' will be a USB 3.1 Type C connector rather than the classic Type A. It's smaller, can do more things - can be used to charge the SFP4 and is backward compatible to Type A.

Will a 14-inch Surface mean a new type cover also? If so I might just get a 12-inch. Don't want to spend money on another type cover...

of course it would, otherwise the display would be exposed.

no it does not depend on the bezel. There is no way to steal 2 inches of bezel on the current device for a screen. stop making stuff up and get a ruler. Even if you say, leave a 1mm bezel, virtualize the windows home key, and somehow refine edge detection, the moment you use the magnetic keyboard fold to its secure lap typing position, the keyboard which already barrely fits the bezel of SP3, will then be on your screen. It is already next to impossible to use SP3 with windows 10 because you have to wedge your fingers in between the taskbar and the keyboard. A bezel-less SP4 wouldn't work at all. They will just make the device bigger and leave a similarly thicked bezel to an ipad or sp3. Get over it.

Somehow, Dell XPS 15 works.

Yes, though the smaller one may work. We put a Surface Pro2 cover on a SP3 and it functions, but it looks really goofy. It would be ok at a desk...

It will work but it's going to be awkward

No reason that the keyboard connection could not be the same spacing do a SP3 (12") KB could be used with a 14" Surface. Cosed, teh KB would not cover/ protect the entire screen. I would prefer A wi-fi or bluetooth KB option so the KB could be used disconnected for Cad and Drawing purposes.

Exciting times! There goes my budget for this year... I'll have to get two Surface Pro 4s. The smaller one will go to my wife, but I want the 14" version. We'll both be getting flagship phones, but I'll be getting Cityman or sure. Two bands as well since we got the original which we enjoyed very much. As for the rest... we'll see... Daniel, how long do you think it will be before a consumer available version of the Hololens will be purchaseable? Also We have all heard about the FoV issues with the Hololens. Do you think the consumer version will have a larger one?

I wouldn't call this a "budget"

Wow, that is quite a "Budget"!!!!

Would love a Microsoft store in south Carolina. Especially in my small town but that'll never happen.

Considering there are two Apple stores in SC, I agree. I vote for Charleston though.

I'm amazed we don't have one in Charleston. Even a pop-up for the holidays would be nice.

Noooo, Surface Pro shouldn't go fanless. That's what the non-pro Surface should do... I mean, a fan that don't turn on usually, and smaller vents is a great thing, but a fan should be there for when you want to do demanding tasks on the Surface Pro. I hope they don't sacrifise performance on Surface Pro just to be fanless. And no, 14 inch is too big for a tablet, so I prefer 12 inch version.

Size depends on what you want to do with it. I use my SP3 for developing software and I'm sure the 2 extra inches would fit Visual Studio well when I'm on the go and am working on my code. Granted, most of the time, my SP3 is hooked to a large screen, but I travel quite a bit, so 14 inches sounds just right for me. As for tablet use, I really use the stand excessively, so I can't quite remember when the last time was i actually used my SP 3 as a handheld device. The good news is, there will be both sized, so we both can be happy :)

I use my SP3 for developing software too. Mine is connected to 29" external monitor when I'm home, I can't code on anything smaller than 23" :D But I don't use it outside that much; if I did, I agree that two extra inches is welcome for VS, although I'm not sure how it'll affect tablet usage. Sometimes I use it with the kickstand, and sometimes I just hold it with two hands. I guess with 14" version, I just can't hold it. 12" is a bit awkward, let alone 14"! I just hope the 12" version would be powerful too. A quiet fan that turns on rarely is perfect, but no fan is not good at all IMO.

I can see them getting rid of the i3 version and go with Core M instead.

at work we bought several surface pro 3's. all but one were returned because users complained the screen was too small for a PC replacement (it's main marketing). MS releasing a 14 inch version is the right choice.

I fail to see the point here. Even my 15 inch laptop is too small as a PC replacement, since I use a 25 inch monitor when at my desk. I am very much looking forward to the 14 inch Surface, but that won't be a desktop replacement either without a larger screen. For me, it will be an even better laptop replacement, that can function as a desktop, but the SP3 already replaced my laptop and my desktop. Marketing people won't be happy with a 14 inch screen either if this is all they get.

If at&t removes and storage or wireless charging like they did with the 1520 I will be going direct through the Microsoft store. I would love to see and 950/band2 bundle. It would give me a reason to grab the band 2.

I'd be much more likely to pick one up day one if they are running some band promo. Otherwise I'm just going to wait for the inevitable price drop.

I'm probably gonna go through the store anyway. I'd rather send a message to carriers that I don't want their branded stuff. I want to just buy a phone and throw a sim card in it. done deal.

It's amazing how little has been leaked about Band 2. Need me some waterproof, Clear Black, Gorilla Glass goodness. Probably too much to hope for.

I think waterproof is the only thing that's too much to be honest

I've alwasy found activity bands weird for not supporting a good waterproof design.

I've been rocking the 920 for more than 2 years now and am ready for its true successor, the 950XL.

Same here! At last, a true successor to the throne!

Don't Go Pro or G-Shock fo one? If they don't, they should. Gotta be a market for a rugged one, surely.

Awesome write up. For me personally I am most looking forward to Band 2 since I've held off on all smart watches thus far. If the AT&T phone/Band promotion is good, I might go with both. Also, I'd like to see a price drop on the 640 to around $40 this holiday season. That would make a perfect price point for gifts.

Sorry for being off topic! Why mid range Lumia phones don't have hands free "hey Cortana" feature, even though Android mid range devices like Moto G" has hands free "ok google" feature. Just curious!!!

Go to the forums asap. Thank you.

MS says Hey Cortana requires Snapdragon 800 or higher with always listening capability

They still need to re-add it into Windows 10 Mobile - Hoping they do that soon, as well as adding S/MIME support for Enterprise Users before launch

Hi, Dan. Have you heard anything on the accessories front in regards to the 950 family? I'm hoping we get more color back options beyond the in-box black or white.

I've seen some reports that the 950 will also support Surface Pen input. Any truth to that rumor?

Considering it was mentioned in the article? Posted via the Windows Central App for Android

That's only for the 950XL, as far as I can tell...

I really don't see the point of a pen for a 5.2 inch screen. That too me seen too small. It sounds that the 950 XL is to compete with the Note Series with the pen. That enlightens me Posted via the Windows Central App for Android

I don't disagree, but I already own a Surface Pen. :)

As so I, but I really want that XL anyways. My wife is gonna be mad cause I already planned in buying the Blu Pure XL, but I gotta have the XL but it has to be the dual SIM option. Otherwise I won't buy. Posted via the Windows Central App for Android

5.2" is big enough. That's only 0.5" smaller than the XL and besides the original Samsung Galaxy Note was 5.3".

I never had the Note 3 but did have the Note 4 and that .5 made a huge difference compared to my Sony Z2. 5.5 is my smallest I would say. Plus the S Pen compared to Surface Pen is more manageable for a smaller size screen. I know that .5 sounds like nothing but it really is. Posted via the Windows Central App for Android

Apple pencil...more innovative that way Posted via the Windows Central App for Android

Hololens.. Really?? .. That'd be awesome though.

Sweet! The 14 inch surface sounds very interesting. Well, everything does. Now, how in the world am I going to last 3 weeks?

For all the fans that sat here with a 920 for so long, they should let us trade it in for a discount. Haha

I feel like the 920 was the Nexus One of WP. Posted via the Windows Central App for Android

If you have phone insurance via the Microsoft store, you can essentially do that, minus the $100 deductable. I have a 1020, and that's what I'll likely do. I'm changing platforms anyway, looks like an iPhone 6s, but not also trading in my existing device for only $100 is like leaving money on the table, since I paid for the insurance plan. It's a candidate for a like for like swap, according to a Microsoft store rep, as the battery life has really degraded, where it needs a charge multiple times a day.

The 920 will live forever! It's just a legend :-)

I think they should also release a Surface 4 and even a Surface Mini all together.

I really want a Surface Mini running full Windows! I have been holding onto the money I had for the Surface Mini ($500, up to $600 now) when it was replaced by the Surface 3 Pro.

A Surface 4 only about half a year after the Surface 3 and without new Atoms to power it would be rather pointless... As for the Mini, I guess that the small tablet craze essentially got eaten by phablets, so don't count on it.

Wonder if they will drop the "4" from the new Surface models, it would make the Surface 3 sound "less old" to those people who will care about the number. Apple don't number their Macbooks for example. I had a Mid-2012 (Maybe late 2012) MacBook Pro Retina and it removes that mental barrier people have about buying devices that are numbered. Surface, Surface Pro, Surface Pro XL for example...Not saying they should be the names, just maybe a chance to drop the numbers now.

not at all. If core-M skylake is better than both atoms and existing core Ms, why would a surface 4 be pointless?

Because core M has full Intel Core pricing. Intel itself claims a tray price of $281 for the Core M3 and just $35 for X7, which would put a hypothetical Surface 4 with Core M3 at $745 without adding MS's additional profit margin. IOW, Core M is a completely different price category.

the market for mini tablets is gone. no reason to release another kin-like disaster. Nadella sayign "NO" is more important than him repeating the mistakes of the past. This is what made Steve Jobs great. Know when to say no.

For whatever reason, I am also quite excited about the smart cover.

Is talkman the blue colored phone or the other one?

From what I have heard, there are no blue phones. That was only early stages and protos. We'll see though.

Blue seems to be the most popular and attractive colour of the three, with everyone I've shown the render to saying "oh, the blue one looks nice"

It WILL be a mistake to only offer black and white! Nokia (re)started with the colour revolution, and everyone followed suit. So if Microsoft stops the colour thing, I'm going to be disappointed.

Damned shame, as the blue looks really good. It certainly made the Talkman an attractive proposition. I even considered buying a dummy Note for just so I could see if the size suited my pockets etc. My pitch for the 14 inch Surface name, how about Surface XL?

To answer your question, the blue one in the renders is the cityman (950xl)... the triple LED flash is the biggest give away.

SP4 (12") and Band 2 are day 1 buys for me (my Surface 2 is sloooow and my Band is beaten to shit). 950/XL... we'll see. I'm pretty happy with my 930 so I could easily hold another year for Surface Intel phone.

My band 1 is beat to crap as well, im planning to get a new one through the Microsoft complete insurance soon

I'm leaning towards waiting until 2016 too and checking out what they do Intel wise. Just got a Lumia 930 used recently to replace my 1020 and it's a lot faster and generally an awesome phone in many ways. I'll have to see if there's anything I really can't seem to live without. Continuum looks cool and all, but I do have a Surface Pro 3 already that I take everywhere, and my desktop in my home office is a more powerful machine connected to 3 monitors - So really the SP3 is with me all the time anyway, so I probably won't benefit from Continuum very much, other than using it to show off the features of Windows 10 Mobile.

I hope those phone don't disappoint me , i want them to be different and not feel like cheep 100$ phones , dang it ,, if they were the way i don't want them , i may wait for the surface phone or get the iPhone 6s or the note 5 , alot of options , surprise me Microsoft ! Please !
And yeah , 2nd problem ,mind the pricing !!

I'm curious about some statements in this article.. It's stated that there could be problems putting the camera compatable with windows hello into a 12" sp4 due to size but we are expecting them in a smartphone? Wasn't a article just published about an acer phone that's going to have this camera in the rear of the phone later this year? Less than a 6" screen? Not being negative just genuinely curious of this.

Yeah noticed that too , I wanna know

Maybe there more room in the back of a phone than in the top of a Surface Pro screen. Most phones have way better cameras than laptops do as well. I've never really understood why.

Well for the tablets they were specifically talking about a realsense camera. IIRC the Acer phone is going to be the same as the 950 lumias and use "retina" scanning to work with windows hello, but that is different than realsense. Don't know why they couldn't do something similar for the surface, but I would guess that because the usage scenario for a 2 in 1 vs. a phone might make that tech overly burdensome.

"It's stated that there could be problems putting the camera compatable with windows hello into a 12" sp4 due to size but we are expecting them in a smartphone? Wasn't a article just published about an acer phone that's going to have this camera in the rear of the phone later this year? Less than a 6" screen? Not being negative just genuinely curious of this."

You folks are confusing Intel F200 RealSense 3D cameras in laptops with an Iris scanner. Iris scanner uses existing camera technology, whereas RealSense is comprised of

three

cameras (IR, 3D, RGB) and is obviously a lot bigger. A 3D camera on laptops is much more accurate and works

at a distance

. An iris scanner needs to be close to your face. This is why laptops won't have an iris scanner and phones won't have a 3D RealSense camera.

Thanks for the clarification Daniel.. Like I said I was not being negative.. Just curious

Not sure if I miss read this when looking at the new Lenovo Surface Pro-esque device, but I thought they had managed to get one into that device, although in that case it was on the back of the device, rather than being on the front for Windows Hello.

RealSense is comprised of three cameras (IR, 3D, RGB)

Is this Kinect technology, or something different? The way this technology works sounds similar to how the Kinect works with my Xbox One for identity purposes. And, if it IS similer, I wonder why they don't try to use the "Kinect" brand for it?

You should point out that real sense 3D also can measure object deminsions. So the R200 is for looking at the world whereas F200 is for looking at the user. Looking at the world allows the real sense 3D camera to utilize more of its capabilities. It is not just for recognizing your face.

Can someone explain this? http://m.androidcentral.com/microsoft-surprisingly-close-making-decent-a...

Did you read it? Seems like they explain it pretty well.

+1 Posted via the Windows Central App for Android

What's there to explain? The article just states that you can use Microsoft's products on Android. It's nothing new.

God I hope that we don't have to wait a whole month for release after the event... That would suck big time!! I hope Microsoft does it like iPhones and Galaxy's... Release not long after announcement

Microsoft is a software compnay first. They want their software and cloud services to lead it forward. Thus, their apps need to work on Android, iOS, Windows and linux. Could Microsft apps and cloud services displace Google? So maybe we start measuring Microsoft's position by the share of app installatinos or share of subscription paying customers. We know Microsoft wants their apps to work best on x86 devices powered by Intel. But Intel is late ot the mobile device market. Will that improve over the years? Probably. But until intel can take a larger share from Qualcomm, Microsoft must deliver its software and cloud services to all platforms.

Microsoft better not botch this. They only get one chance to make a first impression, and for many users of Windows 10 they have never seen a Windows Phone. Let's hope there is at least some focus on the phones and not all on the computers and the Band. And of course that the non-tech media covers this a little bit.

I think there would have been more leaked pictures if they were going to release really close to the reveal. Although, I saw Joe B post a snap of a nice white device a week or so ago. Possibly talkman?

Agree with you. Nowdays it's almost impossible to keep a secret. Leakes are everywhere.

SP4 will be great, but this is "put up or shut up" for phones.. I've been on WP for four long years, and expect that these phones need to be extremely competitive on price or I'll probably bail. There's far too much value in the midrange for a reasonable person to think that the 950/XL would be worth anything more than $450/$550 respectively.


The only thing that gets me excited about the BIG surface pro is the fact that it might not be a 16:9 device but maybe 16:10 or 3:2. That would be the only reason for buying it. There aren't ANY Windows-powered laptops coming in these proportions. All you can do is buy an Apple MacBook.

All Surface devices are now 3:2, as are the upcoming Surface clones from Dell and Lenovo. Microsoft has clearly established this as a new standard form factor, and won't be going back to 16:9 any time soon.

Looks like I'll be picking up an iPhone this year. I'm sorry but industrial design does count for some users. Besides I can get all the major MS services and apps on the iPhone, many before they are available on Windows Phone. It's been a nice run. :) Hey I'll always be a Windows desktop user, it's the only way to game. ;)

Don't let the door hit you on your way out

If it works better for you, go for it. No hard feelings. After all, it's just a phone. I'll give the 950XL a shot.

That's me.. Whichever one has Verizon bands is the one I'm getting.. From what I'm gathering big red is activating unlocked phones now so I got my fingers crossed lol

My wife has a new iPhone. Thank you very much, but I'll stick with Windows. I have gotten way more interest in my 930 than she has on a common iPhone.

I did briefly think about it but I came to my senses. A) It's expensive. No matter how they try to dodge and weave their way around it, I know those phones are an arm and a leg. B) I use MS services and while I can get them on any phone (Good Guy Microsoft) I feel they're just fine on the Windows Phone. C) Universal Apps sound cool. To use an app on my phone and then pick right back up on it on my PC and then perhaps the Xbox is a cool concept. Hoping for good things in that regard. D) The WM10 devices actually have better specs than the new iPhone IMO at least. People can't get past how it looks which is ironic as hell since the iPhone is just as boring looking as it's ever been (the 4S was sweet looking though). So, yeah, no iPhone. Definitely no Android. Windows all the way. :) And to each their own.

Just i want an eye-catching flagship Lumia

i know its a dream but if they surprised us with even a glimps of a surface phone, what it could be would be amazing

You substituted word rumour with "report". It's still a rumour no matter what fancy wording you use. It's okay, plenty of people write rumours because they were ordered to write something to meet the quota.

You think 'report' is fancy, eh? How's third grade going. Also, stop pretending you know how this site works. You're just in comments, nothing more.

Hey daniel why Microsoft is making android phones?

don't bother with trolls.

I would go out on a limb and say Daniel wouldn't call it a report if he wouldn't know what he is talking about. Maybe this is because he has some reliably sources and you don't? Who knows.

I knew it, Dan knows people or he knows someone that knows someone.

This will be legendary.. If MS nails it right

Band 2. The rest is as exciting as a tax audit.

Surface Pro XL? Microsoft Slayer (with Slayer font)?
Ok, the round people pictures are growing on me.

& me here with my L730 which I'll probably rock next year also, getting all jealous and s*it

So are we not expecting any smart covers for Talkman?

Ideally both phones would have qi in the phone and an optional smart cover. But maybe the qi flip cover for the smaller 950 doubles as a smart cover.

Oh, I think that's possible. I just thought it was curious that we're only expecting a flip cover announcement for Cityman, but not Talkman at the 10/6 event.

I'm glad I'm not the only one who thought they would talk about Hololens by now. Looking forward to all of the updates.

Holy poop O.O so much stuff but then again so empty pockets T_T

Well, there goes my bonus. Glad the girlfriend wants to take a cheap vacation next year, as I'm likely going to get the bigger Surface (if it's a real thing) the 950XL (possibly the case) and the Band 2. Add that in with the bills it's gonna pay and I've spent the whole thing lol.

Curious what Canada will get at the end of the day. So far support for WP has been pretty lackluster to say the least as we seem to skip flagships and only deliver the budget models. Getting pretty tired of having to wait for unlocked models to arrive months after release.

Any reports of SP4 comming with a USB -C Thunderbolt port? Would be nice to hook up an external graphics card for streaming Xbox Games.

No idea but it would seem like something they could do.

Thunderbolt 3 on the new Dell XPS 12 caught my attention... That is pretty interesting. But if Microsoft implements USB 3.1 along with Type-C that would be fine too...

Aren't the integrated graphics good enough for Xbox One streaming? I have a SP3 but have used my desktop a few times to stream Xbox (this doesn't run Integrated Graphics) rather than the SP3, but mainly because the desktop is wired, and just to give it a go. A friend has the same spec SP3 as me and he said he's used streaming extensively and it's worked great....An external GPU for playing PC games....that could be awesome - Never looked into how well the Alienware attempts at that went

What I haven't heard about 950 and 950XL is their Glance-capabilities, or in the worse case, non-capabilities. Surprisingly haven't read even a single question about it in the comments either. Anyone has any information about it?

With that smart cover glance would need changes. Glance or a new rendition under a new name is essential on new devices, for me.

Yes the display memory missing in the Lumia 930 was a little annoying, but not so bad since having a Microsoft Band for checking the time and notifications....It's not quite the same though, so I hope the new devices support glance in a new guise

Wow band 2 released in all surface countries would be huge and selling phones direct to consumers woweee!

I'd be interested in a more comfortable Band. Current version looks nice, but feels like a GPS tracker for parolees.

Note my uncle works for Microsoft at Redmond. He is a software engineer. I am not allowed to say anything to specific but Microsoft has a monumentous proportion of new devices planned for the event. The band display will be curved and the Xbox one update will also feature a new feature. I am not supposed to say this but windows hello= Xbox one. There will also be two phones releases aka Lumia 950 xl. Most of the specifications are correct however there a few mistakes don't worry they are actually supposed to be higher. Everything does add up to be true. Okay bye guys.

Did he have you sign a non-disclosure agreement? Don't worry, you're not at fault for anything. Will be interesting if you're correct.

That's why you can't speak of the work with family

I think the surface pro 4 is going to be exciting, coupled with a possible att 950/band2 promo I am looking forward to all this. 14" surface would be great for me as I think that is near the sweet spot for laptops. Is the bundle 950 only or 950xl?

No announcement of release date for WM 10 ??

There will probably be two release dates... one for new phones and one for upgrades, just like in the past. Obviously the 950/XL will have Windows 10 Mobile on them, so there's a release date mentioned in the article.

I'm getting super interested in the "surface clones" coming from Samsung and Dell. Holding out hope that the Surface Pro 4 has some killer features. Eitherway more competition and better windows 10 tablets are always a good thing.

Hahaha. Flagships. Yeah, right.

Oh my uncle who works for microsoft at Redmond. He is a software engineer. I am not supposed to say this either but I will give you a hint. Hololens will cost between £650-980 $500-1340

Does the 250% higher cost edition have polarized lenses?

Surface Pro ~14" would be awesome, and would almost certainly be my top choice! I'll also b trading up my Band v1 for the v2, but I do hope it's a bit cheaper. But... what i really hope for is that the 950xl will be released in the US, as a multi-band device, fully unlocked through the Microsoft store. If that doesn't happen, and it's not available through T-Mobile, than I hope that the Acer Jade Primo works with T-Mobile.

Also, I'd like to see the Surface pro at least offer USB-C ports, though I'd really like to see the proprietary charger replaced with USB-C.


The Band 2 will need to have some big improvements to make it worth me upgrading I reckon. I've only had mine since the UK launch though, so it may be too battered by the end of the year to keep. If it looks particularly nice and has some awesome new features I'll probably consider getting one and selling my Band V1, if anything so I can develop some apps for it. I released a very small Band app (Backup My Band) but haven't had a chance to update it yet, a new band with more possibilities would be great. I would say NFC for payments...But I don't see support for that coming to Windows 10 in any form within the UK for a long time unfortunately.

Has there been any rumor of iris pro or discrete graphics on the 14 inch Pro 4?

Haha! Daniel, can you please tell me why my email notifications for comment replies don't work anymore? I miss keeping up to date with your sarcasm :(

We changed the API. A backed fix should be coming soon to renable them, sorry.

LoL, read the footnote to the article in the main page :p Great article, btw! A New Hope.

"Qi wireless charging with flip cover" This pisses me off.... PISSES ME OFF!!!!!!!!! My 3 year old 920 has built in Qi... why are we going backwards???

My take on it is this: you can get Qi with the purchase of another cover. They may also have no flip? not sure. Reason: keep costs down. If they make Qi optional, they can shave off like $20-40 from the device. Remember, iPhones don't have Qi and they do quite well. Not every needs it.

Errrgghhh no way I want to cover up my pretty phone with a cover!

As the owner of an 830, I agree with you. I like Qi, but not flip covers.

+920. If keeping costs down the device should be no more expensive than the affordable flagship. What's an extra $20 when spending $500. The convenience and ability to show the device in it's nekid glory is worth the extra charge.

I assure you, every dollar matters when setting price ranges.

The 950 is rumoured to be sold by AT&T. AT&T wouldn't allow integrated Qi. It's surprising they would allow a Qi cover.

Lumia 830 sold with Qi. Samsung Galaxy S6 ships with Qi. AT&T is over that now.

If the flip cover turns out to be anything like the one on the 830, I've got a rudimentary solution for you... Buy a flip cover and a sharp knife. (Dis)Assembly required. :)

It counts how big the branding is. The small logo on the 1520 doesn't mind me any.

So much to get excited about! Will need to take the day off just to watch Windows_Central covering the event.....

Same here. Already told my boss to not expect me at the office that day.

I'm hoping MS debuts some sort of payment system similar to Apple and Android pay.

I'd be surprised if they didn't. I recall a few months back they registered as a payment processor in every state in the US.

Would love to see this come to the UK, as I believe there have been Android devices supported by "EE Cash on Tap" for a long time, and obviously we now have Apple Pay, would be great to be able to use my Windows Phone to make payments one day, although not a deal breaker for me in any way. Contactless with a Debit Card works great

I hope I can get the phone in T-Mobile

That's the only way for me right now. If there is anything exclusive about either of these phones I'm out until that is not the case.

Strange why he thinks the "hello" camera may not fit into the new surface, yet we are expecting it to appear in a phone? Or is the iris scanner just a cut down version......?

Iris scanner uses existing camera technology, not really an added hardware. Very different though from RealSense camera, which has three separate cameras on board.

Right ok. Thanks for the info Dan. Pretty impressive if current cam tech does accurate iris scanning though!

And as a person who has cornea degeneration and eyes are filling with water, I'll be interested to see how well they recognise my iris :)

........let me go ahead and lower my expectations now. If I hear anything not named T-Mobile I will not be returning to Windows this fall. Please don't break my heart again Microsoft.

Would this be Microsoft's fault or T-Mobile's fault, though? Hopefully the devices would be compatible with t-mobile!

I am certainly excited, but the fact that the smartphones are again LIMITED to AT&T SUCKS big time! Why can't MS make it available to ALL US providers???

If you've been paying attention or even have an elementary level of reading comprehension, you would know these won't be limited just to AT&T. Also, don't blame Microsoft if AT&T is the only carrier to have the phones at launch.

Well I see some decent mobiles been announced but will it run the half baked windows 10? Seriously though if you gonna release "flagship" phones... The OS needs to be of "flagship quality" and it for instant the are some good phones by MS released this year all running an amateur OS. Lets hope they know what they know doing with windows 10 mobile keep in mind apples ios 9 is nearly out...you want to make a competitive impression don't put a half baked OS out!!! Straight up!

Agree. Windows 10 Mobile isn't even close to being ready.

I heard the exact same thing about Windows 10 for Desktop about a month before its release. We don't really know how ready it is. What we see is not the lastest state of development.

The only item listed that I both want and can afford is the Band 2. Hopefully migrating from the Band to Band 2 is easy and that the Band 2 works better with 10 than my current Band does (which is hardly). As much as I'd love to upgrade from my Surface Pro to a Surface Pro 4, I can't see spending what I'll assume is $1299 or higher.

In God Father's movie, some of the other gang's capos accuded Don Corlleone of having all the judges and politicians in his back pocket and refused to share them, they reminded him this is still a capitalist nation and he must share them to allow them draw from the well. Dan; You have to share your awesome sources at microsoft so that we can draw from the well, because your details are too factual to be just rumors, you must share these insiders. Awesome write and composition as usual.

Does the baken repisent windows 95 in the picture?

Does the baken repisent windows 95 in the picture

Currently have a Surface Pro 2. Was going to go with the SP4, but will very likely go with the 14 inch version (Surface Elite?) instead. Larger but thinner probably means somewhere around the same weight. I will definitely be preordering one of these two devices. Band 2 sounds very promising. Another likely purchase as long as it has a curved display and looks decent on my extremely small wrist. Really, really wanted to like the flagship Windows Phones but I'm having doubts. It is a design issue. I would jump on a mini-Surface design with the Vapor MG case. I'll wait to see the Cityman at the reveal, but honestly it just looks too similar to the 640 and 830 phones. Microsoft needs something special and instantly recognizable for their flagship. AT&T will probably neuter it anyway like they did with the 1520. I will probably wait a few months until more information comes out about the rumored Intel based phone and decide what to get then. Maybe Microsoft will throw in a little surprise in the form of an 8 inch Surface Mini.

We need the Surface Mini with no less than 4gb of ram

So, will Verizon allow the unlocked Lumia on there network w LTE if there is correct antenna is the more important question, if so, I'll be one happy person.

I'm really excited for the new Surfaces. I'm still using my Surface Pro 1 but it's showing its age. It's a little on the sluggish side and 4GB of RAM isn't all that great. The battery is suffering at barely 3 Hrs...so i can't wait for the new ones.

Till this time, the designs which have seen for phones are either initial prototypes or renders. How can one decide without seen one actual phone hands on.

What are the odds that Microsoft will offer some kind of upgrade deal for Band 1.0 owners? I'd gladly upgrade if they'de let me trade in my old one for the new for like $99. As for 950/950XL, while I'd love to get one of these I think I'll stick with my 640 and see how Windows 10 plays out in the mobile space. No use in getting stuck with a 2 year payment plan if we don't see more apps with the Windows 10 upgrade.

Would love to see this, but if it did happen at all I don't think it would extend out of the US (unfortunately for me) and for good/obvious reasons - However, probably better off just buying the new one and then selling the Band v1 I think. The Band 2 should at least be cheap enough to buy without worrying about it, if it's around the price of the current Band. I think £150 would be a decent price, rather than £175, but will have to wait and see.

I can not get more excited for this event! Every little bit you add Daniel only makes it better! I do have two questions though. First, what is the probability that Verizon would be open to putting these phones on their network? Second, both of the Surfaces will be Pros? Wouldn't the smaller one just be the Regular Surface?

The 12" is still going to be a Surface Pro, it replaces the current Surface Pro 3, so it would be foolish not to have a refreshed Surface Pro at the same/similar size as one that's been received so well

I hope, the phones are better looking than any render which we have seen till this date. This will be a critical realease as first of all they have hold back the loyal wp lovers and has to attract public outside of wp world. I dont think Microsoft will let go this chances away easily.

Omg Super excited!!! 10/10 to Microsoft!

I hope Panos is presenting the whole bit. They should never let Myerson anywhere near a microphone again. He's just not cut out for it. Ah, but it's just wishful thinking. I know.

Don't forget there's some audio improvements coming to TH2 like low latency audio for WDM/WASAPI drivers and core isolation to prevent audio dropouts from other processes like Bluetooth and wifi.

How about Lumia Watch for the surprise?

Generally excited. Two potential surprises that I'd love to see but are purely wishful thinking:
1) A Cortana-based device similar to Amazon Echo. I guess this isn't really necessary if folks have an XBox, always-on Windows Phone device and Windows 10 PC, but it would be nice.
2) A 3rd phone, possibly a Surface-branded device with Surface-like materials/build.

Excitement builds and a 14" Surface Pro would be awesome. Plus, W10 on my 930 for free....icing on the cake :)

I am really excited for the surface pro and 950 XL, I really hope it has a 4k display- the surface that is.

Excited. Though my thoughts?
12" Surface Pro might be coming with Intel Core M Skylake instead of Core I series.
14" Surface Pro would be a true successor of Surface Pro 3 in terms of raw processing power with Core I series.
I don't think W10 mobile is ready for primetime. Even though I'm sure Microsoft will squash most of the major bugs before RTM and 1st party Lumia flagship launch but UI inconsistency is a huge step backwards (my subjective opinion) but the bigger problem is some of the features in core apps has been cut back and/or delayed in wake of rewritten Universal Windows Platform UWP core apps.
Microsoft Edge not ready for inking at launch isn't good.
But then again I always expected the first iteration of this revamped W10 mobile OS to not be perfect. But Microsoft shouldn't use Windows as a Service as an excuse for buggy and incomplete OS both for desktop and mobile. Each relatively major upgrade like Th2 or whatever needs to run flawlessly and without bugs. Core OS apps like mail, calendar, office, Edge, Groove, Movies&TV needs to be flawless in their support, functionality and polish. I've my doubts about W10 mobile particularly but I expect better things to come with Redstone wave of Updates next year. Or Microsoft will truly lose its already small share of loyalists in mobile space.

Wow if true and limited to AT&T, I for one will be ending support for Windows phone. I am so tired of exclusive shit and no way going to A$&$. About ready to drop Directv for that screwed up merger.

Before anyone say buy at MS store...nope, I am on t-mobile jump so would have to pay off htc one and then pay full price at ms store, hello Galaxy! (Iphone can rot in hell)

"For the fans" = "Throw them a bone" The 950s are merely Microsoft doing something to get some fans off their back while not having to put a lot of effort into it. All that said, they probably bit off a lot with taking over Nokia devices: it's probably hard to up and handle a full line up of devices that represent a miniscule portion of the smartphone market. They certainly are not targeting this fan with the 950s!

i'd really like a " oh and one more thing" moment

Sweet baby Jesus. Anxiously awaiting that L950.

We JUST switched back to Verizon from Sprint a couple days ago! I'm REALLY hoping they will carry Cityman! In switching to Verizon, I also upgraded from a 15 month old Galaxy Note 3 to a brand new Nexus 6 (which is what I'm typing this on). But I did that with the intentions of ultimately getting a Cityman and an iPhone 6s+ (or at least a 6+) and going "tri-platform". If Verizon doesn't get the Cityman, then my entire plan is wrecked! C'mon Verizon! C'mon Microsoft! Make magic happen!!! Posted via the Windows Central App for Android

Phones are going to disappoint, mostly interested in the surface pro 4..

Why do you think that phone will disappoint? What is your reason to say that?

Likely because they look cheap, not flagship.

Interested in upgrading my Surface Pro 3, But I will hold off buying a new tablet until MS fixes tablet mode.

14" tablet is too big. I think even 12-12.5" is pushing the size limit of what is comfortable tablet wise. Might be good for artists, but for any kind of normal modern apps usage it will be unwieldy. What is going on with the side buttons on Lumia 950 XL? The lack of wireless charging on the 950 would be a deal breaker for me. I might consider getting a Samsung Galaxy with wireless charging instead if I can't get a Windows phone I like. I really want a HoloLens.

So everything announcing in Oct. but releasing in Nov.? Bullocks. Anybody else remember when companies announced things that you could go get/order that day? I believe Google and Apple still mostly do this. Though Apple's recent event certainly disproves my point. I'd like to see Surface Pro 4 and MS Band as "Shipping Now" with 950's for a November release. (My current build of WP10 leads me to believe they need a lot more time with it) Hey, I can dream.

Eh, we're talking a few weeks at most. Also, not written in stone. I just know 'early Nov' is the target date for a few, but maybe earlier.

Announcing a few weeks before availability is pretty standard, as it helps build up hype. Apple has always (at least to my recollection) announced new hardware, then set the availability a few weeks later (usually 1 or 2). This is mostly to build up hype, get people waiting in line (which I've never understood lol), and to prep stores for the release without having to do so befoer the device is announced (remember, they want to "try" keeping it a secret). Samsung, LG, Sony, HTC, etc, have always announced devices several weeks, if not a month or so before it's ready to ship. This is most likely to start building up hype, while finishishing up any "last minute touches". Google usually either announces new toys at I/O with availability as "comming soon" (excluding what is given to I/O attendees), or just release the device in the fall without any form of event (as they've done the last few years). Their phones are kind of geared more towards developers, rather than the "average" consumer, so big events aren't necessary.

Let me guess. Apple is gonna secretly buy a hololens device, copy it and then sell more than Microsoft.

Nice overview! I hope they also release a new version of the Microsoft Health app (worldwide release!) alongside the Band 2 that can replace the Health & Fitness app from November on. About the product names: Maybe the larger tablet is called Surface XL while the rumored "Surface Phone" next year will be called "Lumia Pro" (running Windows 10 Pro).

I think any phone would still run Windows 10 Mobile SKU

Can't wait to see how the SP4 compares to that iPad "Pro" Apple has just launched. Considering the SP3 is already miles ahead, the SP4 will be awesome. The Surface and W10 are the most exciting products Microsoft has ever launched, and it drives me mad when I hear people say the iPad is "like a real computer" just because they see an apple on the back.
I've always had Windows smartphones and I've always been patient. The Windows Phone community is incredible, and even though I felt like my smartphone was lagging behind, it just didn't matter as long as Lumias were beautiful, snappy and had great, exclusive apps. Now those renders look boring, Android flagships are great and Microsoft ecosystem is everywhere, so I'm having a hard time not switching to Android. I think I'll just wait for the time being, hoping the 950XL will have a nice price and a better feel in the hand. That Intel-powered Lumia is still too far and I'm done waiting.

No doubt that the Windows 10 mobile phones should be the stars of this event, not the Surface or the HoloLens, which should be secondary devices. I'm hoping the smartphones being announced include a demo of how the Iris scanner will work with Windows Hello, I think Microsoft is a pioneer in this area and can get excelent support from big banks and other businesses for making dedicated apps for secure mobile payments using eye biometrics. Other than that, hoping they show enoug time (about 25% for smartphone time) to show how will the pen work on the Lumia 950XL. Surface Pro 4 and HoloLens are sure great devices, but I hope these don't have bigger time, we know Microsoft already has success with the Surface Pro 3, I think now is time to show the world these new phones more than anything else. Just my 2 cents.

Hardware is nice and everything, but I really hope they touch upon apps for a bit. The phone could be the best one on the market, but The Verge or Cnet or Engadget will always cite flaws in the apps and the ecosystem. Announcements of hard hitters such as Snapchat and Periscope will definitely draw the attention of lots of people (not to mention I want them, too!).

I just hope to god the new phones don't use onscreen navigation keys. I expect that money saving shortcut on budget phones not flagship phones.

Don't forget the Surface Phone - bet you will be hearing some news about it in October as well.

Daniel, I think the new Surface lineup deserves an article of its own. I'm looking for a new laptop and had decided on the HP Spectre x360 but a 14" SP4 might make me delay purchasing. Is the 14" SP4 a clamshell laptop or just another Surface with a detachable keyboard? Whatever information you have would be interesting.

A 950 and Band2 package deal is something that would be very tempting. My current band is showing it's age, but I still enjoying having it everyday. I'm currently using the 640XL and while I don't mind the size (somewhat easier to read without my glasses), it is just a bit too big for my hands (I'm no Paul Thurrott). I think the 950 will hit that sweet spot with the 5.2" screen and the camera specs. There's some current debate on whether the 950 with be able to use the Continuum Dock or if that will be limited to the 950XL, with the difference being the Qualcomm chipset being used. Any thoughts or rumors on this front? I saw a sale for 29" monitors recently and thought that would make a great screen for my phone OS in the future.

You forgot the Sydney Flagship store with its "late spring" (southern hemisphere remember) opening schedule.
My guess is that store opening will coincide with release dates as well.

WHOA! Pretty insane! Can't wait for the event!

OMG I can't wait. 10/10 is going to be a glorious day.

I seriously want those renders of 950 and 950xl to be proved wrong. Lumia deserves far more better design. Lets hope

14 inch Surface Pro is too big and too heavy. It doesn't make a lot of sense to me. They should have just made the bezel around the screen thinner and made the screen closer to 13 inches in the same size body.

It makes sence to me. Small bezel if fine. I will use for Drwing/Drafting so 14" or larger is good for me. Just so you know, I am perfectly happy that there will be smaller unots that you prefer.

I wouldn't mind seeing the 950 be just like the Motorola Moto X Pure Edition and not be tied to any one specific carrier. In fact, I just received one and my Verizon SIM card activated with no trouble at all. I will definitely be checking in to see what Microsoft releases and what price points everything comes in at. The Band 2 is on my radar as well.

if the info about Surface 14" is correct even if I dont have the money, I am giving up a kidney and still getting one ...

If this is the laundry list of stuff that is released, I think it would make a better event than the one that transpired a week ago by the fruit stand based out of Cupertino:-)

One thing that seems to be missing is that IF there is no realsense camera in the Surface Pro 4, I suspect there will be new keyboards coming that includes fingerprint scanners. This will probably be implemented in both the keyboard cover and external keyboards from Microsoft as it's a natural place to have it.

When are we getting official windows 10 mobile for public

Man, white suit and black tie are so typical--so bland. I wished they hadn't cancelled the cyan variations.

They will likely sell different color backs since they are removable.

This article is incorrect.. Skylake is not a die shrink, its a new architecture. Intel are having trouble moving to the next size down

Very nice cumilative article! Keep it up guys.

When in Australia? (for the MS Band / Band 2) - or could they at least release the apps in our app stores? I know a few people (myself included) who got them in from the US on our own as we got sick of waiting for MS

Let's hope those phones are band universal because if they turn out to be AT&T exclusive, I will have no choice but to leave Windows Mobile. AT&T service is terrible where I need it and isn't a viable option.

If there's anything you have to announce for windows 10, PLEASE ANNOUNCE THAT YOU'RE FIXING THE BUGS! Gawd, 1 month of windows 10 and I feel like going back to 8.1.

I have been waiting for 6 months for a new Flagship Windows Phone to be released that can be used on TMO. I will be very disappointed if the new phones are only on AT&T. I like TMO as a carrier and have no plans to switch. If MS can't come out with a high-end phone for my carrier, I'll switch to a different type of phone before I switch carriers.

I'm coming into this with some serious spoons on salt. I'm not getting my hopes up with anything.. I'll sit back and see what they got. Micrsoft talks too much and not much action. I wouldn't be surprised if they announce a bunch of stuff that will be "coming soon" in typical MS fashion.

meh, no XBOX Lite : to compete with Apple TV or Surface Phone.

Super heavy breathing.. if Microsoft launches with bundled promo in Singapore, I will throw money at them for Surface Pro 4 12 inch, Lumia 950 XL and Band 2. Posted via the Windows Central App for Android

Will the phones have on screen buttons or physical buttons on the bottom?

Ah so something actually exciting compared to that lame Apple event.

I really hope that they find a way to direct market to consumers, like what Motorola does. I really, really, really want a new phone with Windows 10 on it and I really don't want to get stuck watching all the great phones get sent to AT&T while I'm stuck on Verizon. Carrier exclusivity is dead and it should remain that way. I really want the 950XL.

Ugh, Come on T-Mobile. Get one of those phones damn it

Microsoft should outsource the marketing job for future products. They really dont know how to market.

LOL! Microsoft must be charging about $3000 for the 14 inch version. I don't buy the 1TB SSD. Do you have any idea how much a 1TB SSD costs. It's insanely expensive and the 512GB SSD Surface Pro 3 sold in miniscult numbers because the cost was ridiculous. I'll also say this. If the 14 inch model is thinner than the SP3, so should the 12 inch model be thinner. Secondly, both need to be even lighter if possible. If one of them is running Core M, it probably needs to be aluminum rather than magnesium, because aluminum has better cooling and heat dissipation than magnesium.

Just look for the phrase in all the media coverage "...to compete with Apple and Google..." or something to that effect. Like Apple and Google don't do anything to compete with Microsoft. It is a Microsoft event but the alphabet soup media won't be able to help themselves and not mention Apple and Google since they are all fan boys.

Any word on whether the new Lumias will have LED light notifications for emails, sms, mms, etc?

I hope AT&T isn't the ONLY carrier! I don't understand that! Why because their Tech can work internationally!? I'm Sure you can make tha any phone now a days!

I look forward to the larger Surface. I am not a fan of 4K screen resolution in even a 14 inch device. 1920x1080 looks great on my 17" laptop and would look even better on 14". 4K resolution will decrease performance and battery life.

On the appearance of the 950 and 950XL: Give these phone a chance.
Functions and how well the phone works is what matters.
If form matters more that function, you will buy cars based on cup holders and ypou will certainly buy an iPhone over anything. Beauty is in the eye of the beholder. . I see a lot of phone with covers. I always use a cover. Once you slap on a cover you have a flat slab of glass with a bezel.

Hopefully, the phones will have the universal bands so that they can work on all carriers. If not, I'm leaving Verizon. I was never that satisfied with their coverage and their prices are too damn high.
As far as the phones themselves, the specs are top of the line so I don't know why people are complaining about that. They look okay. It's not the best design I've ever seen but it's not the worst either.

Wow.. leave nothing to our imaginations Dan!! Jeez! Maybe say spoiler alert..

Why is it only the XL Surface and Phone have higher end features? I do love the idea of the case and the Surface with Hello would be nice, I just do not want large devices. Not putting the triple flash or aluminum buttons on the 950 and only the XL gets those? What the 950 is a lower class device because people may want a smaller device? F-U Microsoft, feels just like the 640 XL vs 640 and not being able to get Qi charging. GIVE THE SAME CLASS PHONE THE SAME STUFF JUST DIFFRENT SCREEN SIZES!

I'm still not convinced by the phones look. In the end, if I had the money, I would buy one... but I would not be very pleased with the look. Lets see if something has changed since the leakes (but it's quite unlikelly)

This is going to be epic, but you can't expect an immediate return on investment in the mobile realm. The approach to enterprise is the right one however. If you consider that MSFT is now setting the standard for tablets with the Surface Pro 3, and is projected to take that to the next level with the Pro 4 (just ask Apple) they have the right components to make a similar imprint with the 540 and 540XL. The key will be the same for the Surface Pro 3....marketing. You see the Surface Pro 3 everywhere. People now know what it is instead of mistakingly calling it an iPad like they did when it first came out. No one is going to know what a Lumia 650 is. When you go to the store, the sales clerks aren't going to try to give you a sales pitch for a Lumia 540/540 XL, they're going to pitch the iPhone 6 to you or Galaxy. The more we see things, the more conditioned we are to expect to see them. When I went to Best Buy to purchase my Surface 3, there were at least a dozen people with andriod and iPhones looking at Surface tablets...why? They know what they are. They've seen them before. Perhaps MSFT could bundle them together for a deal. Both phones have some of the best specs of any phone out there and trust me, as I 1520 user, and a 640XL user, if people know about these phones, they will want to get them.

if the 950 isn't available on Verizon I am GONE from Windows Phone!!!! I've got am iPhone 6s Plus in my "Basket" on Verzon and I'll be pushing the "Buy" button if they announce that the 950 is only available on AT&T.

Thanks for the Info I will read this sites respnce to what MS has to offer . I am angry why folks worry about Windows 10 mobile smart phones being dependant of the sales of of the 950/950XL because MS CEO Nadella said that 3 types of Windows 10 mobile smartphones will be on the Market place 1= Budget, the 550 2=MS Enthusists Flagship, the 950/950XL and the coming 1020 replacment super camera Windows 10 Mobile smart phone and the new class 3= Business Enterprise Windows 10 mobile smarrt phones. Microsft probably already knows they wont sell alot of Flaggship smart phones because of their COST ! the sales of their best selling windows smart phone the Nokia Lumia 520 tells Microsoft to sell a good cheap windows smart phone and they will make money. the rumored Microsoft Lumia 550 has the minimum specs to run Windows 10 mobile OK if it's cost is real cheap Microsoft will have a goood low cost smart phone to replace the their best selling Nokia Lumia 520 and Windows 10 smart phones will stay around for years to come. that you can bet on


If the 14inch surface has a full keyboard with a number pad, you will see alot of business people like me start buying the device. Why? because most of us have to do accounting and reports that requires the input of alot of numbers which is the reason i always bught a 15inch laptop. But i would hope for a more sturdy keyboard. i will sacrifice weight for the better keyboard.

The best part of this article is the Microsoft Band 2 and Lumia 950 AT&T Bundle. YES! Hype level is maximum now.

Well, I now know where my savings will be going in November :-) Is there anyone out there that would like to sponser a hardware wannabe reviewer that is eager to get their hands on this plethora of releases?? Is there? Hmmm... anyone. :-) 950XL, SP4 (think I'll stick with the 12"), the various accessories and Hololens... (upgrading all my Win10 devices and XBoxOne. November will be an amazing month. One thing I really, really hope. That these timeframes are not only for USA, but for the other parts of the world also, like (Australia, my land), UK, CA, NZ, EU and others.

Two things that interest me; Windows10 (Wave 2) & Surface XL. The 950XL also interest me, and it appears it's going to be the new flagship but I will never buy it if the 1520 doesn't get Windows10, if the 1520 get Windows10; I will consider within a years time, otherwise, I'll never put it into consideration.

Hope the new phones will be here quickly and I hope they will be launched worldwide

I'm already intregued by the 950XL... but if it supports Surface Pen - a rumour I've not heard anywhere else - it's an instant sale for me. I love the idea of having a pocketable note taking/sketching device that works with my Surface (via OneNote). Continuum just makes it all the nicer. Band 2 is also in the cards - I love the first Band, but a rounder, more comfortable device would be nice. Oddly, for me as a Surface Pro 3 i7/512 owner, moving to Surface Pro 4 is going to be a tough sell - I'm more likely to wait for the Surface Pro 5. The addition of RealSense cameras for 3D scanning might do it... we'll see. Finally - HoloLens. Make it available as a developer purchase so we can start writing for it. Make it relatively expensive. We'll still buy it. Seriously.

So we aren't expecting the 550?

Daniel : TY for WC ! This website is my sole reason for staying updated with MSFT products, news, & info. This is a great article and thus I am now convinced to switch to the new 950 series. Being able to do so, as I am with AT/T, should make for an easy switch from the iPhone's I've had for several years; as I've awaited for these times. I would like to ask if the 5.2 & 5.7 sizes will remain as their standard for years to come? I purchased a Nokia 1520 & it's too big for active on the go use; however it's a nice device. TY again for what you and your staff do here!

Goddamnit the lumia 950 had better be coming to T-Mobile at the same time.
Windows Central Newsletter
Get the best of Windows Central in in your inbox, every day!
Thank you for signing up to Windows Central. You will receive a verification email shortly.
There was a problem. Please refresh the page and try again.