All you need to know about Microsoft's #Windows10devices event this Tuesday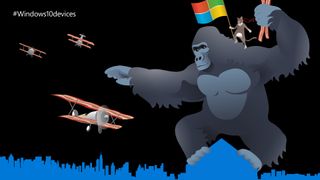 We've joked about this site going into berserker mode for this week, and there is a good reason for that. Microsoft is set to kickoff a rather momentous launch tomorrow on Tuesday, October 6 in New York City.
Microsoft has done press events before, but never like this one. Indeed, this day is very similar to the type of event Apple holds yearly to announce new iPhones and updates to their Mac products line. In fact, this is the first time, to our knowledge, that Microsoft has managed to line up so much of their hardware for a single launch.
In preparation for Tuesday, we're compiling an FAQ on what you need to know!
When is the Microsoft event?
Tuesday, October 6 in New York City
What time is it?
10 am Eastern (7 am PDT; 2 pm GMT; 7:30 pm in India). You can click this handy link to find the time for your specific timezone!
How long is it?
No time has been set, but we expect it to be at least 90 minutes.
Can we watch it live online via streaming?
Yes! You can watch it online here at Windows Central in our live blog embed or at http://microsoft.com/october2015event (opens in new tab). You can also use the Xbox Live Events interactive app aka XLEi on your Xbox One.
Will Windows Central be in New York too?
Yes! Myself (Editor in chief Daniel Rubino) and Mark Guim (videographer, writer) will be in the audience with the rest of the media.Follow us on Twitter and Instagram!
We'll also get hands-on with the new devices after the event and have meetings setup. Meanwhile, our crack team of staff will be posting news related to the event all day.
Are you doing a live blog?
Yes! You can find the placeholder page here windowscentral.com/windows-10-devices-nyc-live. We'll have the embed for the Microsoft stream, our live blog and a community chat room for you to hang out in during the event. Bookmark it!
Where can I find all of your news on this event for that day?
Glad you asked! Right here: windowscentral.com/windows10devices-2015 Bookmark it and share!
What is Microsoft announcing?
Of course, Microsoft is just saying Windows 10 devices but due to all the leaks, we have a pretty good idea of what is coming. I have already written an extensive 'what to expect' article with full details found here:
What to expect from Microsoft's Windows 10 devices event in NYC
However, for brevity, this is what we think is coming:
Lumia 950 and Lumia 950 XL smartphones
Windows 10 Mobile updates and availability
Surface Pro 4
New larger Surface device at 14-inches
Microsoft Band 2
New accessories: Treasure Tag, new Skype speaker, etc.
Surprise announcement – Possibly related to HoloLens
Windows 10 – Next iteration of the OS; Windows 10 on Xbox One, new apps
Cool, where can we talk more about this stuff?
If you can't wait until Tuesday jump into our forums where people are debating, discussing and predicting what Microsoft will do! Everything from the pricing of the Lumia 950 to the effectiveness of the new iris scanner and what the Surface Pro 4 should look like are being talked about. Jump in!
Popular forums
All you need to know topic and news pages
Lumia 950
Surface Pro 4
Surface XL
Microsoft Band 2
Where can I get that cool wallpaper in the lead photo?
You can find it right here! Microsoft created it as an inside nod to Windows Insiders. You can get that story here.
Needless to say, we will be super busy on Tuesday, and we're super excited to see what Microsoft reveals. Remember to bookmark and share these various pages with others and we'll see you Tuesday morning live from New York!
Windows Central Newsletter
Get the best of Windows Central in in your inbox, every day!
Daniel Rubino is the Editor-in-chief of Windows Central, head reviewer, podcast co-host, and analyst. He has been covering Microsoft since 2007 when this site was called WMExperts (and later Windows Phone Central). His interests include Windows, laptops, next-gen computing, and for some reason, watches. Before all this tech stuff, he worked on a Ph.D. in linguistics, watched people sleep (for medical purposes!), and ran the projectors at movie theaters because it was fun.
w00t! I'm so excited for this event... and at a nice time for me (10pm), so I don't have to stay up all night to watch it

There you have it folks! Finally! I never want to see this question posed again:
.
Q: 'Wen in India?'
A: '7:30pm in India'

Even with this added info, it won't stop that eternal question though. Sigh in Indian.

FYI Indian isn't a language xD

Yeah, credit where credit's due: thanks Dan for providing GMT right in the body of the post. It makes it so much easier to quickly identify if we can watch it live or not. And the link to a simple converter is a bonus! Nice to see people noticing it too, rather than only complaining when it's not there :-)

Thanks for saying that. We are a rowdy bunch but deep down we are grateful for this site and all they do.

Indians hate smart asses like wpn00b!!!

Indeed it's nice of Dan to provide that link. Alternatively, incase you need it for other things (where a link might not be provided), you can go into 'alarm and clocks' app, add the location of the event there, then tap on it, it will tell you the hour difference between your local time and the location of interest.

GMT is wrong though, it's 3pm not 2pm.

Thanks for the information. But it is already there in the article. Smart ass.

Absolutely. Cannot explain how good I felt when I saw the IST on this article along with GMT.

I heard you can install all google play store apps on 10 rumor.

Under 2 days to go, I just hope my router doesn't crap out in excitement... lol.

Will there be other OEMs or is exclusively Microsoft

Unless we witness a surprise visit from Apple!!

Thanks. That's too bad.
Would've liked to hear what Samsung, HTC and LG are up to with new phones.

Daniel, can you take me with you?

When you get the 950XL in your migthy hands please describe if it feels premium :-D

Eagerly waiting many things we are going to get. Any idea to someone about surface phone. Are we are going to see anything about surface phone.

We have stated everything that is to be there / we are expecting. Surface phone, or whatever it is, not until at least May 2016, so no.

Dan, we've got a typo on the "Cool, Where can we talk about this stuff" sub heading

Can we see now the google apps on W10M in this event after the settlement btwn Microsoft and Google?

Assume no and you will be pleasantly surprised if there is. Assume yes and you will be disappointed if there isn't. Up to you ;)

Hard to control my excitement... so many new stuff coming! XD Glad it's 7:30 pm IST, I'll be home. With popcorns, of course :D

I'm super excited... 7:30pm Trichy, TN

that feeling of sensing the announcement of my next phone (950XL)

I'm hoping that creating the one Windows devices blog instead of having them separate for phones, surface, etc, means that the surprise will be a surface phone. I also know there is not a chance in hell of that happening

The chance of that is like 0.0000000000001%

So there's a chance? Sweet!!!

Got a calender invite when I signed up for the live stream. It reserves time from 10:00 to 12:30.

Interesting, which timezone?

Eastern time. They made the invite for 2.5 hours.

I see, probably 30 minutes to hr to set up - people to take their seats / last minute checks and 20 minutes of entertainment? With a Q&A session afterwards if the set up time is 30-45 minutes.

Possible. The last time the event started right on time though. I guess we will find out on Tuesday. Took the day off, just in case, to have enough time to drool over all the new stuff :)

I hope they stream the Q&A and I couldn't follow the event last time - watched it on-demand as my router's WiFi crapped out thus had to reflash the firmware. However prepared for that have a switch and everything is wired lol.

Clash of Clans, New Facebook and Messenger Universal for Windows 10 or the COC will be announced in ClashCon in October 24th.

Would be excellent to finally have a feature filled Facebook app though..... One can only hope

I wish I could go into a deep sleep and wake up Tuesday morning for the event lol. Time is moving soooo slow

Lol Daniel answered "wen in India" and "can I haz wallpaper". Very proactive there

Yeah, he even listed GMT this time. Pretty sure someone will still ask those questions haha.

2pm GMT! THAT'S TOO EARLY! I'm gonna miss it. Nooooooooo!

You can always like, watch it after dood

@aerosmillie, well you could always watch-it on demand afterwards and try to refrain from reading any of the articles on Windows Central :P.

That almost sounds like advocating for torture. There would be no force on the planet keeping me off WC on Tuesday lol.

LOL! I so hope you meant Windows Central otherwise a trip to the doctor would be advisable :P.

"Refrain" is the key word :-D

I know a while back you said the xl may not come to at&t... Any chance since then you've heard to the contrary?

From what I'm hearing the radio may support all lte bands which is great because I'm through being tethered to a single carrier.

I wanna pay on a monthly installment, not $800 all at once if at&t doesn't carry it through official channels

Windows 10 release date for phones....that's what we need....

Kudos for GMT. I am so stoked for Tuesday.

Exactly, I'm suddenly feeling sick I might have to leave work at 1:30 to go to the doctor.

Everyone. Don't forget to take daylight saving time into account. 2 pm GMT is 3 pm in London, 4 pm in western Europe.

Thanks for reminding me. Should be able to watch it now.

Funny timing actually. On Monday afternoon, the announcement for my new job will go out. An on Tuesday, which is technically my first day on the new job, I'm already off to watch the event.

Congrats for your new job

About the only thing left to find out about the phones are minor details, like when and how much ;)

And exactly how the iris scanner and continuum will work. Oh and improvements made on the cameras... Shall I go on ;)

& carrier quirks eg. Frequencies, suretap support( cdn. equivalent to softcard)

Yo its nice that we got the IST time. Posted via the Windows Central App for Android

Badly waiting for lumia 950.... Hope it comes soon to the market at least by the end of October.... Posted via the Windows Central App for Android

Hope so too but knowing how MS normally works.... count on Nov. I soo badly want it to be released the week after AKA Apple style.

lets how much tumbleweed rolls by before people actually get their hands on these bad boys...

I am personally in Eastern Time Zone. But it makes me happy to see you guys mentioning Indian time too. I've previously said this too that this is the best site to cover MS news from Indian local perspective as well as Western perspective. And you guys are much better in covering news of MS in Indian perspectve than our local tech news. Kudos guys. Keep it up.

personally is a word that we dont really need in the world ..... you can say every sentence using it without it and not change the meaning :-)

The slight curved display looks good

I think thats just lighting

Yes it does except it is just the lights :-D You'll get a flat display. The positive though is you can make display protection stick :-D

This!! What's the point in getting a screen protector of it only covers 3/4 of the screen.

YES! My thoughts exactly.

Too much excitement. I might come soon. :P

I understand that we Indians always asked for the time conversion in the articles. And I am also glad that time is given in GMT. However, it will be very nice that you provide the time and zone provided in the invites(any future invites included) along with GMT. Even though I am happy to see IST in the article, it is going to be unfair for all other country citizens. PS: Because you provided IST, you took away my question "wen in India". Now I need to think of another :-P

I think they are going by traffic. And I believe they get huge traffic from India. May be most after US hence it is not unfair to anyone if they are trying to personalize content for one of thei larger audience. ANd they have given GMT, local time and PDT as well. But yes I agree with your post script. hahaha :D

Traffic doesn't count. It would still be unfair as all countries have Windows enthusiasts and mentioning only one country. I should not whine as this is an unfair advantage to me, but I am just pointing that GMT would suffice all those who have at the very least installed Windows XP ;-)

Right now Daniel and team are having discussion and they are saying "You just ca not make Indians happy. Can You?" hahahah....:D :D I like that they have given IST. My point of view.

The leaks have partially ruined this event for me, but I'll still be watching the live stream with a sense of excitement. Hoping for some pleasant surprises with regard to the 950 series camera and windows 10 software functionality. Hopefully some cool features that haven't been utilized in any of the insider preview builds.

Hahaha india time is also mentioned so that no one would ask when in india? Am i right dan?

Damn my lecture that's at the same time.

It should be treasure tag not treasure tab ......Daniel :P

Can't wait for the event. Only my wife is kinda scared of it, knowing that this event means that I'll likely throw about 3 grand at Microsoft in the months following the event. :)

Im gonna resist all I can. I keep telling myself that I have a working Microsoft band, and a working surface pro 1. I dont NEED to upgrade both. I also have a working 640xl but I can't resist the 950xl. I know myself too well...

No resistance here. There is no way I'll not go with a 950 XL. And that of course is only complete with a Band 2, wouldn't you think? And the SP 4, well, my SP 3 is still going strong, but 14 inches just sound too good... And, no, that's not what my wife said lol

Surface pro 1??? You NEED the upgrade! The 3 really did take it to another level! I can't wait to to what the 4 can do.

But but but its a perfectly fine working sexy piece of equipment. Trust me this entire past year has been one big tease with the surface 3 being in stores. If at&t had the 4gb ram one and not the measly 2gb, I'd have a surface 3 by now

Lucky you then, they will have the SF Pro 4 with enough RAM :-D

Lol, in that case she has reason to worry!

Indeed. Lol. I guess she will find something expensive for herself soon to make sure I don't have to feel too bad for her.

Haha, I guess you could get two of each? :P Then again you might end up with one of the SP4's lodged into your cranium or something lol.

There might be some surprises. So be prepared!

Really hope so too. Everyone was like meh in Feb BAM HOLOLENSE!!!!! :-D

Indian time too? what about Tahitian / Fiji time? /s Damn the Indians are really muscling there way through these days. From taking American jobs to India to being taking into account for live blogging....damn. /s

You are an a**hole, ain't you?

In case you didn't pick up on it, the /s at the end means sarcasm. Lighten up there Mr. Summerov or stop reading if u can't comprehend web sarcasm.

Yeah...I'd like to be that plonker and plonk some sense back into you.

Adding a sarcasm disclaimer doesn't make your point any more relevant here. From a fellow American.

Jobless American!!! LOL!!

I swear I read an article saying more or less the same thing not long ago. Why the duplicates?
You joked next week? Shouldn't there be better placement of "next week"? Maybe at the end of the sentence. And Whoohoo!... GMT in the article.

"I swear I read an article saying more or less the same thing not long ago."

Find that article, cause you're wrong.

You assholes, I have to get up and get ready for work at 10 AM ET (9 AM CT). I'm going to miss so much between getting ready and driving to work...

Watch it on demand afterwards?...

I can't do that during work, but I can most certainly spend my break checking articles for content. No point in watching after that.

Well, maybe not read any articles during the day :P

Oh, I'm not about that life. I want to know the news ASAP. I prefer to watch it live, but if I can't, I'll settle for reading. Otherwise, I have to come home and use up an hour of my post-work day catching up on said news before I can start getting into Internet fights over it.

Get sick and take a sick leave.

Hah, I could actually do that, were I so inclined. However, I'm not one to ACTUALLY get sick (though after only 6 months there, my supervisor's not aware of that fact). If anything, I could take a sick hour and go in at 11, haha. But no, I'll have to suffer the existence of getting the news late. I'll at least get to see the first half-hour or so (I'll get ready early to watch). If I'm lucky, there will be an app they stream from, then I can throw on the LTE on the way to work and at least listen to announcements (don't trust a browser stream, in this case).

Must be nice to sleep in.

I mean, it's not like I get to sleep in THAT much. My day pretty much starts by getting woken up by (not my) dogs who want out around 5:30 AM. Then I go back to sleep from maybe 6-8 AM, then my day starts. Then there's the part my nights are a bit longer than most because I'm doing grad school at the same time, and my classes are at night (luckily only 1-2 days/week, though I then add 2 days of homework on top of that). It's certainly not a terrible schedule by any means, but it's not like I get to sleep until 9:30, roll out of bed, and then party, haha.

Watch MNF, hit the sack early, then awake at 6-am! I'll be ready!!!

Waking up at 6 AM won't make me not have to drive to work at 9:30 AM.

1st world problems... nothing more to say...

Ugh, I hate this phrase as much as I do the terms "bro," "brony," "jeggings," and "budget Lumia." What, you think that people in India don't want to watch the event? What, you think that people outside of third-world countries don't have wants? It's such a played-out, overused, ignorant term. Yes, I live in a first-world country. Yes, the timing doesn't mesh with my schedule, and I preferred it did. That moronic term makes it sound like I'm supposed to never be bothered or want anything because I'm not living in a dirthole or fearing a military dictatorship. I'll make sure that if I ever happen to see someone here in the U.S. get shot in the leg and start screaming, I'll just remind him it's a first-world problem, so he's totally fine.

I just want to come away from the event knowing when the phones will be available and for how much. And most importantly for which carriers. I really hope T-Mobile has stepped up to the plate to get at least one. Posted via the Windows Central App for Android

T-mo always get the left overs while ATT and Verizon get to place exclusive embargoes on the better devices. Even when T-mo get a somewhat decent device, they only keep them on their website for 1-2 months before it disappears into thin air.

Yes I know. The best we got was the 16gb Lumia 925 which was the best looking Windows Phone ever made IMO but just as ridiculous ad the 16gb iPhone base model which is why I never got it. To be fair the HTC One M8 for Windows was the only case in which we didn't get the lower end version of something. I just hope that's not the case next week cause I'm not switching carriers and I do not have a credit card to buy either one of these phones direct from Microsoft although I wish I did. Posted via the Windows Central App for Android

Tmob may have offered the HTC One M8 but they certainly made it hard for us to get our hands on it. I'll be going unlocked from now on.

I didn't know they made it hard. I had already got the Xperia Z3 before the One M8 finally arrived so it was too late for me. Right now T-Mobile is the easiest and most risk free option to get any new phone I want. Carrier options are better than ever right now MD it's pretty simple for me:I'll get a Windows Phone if it's available through T-Mobile or I'll get an iPhone when they start offering a 32gb base model. Both have been hard to come by so I have no problem waiting. If my financial situation changes though I would definitely buy unlocked as well. Posted via the Windows Central App for Android

I am looking forward to this event. So very excited and so very bummed I will be at work.

That image though.. Awesome as MS!

So...here comes India in article. Thanks Dan. :)

"Windows 10 Mobile updates and availability" Surely "availability" cannot mean it will be officialy released on Oct 6! Though a build will be released next week as Gabe Aul said.

0000 hours Wednesday 7 October 2015, my time. Is there a presidential debate around to the time while waiting for the event?

Hololens is what im excited about again.

Daniel,your links are not clickable on my smartphone,they have never been,anyone with same problem?.On WMPU their links are clickable.

It's because of the site , not the links , the site is so heavy on a phone

How do you watch on a Xbox360?

By upgrading to an Xbox one

There's a tile to the app. Mine is X360 too. ;D

There will be scant, lukewarm, maybe even disdain riddled coverage from the main steam media on this one, because it is not news from their darling beloved Apple or Google. I'd be surprised if they did not mention Apple and or Google during the news coverage with terms like "Microsoft trying to compete with Apple and Google" Or mentioning the low market share that Microsoft has in the mobile/tablet market and say how much better Apple and Google are. I just got a Microsoft Band (first gen) for my birthday. I'll go and see if I can get an upgrade once the Band 2 hits the stores. I am hoping to upgrade my Icon to the 950XL too! If Microsoft got fair treatment from the media particularly with the mobile devices, maybe people would go buy them.

And sadly this event probably showcases more innovation than those two other events combined.

Cant wait. Daniel, Please tell a ms exec to release unlocked phones on the site the day of release. Only way I am going to get one.

Eagerly waiting for surface pro 14-inch.....
I'll be waiting for your impressions..

Yeah, the time has came (for me at least) after 2 years with LG, HTC, Apple and Sony phones....it's time to get the Lumia 950.

Is there any chance of surface mini....I know last year they have cancelled the product but I really want them to announce it...is anyone else want surface mini to be announced or is that me...???? Posted via the Windows Central App for Android

No, you are not the only one. I'm waiting for one of those for my kid, it will be the replacement for its current Surface RT.

Is there a front flash on the 950 xl? What is that thing next to the camera?

I'm really curious how Microsoft are going to make those two average looking devices (950/XL) look desirable, I'm not saying they're ugly, but they are very timid, modest and lacking the colours of old, I'm eager to see the advertising strategy here

I hope the surprise is a power glove.

My island lifestyle will have me up at 4:00AM for this. My Cinnamon Toast Crunch will be on hand!

Pretty excited!!! Can't wait to hear all about the new Lumia devices and windows 10 mobile....and hopefully how soon the official windows 10 mobile will be available to South Africa :-D

Id love for them to announce xbox game streaming to windows mobile devices!

Do I need to know this?? I will just reed your articles later. Lol

When the real update for wp10 os gonna launch for all mobiles

When the real update for wp10 is gonna launch for all mobiles

Is the tablet experience projected to be just as abominably horrendous as we've all suffered through since the W10 debut? If so, I can only compel users to revolt, because the uservoice system clearly means jack shit for feature pull. Your product is an overall regression from W8. Spartan(edge) is a regression from mobile IE. Let's admit these truths and move forward with productive ends please.

suffering really, please... tablet mode maybe not to some peoples liking but suffering... come on...

I suggest going to the windows store and download the TouchMe app. I was able to bring back most of the windows 8.1 gestures.

I am hoping for a Surface Mini!!

I'm hoping to hear that Microsoft will sell unlocked 950s that also happen to support TMo's extended LTE (band 12). I'm not counting on TMo to carry them.

You and me both! Even if TMo carries them, I'd rather have the unlocked version.

Great I'll be in school during the event

Any news for wireless Xone controller on PC would be welcome.

Leaks are ruin everything

Not everything. The Hololens announcement caught most by surprise. Maybe this time Nadella comes out of the closet.

Try to Bring Transparent notification center

Hey Daniel Rubino, please do remember my request. Kindly check whether there is an option to save Apps and Games on SD card or not? And which minimum class card will be required to use this feature smoothly?
Also do check will there be option to download files( Apps, Games and videos) larger than 20 mb using mobile Data or not? Please please do check both these features.
Regards. Posted via my Samsung Galaxy S3 Neo which isn't as much abandoned as any Windows Phone on the Windows Central App for Android

Please Daniel, I am hoping here you won't forget my requests. And hoping that you have read them. Posted via my Samsung Galaxy S3 Neo which isn't as much abandoned as any Windows Phone on the Windows Central App for Android

New job, very busy, I guess I'll have to find a stream when I get home from work....

I will be attending the evening event in person so skipping this live streaming event to keep the suspense

There's an evening event? Why would they need two events to announce the same thing?

I'm really excited to see what exactly Microsoft will announce. I'm rooting for them since they seem to be an underdog in the tech sector these days. I miss the days of the old Microsoft powerhouse with Billy gates.

In which quarter of 2017 will the new 950s hit the US market?

The timing for the event down here in Melbourne is pretty good. It means that we are all nicely tucked up in bed and don't have to worry about waiting for some random guy to get his microphone working. When we wake up we can read all about it while we enjoy a coffee before going to work. Nice and relaxed.

Happy day everybody folks did you look at light reflections on the left side of the photos of the MS lumia 950 it seems to show to me that the screens glass on these 2 smart phones are slightly CURVED. That means they sure wont look bad when they are seen person. I could be wrong but one thing for sure they are better looking than my nokia designed verizon Lumia 928

How about a replacement for Lumia 1020?

I'm excited! Bring it on!

I hope they're going to announce the release date of W10 for phones.

I would like to watch it offline, on my train ride. Can we download it later, a few hours afterwards?

I also have it on good authority that one of the surprise announcements will be the ability to run and install Google Play Apps! I am ecstatic at the prospect of getting the Android version of Waze.

>>Meredith43 that's been the main problem with Windows Mobile in the last 4 years, while iOS and Android have all developer support, Windows Mobile (former Windows Phone) didn't had all these apps since developers don't know how to code C# or C++, they just know Java (Android) and Objective C/Cocoa (iOS) With project Astoria, Waze, Uber, Snapchat, Instagram, etc Windows will run the latest apk version from Android without any code changes. This is similar in a way the Xbox One runs Xbox 360 games using a software emulator, the same will be for the Lumia 950 and 950XL, with their high end CPU (Snapdragon 808 + 3GB of RAM + 32GB of storage) running these APK apps will have a near-native (95%) experience on Windows Phone. All Android fans will be jealous of Windows Mobile 10 and project Astoria finally working lol.

I want the Lumia 950XL so bad, hopefully when they are sold for Christmas, project Astoria is advanced and we can get Uber, Snapchat, Waze, Instagram official apps, I want to start using Uber but currently I don't have a smartphone so I'm waiting for these to be available in Mexico.

I'm hoping for more news on HoloLens, and looking forward to new Surface devices. To celebrate this exciting event I am giving away 10 promo codes for my Windows 8 / Windows 10 game: Reiner Knizia's Penguin: http://bit.ly/rkpengwin
on Twitter: https://twitter.com/OSOSystems/status/651095779524878336


I am waiting for the SP4 with ultra thin bezels. I wish it would be like Sharp Aquos Crystal. I wish ultra thin bezels on all 4 sides. So where we will put the camera and MS hello IR blasters ? I think i have one solution. What about an under the screen camera. AMOLED screens can be transparent.Only when we use the camera make portion in front of camera transparent. I heard OLED screens can be 90% transparent. If MS wants they can make it 100%. Just a wish
Windows Central Newsletter
Thank you for signing up to Windows Central. You will receive a verification email shortly.
There was a problem. Please refresh the page and try again.