Microsoft Lumia 550 'Saimaa' Windows Phone with front-facing flash set to displace Lumia 640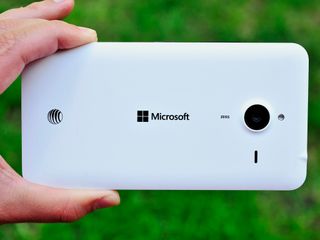 The site Winfuture has managed to procure some marketing material for yet-unannounced Microsoft Lumia 550. Windows Central can not only confirm the information but add a lot more to it. In fact, we have seen the device already and can verify some aspects of this new Windows Phone
Lumia 550 'Saimaa' RM-1127
1.1 GHz Qualcomm Snapdragon 210 quad-core (unconfirmed)
Removable SD
8 GB internal storage
4.7-inch 720 x 1280 AMOLED display
Glossy White or Black polycarbonate
On-screen keys
Metal around the display
Displaces Lumia 640
LTE
Speaker lower left on the rear
Rear camera with flash
Front-facing camera with flash
The Lumia 550 looks exactly like the current Lumia 640 on the market, and indeed, this phone is meant to displace that device at some point (there is no Lumia 6xx coming, to our knowledge). The prototype we saw has a glossy white cover and retains the boxy look of the Lumia 640. There a very slight lip around the rear camera, which also has an LED flash.
Front-facing flash?
Perhaps the most interesting part, however, is on the front of the phone. In the upper right-hand corner, there appears to be a double LED flash. On the opposite left side is the front-facing camera. Some speculation suggested it could be an iris scanner, but that hardware feature looks only to be for flagship phones. Microsoft released the Lumia 730 and Lumia 735 with their first 5 MP front-facing camera, and the whole 'selfie' craze for budget phones does not look to be a one-off experiment.
Adding to what we witnessed, back in July Evan Blass aka Evleaks asked the question "Has there yet been a Windows Phone with a front-facing flash?". This info corroborates what we have seen.
Lumia 735
However, we should note the prototype we saw was rather old, and the camera app would not even launch to verify what we saw on the front of the device. Newer prototypes are evidently now circulating inner circles at Microsoft for further testing. It remains to be seen what the finalized features are going to be for this phone, so take what we a reporting here with some room for adjustment upon release.
Speaking of release, we do not yet know when the Lumia 550 will hit shelves. To our knowledge, Microsoft is only planning to announce the Lumia 950 and Lumia 950 XL in New York next month and not this phone. However, seeing as marketing materials and prototypes are floating around, Microsoft may slide this device into that announcement as well.
Our initial reports suggested an early 2016 release.
What to expect from Microsoft's Windows 10 devices event in NYC
The Lumia 550 appears to build off of the Lumia 640's strengths but lowers the pricing tier and model number. This pushdown is a familiar strategy for Microsoft, who drives last-gen specs to lower pricing points as their portfolio allows.
We'll keep you posted about the Lumia 550 and any more information we come across.
Planned Lumia Windows Phones
Talkman (Lumia 950)
Cityman (Lumia 950 XL)
Saana (Lumia 850?)
Saimaa (Lumia 550)
Unnamed Microsoft-Intel Project
In related news, there is also the un-announced Saana Lumia Windows Phone yet to be revealed. This device is a Lumia 830 successor that was planned, cancelled, and then brought back a few weeks ago as I reported.
Other planned prototypes including Honjo and Guilin (5xx and 7xx replacements) still remain cancelled to our knowledge.
Source: Winfuture.de
Daniel Rubino is the Executive Editor of Windows Central, head reviewer, podcast co-host, and analyst. He has been covering Microsoft here since 2007, back when this site was called WMExperts (and later Windows Phone Central). His interests include Windows, Microsoft Surface, laptops, next-gen computing, and arguing with people on the internet.
A snapdragon 210 can't replace a 410... Silly you..

But regular consumers don't know that. Shhhh

This is NOT "Don't know" "Don't ask" "Don't say" "Don't cry" "Don't scream" whatever heck we call this business as ....Just replace it with SD 410, because rest of the world is going to get SD 430 in near future for low end devices!!

If they can optimized the OS why not?

Certain features only come with newer hardware, so even if W10 runs like a dream on a S4 you'll be missing out on stuff.

WP has gotten less and less efficient since it launched. It used to run on single core phones with less than 512MB RAM. W10 makes dual core devices, which are also more advanced and higher clocked with way more RAM, struggle. Posted via the Windows Central App for Android

Yes they are going the way if Google if they keep down this road - sluggish and crap

this is stupid. Too many low end replacements, ZERO mid or high end phones just the old ones. People are confused.. should I buy 640 - 650 - 520 - 530 what are the differences etc. :-( Dislike

Well that's why they're getting rid of most of them. It got too confusing over the past 18 months. From here on out we'll maybe get six Lumias a year over three market segments and each pair should be differentiated enough so people understand what the difference is (Flagships | Business/Mid-Range | Budget) and probably each with an XL variant (950/950XL, 750/750XL, 550/550XL). Unless Microsoft mess it all up because Microsoft. ;)

I'm not sure about the 7xx phones, the next phone after L950 will be L850 (Saana). It will probably be a 1080 version of L950 with a processor like SD617. It would probably be priced around $400 and meet the demand for business. It is an affordable flagship like L830.

You should wait and get the 550 obviously. That's like saying should I get a Galaxy S4, S5, S3 or S3 plus. Things move on, phones get replaced, the naming scheme isn't perfect but it's not rocket science either.

950 and 950XL is already "confirmed" for an announcement in October, that is two high-end phones. The article also mentions a mid-lvl phone in the "850" And a 550 will obviously replace the 530 that has already replaced 520 so I don't see how there can be any confusion there either. Then we have: High-end: 2 Mid-range:1 Low-end: 1 Looks pretty straight forward to me.

It's only going to get confusing if they keep the older phones in the market at the same time. If they release these new devices and discontinue all of the other 50 phones they're selling right now it would be great.

I really need great successor of Lumia 730. Hope Microsoft continues Lumia 7xx series. They are great in demand.

Lumia 640 has a 400, not a 410

And... something like the price has also leaked... 113.9 swiss francs equals to 116.89 US dollars if I'm not mistaken!

But snapdragon 210 is unconfirmed chances are it will be 410

Replacement in term of marget segmentation. Not the device itself. Remember that Microsoft already stated that they only release three models instead of numerous Nokia style? These three models should be low, mid, and high. High is definitely 950 (and it's XL counterpart). Mid will be the rumored 850. Then what is the low model? It's either started with 5, 6, or 7. Now let's crack this down. 7 series usually a budget version of advance camera. So low model won't be using this number. Now it comes to 5 or 6. And since low series usually use SD 2xx, they won't put the new low end devices under 6 series because the success of 640s. Now we only have one choice. Release it on 5 series like other low end ones.

Sounds very reasonable to me. 5x low, 7x medium, 9x high. I look forward to Microsoft clearing this all up come next month. So is this rumored 550 as well as the 950s Nokia left overs?

The 640 has an SD 400, not a 410

640 has an SD 400, not 410

I agree that MS might give up the 210 completely, but please note that Dan himself says that the device he saw was an old one. He has not seen the new ones and therefore, he put a caveat against processor name. I too think that if they don't plan a 6xx or 7xx, there is no reason to continue with S2xx series of processors either. price of S4xx processors should already be coming down since the company has launched several new processors and the 4xx series is getting old. Another argument is that whenever MS has said about 'affordable' windows phones, they have always referenced it with 640 and 640 XL. I think, even if they ditch the nomenclature in favor of 5xx series, they will retain the specs if not improve it further. So I feel the specs will be pretty much similar to what Dan has reported, with the processor being the only change. If they do so at a price point lower than current selling price of 640, they would have done a pretty decent job.

can snapdragon 210 replace snapdragon 400? hope 210 supports HD video capture.

It should be called a 540 successor coz 540 has snapdragon 200.

Naah ... It is a 4xx, 5xx, and 6xx combined successor. High end is taken by 950 (and XL). Mid end is presumably taken by 850. So the rest of the league is low end ... Which is assigned to 550. Although it has lower computation power compared to 640, it still budget phones' successor.

Snapdragon 210 DOES support Full HD video capture.

Hey Danny wht does rumours of 830 succesor say .?? Keen for that :P

Why dont you read the article?

I read it.!! M asking onto specs

What? Replace with a weaker model? And The 540 don't hit the Brazil yet... Oh god now i'm confused

If the 640 replacement is going to be the 550, then wouldn't it make sense that the Saana device (830 successor) would be a 750? Put the new snapdragon 617 processor in it with two gigs of ram and you have a decent mid level device.
Then you have the 550, 750, 950 and possibly a Surface phone. Simplified line of phones that hit all aspects of the market.

Bring the 800 series back, seriously, the Lumia 800 is the most gorgeous Lumia ever (Magenta one is awesome) Posted via the Windows Central App for Android

Yes I loved my Lumia 800 it was my first Windows phone. But if they are simplifying their product line and their numbering system, this would do the trick.

Hope Microsoft continues 7xx series. They are best in mid range category.

I agree. Why have 4xx, 5xx, 6xx, 7xx, 8xx, and 9xx lines? The even spacing between 5xx, 7xx, and 9xx sort of makes it easier to say "low end", "mid range", and "high end". The Surface phone could be the ultimate, premium device for "the best possible experience" with features like Continuum, Intel processor, etc. Simpler lineup makes it better for consumers. Martin
Lumia 820

Yeah if this replaces the 640, then call it a 650. Even if it is in the price range of the 540/530 then it'll look better to people to have it as a 6 series phone. 650, 850, 950 - that's fine.

Now I like your idea. 550, 750, and 950 would be more reasonable compared to 550, 850, and 950. I mean, look at the gap between low and mid ones. 5, 7, and 9 are well balanced. Unlike 5, 8, and 9. Well ... Only me and my OCD, I guess... :p

The processor is a step down from 640 isn't it? I believe 640 has snapdragon 400 quad. i hope the 8mp camera is not gimped as well.

The 210 is almost on par with the 400. Look here... https://www.qualcomm.com/products/snapdragon/processors/comparison

210 can't play HD video I had a win blu HD and it wasn't good for video over 480p

The old Blu HD has a 200 not 210. The 210 is much more powerful. LTE, HD Video capturing and playback and much more features

SD 210 ?? And replacing Lumia 640?? Bad idea. It's maybe for Lumia 540

It's a 5xx device so obviously it "replaces" 540 but it's a pushdown from the 6xx series, which is not being continued for now.

*snip* sorry, wrong comment.

To make a gap for OEMs, and this is a good step...

They should come up with the latest snapdragon 430 and 617 processors on Lumia 750 and 850 in early 2016. When I look for a mid range phone with latest specs I find absolutely nothing in Windows phones. Gear up Microsoft, you're too far behind in phone business. Don't just wait up for OEMs to show big interest in Windows phones.

So pumped for the 7xx 8xx successor.

Seems like the confusing model number madness lives on. A 550 to replace a 640 with a better (arguably) FFC but weaker processor. And said improved FFC wont feature on their flagship. Microsoft, as always, snatching defeat from the jaws of victory.....

it's more like a 540 successor than 640 replacement.

6xx series has no successor as in there is no 650 to my knowledge; they are taking some 640 specs and pushing down to 550.

So is that it Daniel? 550 low end, 850 mid & 950 high end? If so there will be no real successor to 1020, true? If that's the case I can't wait to see the Surface phone.

That is the plan, so far.

Do you know if the Intel/Surface phone was part of their assumed 6 devices a year or is that kind of a different thing. Like that was only for Lumia devices while this may be a Surface phone. Posted via the Windows Central App for Android

It could have been Lumia 55x with SD 41x SoCs, 75x with SD 61X SoCs and 95x with SD 81x SoCs for 2015. SD 820 specs really appeal!! Let's wait and see.

For once, that would be a great plan. Low, mid and flagship phones... Noone needs 3 versions of low range ms phones...

Weren't the 640/XL the first Lumias under Microsoft's leadership, introduced March 2015? They are discontinuing that tier already?

The model numbers are confusing still for new comers. They should have made it the 645, or something.

They should do away with numbers entirely. Microsoft doesn't seem to learn from their past mistakes.

I agree the hundreds numbers are associated with old Nokia. Time to Launch the "Microsoft Surface Phone", Lumia Solo (single camera 5 series) Lumia Duo (7 series) and Lumia Pro (8/9 series).

Iris scanners and continum are reserved for flagships only?

Why put those features in an entry level phone?

No, atleast on minimum 7xx series

Put continuum in lower end devices because that's how MS was promoting it for emerging markets.

Well, MS is heading to a fail on third world markets in low end sales with these specs. SD 210 ? Not impressed. 2 MP FFC ? It's a downgrade.. Not impressed. 5 MP rear cam ? Not impressed either. No thanks

Where did you get the camera specs? Qualcomm states the 210 supports up to 8megapixels front and back.

Looking forward for that "Microsoft-Intel Project" smells like a Surface phone.. ;)

It looks like the Surface phone is the only device we can pin our hopes on.

How does SD210 stand against SD400??
And front facing flash..like seriously?! Everyone will be having those annoying red eyes...

The Snapdragon in the 640 is already pretty bad. I guess that's okay since you won't be playing any games anyway.

Yeap. SD400 isn't bad, by 2013 standards ;) Hell, even SD210 is now 1 year old.. Anyway, we still don't know what is gonna be.. I just hope that in the end of 2015-2016 we will finally have true midrange phone/ phones (with SD6xx and 2Gb ram) SD400 is showing its age lately..

I think the 640 is actually the best phone you can get for the money. Fast, fluid, NFC, FFC, decent rear camera, good size screen and display. Nothing to complain about for the price =).

This. I'm very curious about this phone!!

Mine was 99 dollars and sure terrible compared to the Snapdragon 800 on my Nexus 5 but for 99 nothing beats that. Not if it originally came out with the 410 but oh well... Posted via the Windows Central App for Android

Metal around the display? Wtf ? Why we didn't see this in both talkman and cityman , dang it!

3 market segments - shouldn't we expect 3 sets of phones.

They should come up with Lumia 1050 with a Snapdragon 820. That chip is optimized for high resolution pics. Lumia 850 and 750 with Snapdragon 620 and 617 or the latest 430. And this 550 should be called a 540 successor coz it has the same snapdragon 200 series processor as in 535 and 540.

So it seems everybody is already forgetting MS's new strategy for phones. They are significantly reducing the number of lines they want to launch. No more 6xx - 7xx etc. The 8xx is a little surprising. So it's not impossible that the 550 is "replacing" the 640. It's more like it's displacing it.

Yeah, I admit, displacing is a better descriptor. Will adjust.

I was planning to buy 640.. I guess I should wait now till 6th of next month.

The 640 might be better than this device though. We have to see for sure so its worth the wait =).

How the fuck can Snapdragon210 touting phone replace Snapdragon410 phone? Since they have already cancelled 7xx, I've no option to make a jump to newer generation phones as new low to mid end Lumias are driving specs lower and lower. I'd definitely like a phone with similar specs but with 5" 1080p Amoled screen, SD430, 2GB RAM, LTE, 16GB internal with SD card, 13MP rear Zeiss with LED, 5MP front both with wide apertures. Under $300 range to succeed Lumia 730/735. If not, then well I dont know, will have to save for flagships and then I might not stay with WP by then depending on the state of affairs of W10 mobile and its flagships available then. And don't tell me this is too much since many android midrangers are coming with these specs under similar price range. Also, if 8xx successor is real, plis to start supporting SD62x SoCs ffs with or more above mentioned specs if they have to sell it as a affordable flagship.

Looks more like the Lumia 535 successor... with some improved specs as it should.

No snapdragon 2xx for HD display please Microsoft stop it. Mid ranger should have snapdragon 6xx , lower mid with 4xx

Dan, will the 950's have on screen or physical buttons?

Thank you Dan. I was hoping that was case. :)

Looks like Microsoft is back to their old shenanigans of confusing the public.. i give up yes.. lol. Do your do Microsoft.. Do your do!

I just want the screens touch sensitivity to be improved. I went from an HTC 8x to the 640, at first I thought the screen was laggy but I'd get used to it. Last night I dropped my 640, again, and the screen busted. Went back to the HTC 8x and I can still say that screens responsiveness is so much better than the 640.

My big wish for the next next launch = front facing speakers...

LOLOLOLOLOLOL Please leave the typo in here as Selfie and Crazy go together like PB & J.

...the whole 'selfie' crazy for budget phones does not look to be a one-off...

I really need successor of Lumia 730. Hope Microsoft continues Lumia 7xx series. They are great in demand.

I don't think any Windows phones are great in demand. There is a reason Microsoft is scaling back on Windows phones, or "retrenching" as they say. Posted via the Windows Central App for Android

At least where I'm from, the L730 sold like hotcakes. I got one, so did my brother, 4 of my friends and an uncle. And that's only the people I know. The model was sold out in some of the retail outlets. And I absolutely love this phone. It's beautiful!
I wish they'd continue it.

Replace 640? With these specs?! No, thanks. I have a 640 and there is no way I'd upgrade to a 550 with such specs. The replacement for 640 MUST have at least a SD 410, but for a real upgrade it should come with a SD 415 or 615, 1/2 GB RAM options and 8/16 GB storage options.

Well, there is no 6xx coming, so you have that.

It's quite alright though. I got my 640 just a few weeks ago and am not planning to upgrade any time soon. I'll wait a year or two for a proper replacement.

Which will most likely not be a wp if they continue like this.

Why would you go backwards in numbers? 640 to 550? That doesn't make sense.

The new Microsoft slogan will be "Less is more"

As for as I know the Intel project name is jagaurnat alpha ;)

My guess: L550 for low end, two mid (like IDK L850 and 850 XL), two flagships 950 and 950 XL and one business phone (like supposed Surface phone). 6 Phones. =)

They should just make one phone. A reference device with all the high end features with a lowish price and middle size screen (~5.5"). Allow OEMs to fill in the rest of the market if the demand is there. Just concentrate on making one great phone instead of a bunch of crap. Posted via the Windows Central App for Android

That's the plan, mate. But they can't just stop making phone out of nowhere. They'll slow down ... slowly :D

The 640 was already only $80. This must be super cheap. Also, an XL variant? (unlikely with the 210, I guess). Makes the 640XL tempting since it sounds like there will be no big-but-cheap phone coming.

Do we know yet if the October event will be livestreamed yet by Microsoft?

Ugh! The 640 is nearly perfect! Don't be idiots and abandon the goodwill you are establishing with it. Sure, it has some flaws, but that is what further refinement is for; improving upon an already good design. Forget the waste-of-time 5XX and stick with the 6XX line. My 640XL is what convinced my wife to leave android for good! Don't do me wrong by making me look like an idiot now ​

I'm thinking of purchasing 640XL. What type of flaws it has that you are referring to?

What MS is doing makes perfect sense. The 640 is an incredible phone but it isn't a low end (other than price) and isn't a mid range. Its a tweener. The 550 looks like it will be a better low end than the 640 was a tweener. MS wants 3 classes. The 640 isn't any of those. The 550 will be. For the many people that wanted a tweener, they are fortunate to have an almost perfect example in the 640. But more people in total will prefer either a 550 or the new 7xx. A 640 or evolution would steal a lot of customers from both and add confusion if offered along side. If MS is limiting phones to 3 basic ranges, this is the right move.

Here we go again!
If they add a SD210, the phone will be a crap! MSFT needs to stop doing this! At leat a SD610 or SD615 would become nice!

Better not too much heating processors like Snapdragon 615 and 810.

Should have gone 5xx series, 7xx series, and 9xx series.

Aside from the front-facing flash, looks like a lot of the Saimaa.

I want to see a replacement for the Lumia 630. These specs: 4.5-4.7" 720p LCD with Gorilla Glass 3/4 and ClearBlack. Also easy to clean coating.
Snapdragon 400 at least
1GB RAM
Same or better camera set-up as Lumia 640.
And obviously proximity and light sensor. (Gyroscope?) Basically a small 640. 640 Mini/Compact/(X)S. Posted via the Windows Central App for Android

Won't you want Snapdragon 412 processor, Gorilla Glass 4 and USB Type-C?

Of course. If possible. Posted via the Windows Central App for Android

This is nice, because I didn't really like the glossy material of the Lumia 640.