Microsoft almost made a feature phone that looked like Windows Phone
Microsoft was going to make a feature phone that looked like Windows phone. Yeah, weird right?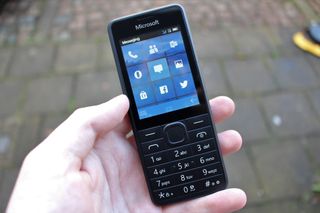 Did you know that Microsoft, even after purchasing Nokia's phone business, never actually released a feature phone under the "Microsoft" brand? The Redmond-giant only ever released a handful of feature phones after the acquisition, all of which remained "Nokia" branded. The "Microsoft" brand was reserved for its Lumia devices, likely to differentiate the feature phones from the Windows Phones.
That wasn't always going to be the plan, however. Based on an early prototype we've got our hands on, the company was building itself a "Microsoft" branded feature phone that borrowed the same industrial designs found in the Lumia 550 and 950, and rocked a feature phone OS built to look like Windows Phone. This is the canceled Microsoft "RM-1182" or as we prefer to call it, the Microsoft Dumb Phone.
Although the existence of this handset has leaked before, as far as I'm aware nobody knew about the work Microsoft had put into the phone's OS to make it look like a Windows Phone. This feature phone has everything from live tiles (ish) to Microsoft Account integration that lets you sync your account data, including contacts and email directly to the phone, just like on a Windows Phone.
Windows Phone lookalike
This handset was in development throughout 2015, meaning the OS was skinned to look like Windows 10 Mobile. The main menu looks familiar to the Start screen on Windows 10 Mobile, with a grid of tiles that can be rearranged to your liking. You can even customize the background and accent color used throughout the OS, and all the app icons are using Microsoft's MDL2 design language. The live tiles are semi-live, being that they will display the number of missed notifications from an app, but won't show much more than that.
The phone comes with several built-in apps, including the usual Phone, SMS, Contacts, Photos, Camera, Alarms, Files, and a web browser, all themed to look a little bit like they do on Windows Phone. Also bundled are a bunch of other Microsoft apps, including Outlook Mail and Calendar, GroupMe, and OneNote. Unfortunately, those apps don't function in 2018. It even has an Extras menu, found only Lumia Windows Phones, with a bunch of extra utilities in it.
Image 1 of 5
It also has a quick action center which also takes design inspiration from the Notification Center and its quick actions on Windows 10 Mobile, only accessible from the Settings app. Speaking of the Settings app, it has your usual feature phone options, with the addition of Microsoft Account setup. It comes with all the sounds you can find on a Windows 10 Mobile device too, and even has a unique boot up sound that's very Windows Phone-y.
In typical Windows Phone fashion, the phone also comes bundled with some Gameloft games, including Spider-Man Ultimate, Asphalt, and a few others.
Pretty average hardware
For a feature phone, the hardware is okay. It's a small phone, with a 2.5-inch low-quality display, plastic shell, a 1.92 MP camera on the back, and a 1200mAh battery. Most feature phones have excellent battery ranging from days to weeks, and it looks like this Microsoft feature phone is no different.
Unfortunately, we were unable to obtain the back shell along with our prototype, but we know what it'd look like thanks to that earlier 2016 leak. It has a Microsoft logo on the back, just like the Microsoft Lumia devices did, matching the branding found on the front on the handset.
My question is what was Microsoft planning to call this device? Would it have been a Lumia handset? The Microsoft Lumia 150? Who knows. It's likely Microsoft was merely going to call it the "Microsoft 150" or something, omitting the Lumia brand entirely. Or maybe Microsoft was planning to use the Asha brand, or an entirely new brand for Microsoft feature phones.
Either way, this project faded away rather quickly after Microsoft made the internal decision to scale back its mobile efforts. This handset, along with the Lumia 750, Lumia 850, and plenty other Microsoft branded phones, were canceled. The only survivors were the Lumia 550, 650, 950 and 950 XL, before killing the Lumia line entirely and selling off most of its Nokia assets.
Get the Windows Central Newsletter
All the latest news, reviews, and guides for Windows and Xbox diehards.