One of Microsoft's final Nokia feature phones is coming to India on Oct. 24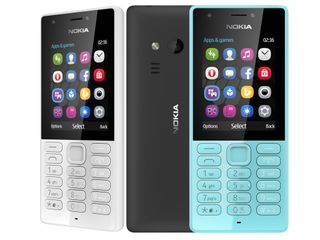 Microsoft has announced the Nokia 216 feature phone, which will launch in India on Oct. 24. The phone will likely be one of Microsoft's last feature phones before the deal to sell off that division of the company finally closes later in 2016.
In a press release (opens in new tab) Microsoft stated:
The phone will be sold in black, grey, and blue colors and will be priced at Rs. 2495. You may remember that back in May, Microsoft announced an agreement to sell its feature phone business to FIH Mobile Ltd. (a subsidiary of Foxconn), along with HMD Global, for $350 million. In the final part of today's press release, Microsoft stated:
Get the Windows Central Newsletter
All the latest news, reviews, and guides for Windows and Xbox diehards.
Sorry, but who cares?
This news is completely off-topic

Off the topic on what? Every article IS a topic, a thing in itself. How can a thing be off the topic of itself? Do you actually know what the word "topic" means?

Well, in a way it is off-topic. It doesn't run windows and you could say that 'Windows Central' has Windows as a topic. but I agree that this comment was worthless. Everybody knows Windows Central is about everything Microsoft related too.

It's about Microsoft phones, not f#*king games so it's actually on topic.

Wow! So much hate coming from ppl who once used (or not but still talk about something they don't understand) feature phones (mostly from Nokia) as a daily driver before smartphone era even began. To me this is one last goodbye to the good ol' days from msft. Respect it and move on.

Is Microsoft just plain dumb or is being one? A really tricky Q. Today in india due to launch of JIO each individual may it be poor or uneducated plans to own 4g supported android phone(lyfe/any other cheap android phone) Not a basic phone at all. Selling such phones at even ₹1500 is a slap on the face one would either hold on for some months rather than investing in an non-android Os.

Feature phones still have demands, oldage people who are not fond of touchscreens still use these feature phones, this can be a good secondary device, Battery of Androids costing less than 5000rs will not even last 8-10 hours and those are very sluggish.

Look around who gives a F it their phones last even 4hr all carry Power banks rather being stuck with a so called feature phone.Even some old people prefer touch screen android phones than the keypad phones.Low coating android phones are sluggish for sure but hey people do buy & use them who are not up to date.

You must understand that this device not competing with smartphones, feature phones has its own set of customers, not just Microsoft, even Samsung, LG etc still produce feature phones at the range of 1000rs - 5000rs.
I have Lyf Flame 1 phone, I bought it to use it as hotspot with Relaince Jio, the phone sucks so much that you will loose interest in using it anymore, elderly people will throw this thing away as they need phones for calls.

Arjun is absolutely right.Mr Puru you carry your power bank everywhere doesn't necessarily means every single individual does.

So i think you don't know the difference between a touch screen phone and a keypad phone with solid build quality which will never lag nor be dicharged for days.... Your name suggests you are indian but your mindset doesn't

I sure do know the difference between both. Even you aren't using a feature phone to rely now you'd maybe have it as a backup(calling) phone. Nokia's or a few feature phone would last for days,not lag but is it worth the sacrifice of what a smartphone(Android,iOS)(not including windowsphone dead a ****) for primary use. If so good luck Clicking decent pics,Watching videos or using apps.

You gave the answer already.....this type of phone is the best alternative as a secondary phone for anyone....people here in india who are shopkeepers or any small worker keep these phones just for calls and they work like wonder....and one thing i don't understand what do you expect from a cheap android phone,you can play games in it,you can do heavy browsing,enjoy some heavy apps now a days....oh pardon me...even mid ranger android phones sometimes fail in it.

For the general consumer, it goes without saying that the majority would buy a touch screen device. There are people who cant afford the luxury of the cheapest touch screen device, not because the device might be expensive but they keep in mind repair costs, data plans etc. In poorer areas charging a phone is not as easy as you think, especially in areas with electricity cuts, so they need phones that have batteries that can last. That's why they even use the whole LED flash as a torch in their sales description, because in such areas a torch light is very convenient. Many business men CHOOSE to have a feature phone because they want a phone that just does the job and calls. Some of them even prefer them because they're not so smart, so it's more private and their data etc is less exposed.

Seriously? No one is giving a f**k about Jio after learning what its so-called world's lowest LTE tariffs actually mean. Plus it has an extremely patchy network. Therefore, not good for frequent travellers. Idk why certain people are promoting Jio this much. Check the base prices of its data packs after the preview offer expires. You'll gasp. I recently ported to Idea from Airtel and I'm pretty satisfied with it. I didn't even consider Jio once.

Airtel network in my region is bad I need to switch.... And coming to Jio it ain't revolutionary .. something is going on without our knowing....

Airtel is literally bad everywhere i go,Lol. Airtel shows full signal for a few seconds then 1/2 bars or none the after second. Love how much B.s their Tower ads are.

True. Not sure why there is so much hype about Jio.
PS : I also recently ported from Airtel to Idea and happy with this.

When you get something for free for 1-3/4-5months (preview users) who wouldn't like it. The hype is pretty much lessened now. Why did you port to idea? Airtel's balance jhol?

No. I actually shifted to another city and here, in my home, I get almost no coverage from Airtel due to some technical issue as I get better coverage outside. Airtel was actually the best for me in my previous city where it even had 4G. I didn't want to port out of Airtel at first but I noticed that Idea gives 100% coverage in my new home and everywhere in the city. So I had to port out of necessity, not because Airtel is bad. It actually has very reasonable rates (according to me) and not to mention the satisfaction of being part of the country's largest network :)

After the welcome offer ends many of the users will be thrashing their sims(not locked)many would continue with packs if they were used to using internet before JIO came in the scene.People are promoting JIO because it being free for a few months one does get 4g speed(to say but still no youtube buffering,No Hotstar buffering in short no suffering till the free offer ends)How can one not be happy if he gets to use anything for free. 1.The ones who complaint do not have phone supporting 4g VOLTE
2.They don't got the sim
3Both 1&2/

You still get unlimited local and std calls and all India roaming for free.
I'm using Airtel. And currently paying ₹849/month for all India unlimited calls. But I can get the very same plan from Jio for just ₹149(or something like that) plus 300MB data and 100SMS.
I don't care about data as I already have high speed broadband connection at home.
The only reason I'm still holding on to Airtel is because I've read that currently Jio has terrible network.

Oh. But majority of Jio customers are those who want its free data. I too have WiFi so I don't even want LTE. A normal 3G data pack will do. And yes, Jio's network is extremely unreliable as of now.

Who buys Slugdroid for Jio ?

Many did. Slugdroid was a thing of the past choose a good spec phone and notice little to none lags,Still miles better than having no apps,Software features & most of all being a beta tester 24x7(even by being not a part of the preview program)

My friend is having Asus Zenfone Max 3GB RAM and his phone hangs... Still Slugdroid LOL ;)

Dumb? Them selling more feature phones than Lumias proves you completely wrong. Also, there is a market for feature phones. Believe it or not, not everyone wants a smartphone. Children don't need smartphones, elderly people don't want smartphones, poor people can't afford smartphones etc etc. Posted via the Windows Central App for Android

From what i see around i what i would tell. Tbh the area i live in even children choose their first phone of Android os from ₹3000-iphones/itouch/pods whatever there's literally no reason for children-teens to buy feature phone exception very rarelt does one buy a feature phone for backup(calling).Poor people sure do buy feature phone but this most of them buy cheap android phones & as for the final shot Microsoft selling more Feature phones tham Lumia's shows Microsoft's failure of windowsphone os8,8.1,10 they are expensive & people are smart choosing other os be it fate or hearing reviews by others.

I miss my Nokia C2-01 even today...Man that phone feels like WOW in my hands...Now I own L1020...;)

It seems everybody knows it's 2016 except for Microsoft living in mid 90's!!

Why do u even care to comment when you seem to think of yourself way ' ahead of time' ?? U should know theres a pretty big market for feature phones....and when it features a dual camera with flash and net at that price....it will sell....

It's odd but somehow the company that make the most profit out of mobile business is known for making exclusively high end phones!! Apple ;)

Sure, it might be odd if you don't think about it any further than that ;)

I was thinking the same thing. This would make a great GoPhone. What I like about it is that it has all the important features you really need...Front and back facing cameras with flash, internet, 32gb of memory, Bluetooth, Wi-Fi, music and video players. You have access to FB, WhatsApp, Youtube, News apps, time wasting games, great battery life. And if access to OneDrive is available for photo backup, then I would have all I need. This is one of the most featured pack phone of this size I've seen in a long time. Also I like the foam green color.

You guys are being sarcastic right...?? O.o Posted via the Windows Central App for Android

No. Feature phones have better battery life, cost less, and in this case comes in a nice neat package.

My dad is getting on in years and only need a phone for calls and texts.
His old Samsung slide phone broke yesterday and I've replaced it with a Nokia 215 this very day, all for the amazing price of £11.24 new.
People still want and buy the feature phones.

Likely has better availability of games & apps than x3.

You're really grabbing straws there. Aren't you, mate?

I use a feature phone as well as a windows phone, android, and IOS device. It doesn't have more apps and games. I may have its own shares of elite games not on wp/10 (final fantasy 2 for example) but it doesn't essentially have more games. Besides half of those games will not be supported on the device due to screen resolution and touch screen support.

Very nice phone. Get one before it is consigned to museum.

Yeah hope they will be sold like cakes

So this thing is going to support FM radio out of the box? I wonder if that feature will be removed later because it's too much work to support it. /s

Yes, haha. I used to enjoy FM on my Icon, but not since AU removed the app.

Why ? You can download an app from Windows store mate

How can I get a few of these for my family on AT&T?

I just need a Surface Phone now.

This is fuc**** hilarious.. :D feels like 90s. Haha Posted via the Windows Central App for Android

I miss the good old days...

I'm reading a book on the big three (Microsoft/Apple/Google) and I'm on the iPhone launch chapter when Nokia was the major force in mobile. There was such potential with Lumia at the start, it's just sad to see this once-mighty brand fade away.

Coming soon.. Nokia is king however.. No phone can replace the name that Nokia got for itself and by the way I feel proud typing this comment from my L1020... I won't miss Nokia as long as I have my L1020 with me... No matter what OS Nokia chooses I wish them Luck with all my heart.... Love You NOKIA.....

Got my first Nokia cell phone in 2000 and have had Nokia phones and smartphones since. Hope Nokia does well with their new android venture. They were a great phone maker.