Microsoft 'Saana' Lumia un-cancelled and an old Lumia 830 prototype leaks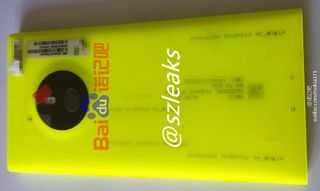 We live in a day of leaks often without context. Such is the case today when Windows Blog Italia posted a 'new' image of a Nokia device. The image, seen above, came out of China and was posted by Nokibar and it has all the hallmarks of something interesting. First off, it is not like any Lumia on the market today and it does 'prototype' all over it.
Of course, it also says 'Nokia' all over it and we now know these devices go under the Microsoft Mobile name instead, reflecting their division at the company.
Indeed, this is a new photo but of an old phone, namely the Lumia 830. In fact, it looks an awful lot like the 830 sans a few changes e.g. dual-led flash and, of course, dat yellow. In fact, we have seen a yellow Lumia 830 in the past, as once again another prototype (see above image). However, we have been able to confirm with a few sources that the top image is undeniably old.
So file it under interesting, but nothing to see here.
Saana un-canceled, Lumia 830 follow-up returns
In a related bit of information, we can now say that there will be a Lumia 830 successor. The codename of the device is 'Saana' and it is one of six device names that Microsoft was reportedly working on.
I reported last week that three out of the six were recently cancelled, likely reflecting those cutbacks Nadella had illustrated in his letter to employees. Those devices cancelled were Honjo, Saana, and Guilin.
In an interesting turn of events, I am now hearing that Saana's cancellation has been cancelled. Honjoa and Guilin were 5xx and 7xx series replacements and Saana is reportedly the Lumia 830 follow-up. It is not clear why Saana is getting a second lease on life, although obviously it has to do with Microsoft's shifting mobile strategy.
To recap, these are the devices we know Microsoft is working on:
Planned Lumia Windows Phones
Talkman (Lumia 950)
Cityman (Lumia 950 XL)
Saana (Lumia 850?)
Saimaa (Lumia 650?)
Unnamed Microsoft-Intel Project
From what I understand, four of those are Nokia-holdover projects that were already in the works. Having said that, I would not expect Saana or Saimaa until sometime next year, possibly in the first quarter. The only Lumias launching imminently will be Talkman and Cityman.
I am also now hearing that Cityman and Talkman will not be at IFA as we had originally reported. Instead, Microsoft is now looking to have its own event in New York City later in September or October. This event change makes sense as Microsoft can better control the message and also not have to worry about being outshined at a massive tech event like IFA. Plus, it may buy them a few extra weeks to prepare the hardware and software.
That Intel Windows Phone
Finally, there is one more device Microsoft is working on although information on it is so far scarce. I recently revealed that Microsoft has been working to make an Intel-powered Windows Phone for many months now. I hear from a few sources that this phone will be metal , runs Windows 10 and it is likely planned for sometime early next year, possibly Q2.
There are still many questions including specs and if can run full PC apps or just universal Store apps. Certainly these details will come forward in the coming months.
Will Microsoft make the leap in branding and call this a Surface phone? I do hear the idea is being kicked around and now that Surface guru Panos Panay is in charge of hardware engineering, anything is possible. Whatever this device turns out to be it could be very interesting.
Windows Central Newsletter
Get the best of Windows Central in in your inbox, every day!
Daniel Rubino is the Editor-in-chief of Windows Central, head reviewer, podcast co-host, and analyst. He has been covering Microsoft since 2007 when this site was called WMExperts (and later Windows Phone Central). His interests include Windows, laptops, next-gen computing, and for some reason, watches. Before all this tech stuff, he worked on a Ph.D. in linguistics, watched people sleep (for medical purposes!), and ran the projectors at movie theaters because it was fun.
That Intel Windows Phone This is the one!!!

Can it be surface phone or just one more Lumia series?

Surface phone??? Wow! Fans have been wanting that for a long time.. Hope THAT INTEL Phone is the one :D

I would like an OneNote Phone...

Seriously... OneNote is my most used app.

That would be the 950 XL / Cityman if it indeed has the rumored pen.

The rumor is that it uses the surface pen as an optional accessory.

Makes sense. The Surface Pen works on my Nokia 1020 when I have high sensitivity turned on. I use them in tandem ALL the time!

Any conductive object works as a stylus for the 920-1520 Lumias, but the 950 XL is supposed to have a real digitizer that lets you use the Surface 3 pen.

I just want a OnePhone :)

I hope it will stay in the Lumia camp where all phones belong. We can call it Lumia Pro, Lumia Pro 86 or Lumia x86.

Agreed... Surface for tablets, phones aren't 'surface area' like.

Surface phone! (On Verizon)

Actually typo in article Even ~ event

I won't begin to point out all the typos in your comment.

It's the phone we deserve, but not the one we need right now.

L850 is needed to serve business and those who demand affordable flagship. But it should use stronger processor like SD808 and supports Continuum.

They have to step up their strategy, I don't see any ground breaking features except actionable notif in Win 10 for mobile. All the good features are the one that were supposed to there and are already in Android. If they have to compete with them they should try be ahead.

Windows hello is new. Apple has a good fingerprint scanner. I don't believe any of the android phone have a good biometric system in place. A few phones have a fingerprint scanner, but from what I understand, they are not very good.

Old news. They are now very good (better, even, than Apple).

Lets wait for the specs. I'm genuinely excited about the Surface (?) Phone as well but the issue is Windows 10 Mobile only has support for the Intel SoFIA SoC which is limited compared to the current offerings from Qualcomm.

I really don't understand the Intel Windows Phone hype, what make it special?

The hopes of docking it and run full Windows. If it does, then the Surface branding makes sense.

Microsoft has done such great work with Skype, OneNote, Office Lens, Word, PowerPoint and Excel for Android apps I no longer feel the need to get a Windows phone. The only advantage in getting a Windows 10 mobile phone before the end of 2015 seems to be that it will have Cortana integrated rather than as a standalone app.

Bruh, heard of universal apps

Well, there is also the fact that windows phone is easier to use and the major security issues identified this week which Google can't address because the OEM's are responsible for updating android. The security issue involve core android and not one of the features that can be updated through google play.

You don't have to if you don't want to. The point is to first change the opinion of people bit by bit. Like this guy http://www.theverge.com/2015/7/26/9039961/switching-the-tale-of-my-unexp.... It's not realistic to drop one thing you're used to and completely switch over. You need to be ready to switch and that switch time frame, if it happens, is different for everyone.

@Rockartisten. Don't expect the first few generations to run anything beyond what a small tablet can handle :P.

Microsoft has said publicly and officially (and many times) that smartphone and small tablet, ARM and x86 based, will run Windows 10 Mobile. Windows 10 Mobile isn't able to run Win32 apps

Me neither. If it ran a larabee type chip I'd be interested

There can be only 1.......SURFACE PHONE!!! The ? is, do I hold out for it, or ditch Verizon and my Icon for the City/Talkman???

Really what's the fuss about with these Intel powered phone?. Is it just for the ability to run desktop apps. Not a troll just wondering.

TBH, it's not really clear but yeah, that is the thought: that when docked it can run full PC apps instead of just universal Windows Apps. Right now, though, we really do not know what it means, which is why I think people should temper their enthusiasm ;)

too bad it's not true (if Microsoft didn't change its planes)...

Will be the business phone, not for consumers...

It's aimed for business. Doesn't mean consumers can't buy it. Most likely you would have to buy it up front and not through a carrier contract.

"The phone that can replace your laptop."

Fast forward 3 years "The fitness band that can replace your doctor" Microsoft health

Lol! This is the problem with leaks. Now the new (I should say re-used) phrase will be "I'll wait till next year before upgrading.".
-----
Let's hope the Talkman and Cityman sells well...

The flagships that Nadella talks of are certainly not Talkman or Cityman. Next year the "real" flagships will arrive. Sadly, my 920 is well due for a replacement. The screen is yellowing at the top.

+1050 LOL
GOD! PLEASE let it be an high-end device! I want 4GB RAM W10M! :)


Cancellation had been cancelled ;)

"cancellation has been cancelled" funny

Cancelception. Only from Microsoft!

Looks good :D I just want to see a phone which I can replace my L730 with.. A year later XD

Is it that hard for Microsoft to launch a 1080p device with snapdragon 610
Even now 830 successor is coming with snapdragon 410
I think 1080p with snapdragon610 shall be great value and performance shall be good.

There's also 615 and 620.

Well that would mean more time to make 3d-printed Cityman models and live with that

Man, wish I could hold out for that Intel phone, but I'll probably just buy it off contract. Or buy the 950XL of contract if ATT really doesn't carry it.

I think the 830 design it's one of the best out there. I'm not quite fond with the design of 950xl render WC made. So I really hope that will be a 830 follow up.

I agree. Also, that yellow has me drooling!

Yeah, they look great in yellow, and I would like to see red. Had the 920 red/yellow been less slippery I would have got one.

Daniel, Has the Lumia 950 XL really on screen buttons? The screen resolution doesn't indicate that.

No, the renders show capacitive buttons.

@rodneyj:
Daniel, sadly, said on Twitter that their render was incorrect in that regard.

You mean happily. On-screen buttons is the better solution. I'm thrilled about the update.

On screen buttons is the only thing I've heard about the 2 upcoming phones I don't like so far. I can live with it, but capacitive buttons would always be my preference. I guess it's the new trend so they can do edge to edge screens

- You can autohide or set to always display(= like capacitive buttons). - You can set autohide to avoid accidental presses - Lower bezel can be smaller - You can change color - You can get 'Double tap to turn off your phone' What is not to like! :)

Can't wait for onscreen buttons! I HATE accidentally triggering the capacitive buttons. Terrible design.

@Hoekie:
Are you aware what you're talking about?! Have you ever used a device with on-screen buttons?
They are bad as sh*t. People say hardware buttons make accidental presses. In three years with devices with hardware buttons I had maybe three or four accidental presses. With on-screen buttons all the time, because they aren't separated from the general touching area. And the bar that contains the on-screen buttons is constantly blocking content or action buttons in apps. And don't claim that's a fault of lazy third party developers, it happens in Microsoft's own stuff as well.

What???? On screen buttons? He'll no!...
.....
Damn.. It just keeps getting worse.

Ever used a Lumia with on screen buttons? Here you go: - You can autohide or set to always display(= like capacitive buttons ;) ). - You can set autohide to avoid accidental presses - Lower bezel can be smaller - You can change color - You can get 'Double tap to turn off your phone' What is not to like! :)

I was against it initially. Saw the article referencing Daniel's article. I am not registered on their, but I was considering it just to advise that Daniel's article did not state they would have onscreen buttons. I had read the WC article many times. I went back to it and noticed it had been updated. My heart dropped, but I will wait to see how it turns out. The 810 is more of a concern for me. Beyond me why they didn't go for that one. If they really are releasing in November, then it could have been included.

That render article was updated, check again.

Only the renders have not been updated. Yet.

They updated the article to state the buttons Erik be on screen. The renders haven't been updated

Any more news on Verizon phones?

Should launch Cityman and Talkman at the opening of the New York flagship store. Microsoft own event.

As much as Lumia name is good, the whole "non premium" image can be broken with the surface phone ,
Perhaps a 5 incher with metal body.
And a pro version , a phablet with slide out keyboard

Or the phone could come with a surface pro 3 screen that you plug your phone in and the surface pro 3 screen as extra battries and storage for the phone when plug in

if there was a choice, i think they should have uncancelled the 730 follow up instead...the 800 series has never actually seen much success...unlike the 700 series...

The 6xx series will take the place of the 7xx series. The 6xx and 7xx series have always had hardware crossovers, as they're in the same class.

Its just matter of specs not name. L720 was never success like L520 or L620. I think L650 may prove next L730 :)

did u know that in India, the 720 had more market share than the 620 during its time..? even the 730 has more share than the 630 if i rem right...in the midrange, it was well recommended by a lot of people... but yeah, ultimately quality, design and specs matter...and i hope they take the 700 series look...cause there are too many round corners for all the phones below the 7xx... :/

It is debatable when you refer to 630 and 730. I see more 630's, but that may not be the case. I feel MS should just increment their hardware number by just an x5 instead of the next x number (e.g. 940, 945, 950) so that they can have more lines released until the 990, where they will have to kill off their numbering scheme and start off with some new one. iPhones and Nexus lines don't have that problem :/

Lumia 7xx series has always been very popular in India, even now 730 is most popular phone from x30 series in India, just check the Adduplex article.

Moto X was just announced to be availble directly from Motorola with all US LTE bands on board, so you can take it to any carrier. Any chance Microsoft sells their phones directly like this so we can buy them outright and take them to ANY carrier (Verizon)

I have already answered that numerous times, please re-read the older articles linked. Also, CDMA (Verizon) is very different from GSM, so I would not get too excited.

You have i know, but info regarding "any carrier" meaning also Verizon is always cloudy

Why is Verizon being such an A-hole to Microsoft, or do you think its the other way around? My guess is that MS wants to control updating OS software, and Verizon won't allow it.......To hold onto my Icon, or give up unlimited data and get a City/Talkman on ATT, that is the ?

"Why is Verizon being such an A-hole to Microsoft, or do you think its the other way around? "

I think it's a bit of both. Verizon is too slow (Icon and 735 both came 6 months late) and the carrier did little to support MS. My guess is MS got (rightly) frustrated and have severed ties for now. No point in trying to launch your phone everywhere if one of those carriers drags their feet. Ruins the moment. But hey, things can change, my info could be off and something might happen. I'm just still hearing AT&T is the #1 partner for MS and phones.

Why bother worry about the carriers? Just include all the frequency bands, like Apple does, and a person can buy the phone from Microsoft or Amazon and just pop in a sim from any carrier. Having the carrier sell a subsidized phone would create more sales. However, you can cover Verizon & Sprint customers an option to buy an unlocked phone. If enough people buy the unlocked phone, Verizon would start carrying it.

That doesn't work for CDMA networks. You can't just pop in a SIM, all the phones need to be signed off for the network by Verizon themsevles. It's one of the quirks CDMA has that GSM doesn't.

Urgh. Not having either one of the top two carriers in the U.S. on board, for a U.S. launch, is NOT a great idea. But then, there's been bad blood between Verizon and Microsoft, ever since the whole Kin debacle, and it likely has never gone away.

When I hear about carriers in the US it makes me thankful for the ones we have in the UK...and that's saying something!

I couldn't agree more. It is seriously messed up over there. The UK is not perfect, but if you have the purchase price, you can usually buy any phone, and off you go.

enough with old chipsets already ! we need new chipsets in new devices !

Which old SoC are you referring to? Everything on the table is the newest SD x10 iteration, or an unreleased Intel chip.

810 is old in the idea that next Android flagships will use 820 which will probably come out the time Microsoft relases new phones.. Qualcomm talked about it already at MWC.

There will be no 820 phones this year. Even the just announced Moto X is using the 808.

There will be several 820 phones this year.

We don't know that, though. We firstly don't know if these will launch before the 415/425 do. Plus, if the device was un-canceled, then it very well might get bumped up to one of those chips, if the next round of W10M devices is Q2 2016. As for the 810/820, not entirely. The 820 might sneak into one or two devices at the end of this year, but it's traditionally been March that the new Qualcomm flagship SoC is out there in major releases, like another HTC One. These 950 variants will be 4-5 months before. Putting out the first flagship W10M devices with an unproven SoC could be dangerous, especially with how the 810 was at launch. What you should remember is that when the 820 is coming out in the new HTC and LG and Sony devices, the new Microsoft flagships could very well be on x86 Intel silicon. They could feed into the best Continuum offering possible, especially if they have the ability to run x86 programs.

"especially if they have the ability to run x86 programs." | that's a big if, and would pretty much necessitate 64GB minimum internal storage The 810 was always going to be iffy, as it was just a "hack-job" with the reference ARM cores, already there are leaks of much greater efficiency from 820. Personally, I'm hoping for 615 or 620 for the Lumia 830 successor.

I expect we'll see a pho chip comaprable to wh we've seen in the lower-end Atom market, such as with the ASUS Transformer. Storage could easily start at 32 GB, with microSD expansion as well. If the Munchkin Continuum accessory can support an external HDD, storage becomes more than plentiful for a moble computing device that needs to dock at times anyway.

By the time of MWC 2016, new mid range Android phones would have carried Snapdragon 620 processor, which is pretty powerful as old Snapdragon 800/801 devices, by the time Snapdragon 615 processor would be too old to be used which is a too much heating octa core, has no powerful Cortex A72 processors as Snapdragon 620.

When was the 610 revealed as having heat issues? The 810 did, but a brief search did not reveal such an issue with the 610. Besides, we don't know that Microsoft would take until MWC to release a mid-range device, given a rumored sinter announcement for the Intel devices, at times. The 618's hexa-core option could also be in-play, like how the 950 si going with the 808, not the 810.

Not the quad core Snapdragon 610 Cortex A53 processor that has not even been inside market phones, but Snapdragon 615 Cortex A53 octa core processor, not as powerful as Cortex A72 chips having Snapdragon 620 processor

No, according to the current specifications Win32 apps will not run on x86 smartphone. That are the official statements of Microsoft

The 820 isn't expected to arrive till the end of the year or early 2016. Do you want to prolong the release of the flagship till 2016? Will the improvements in the chip really make that much of a difference in every day use? My guess is it won't and I'd rather get the flagship as soon as possible.

Microsoft can release Lumia 940/950 only with Snapdragon 808 Processor in September/October 2015 and Lumia 940XL/950XL with Snapdragon 820 processor in Early 2016(Q1 2016)

Please advise us on what chipset that's released that's more modern than the 810?

if the lumia 830 successor is uncancelled then it the same old microsoft waiting to have a disaster on their hands, they cant just push out the thing with snapdragon 410, they do then either cancel the 8** line or 7** line. doesnt make sense for two price families with similar internals only to be told apart for their camera

I don't know why you assume it'll have a Snapdragon 410. If there is an 830 successor, it'll most likely feature a Snapdragon 6xx processor this time around. It makes more sense to get rid of the 7xx series, to have more of a hardware gap between mid-range devices.

Before the "cancellation" there were a lot of rumors of the 830 successor using 410.

Surface phone indeed!! Get my money!!!

I want that yellow cover for my L830! :D

That yellow body looks like some older polycarbonate Lumia phones, such as 820 or 920 and also has the same "flowerish" speakers at the bottom. I would love dual flash on my Lumia 830 :(

No surface phone please.. Lumia is enough

the phone in the szleaks photo looks sexy. plz replace the insides with Lumia 1020 successor specs and take my money!!!!!!

Let's hope they fixed the capacitive buttons barely working on the 830 followup.

someone in Microsoft told me that the 830 was effectively pulled early because of exactly that issue. It was incredibly widespread with no fix other than to replace the entire screen assembly. The successor was in the works when they released the 830 but as another 'mid range flagship'. Perhaps the successor will be closer to flagship. This article is old news,

I honestly love their shift in focus. It gives them the ability to poor more energy into specific projects.... and i feel like i am expecting more from them than previously when they were releasing a phone every football sunday. I also think its a good idea to only make one midrange and one lowerend phone.... there is no need for more than one because people buying those phones arnt really looking at spec options in the first place.... and lumias are great phones for that market anyways. A lot of people gravitated to the 840 and the 640, i dont think only having one version of those would have changed their sucess. Im also really excited for the intel phone. Microsoft does particularly well when it takes big risks, and this is one of them. This is their chance to once again distinquish themselves as a mobile maker that thinks different, and i wouldnt be surprised in the intel phone will usher in high megapixel phones again.

The change in release kind of makes sense, with rumors of the flagship NY store opening this fall. Seems like a great time to unveil the new store and flagship devices.

I like your thinking. Wouldn't it be cool if a Surface Pro 4, Band 2, Lumia 950 and 950 Xl, new NY Store and Windows 10 Wave 2 all showed at the same event ;)

That would be insanely awesome.

@Daniel Rubino:
Xbox two missing from your list.

You mean Xbox One slim with the Windows 10 update?

Unfortunately, Xbox One/Windows 10 is way behind, which is why we have not heard to much about it. I wouldn't expect Xbox One/Windows 10 bits until the end of the year.

It would be amazing I that would be the case ;) more amazing would be if those devices would all be available in that particular store the same day. Of course that would mean, I'd have to book a trip to NY and I would already have told my boss that there will be a few days during the October/ November time, where I would need a few days off. Which I did, btw. So there is hoping that those "would" turn into some "will". :)

i have a feeling that you are hinting on something just like that happening Daniel... :D

That's a good feeling to have!

You know very well Dan is feeding us some decent hints. Could be a big November.

Waittt.. was that a hint? I see the wink but not quite sure what it means. hmmmm

Any word if there will be some cool stuff to see at MS insider event tomorrow?

You forgot HoloLens. At least that's how I've been picturing the Big Bang release in my mind.

HoloLens in November, but enterprise/direct sales only. Could be at the event too.

Given the increased enterpise focus for W10 Mobile, a great gimmick would be if they convinced, say, the morning Bloomberg TV anchors or CNBC anchors to host their entire morning show, inside the new flagship Microsoft store on product launch day. But I doubt the Microsoft marketing mandarins are capable of anything like that, not that I'm some staggering genius or anything, but it's a nice way to build some word of mouth.

Then you run the risk of one of those being lost in the shuffle. I'd prefer each getting its own dedicated day in the spotlight.

Ugly bumps,plastic body,sharp edges. Please stop ruining the sexy looks of the 830.

That yellow.... It needs to return. Love my bright yellow 1020.

@LondonLumia:
This!
I almost returned my food when Nokia announced that dirty orange and green (the colour of the enemy) as colours of the 2014 season.
They should've sticked to their original bright and shiny colours (cyan, yellow, red).
In that trim the Lumia 830 looks irresistible.

Colour of the enemy XD got me crackin'
Orange looks fantabulous, couldn't say the same for green.

I'll end up buying a 950 and then selling it next March on eBay so I can buy the Intel phone. I won't be ashamed about it at all.

I really hope they dont use the Surface branding for a phone, but if they must, please for the love of everything do NOT call it the Surface Phone... It sounds soooo stupid

Saana or Saama? Make up your mind. :(

Sorry, odd words and I obviously conflated Saana with Saimaa. Fixed.

Name of a Finnish mountain. Saimaa: name of the largest lake in Finland. Posted via Windows Phone Central App

Now im confused between Cityman XL and intel phone. To wait or not to wait.... Sigh.....

I wouldn't get over-excited for any Intel phone for the next 2 years or so, they are still behind in <5W.

The 830 follow up has to be the enterprise prong. 950 - flagship, 850 - enterprise, 650 - value. They should really consider dropping the numbering system, though, switch to something like The Lumia 2, and The Surfacephone 1 (but obviously with better names picked from some marketing committee).

The Sources here are as reliable as the weather channel.

Actually, I'm right about everything I just posted and have posted.

Daniel always posts with verified sources, so he is very reliable.

What?? you expect him to give away the names of his sources in Microsoft so that they lose their jobs and Daniel never gets another scoop? So, Think practically how such sources and confidentiality work.

No, the leaker is not a employee in Microsoft, and he concealed all of the information such as IMEI.

I find the weather channel to be pretty reliable where I live.

Any leaks on today's Nokia 'mystery' event?

It is possible they may have the event at the NYC flagship store opening. That would be awesome I would definitely go to that event.

There really is nothing coming from Microsoft to get excited about. Sheesh, I guess I will be holding on to my 1020 until it doesn't work anymore.

I had high hopes for the next Lumia releases. But on-screen buttons on Lumia 950 XL are a deal-breaker for me.

On screen buttons do not appeal to me either, if that is what they decide??

Please no more 6xx... high time to release another successful 7xx after lumia 735/730...

No. 6 is MSFT's lucky number.

Good to hear someone talked sense and 850 is back.

How sure are you that the Intel thing is a phone and not a small tablet?

This is what drives me nuts about Microsoft. We have been waiting for a flagship phone for nearly two years. Now that it seems that a flagship phone is finally on the horizon, there are rumors that an even better device (the Intel powered "surface" device) will be released a few months later. Who's going to buy a device that will be outdated less than a year later? I was looking to dive back in to the ecosystem when the 950 was released, but now I'm going to wait. You can't blame Windows Phone fanboys for being neurotic. Microsoft desperately needs to get on a regular release schedule.

Well, we don't know much about this Intel phone and it's not greenlighted yet. Plus "Q2" is still like 6 months or more away. I agree it can be frustrating, but this is what we wanted ;) It's not like a 950 XL with pen and QHD is something not awesome.

If the intel phones are going to be Broxton based chips then I would guess even March is a real stretch given how much Broxton has already slipped. I would assume more of Intel's plans and schedules will come out at their developer conference in August. Of course it won't matter much how awesome the phone is if you can't actually buy it on a major US carrier like the 950 XL.

If you depend on rumous then you will never upgrade, Lumia 950 then after 6 months intel rumours then lumia 960 rumours after another 6 months, it is electronics industry with contant rumours, buy when you need instead of forever waiting.

That's kind of my point. Apple has this nailed. I buy a phone in the fall and I know, like clockwork, that Apple will release another phone that looks the same, but has modest internal tweaks a year later (the 's' model). The next year, they will release the next generation device and I'm ready to upgrade. So much of the frustration of being a Windows Phone user is never knowing what's going to drop or when. As a result, we hang on every little rumor that comes out and get frustrated when things don't meet our made up expectations. Microsoft needs to set those expectations and then everything will settle down and we can enjoy the rumors as tidbits to tie us over until release date.

I don't know how this affects people personally, even Apple rumours are widespread over the course of the year with leaks etc.. Buy when you need a phone and don't depend on future rumours, at the end this a phone not a heart pacemaker. If you like Lumia 950/950XL then buy it, you don't like it fine, get an iphone or Galaxy or Moto or One plus. Loads of options in the market.

They are targeted at different markets. I would be happy with the 950xl. I don't really have much of a need to dock and run apps from my phone. Hopefully the price of the 950 is reasonable. If it cost more than the iphone, as some rumors have suggested, I think I will be switching to the iphone. You can't charge more for your devices if your mobile ecosystem is still not fully developed.

full windows x86 app support with continuum would be huge. Getting a chip and battery that's capable will be the tough part. Continuum also NEEDS TO DITCH THE DOCK. MINI HDMI out NEEDS to be on this device, and bluetooth keyboard and mouse support. If they can get that in there, they might actually move some units.

Fully wireless there might be some use cases but even then it is in a gimmicky territory. People buying flagships have all needed computer hardware already.

Who said anything about continuum needing a dock? Its just an accessory for those that want it.

Nothing about Continuum on phones is really known. I have seen it demoed in a Miracast-type way too. Microsoft so far has not said much about what is/is not needed for it to run, so let's not jump to conclusions.

Perhaps Microsoft didn't say it, but showed it https://channel9.msdn.com/Events/Build/2015/2-703#time=4m21s https://channel9.msdn.com/Events/Build/2015/2-703#time=14m17s Also the description of this session of the Build say: "Just plug in a Miracast dongle or wired dock to any HDMI display and go!"

Actually, what you are speaking about is kind of a new iteration of the Nokia 808 Pureview... Right?

Ahh, so today's news is more disappointment and delays, with a budget device thrown in...classic Windows Phone.

Finally the word surface phone is being discussed openly!

QuickBooks Pro 2013 on my smartphone?? The mind boggles...

Sooo skip the cityman and wait for the surface phone?

Since we really don't know anything about the Intel phone, it's waay to early to say. Not even sure how they will position it, price range, features, etc.

Seems like that's going to fill the business phone category.

I would not want an all metal phone.... which it's rumoured to be!

no. currently Intel is pretty far behind Qualcomm on mobile optimization, particularly on camera technology.

I really want to wait but really how long can they continue to draw this drama of a release out? A huge number of potential customers will already have a new Samsung Galaxy Note 5, S6 Edge Plus, Moto X Style, iPhone 6S/6S Plus, or (insert new device here) by the time Microsoft announces the new flagships. At least announce the phones and their availability before this happens. Microsoft continues to miss golden opportunities. Posted via the Windows Central App for Android

"I really want to wait but really how long can they continue to draw this drama of a release out?"

Nothing has changed though. Microsoft (and I) have always said this

fall

and "later this year" for new flagships. That is

exactly

what is happening.

True but they cannot deny the fact that a tidal wave of phones and opportunity will be released right before anything is even released. How does Microsoft expect to gain any momentum beyond anyone but loyal or former loyal fans if they continue to show up to the big dance last? It's like everybody else is already danced out and tired and had a great time and Microsoft is that last slow song after most people left already. Anyway as I've said, I'll wait around long enough to find out if T-Mobile will get one of these flagships or not. Posted via the Windows Central App for Android

Analogy of a party is silly as the tech world is ever changing and ever renewing. Also, the majority are on contracts and who knows when they run out.

And the majority will be upgrading to one of the many phones I mentioned. That's the point. Posted via the Windows Central App for Android

Yes, they will, but Microsoft only needs a % of the smartphone market to be successful. After all, the iPhone has 19% of the smartphone market and is doing rather well.

That's only because Android has a gazillion devices but you have to be a real fool or in denial to think that Apple isn't doing absurdly well.

I was going to do Cityman, may hold off till more specs on the intel powered one.

Based on the comments here, it seems as if more people would buy the business-tiered "Surface Phone" than the flagships. I wonder how that would affect their three-tiered phone strategy.

We don't even know how long it would take and if the first generation will be as good as the two flagships. First you complain that you waited two years for a new flagship and now you say you will skip them and wait for the other one.

So should be 750, 850 and 950, only three families. And maybe a Lumia Pro familly, the Intel powered device...

A Microsoft press reveal in late September or October? Yikes, not so smart; they're going to run into the press and marketing juggernaut that will be the next iPhone release. The Windows devices will get completely drowned out in the press. Probably should have moved it another month or so back, like Samsung, who moved their Note 5 release into August to avoid the next iPhone launch.

Toss in a Surface Pro 4, Microsoft Band 2, two new flagships, Windows 10 wave 2 and that new NYC store and you have a bigger juggernaut of an event, which will likely happen in October now.

Well that's the plan. How it comes off in the press is different. I still remember the iPhone 6 being seeded to all the TV morning show presenters; they had the anchors on CNBC, Today Show and Good Morning America all play with the device on camera. That's marketing gold right there.

iPhone market share worldwide is 19% of the smartphone market.... that means Apple's marketing is successfully not selling to 81% of smartphone users. Where is the marketing gold?

Except that they pull in over 90% of all smartphone profits, irrespective of marketshare.

I find that hard to believe - please provide your source.

Don't be lazy. Look it up yourself, its not hard to find. This is Apple's niche: overpriced, overhyped hardware + outragiousloy priced services. As long as the ghost of Jobs remains in their Marketing Machine, they are indeed suckin gout almost all the profit int the Smartphone sector. BUT When people say this, they mean all the profit in hardware sales. Google doesn't care if OEMs make much profit on handsets. Google makes its money off of profiling Android Customers and selling ads to them. Micorsoft makes its money off of Enterprise software and services and some Consumer software as a service. Hardware sales profits are not really very important to them. Sales volumes are as they drive people towards using MS Services like OneDrive Office 365 etc.

Easy enough. Sources include the mainstream financial and tech press: See Barrons, and a Cannacord Genuity analyst who pegs Apple's profit as 93% of all smartphone profits. http://blogs.barrons.com/techtraderdaily/2015/02/09/apple-has-93-of-mobi... TechCrunch, who cites a study completed by Strategy Analytics: http://techcrunch.com/2015/02/26/apple-eating-all-the-profits/ And the Wall Street Journal, who did a big piece, and also cited the Strategy Analytics report, that says that Apple has *89%* of all mobile *profits* not simply revenue, while only having 20% global marketshare: http://www.wsj.com/articles/apples-share-of-smartphone-industrys-profits...

Agree, if they release late September or early October, Windows 10 Mobile will be ready for the show as well. If they will have so many things at the event, the other OEMs launching flagships at IFA will not outshine them and people will already look for new things a bit after IFA.
This year's Black Friday will have a whole bunch of new devices launched to choose from.

They are not at all in the same market. Microsoft obviously don't care about the 600$ & more market...
Apart of that, I thin they still have a chance if the phones are readily available extremely quickly after the conf. (Like the next day).
I've always found it stupid to announce something for "later, in 4 months"...
We'll see anyway...

Those flagships will probably be around $600.

If it's x86 and can dock to run full Windows, then the Surface brand makes sense.

@TRay D:
I don't mind. I just wanted to indulge in a little Xbox naming convention confusion lollapalooza.

What MS should do is keep 1gb ram for low/budget phones.. Midrangers like 750/850 with 2gb and flagships with 3gb or 4gb

Intel phone is the one to get. Screw 950 & 950XL!

See... Danny done it again, make a grown man drool all over himself. Ya happy now? (Em.. keep em good news coming)

If the so called surface phone is running the Atom X3 then it will actually be weaker then the Lumia 950XL. If it can indeed run X86 Software while docked then that makes it a nice device for enterprise but I wouldn't call it a flagship. ijs

If cityman is x86 I'm buying day 1 hehe. Please be true.

x86 doesn't necessarily mean Win32 applications though

So, Microsoft seems to be ready to ditch the "Pureview family" as we know it with the Nokia 808 and 1020...
They also seems to be ready to ditch the "reasonnably sized phones" (below 5") in the high end market. Only choice remaining here is the Sony Xperia Z3C. Or come back to the 1020 with the Bluetooth troubles :(
Honestly, I start to ask myself why I stick with them. They do better apps for iOS or android than Windows Phone, all "miscellaneous hardware" (ie "smart" connected objects) support is very bad (mostly because of bad market share, I agree)... And now, even Here Maps isn't an exclusivity anymore.
Adding all the "rumors" (more or less confirmed) about the new hardware line-up (as this article) and it just look like Microsoft has just give up on the "high end" in markets like Europe or USA... They want to sell plenty of low end, don't care about what we want.
I'm sorry to say it, but I feel Nokia did it better. Even if it was not all correct.

PureView exists, as it is just OIS, Zeiss and camera software. I have said high-end camera phones are off the table for now as the company focuses on the basics first. Differentiation can come later.

Software part seems a bit off at the moment. Lumia Camera being discontinued and Microsoft Camera being very lacking replacement. But it would be rather odd if new flagships would have lesser software than 2 years old flagship with WP8.1, so hopefully Microsoft Camera will become full feature replacement for Lumia Camera.

There is still 2-3 months time left to update and improve the new W10 camera app and in the end it should have all features of thr Lumia camera.

Fingers crossed. MS saying it already has the same features is a bit worrying though. Why not kill Microsoft Camera and rename Lumia Camera? Negative Nancy in me speculates that imaging team that was responsible for Lumia Camera was fired and great features and ui are gone for good. Hope I'm wrong.

Well, i agree you are negative nancy based on your earlier comments, it makes sense to kill Lumia camera branding and it being renamed to Microsoft camera works as it will be a default Windows 10 camera app with same app available to all OEM's like HTC, Samsung, Blu, Micromax, Lava etc

Lumia Camera was not renamed to Microsoft Camera. Lumia Camera was killed. Not just brand.

And that is a good thing that Lumia camera was killed, there was no need of two camera apps on Microsoft devices and Windows phone OS, it is good that a single Microsoft camera app will be developed and updated regularly in future too with all the feature incorporated in the default app. All the other OEM's also will be able to get this app as it will be a default camera app in the Windows 10.

"Real" Pureview use to be also about MP and image processing, as well as lossless digital zoom, image reframing, and all this little things.
Now, Lumia phones still get the Pureview Label, but most of the awesome features of the 808 or the 1020 are gone or disappearing :(
And not forgetting the xenon flash... Just light years ahead of any LED based flash I've been able to see... Microsoft just don't seems to realize that they can keep this part of the high-end market if they do something about it. Nokia had it right, with the TV ads featuring the 928 against the iPhone 5 in "picture contests"...

Whoa! Just a few weeks ago we had MS Execs (Can't recall exactly which one) promising that MS had not forgotten about Cameraphone enthusiasts and that in addition to Cityman/Talkman there was a sucessor to the L1020 in the works for early next year. Has THAT been cancelled too?

So, you just admitted that the only under 5" phone in the high end is the Sony and you blame Microsoft? Everyone, including Apple, realized the vast majority want a larger phone in the high end. They are just doing what the market dictates. The small flagship is a niche market that microsoft just can't afford to be in.

They don't follow the market, they make it.
I also forgot the iPhone 6 in the "resonnabily sized phones", you are right...
I see people everywhere complaining about phones being too large for pocket or one hand use (and to small for two hands).

A separate & dedicated event is very cool! Hope it makes huge splash... Late September is the iPhone season.
___
I'm curious about the Intel phone... Hope it won't raise up compatibility issues like it did with Android

Not sure what everyone else thinks, but I think it's better to have the event later and have all the products launch and into consumer hands as soon as possible after the event. Having the event then wait weeks for the product kills people's excitement

Intel/Snapdragon 810 or any kickass processor, better camera sensor with f1.0 aperture, expandable storage, removable ultra-thin 5,000 mAh battery, gorilla glass 4, clear black display, good speakers, dedicated camera button, 5-axis image stabilization, contrast and phase autofocus, 6" screen, and... a wrist strap. Ah, my dream phone.

Hopefully if they make an intel phone, the RT problems don't come back. The typical consumer doesn't research anything it seems, with the RT and Pro lines for Surface, because pro could run windows 8...well shit everything must be full windows 8, and people couldn't wrap their heads around that RT wasn't intended to be full windows. I hope with an Intel phone that runs full windows, that there won't be similar with the non intel phones of, well it's a Microsoft phone...what do you mean it doesn't run full windows...

The Nokia branded phones look like they are going to have the Nokia Purview cameras, so Android community will now be getting that technology. Wonder who the actual OEM is.

Damn. At this point why wouldn't you wait to see what Intel is cooking?

Because my 920 is nearly dead.

Notice the SoC and the resolution, and don't forget cite the origin. http://tieba.baidu.com/p/3927335134

I hope they're not dumb enough to try and sell that phone for $400 plus like they did the Lumia 830. It would look pathetic compared to newer phones with much better specs that can be had for much cheaper. The One+2 has Snapdragon 810 and 1080p for under $400. Here Microsoft was trying to sell the Lumia 830 with the Snapdragon 400 and 720p for $430.

It's true that phones made by chinese OEMs are cheaper compared to other phones with similar hardware. If something happens with this new phone of yours will you send it all the way in China for service?
Everyone wants cheaper but better phones, especially when the allocated funds are limited

Would be nice to see the new "affordable flagship" with sane pricing this time...

At least it should have hardware to match its price

Surface Phone sounds so much better than boring Lumia.. Plus, there are Surface owners who do not own a Lumia. The idea of a Surface Phone could entice them into getting one. I've been screaming for one for years.

Surface phone sounds great BUT I'm ready now and Cityman has everything I need. Now all I need to know is if I can get it on AT&T on contract? That's the news I want to hear.

Maybe instead of inconsequential leaks we could do with some real W10M build releases, huh. It's been a while, and the loading... screen has resurface for most apps, including 3rd party

Please MM, put a SD6XX or better in 830 successor, and a max. 4.7" display.

What happened to the promised successor to the L1020? It doesn't fit any if the specs for the devices we know about.

If you mean doing basic things which modern store apps can handle then yes, why not. I doubt anyone would be running blender or AutoCAD on their phones :P out of the gate, maybe in a couple of years.

There is something definitely wrong with the app, the above comment was in response to Marcos Rodrigues Carvalho's comment: "The phone that can replace your laptop."

Man that intel phone could be a game changer. I'd buy a computer/phone in a heart beat.

Yea the Premium Windows 10 mobile devices will be announced at the new flagship NY city opening, that's my guess.

Business. Pure business approach. Lumia 850 will provide more profit margins as opposed to say Lumia 750. Personally I'd have liked a Lumia 750 as I already am a satisfied owner of Lumia 730 and want to upgrade to a similarly specced phone with SD410, 5" screen, 8/5MP camera and same AMOLED screen at same price. Seems like it isn't happening though.
About that Intel phone, calling it a Surface phone branding makes a lot of sense giving Surface brand has established itself as a best of both productivity and entertainment in mobility. And because Intel phone would be able to run win32 apps when using a docked continuum mode, I think it makes a lot of sense to brand it as Surface Phone as opposed to say Lumia branding, which while providing Continuum, can't run win32 apps because of ARM architecture.

No, Intel phone can't runs "win32 apps when using a docked continuum mode". Where did you get this info? Microsoft says exactly the opposite

There is no point, currently, in making an Intel or x86/64 based phone over Qualcomm or ARM based phones if it can't run Win32 apps. Course, no one needs to run Win32 apps on a phone, but how about when my phone is docked(which basically also means connected to power supply), connected to a large screen, Keyboard and Mouse, would I want to restrict myself to limited Windows store apps only? No. Of course not. I've a really old generation atom based netbook and I run Win32 apps on it all the time. Also, look at recent Surface 3.
Ofcourse at this point, the idea raises eyebrows because such a device will have to run full version of windows as present on PCs and larger than 8" Intel based 2in1s laptops and tablets. Ofcourse the trick would be to disable Win32 apps for phone. I imagine what they will have to do is adapt the tablet(continuum) mode for full Windows to work on phones sans Win32 access and when the phone is docked and connected to accessories like keyboard and mice, it will run full version of Windows 10 which would also be able to run Win32 apps.
That could be under works, but again, Intel powered phone isn't expected until quarter two 2016 and this software limitation that I mentions above could be what keeping it away. I expect that tablet(continuum) mode reverse engineering(adaptation) to be introduced in next major update Redstone that might be revealed at Build 2016, thus, paving way for x86 or x64 architecture based phones running full windows. Of course, this is all conjecture, but, that seems the most obvious continuation of Microsoft's plans, at least to me.

Think of it. PC sales has been declining for years replaced by phone and to a little extent tablet sales. Casual users who only used to buy computers for entertainment, web surfing, social networking has moved onto mobiles and tablets. Like Microsoft said at build, for most people in underdeveloped country, phones are first array for people into computing. Now imagine with continuum and pad phones(Intel or other x86/64 based phones with screen, keyboard and docking accessories), people maybe actually able to buy phones, which not only take care of them as consumption devices, but also potentially able to be used professionally.
Now, cheapest windows PCs start from $150 onwards as chrome killers. Imagine if Microsoft's partners start manufacturing as cheap pad phones or transphormers that also work as full PCs while being as cheap as $150. Imagine the impact it could have on 3rd world countries. It would kill the need to buy phones and PCs separately. Their phones will be their PCs and their PCs will be their phones. This is the promise of Continuum. This is the promise of Windows 10. This is why OEMs will come to Windows 10. This is why users will come to Windows. This is why developers will come to windows.

I'm not going to continue at all with any claims or rumors from any source about the name or specs of the Premium Windows 10 mobile devices to be released, its simple to me if they don't even know when they dont know what its that simple. I'm ready though with money in hand to capture the most anticipated smartphone in history.

Anything on any of these phones possibly being capable of using the CDMA networks?

I wish there was better information on the Intel/Surface Phone! After waiting for so long I'm going to be sorely tempted to buy the Talkman when it arrives. probably all the phone/device I'll really ever need at this point, but the intel/Surface Phone intriges me so much I fear I may buy one when they are released 6 months or so after the 950! Decisions, decisions!

I'm looking forward to record breaking sales this upcoming Christmas season, let get going to make that happen, lets all pitch in and do what we can. We are Team Microsoft.

Damn I want the Intel phone but I can't wait til next year unless its like January which it probably wont be until build in April 2014

Given what Motorola announced today msft need something to compete. This is probably it, it'll hey tweaked and updated. They need to better the price though because wow Motorola is really ruining for gold. If those cameras are good then wow! Maybe they'll come to w10m..?

Ahhhh, to get Cityman/Talkman or hold out for the Surface phone...

with Motorola Moto Play around which costs only $300.. this midranger specs of Windows phone will stand no chance. They should release a midrange windows phone with specs like Moto play and similar price.

Or actually release the Motorola phones on windows phone! Though yes, given the price and ecosystem this is a kick when windows phone is down. But then MSFT and Lenovo are friends so...

Glad to hear there'll be a L830 successor after all. Still if it comes out with Snapdragon 410 I hope to God it won't be too pricey like the 830 used to be initially.

It needs to be a surface phone as if it is under the lumia branding there will be confusion like we had with RT with some consumers thinking all lumia phones runs full windows. I want a phone that has the build of the surface.

If there is a Surface Phone selling my s6 edge straight up. Posted via the Windows Central App for Android

Lumia, Surface, I care not what they call it. If it runs "real" Windows then shut up and take my money!

1. Talkman
2. Cityman
3. Saana
4. Guilin
5. Saimaa
6. Honjoa
7. Intel-powered Windows phone it's 7!

Don't tell me Q2 2016...I've already been waiting as it is! haha

Qualcomm always has the edges in processor , I'm not even tickled a by hearing an Intel powered windows mobile , that's not going to be good at all , the processor isnt just for processing , look around , see QUALCOMM tech , see it advantages , most of processors doesn't support 4K video recording (other than Samsung's and mediatek and those who are in phone processors )
And the list is very very long for advantages ...

I hope they do one of them with the classic Lumia 800 design like the Lumia 735, but updated for Windows 10.

Let's call the Intel phone Lumia Surface

Just have a look on what Intel/Motorola did with the Moto razr M & razr I. Intel isn't out of the run for mobiles phones, at all.

The cancellation is cancelled. Will there be a U-turn down the road and the cancellation of the cancellation is cancelled?

Saana and Saimaa are Finnish names. Lake Saimaa takes up pretty much the eastern third of the country. Keep the phones coming, I believe Win 10 is the best operating system by far.
Windows Central Newsletter
Thank you for signing up to Windows Central. You will receive a verification email shortly.
There was a problem. Please refresh the page and try again.