Microsoft 'Saana' Lumia un-cancelled and an old Lumia 830 prototype leaks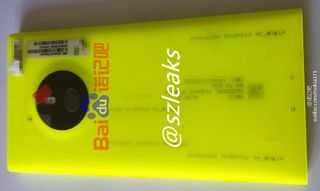 We live in a day of leaks often without context. Such is the case today when Windows Blog Italia posted a 'new' image of a Nokia device. The image, seen above, came out of China and was posted by Nokibar and it has all the hallmarks of something interesting. First off, it is not like any Lumia on the market today and it does 'prototype' all over it.
Of course, it also says 'Nokia' all over it and we now know these devices go under the Microsoft Mobile name instead, reflecting their division at the company.
Indeed, this is a new photo but of an old phone, namely the Lumia 830. In fact, it looks an awful lot like the 830 sans a few changes e.g. dual-led flash and, of course, dat yellow. In fact, we have seen a yellow Lumia 830 in the past, as once again another prototype (see above image). However, we have been able to confirm with a few sources that the top image is undeniably old.
So file it under interesting, but nothing to see here.
Saana un-canceled, Lumia 830 follow-up returns
In a related bit of information, we can now say that there will be a Lumia 830 successor. The codename of the device is 'Saana' and it is one of six device names that Microsoft was reportedly working on.
I reported last week that three out of the six were recently cancelled, likely reflecting those cutbacks Nadella had illustrated in his letter to employees. Those devices cancelled were Honjo, Saana, and Guilin.
In an interesting turn of events, I am now hearing that Saana's cancellation has been cancelled. Honjoa and Guilin were 5xx and 7xx series replacements and Saana is reportedly the Lumia 830 follow-up. It is not clear why Saana is getting a second lease on life, although obviously it has to do with Microsoft's shifting mobile strategy.
To recap, these are the devices we know Microsoft is working on:
Planned Lumia Windows Phones
Talkman (Lumia 950)
Cityman (Lumia 950 XL)
Saana (Lumia 850?)
Saimaa (Lumia 650?)
Unnamed Microsoft-Intel Project
From what I understand, four of those are Nokia-holdover projects that were already in the works. Having said that, I would not expect Saana or Saimaa until sometime next year, possibly in the first quarter. The only Lumias launching imminently will be Talkman and Cityman.
I am also now hearing that Cityman and Talkman will not be at IFA as we had originally reported. Instead, Microsoft is now looking to have its own event in New York City later in September or October. This event change makes sense as Microsoft can better control the message and also not have to worry about being outshined at a massive tech event like IFA. Plus, it may buy them a few extra weeks to prepare the hardware and software.
That Intel Windows Phone
Finally, there is one more device Microsoft is working on although information on it is so far scarce. I recently revealed that Microsoft has been working to make an Intel-powered Windows Phone for many months now. I hear from a few sources that this phone will be metal , runs Windows 10 and it is likely planned for sometime early next year, possibly Q2.
There are still many questions including specs and if can run full PC apps or just universal Store apps. Certainly these details will come forward in the coming months.
Will Microsoft make the leap in branding and call this a Surface phone? I do hear the idea is being kicked around and now that Surface guru Panos Panay is in charge of hardware engineering, anything is possible. Whatever this device turns out to be it could be very interesting.
Daniel Rubino is the Executive Editor of Windows Central, head reviewer, podcast co-host, and analyst. He has been covering Microsoft here since 2007, back when this site was called WMExperts (and later Windows Phone Central). His interests include Windows, Microsoft Surface, laptops, next-gen computing, and arguing with people on the internet.
That Intel Windows Phone This is the one!!!

Can it be surface phone or just one more Lumia series?

Surface phone??? Wow! Fans have been wanting that for a long time.. Hope THAT INTEL Phone is the one :D

I would like an OneNote Phone...

Seriously... OneNote is my most used app.

That would be the 950 XL / Cityman if it indeed has the rumored pen.

The rumor is that it uses the surface pen as an optional accessory.

Makes sense. The Surface Pen works on my Nokia 1020 when I have high sensitivity turned on. I use them in tandem ALL the time!

Any conductive object works as a stylus for the 920-1520 Lumias, but the 950 XL is supposed to have a real digitizer that lets you use the Surface 3 pen.

I just want a OnePhone :)

I hope it will stay in the Lumia camp where all phones belong. We can call it Lumia Pro, Lumia Pro 86 or Lumia x86.

Agreed... Surface for tablets, phones aren't 'surface area' like.

Surface phone! (On Verizon)

Actually typo in article Even ~ event

I won't begin to point out all the typos in your comment.

It's the phone we deserve, but not the one we need right now.

L850 is needed to serve business and those who demand affordable flagship. But it should use stronger processor like SD808 and supports Continuum.

They have to step up their strategy, I don't see any ground breaking features except actionable notif in Win 10 for mobile. All the good features are the one that were supposed to there and are already in Android. If they have to compete with them they should try be ahead.

Windows hello is new. Apple has a good fingerprint scanner. I don't believe any of the android phone have a good biometric system in place. A few phones have a fingerprint scanner, but from what I understand, they are not very good.

Old news. They are now very good (better, even, than Apple).

Lets wait for the specs. I'm genuinely excited about the Surface (?) Phone as well but the issue is Windows 10 Mobile only has support for the Intel SoFIA SoC which is limited compared to the current offerings from Qualcomm.

I really don't understand the Intel Windows Phone hype, what make it special?

The hopes of docking it and run full Windows. If it does, then the Surface branding makes sense.

Microsoft has done such great work with Skype, OneNote, Office Lens, Word, PowerPoint and Excel for Android apps I no longer feel the need to get a Windows phone. The only advantage in getting a Windows 10 mobile phone before the end of 2015 seems to be that it will have Cortana integrated rather than as a standalone app.

Bruh, heard of universal apps

Well, there is also the fact that windows phone is easier to use and the major security issues identified this week which Google can't address because the OEM's are responsible for updating android. The security issue involve core android and not one of the features that can be updated through google play.

You don't have to if you don't want to. The point is to first change the opinion of people bit by bit. Like this guy http://www.theverge.com/2015/7/26/9039961/switching-the-tale-of-my-unexp.... It's not realistic to drop one thing you're used to and completely switch over. You need to be ready to switch and that switch time frame, if it happens, is different for everyone.

@Rockartisten. Don't expect the first few generations to run anything beyond what a small tablet can handle :P.

Microsoft has said publicly and officially (and many times) that smartphone and small tablet, ARM and x86 based, will run Windows 10 Mobile. Windows 10 Mobile isn't able to run Win32 apps

Me neither. If it ran a larabee type chip I'd be interested

There can be only 1.......SURFACE PHONE!!! The ? is, do I hold out for it, or ditch Verizon and my Icon for the City/Talkman???

Really what's the fuss about with these Intel powered phone?. Is it just for the ability to run desktop apps. Not a troll just wondering.

TBH, it's not really clear but yeah, that is the thought: that when docked it can run full PC apps instead of just universal Windows Apps. Right now, though, we really do not know what it means, which is why I think people should temper their enthusiasm ;)

too bad it's not true (if Microsoft didn't change its planes)...

Will be the business phone, not for consumers...

It's aimed for business. Doesn't mean consumers can't buy it. Most likely you would have to buy it up front and not through a carrier contract.

"The phone that can replace your laptop."

Fast forward 3 years "The fitness band that can replace your doctor" Microsoft health

Lol! This is the problem with leaks. Now the new (I should say re-used) phrase will be "I'll wait till next year before upgrading.".
-----
Let's hope the Talkman and Cityman sells well...

The flagships that Nadella talks of are certainly not Talkman or Cityman. Next year the "real" flagships will arrive. Sadly, my 920 is well due for a replacement. The screen is yellowing at the top.

+1050 LOL
GOD! PLEASE let it be an high-end device! I want 4GB RAM W10M! :)


Cancellation had been cancelled ;)

"cancellation has been cancelled" funny

Cancelception. Only from Microsoft!

Looks good :D I just want to see a phone which I can replace my L730 with.. A year later XD

Is it that hard for Microsoft to launch a 1080p device with snapdragon 610
Even now 830 successor is coming with snapdragon 410
I think 1080p with snapdragon610 shall be great value and performance shall be good.

There's also 615 and 620.

Well that would mean more time to make 3d-printed Cityman models and live with that

Man, wish I could hold out for that Intel phone, but I'll probably just buy it off contract. Or buy the 950XL of contract if ATT really doesn't carry it.

I think the 830 design it's one of the best out there. I'm not quite fond with the design of 950xl render WC made. So I really hope that will be a 830 follow up.

I agree. Also, that yellow has me drooling!

Yeah, they look great in yellow, and I would like to see red. Had the 920 red/yellow been less slippery I would have got one.

Daniel, Has the Lumia 950 XL really on screen buttons? The screen resolution doesn't indicate that.

No, the renders show capacitive buttons.

@rodneyj:
Daniel, sadly, said on Twitter that their render was incorrect in that regard.

You mean happily. On-screen buttons is the better solution. I'm thrilled about the update.

On screen buttons is the only thing I've heard about the 2 upcoming phones I don't like so far. I can live with it, but capacitive buttons would always be my preference. I guess it's the new trend so they can do edge to edge screens

- You can autohide or set to always display(= like capacitive buttons). - You can set autohide to avoid accidental presses - Lower bezel can be smaller - You can change color - You can get 'Double tap to turn off your phone' What is not to like! :)

Can't wait for onscreen buttons! I HATE accidentally triggering the capacitive buttons. Terrible design.

@Hoekie:
Are you aware what you're talking about?! Have you ever used a device with on-screen buttons?
They are bad as sh*t. People say hardware buttons make accidental presses. In three years with devices with hardware buttons I had maybe three or four accidental presses. With on-screen buttons all the time, because they aren't separated from the general touching area. And the bar that contains the on-screen buttons is constantly blocking content or action buttons in apps. And don't claim that's a fault of lazy third party developers, it happens in Microsoft's own stuff as well.

What???? On screen buttons? He'll no!...
.....
Damn.. It just keeps getting worse.

Ever used a Lumia with on screen buttons? Here you go: - You can autohide or set to always display(= like capacitive buttons ;) ). - You can set autohide to avoid accidental presses - Lower bezel can be smaller - You can change color - You can get 'Double tap to turn off your phone' What is not to like! :)

I was against it initially. Saw the article referencing Daniel's article. I am not registered on their, but I was considering it just to advise that Daniel's article did not state they would have onscreen buttons. I had read the WC article many times. I went back to it and noticed it had been updated. My heart dropped, but I will wait to see how it turns out. The 810 is more of a concern for me. Beyond me why they didn't go for that one. If they really are releasing in November, then it could have been included.

That render article was updated, check again.

Only the renders have not been updated. Yet.

They updated the article to state the buttons Erik be on screen. The renders haven't been updated

Any more news on Verizon phones?

Should launch Cityman and Talkman at the opening of the New York flagship store. Microsoft own event.

As much as Lumia name is good, the whole "non premium" image can be broken with the surface phone ,
Perhaps a 5 incher with metal body.
And a pro version , a phablet with slide out keyboard

Or the phone could come with a surface pro 3 screen that you plug your phone in and the surface pro 3 screen as extra battries and storage for the phone when plug in

if there was a choice, i think they should have uncancelled the 730 follow up instead...the 800 series has never actually seen much success...unlike the 700 series...

The 6xx series will take the place of the 7xx series. The 6xx and 7xx series have always had hardware crossovers, as they're in the same class.

Its just matter of specs not name. L720 was never success like L520 or L620. I think L650 may prove next L730 :)

did u know that in India, the 720 had more market share than the 620 during its time..? even the 730 has more share than the 630 if i rem right...in the midrange, it was well recommended by a lot of people... but yeah, ultimately quality, design and specs matter...and i hope they take the 700 series look...cause there are too many round corners for all the phones below the 7xx... :/

It is debatable when you refer to 630 and 730. I see more 630's, but that may not be the case. I feel MS should just increment their hardware number by just an x5 instead of the next x number (e.g. 940, 945, 950) so that they can have more lines released until the 990, where they will have to kill off their numbering scheme and start off with some new one. iPhones and Nexus lines don't have that problem :/

Lumia 7xx series has always been very popular in India, even now 730 is most popular phone from x30 series in India, just check the Adduplex article.

Moto X was just announced to be availble directly from Motorola with all US LTE bands on board, so you can take it to any carrier. Any chance Microsoft sells their phones directly like this so we can buy them outright and take them to ANY carrier (Verizon)

I have already answered that numerous times, please re-read the older articles linked. Also, CDMA (Verizon) is very different from GSM, so I would not get too excited.

You have i know, but info regarding "any carrier" meaning also Verizon is always cloudy

Why is Verizon being such an A-hole to Microsoft, or do you think its the other way around? My guess is that MS wants to control updating OS software, and Verizon won't allow it.......To hold onto my Icon, or give up unlimited data and get a City/Talkman on ATT, that is the ?

"Why is Verizon being such an A-hole to Microsoft, or do you think its the other way around? "

I think it's a bit of both. Verizon is too slow (Icon and 735 both came 6 months late) and the carrier did little to support MS. My guess is MS got (rightly) frustrated and have severed ties for now. No point in trying to launch your phone everywhere if one of those carriers drags their feet. Ruins the moment. But hey, things can change, my info could be off and something might happen. I'm just still hearing AT&T is the #1 partner for MS and phones.

Why bother worry about the carriers? Just include all the frequency bands, like Apple does, and a person can buy the phone from Microsoft or Amazon and just pop in a sim from any carrier. Having the carrier sell a subsidized phone would create more sales. However, you can cover Verizon & Sprint customers an option to buy an unlocked phone. If enough people buy the unlocked phone, Verizon would start carrying it.

That doesn't work for CDMA networks. You can't just pop in a SIM, all the phones need to be signed off for the network by Verizon themsevles. It's one of the quirks CDMA has that GSM doesn't.

Urgh. Not having either one of the top two carriers in the U.S. on board, for a U.S. launch, is NOT a great idea. But then, there's been bad blood between Verizon and Microsoft, ever since the whole Kin debacle, and it likely has never gone away.

When I hear about carriers in the US it makes me thankful for the ones we have in the UK...and that's saying something!

I couldn't agree more. It is seriously messed up over there. The UK is not perfect, but if you have the purchase price, you can usually buy any phone, and off you go.

enough with old chipsets already ! we need new chipsets in new devices !

Which old SoC are you referring to? Everything on the table is the newest SD x10 iteration, or an unreleased Intel chip.

810 is old in the idea that next Android flagships will use 820 which will probably come out the time Microsoft relases new phones.. Qualcomm talked about it already at MWC.

There will be no 820 phones this year. Even the just announced Moto X is using the 808.

There will be several 820 phones this year.

We don't know that, though. We firstly don't know if these will launch before the 415/425 do. Plus, if the device was un-canceled, then it very well might get bumped up to one of those chips, if the next round of W10M devices is Q2 2016. As for the 810/820, not entirely. The 820 might sneak into one or two devices at the end of this year, but it's traditionally been March that the new Qualcomm flagship SoC is out there in major releases, like another HTC One. These 950 variants will be 4-5 months before. Putting out the first flagship W10M devices with an unproven SoC could be dangerous, especially with how the 810 was at launch. What you should remember is that when the 820 is coming out in the new HTC and LG and Sony devices, the new Microsoft flagships could very well be on x86 Intel silicon. They could feed into the best Continuum offering possible, especially if they have the ability to run x86 programs.

"especially if they have the ability to run x86 programs." | that's a big if, and would pretty much necessitate 64GB minimum internal storage The 810 was always going to be iffy, as it was just a "hack-job" with the reference ARM cores, already there are leaks of much greater efficiency from 820. Personally, I'm hoping for 615 or 620 for the Lumia 830 successor.

I expect we'll see a pho chip comaprable to wh we've seen in the lower-end Atom market, such as with the ASUS Transformer. Storage could easily start at 32 GB, with microSD expansion as well. If the Munchkin Continuum accessory can support an external HDD, storage becomes more than plentiful for a moble computing device that needs to dock at times anyway.

By the time of MWC 2016, new mid range Android phones would have carried Snapdragon 620 processor, which is pretty powerful as old Snapdragon 800/801 devices, by the time Snapdragon 615 processor would be too old to be used which is a too much heating octa core, has no powerful Cortex A72 processors as Snapdragon 620.

When was the 610 revealed as having heat issues? The 810 did, but a brief search did not reveal such an issue with the 610. Besides, we don't know that Microsoft would take until MWC to release a mid-range device, given a rumored sinter announcement for the Intel devices, at times. The 618's hexa-core option could also be in-play, like how the 950 si going with the 808, not the 810.

Not the quad core Snapdragon 610 Cortex A53 processor that has not even been inside market phones, but Snapdragon 615 Cortex A53 octa core processor, not as powerful as Cortex A72 chips having Snapdragon 620 processor

No, according to the current specifications Win32 apps will not run on x86 smartphone. That are the official statements of Microsoft

The 820 isn't expected to arrive till the end of the year or early 2016. Do you want to prolong the release of the flagship till 2016? Will the improvements in the chip really make that much of a difference in every day use? My guess is it won't and I'd rather get the flagship as soon as possible.

Microsoft can release Lumia 940/950 only with Snapdragon 808 Processor in September/October 2015 and Lumia 940XL/950XL with Snapdragon 820 processor in Early 2016(Q1 2016)

Please advise us on what chipset that's released that's more modern than the 810?

if the lumia 830 successor is uncancelled then it the same old microsoft waiting to have a disaster on their hands, they cant just push out the thing with snapdragon 410, they do then either cancel the 8** line or 7** line. doesnt make sense for two price families with similar internals only to be told apart for their camera

I don't know why you assume it'll have a Snapdragon 410. If there is an 830 successor, it'll most likely feature a Snapdragon 6xx processor this time around. It makes more sense to get rid of the 7xx series, to have more of a hardware gap between mid-range devices.

Before the "cancellation" there were a lot of rumors of the 830 successor using 410.

Surface phone indeed!! Get my money!!!

I want that yellow cover for my L830! :D

That yellow body looks like some older polycarbonate Lumia phones, such as 820 or 920 and also has the same "flowerish" speakers at the bottom. I would love dual flash on my Lumia 830 :(

No surface phone please.. Lumia is enough

the phone in the szleaks photo looks sexy. plz replace the insides with Lumia 1020 successor specs and take my money!!!!!!

Let's hope they fixed the capacitive buttons barely working on the 830 followup.

someone in Microsoft told me that the 830 was effectively pulled early because of exactly that issue. It was incredibly widespread with no fix other than to replace the entire screen assembly. The successor was in the works when they released the 830 but as another 'mid range flagship'. Perhaps the successor will be closer to flagship. This article is old news,

I honestly love their shift in focus. It gives them the ability to poor more energy into specific projects.... and i feel like i am expecting more from them than previously when they were releasing a phone every football sunday. I also think its a good idea to only make one midrange and one lowerend phone.... there is no need for more than one because people buying those phones arnt really looking at spec options in the first place.... and lumias are great phones for that market anyways. A lot of people gravitated to the 840 and the 640, i dont think only having one version of those would have changed their sucess. Im also really excited for the intel phone. Microsoft does particularly well when it takes big risks, and this is one of them. This is their chance to once again distinquish themselves as a mobile maker that thinks different, and i wouldnt be surprised in the intel phone will usher in high megapixel phones again.

The change in release kind of makes sense, with rumors of the flagship NY store opening this fall. Seems like a great time to unveil the new store and flagship devices.

I like your thinking. Wouldn't it be cool if a Surface Pro 4, Band 2, Lumia 950 and 950 Xl, new NY Store and Windows 10 Wave 2 all showed at the same event ;)

That would be insanely awesome.

@Daniel Rubino:
Xbox two missing from your list.

You mean Xbox One slim with the Windows 10 update?

Unfortunately, Xbox One/Windows 10 is way behind, which is why we have not heard to much about it. I wouldn't expect Xbox One/Windows 10 bits until the end of the year.