Ally Bank now at the Windows Phone Store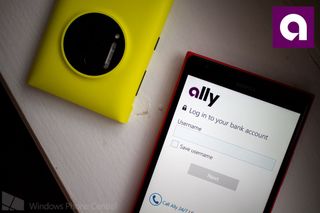 A couple of weeks ago, we found out that Ally Bank was in the final stages of completing their Windows Phone 8 application. If you're a customer, the wait is over. The Ally mobile banking app is now available at the Windows Phone Store. It puts everyday banking tasks at your fingertips.
What can you do with the initial version of this app? You can:
Deposit checks with Ally eCheck Deposit
Transfer money between your Ally and non-Ally accounts
Find nearby ATMs
You'll need the same username and password you set up for Online Banking to use the app.
Ally Bank serves more than 1 million customer accounts, so we're glad to have them onboard with Windows Phone. The app is a free download at the Windows Phone Store. Check it out if you're an Ally customer and let us know what you think in the comments!
Thanks for the tip, King B!
Windows Central Newsletter
Get the best of Windows Central in in your inbox, every day!
Should we just give up on Citibank coming to WP... Everytime I see a bank app....

Should we give up on pnc and Schwab as well. Probably we keep emailing and posting on their social sites.

PNC and Ameritrade please

There is already a [url="http://www.windowsphone.com/en-us/store/app/td-ameritrade/2457f73c-a383-... Ameritrade[/url] app. It's kinda shit, but it's better than nothing.

I have been hitting them on twitter, if more do the same it may put it on their radar.

Now if Capital One could get on board. I love Chase bank, but after seeing this layout I wouldn't mind a revamped UI like this. This looks sleek

Agreed. Ridiculous a huge bank like Capital One keeps brushing off requests for WP app.

I need capital one and their sharebuilder. Talk about major grr. Chase would be better if it saved my password and had a pin too.

USAA* ftw (as far as cloud banks go)

The example accounts are always loaded with $$$

the mint app was the same way. must be nice :)

Another bank on WP before td bank.......

RBC app will be available in the next week though!

Should I just switch to ally? =/

I got excited until I saw it was for banking and not their auto finance.

can you not login with your auto account? I only have Chase for Auto and I'm able to login.

No, I tried and the FAQ says it won't work. Prove me wrong and I'll appreciate it :)

Whoa!...don't post pictures of my bank account!....oh wait, it is missing 2 zeros, it should be $000,056.02... Seriously now....we need capitalone360 app on wp.

Are you listening AIB Ireland!!!!

Seems like every week are get a few official apps like this; it is just a matter of time until we have almost all of them. I agree that we need Capitol One, etc. Once we get those, the smaller banks will follow.

I just want my credit union, Fort Worth Community Credit Union, to make a app for WP...
.......................
These local credit unions are so small there might just be a handful of us using WP devices... I wonder just how many people in my credit union are using WP, and if there is a way I can convince my CU to make a app..

I'm wondering the same for my credit union (currently Coastal Federal CU, but considering a switch to Truliant). I would think it may be even tougher to get a credit union to do a WP app until the market share is really big. Their dev staffs are probably pretty small compared to the larger banks (assuming they don't outsource it) and being that they are typically member-owned, they may need extra justification for that kind of expenditure for "only a few users." Dammit!

Consider First Tech Federal Credit Union. Great WP app and what better institution for a tech geek?

Switched from my FW CU to wells Fargo and couldn't be happier

Yeah but I'm with FWCCU... You were with FWCU.. They both exist.

When is NFCU gonna have an app for Windows Phone?!?

I agree! This is the one and only bank that I use!

Looks really nice, I'm still holding hope my local bank will release an app for WP

Looks like Capital One is on track to be the last major bank without a Windows Phone app.

Anyone else have their fingers crossed for M&T?

Brilliant, just closed my account after being with them for 2 years. Pain in the arse not being able to do certain things. Only good things were some interest on my checking (tiny amounts though) and getting ATM fees reimbured every month. Other than that, terrible. Nice that the app came out though!

I opened an account with them the same day I saw the article they were working on a app and what you. Just said got me worry but anyway I'm just going to give them a spin.

I've been with them for almost two years and they've been great so far. Great customer service.

I love Ally bank. The key is to have another bank account like Chase so you can have a branch to go to. I love the Atm fee reimbursements. Go to any atm and you'll get paid back for the fees.

+1 I mainly use my ally account, but have a td bank account in case I need to deposit cash.

Would be nice if they included auto finance. Useless for me until then

I don't see the find ATM feature

I can login, but shows nothing for my available balance, fail.

Discover and Marquette bank both need to make apps for Windows Phone

Want more Indian banking apps on WP Axis,ICICI, Punjab National bank and Bank of India too.

Just sent US Bank an e-mail about getting an app in the WP8 app store. I wish they had one!

Read this post ING Romania!

Ally is great, so glad its finally on WP

No WP7 app? Guess I'll have to wait to use this until after I upgrade.

WP7 is practically dead as a doornail

This alone is a reason to switch banks!

Awesome been waiting for this for a while. Now where is PNC?

Makes sense for Ally to build a WP app. They are a virtual bank, not brick and mortar. App works great so far.

I was fortunate that Bank of America jumped on the Windows Phone bandwagon at the very beginning. Glad to see more banking applications being made available.

Now if PNC would create an app as well. My wife would be much happier
Windows Central Newsletter
Thank you for signing up to Windows Central. You will receive a verification email shortly.
There was a problem. Please refresh the page and try again.