AlphaJax vs Spell It! - A Head to Head Review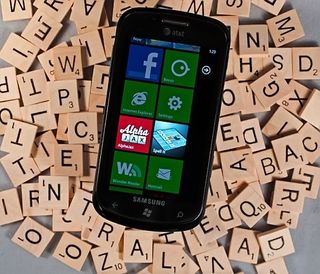 When we first mentioned AlphaJax, a scrabble-type word game for Windows Phone 7, there were a few comments suggesting we take a look at another word game, Spell It!. Well, who are we to shy away from a request.
Over the past few days, we took both out for a test drive to see if there was a clear cut choice between AlphaJax and Spell It! The game premise of both are virtually the same but are there enough differences that may give one an edge over the other? To find out what we thought, ease on past the break.
Tale of the Tape
These two games are very similar from game play to layout. Here's how they breakdown.
Spell It!
Up to 4 Players
Multiple games possible (how many?)
Screen Capture
Chat
Scoring/Leader Board
Free/Ad Driven(but not in a tacky way)
Push/Toast and Tile Notifications
AlphaJax
Play up to 20 Games at once
Screen Capture
Chat
Online Scoring/Leader Board
Pay App ($2.99)
Push/Toast and Tile Notifications
Twitter/Facebook Integration (for invites)
While Spell It! supports up to four players per game, I couldn't find where AlphaJax will. AlphaJax gets the nod with respect to the amount of features but if all you're looking for is a game of scrabble, Spell It! does nicely as well.
Game Play
Game play on both AlphaJax and Spell It! is virtually identical. Both applications require you to register (free) to be able to access the developer's server and compete against other registered members.
When you choose to start a game you are given the option to choose your opponent from your contacts, enter the name of the opponent or randomly choose who you are facing. From there, both are basically a game of scrabble. You create words with the letters you are given, gaining points along the way.
Each application has a similar hub that allows you to swipe back and forth between your pending moves and your opponents pending moves. Both have similar settings that allow for screen captures (saved to your photo gallery) and tile notifications. AlphaJax goes a little further by adding a Share Hub that lets you share games via Facebook and Twitter.
Both allow for multiple games to be played at the same time. AlphaJax supports twenty simultaneous games and while Spell It! doesn't define how many games can be played at once, I was able to tackle four at once.
The pace of the game is casual and taking on multiple games helps keep things from becoming stale. The games are addictive, especially when you see that you have the makings of a good word. You'll catch yourself checking in more frequently to see if your opponent has moved just so you can score big with your next move.
I did like the ability to choose opponents at random. This gives you the ability to enjoy the game without trying to figure out who you know that has a Windows Phone. I've been playing both AlphaJax and Spell It! for several days and have yet to have trouble finding a gaming opponent.
This leads me to my only nit with both AlphJax and Spell It!. There is no solo game mode available. While the game is designed for a more social atmosphere, it would be nice to be able to practice your skills against the computer.
Overall Impression
Both AlphaJax and Spell It! were fun, entertaining and addictive games. Both ran smoothly with no bugs, glitches or crashes experienced. The similiarities between these two Windows Phone games clearly outnumbered the differences. So much so, it's hard to rank one above the other.
So which is better? AlphaJax or Spell It!? I see it as a coin toss. I think the two key factors separating the two games is cost and social network connections. Spell It! is free but lacks a connection with Twitter and Facebook. AlphaJax runs $2.99 and offers that social networking connection. Spell It! is supported with ads that run across the top of the screen but aren't a nuisance.
While there is no solo game mode, I didn't have any problem finding a gaming opponent with either game. Invitations were readily accepted plus everyone stuck to the game and made it very competitive. Both Windows Phone 7 games allow for multiple games to be played at the same time which helps any delays between turns from getting too old.
Speaking of which, thanks goes out to JennaVicious and edzo29 at AlphaJax and tamalism, njs629, and therewassun at Spell It! for the enjoyable, challenging games.
If I had to uninstall either AlphaJax or Spell It! from my Windows Phone, it would be a tough call. Personally, I like the appearance of AlphaJax better. It has a tad cleaner look and I like the color better. But that's a personal preference and by no means a knock against Spell It!. It really is a coin toss.
AlphaJax is running $1.99 and there is a three game trial version available. Spell It! is free. You can find AlphaJax here (opens your Zune desktop) and Spell It! here at the Marketplace.
Related: Both Rob Alvarado and Daniel Rubino of this site are using Alpha Jax and can be challenged for a game at 'chobacabra' or 'Malatesta' ;-)
Update: See here about possible Xbox LIVE integration and AlphaJax
George is the Reviews Editor at Windows Central, concentrating on Windows 10 PC and Mobile apps. He's been a supporter of the platform since the days of Windows CE and uses his current Windows 10 Mobile phone daily to keep up with life and enjoy a game during down time.
I moved on to AplahJax from Spell It! I was having too many issues.

Spell It! runs really smooth now since last update.

It ran worse for me after the update. I wouldn't even open. I would only get the "Network errors" error. I gave up.

Cool pics...BTW, looks like AlphaJax will get Xbox Live support soon.How soon? I don't know but check their Facebook page.

I wish AlphaJax offered local multiplayer (pass the phone).

While I appreciate the efforts from both developers, I'm really waiting for EA to make an official Scrabble game. The iPhone one integrates with Facebook where I play against all my friends and family. I'd love it if I could have a direct port of that. With AlphaJax or Spell It I wouldn't be playing against anyone I know.

Great review, thanks. We at AlphaJax have just submitted v1.4 of AlphaJax to the marketplace. This includes comprehensive user stats and also an unlimited ad supported trial mode, meaning that users can play the game indefinitely with ads or pay to have them removed. It would be great if you could updated your review after the update becomes available (hopefully) in a few days.http://alphajax.zendesk.com/entries/414353-alphajax-v1-4-release-notes
Windows Central Newsletter
Thank you for signing up to Windows Central. You will receive a verification email shortly.
There was a problem. Please refresh the page and try again.