Amazing Weather HD updated, new HD images and you can use your own photos now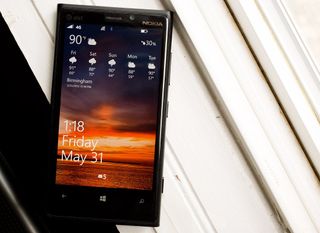 Amazing Weather HD is simply an amazing Windows Phone weather app. Along with a nice level of weather coverage (forecasts, radar, satellite, etc.), the app also has support that pulls stunning HD weather images to your Windows Phone lockscreen.
Amazing Weather HD has been updated to version 4.2. We suspect a little fine tuning was done under the hood (the app seems to have a bit more zip to it), the most notable change with the update is with the lockscreen support.
Not only are there new HD images to rotate to your lockscreen but now you can use your own images as lockscreen wallpapers with the app's weather overlays.
When you go into Amazing Weather HD's settings you'll have four sources for lockscreen images. You still have the Amazing Weather HD images and Bing's Daily Images but now you can choose Custom Image or Local Album.
The Custom Image option will let you choose one image from your Pictures Hub to use as a lockscreen image. The Local Album option lets you choose one album within your Pictures Hub and the images will rotate at random to your lockscreen.
You still have the seven lockscreen styles to choose what weather information is displayed. It's just now you can showcase your own images and enjoy all the weather information Amazing Weather HD can provide.
The update is fairly fresh so it may take a while before we see it pushed out. You can always go to the Windows Phone Store and manually update as well.
If you haven't tried Amazing Weather HD, there is a trial version available with the full version running $1.99. You can find Amazing Weather HD here in the (opens in new tab) Windows Phone Store. You also have Amazing Weather HD Lite (opens in new tab) (right QR Code) that is a free app but hasn't been updated to allow for custom lockscreen images.
Thanks, aaa6112, for the tip!
Windows Central Newsletter
Get the best of Windows Central in your inbox, every day!
George is the Reviews Editor at Windows Central, concentrating on Windows 10 PC and Mobile apps. He's been a supporter of the platform since the days of Windows CE and uses his current Windows 10 Mobile phone daily to keep up with life and enjoy a game during down time.
Every time I see a photo of yours that says Birmingham, my mind automatically assumes UK. I have to force myself to remember that it's Birmingham, Alabama.

The temperatures should remind you that it isn't the UK one :)

I love this update. Been waiting for it forever. Props to the dev! One small request I have for the dev (tweeted them about it) is to de-couple the update times for the lockscreen image (if I am using a local album) and lockscreen weather. I'd like to have the weather update every hour or two hours, but would like to have the image update once a day (like Bing - Daily).

Edit: Also, one typo in the lockscreen settings. If you click on "Updates" in the lockscreen page, the page that pops up is titled "Live Tile Update Intervals" instead of "Lockscreen Update Intervals". I've had a folder called "Wallpapers" on my L920 waiting for this feature to be available. :)
This website has some really awesome wallpapers, and allows you to choose the resolution of your choice: http://interfacelift.com/wallpaper/downloads/date/any/

One feature I wish the dev would add is animated radar... I use radar alot to determine the severity, speed and direction of storms, but this app only has a still image of current position. So I have use a separate app for radar, and I wish I didn't have to.

I don't think there are any WP8 developers out there that understand how to do radar. iOS radar offerings are 10000x better. You'd think since Bing is MS that map apps would be a little better.

Well accuweathers app has radar, powered by Bing no less that is animated.

Savage site, have been getting wallpaper's off it years!

When I listen to music and then enter the app, music stops. Is that normal?

Go to Amazing Weather HD -> settings and scroll over to the "Animations" page and turn animations off.

But with the animations off, this is no longer so awesome. This is a serious, deal-breaking bug, if you ask me.

In fact, it really is only the animations that make this app cool. Otherwise, Accuweather or Weather.com both provide as good if not better weather experiences.

Its not a bug, it is by design. You may call it bad design but it is not a bug. The animations are actually HD video clips (without sound of course), rather than some animated gifs, and that is why background music pauses when this animation is running.

Yes, it stops the music for animations. As noted, you can turn it off.

The htc hub does the same thing, but i always thought that was because it also played a weather sound.

I luv Amazing Weather HD, but it kills my battery on my Lumia 920. I'm stuck using "Forcast",...or was this addressed in the update?

Not sure why it does, mine has no problems in the battery area.

Same, no problems with battery for me either

I have it running on my 822 with no noticable battery drain.

I've been running this since day one and it has never been the culprit. You must have something else running back there.

No, nothing else. It's this app,...I would know. I know how to disable apps running in the background,...

Oh well clearly that makes you an expert! /sarcasm... But seriously, I've been using this since November without issue. Check some of your settings and contact the developer. They're good at looking into things.

is okay but doesn't have as much functionality as this app. Also I don't care for the really slim numbers in WeatherFlow or the aesthetic in general.

Tell me one thing that you can do on Amazing Weather HD you can't do in Weather Flow.

In Amazing Weather HD, you can get the wide tile to flip. In Weather Flow (when I tried it last), that's not possible. maybe not a big deal, but flipping allows you to display twice the information (technically) or split the information on either side (making each side less crammed)

Huh, that's right. What extra information would you want there, anyways? There's loads of space in a double-wide tile. and if you want to split the information, just use a smaller tile...

You probably don't feel the need for more information, but that doesn't mean everybody feels the same way. There's a wide tile that gives you a detailed forecast (in text) for the particular day and the next two days. Again, you might not find it useful, but others might. Also, Amazing Weather HD allows you to mix and match the front and back side of medium and wide tiles. You could have one face metro, and the other face rich. Options never hurt.

Not saying this makes Weather Flow inferior or bad, just replying to your comment about there being one thing Amazing Weather HD can do that Weather Flow can't. I'm sure Weather Flow can do a thing or two that Amazing Weather HD can't.

I was just wondering, never saying it was a bad app. :)

Why? I know about the double-wide flip, but anything else?

A few things for me:
1. Weather Flow does not show the chance of rain percentage for the forcast other than today's. Live tile or within the app.
2. Only has a 5 day forcast compared to a 7 day forcast.
3. Does not have a radar.
4. Hourly only shows the next 7 hours. Amazing Weather shows the next 24.
5. Thre is much less information on the hourly forcast, and the daily forcast.
6. When you open Weather Flow it does not refresh the weather. You have to hit the three dots and the click refresh. This one completly suprises me.

All of them are true, except 6. It auto-refreshes for me.

I switched to weather flow and uninstalled amazing weather. The design is just a generation ahead. Amazing weather has just too much unnecessary info's pouring at your face. Plus weather flow allows you to listen to music/podcast in animated mode.

I've got both running :)Weather flow for tile and amazing weather HD for lock screen.

I'm going to have a hard time deciding which app to use for lockscreen background - Amazing Weather HD or WPCentral (from what I've seen from Jay's tweets). Both are awesome! Both provide valuable information without having to unlock the phone! #firstworldproblems :|

+ 1 ! same here .
I'm already having a hard time deciding which app to use for the lock screen !
HTC app , Paper Shuffle & now WPcentral :)

I got this when it was on sale a while back. It is visually appealing, but the live tile doesn't update as it should. We are going through a heat wave in the east, but yesterday it was telling me that the temp was 90 and the feel like temp was 118. I don't think so.

I feel the same way. The live tile never updates as it should for me. I have to click on the app to update the live tile. I wish the issue would be fixed.

After the update today, when I went to put the app as my backround, the app kept crashing. I have a 920.

I'm a big fan of this app for the Live Tile options alone. I love having the entire weeks forcast displayed in the wide tile format. I went with the paid version to avoid ads and support the developer.

This is great, been waiting for this feature! I've always wanted the weather on my screen, but I also wanted to use my own photo!

bah. lite version was removed :(

I don't know why but whenever I have this app or Weatherflow installed after some time they kill most of my live tiles. Really annoying...

Glad to see I'm not only one that has this issue.

Thank the holy heavens for this! This is one of my favorite apps on WP and this has literally been the only feature I've wanted added. I had been using their images for a while but love having pics of my son on my lock screen so I ended up using Lock Widgets which isn't as reliable as the weather from this. Thank you devs!

I like this app but some update should came to 7.8

I recently just switched to using Weather Flow, but it's good to be able to use your own image now. I think I complained about that before when they added lockscreen support.

Still one of my two most favorite apps!!! Amazing Weather HD & WPCentral!!!

Is it still a 80MB bloated app? Don't get me wrong, I like it, but wish it didn't require that much space.

Who came up with this + then whatever phone you have (+920)? Can't stand that. Must be my new pet peeve. So stop it! Am I alone on this? Does that annoy anyone else? Go ahead, I know you can't resist, reply +920. You guys and gals are so funny. Is this the mist useless post ever or what? Wish I had something to say but i don't. Still recovering from being in the damn sun all day. I'm a little fried and out of mind.

totally agree with you +920

You are not alone... it is so god damn annoying. I complained about it before. Those retarded posts are spamming the whole comments section

No offense, but aren't you embarrassed to post that. (focus flash). Remember. No offense :)

Well I actually have a 920, but since someone already mentioned it, I thought focus flash sounded a little better. ➕titan

Man I should have go this when it was on sale then. Oh well weather flows ok.

The fact that I had to come here to find out an update was available makes me wonder how many apps I've got with pending updates that my phone hasn't informed me about. Update notifications seemed arrive a lot more promptly months ago.

I believe the phone only checks for updates once a day. Most mornings I wake up to app updates, and they're the only notifications I would get till the next morning, unless I find out about an update elsewhere.

Needs animated radar desperately.

Anyone else notice the weather info on the lock screen is so big now that it interferes with the calendar?

Not sure how it interferes with the calendar, but mine now is not centered properly and runs off to the right edge too much.

http://sdrv.ms/1aK3j0J

Hooray! They changed the splash screen. But now it bugs me that the W is not capitalized heh
Still not a fan of the realistic animated backgrounds. Look rather soft..

Anybody having trouble updating the Amazing Weather HD app. I just tried 4 times. It appears to finish downloading but isn't installing. I keep getting Error c101a007. Anybody know what that error means? I guess I'll try again later. My WiFi was connected so that shouldn't be the issue. Maybe it's a problem on the Microsoft Store end.

+1 (Update: downloaded and installed.)

The app finally updated for me. Must have been a glitch in the store.

Is it just me or can't you change the live tile styles in this update?

You can still change (mix and match) live tile styles

The text size for my lock screen is way too big now and I can't find the option to toogle text size. Not a huge bug but still...

Send a mail to the dev, he actually answer... I'm having the same problem by the way!!!

Same problem here. Though if you go reset the lockscreen it is ok...for awhile...but comes back again. I like the daily forecast with Bing image.

Im unable to downlod the app, getting error on the market,, anybody else?

Me too. See my earlier comment ( a few comments above yours).

The app finally updated for me. Try it again.

Still no support for portuguese language. Need a Help? For free?

Why No Animated Radar? No good without. What a shame.

JLYNNM350Z, that was for you

Anyone realize that the weather info on the lockscreen is too dim, compared to the rest of an image?

I would really like to buy this app but difference between US price 1,99$ and EU price 1,99€ is 52 cents(€)!
That's a rip-off!

Is it possible to set own date/clock format after the latest update?

Would like this better if I could add free form text to the lock screen. Currently, I do this with Lockscreen Message to show my Lost/ICE contact information. As far as I know, this is the only app that gives me this ability. Unfortunately, the two apps do not play well with each other on my Lumia 521 phone - image from this app overlaps with my Locksmith Message text, no matter which background/setup I choose.

A weather app needs to support weather alerts. I live in an area where sever storms, including tornadoes develop very fast.