Angry Birds maker Rovio looking to simplify its business with potential layoffs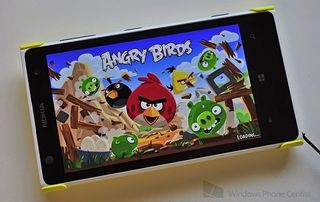 The Finnish studio behind Angry Birds, Rovio has announced that job cuts may be on the cards to simplify the company. CEO Mikael Hed admitted in a blog post published today the company has been growing on assumptions, a tactic that's clearly not sustainable in today's competitive market.
Hed also notes that Rovio – as it stands today – is in a strong position to reignite growth and continue delivering products. It's not known how these changes will affect (if at all) the studio's ability to produce quality titles, though we imagine the team will be able to handle current projects just fine.
Source: Rovio
Rich Edmonds is Senior Editor of PC hardware at Windows Central, covering everything related to PC components and NAS. He's been involved in technology for more than a decade and knows a thing or two about the magic inside a PC chassis. You can follow him over on Twitter at @RichEdmonds.
And I can't wait. They made enough money on flinging birds around.

Should not have abandoned Xbox Live.

If that were the case they wouldn't be thinking about laying people off.

Right now we face economic crisis._.

First Microsoft.. Now Rovio.. Whose next .. Wpc ???

Ant colony in my backyard

Armadillos in my backyard

Hopefully the large aardvark colony in my garden. They keep eating all my kale.

All those Rovio team members

I'm bored from these games, they need to get something original, something new out there, that is r to make a bam like angry birds did shine years ago. I have no angry birds games in my Lumia

Read between the lines, they are laying off all the WP developers

The question is: Should we care? It's just angry birds

You will when Android and iOS gets the new releases and we don't.

Maybe if they stopped with the stupid in game video ads and put more work in to developing for WP they wouldn't have to cut down.

Really? Video ads? Blah I hate all ads. And iap's

Yeah, their games are showing video ads now. Short clips of 5-10 seconds in the middle of the game.

Fuck Rovio, all their games are the same.

Actually, Angry Birds Epic was a lot of fun. My biggest issue was that I didn't play on WP since it had crash issues and no way to backup your game. The android version had everything....

I also didn't play epic, because it's only available online

Maybe not so good for WP users, as it could mean they'd focus more on iOS and Android as those two platforms have more users.

Who cares, Rovio's games suck...

you've lost your spark, rovio. i wouldnt be surprised if they drop dead. y d'you keep pushing angry birds? mke sumthin new!

such games are just for a certain time after that everyone forgets just like subway surfer just updating the theme.

Rovio have tried to make other games the amazing Alex etc but then y never took off (no pun intended). Also if your a pc gamer and bought the pc versions of the game (like my son) you got scr..fu.. very poorly treated as a customer and so he won't play angry birds anymore due to getting ripped off. So add to that a very tired looking gaming platform, you get "Please switch off the lights as you leave". Goodbye Rovio soon to become the "Do you remember?" in pubs and coffee shops around the world.

Now that they found they can make even more money than with Angry Bird by making stupid free to pay games they don't need all the talented people they once needed. Welcome to the free to pay world, where smaller teams create bad games that make more money.

Yup, those free to PAY games are a killer.. :D

Layoffs because there not important anymore. That's how I see it.

Perhaps the owners should have taken the $2 billion offer they claim they got couple of years ago.. :P Hope they can regroup and shine on!


Stop giving out free content! They have released so many free levels for their paid games already. I wouldn't be surprised if Angry Birds 1 gets more levels later this year at no extra cost to us. Even charging just 5 cents or 10 cents for a pack of levels is better than nothing.

This is what happens when you don't diversify
Windows Central Newsletter
Get the best of Windows Central in in your inbox, every day!
Thank you for signing up to Windows Central. You will receive a verification email shortly.
There was a problem. Please refresh the page and try again.