Angry Birds Roost now available for Lumia devices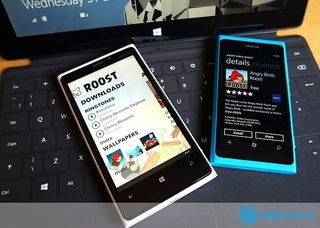 Today sees the release of the Nokia exclusive app Angry Birds Roost. Bird and Pig lovers everywhere can now rejoice! We first saw signs of this back in Sept which we wrote about.
Before you get too excited, this isn't a game, merely a one stop shop for all things Rovio and Angry Birds.
Angry Birds Roost is a collection of different sections to get games news, videos and even ring tones it defiantly one for the hard-core Angry Birds fans out there. You can even take photos and send them to your social networks with added Angry Birds added to the picture. How on earth have you gone so long owning a Windows Phone and not being able to have access to these features?
This is what you have been waiting for!
Here's the full write up from the store:
We're glad to see Nokia continuing to bring new apps to the platform and sure that Lumia owners are squawking with glee right now.
You can download the app here
Or use the QR code bellow to grab it from your phone.
We'd love to know what you think of the app, and anything else you'd like to tell us. Please use comments below to give us the low down….
Windows Central Newsletter
Get the best of Windows Central in in your inbox, every day!
Truly fantastic, the killer app we've all been waiting for.

That White 920...Awesome :)

What about us non lumia owners? Shut out again?

Do I sense some irony here? How dare you! ;)

Owh my you are killing me here showing off the surface and lumia 920... still havnt received my surface and so confused with whats going on with sim free lumia 920 in the UK

Sorry, got the phone yesterday and the Surface arrived a few hours ago. been so busy I havent had a chance to play with it yet. Its killing me! RB

Hey Robert, could you please tell how did you get this white Lumia 920?

really guy you at WP Central kepp me update with all the news I need to know about windows phone thanx guys

really great new look guys
Nokia LUMIA 920

It's just an app about Angry Birds - not a game. Who cares?
I doubt there are many huge Birds fans using Windows Phones at the moment - as they will miss out on Angry Birds Rio, Angry Birds Seasons, and until near future Angry Birds Space.

Lets see...angry birds is a game. Where are the angry birds space, etc?

If you download the Roost app/hub, it shows Angry Birds Space as "Coming Soon."

And Angry Bird Star Wars is also listed as coming on WP8 site.

Maybe they should have called it Angry Birds Waypoint?

I bet Nokia paid millions for that thing.

Nah, MS paid for the first Angry Birds app. We see how well that turned out. I'm sure they aren't playing that game this time around.

App link isn't there. And I can't find it on the nokias list of apps (not collection).

how much dev time went into this?

The external link works, and the app is available in Canada too. It's a first step, but I want the actual games...

I too havent been able to use the QR code the link on the web takes me to site but says app only available to down load from phone the wpc app here is not a url access and there is no download app when you flick to the right. Ill keep trying

Angry Birds ringtones sound hilarious!

Yes that exclusive Nokia shit has to stop although i don't care for this game but just like Draw Something (also not great) sucks for other WP users that want it you don't have those problems with a iPhone just saying :) i still love WindowsPhone haha.

HTC has their apps that are only available to HTC owners, why have the issue with Nokia? Maybe your aggrevation should be directed at the other manufacturers for not putting in the effort to the platform that Nokia is.

Rediculous - they don't bother to port the Rio and Seasons games, or Bad Piggies, to WP, but they instead spend the time to make an app about all the apps we don't have available ?!?!?!?!?

i really love game UI and to who even took phones & surface picture its really great picture

I think it's an interesting app. Looks pretty good on my LG Quantum. If you really want those Nokia exclusives then root or dev unlock your phone like I did.

Can download the angry birds space version you inside
Windows Central Newsletter
Thank you for signing up to Windows Central. You will receive a verification email shortly.
There was a problem. Please refresh the page and try again.