Angry Birds Space app for Windows 8 now available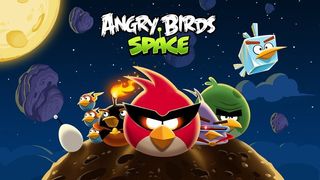 Lost in the fuss over the launch of Windows 8 news we overlooked this the other day. Angry Birds in space is now available in the Microsoft Store.
Can you be an "app store" without at least on version of Angry Birds being present? If that's the yard stick then many will breathe a sigh of relief to see the game pop into the store right from launch day!
Featuring over 130 levels set in space this time, the latest addition to the series continues to captivate folks who have a love of all things birdy and piggy and spacey. Listed amongst the features they have clearly listed "Regular free updates" which certainly sounds appealing. Those of us who had it on Windows Phone were slightly put out that no free updates arrived for that, so we'll be happy to see Rovio make good on their promise for Windows.
Heres whats they have to say about the game:-
Sound like your cup of tea? You can head along to the Windows Store and grab yourself a copy but they don't appear to be offering a trial version of the app. It will work on Intel and ARM based machines so if you bought a Surface then you won't be left out. Download Link (opens in new tab)
Got a Windows 8 machine and busy installing new apps on your shiny new device, we'd like to know how your getting on. We'd also like to know what you think of Angry Birds hitting Windows 8 so soon, is this a sign of good things to come? Please let us know in those comments below..
Windows 8 is just awesome! So fast, so easy ;-) (Maybe only because I had this Metro on my WP for quite a time now)

It will make people wanna try Windows Phone

I can't put my surface down! My gf is a big apple user but she already loves the touch cover

Why is this posted on wpcentral

Seems like a name upgrade is in order. The forum is more about Windows 8 now, but I'm sure it'll change Monday.

Yep, it will change to Windows Central.

I think he was infering that the forums will change to be talking mostly about Windows Phone 8, as Monday is the release of WP8

Probably since most people here are enthusiasts for metro and Windows 8 in general, not just phones. I made sure I installed Win 8 on my PC before I went to pick up my Surface Friday morning and I'm glad they're reporting this stuff. I'd rather it be here than not, if someone doesn't want to see it, then just don't read the article. Success and promotion for Win 8 benefits everyone here.

Heaps of folks who are regular readers have been super excited about Windows 8 for a long long time. We are too, the three screens all have metro on them and we love that. Normal service will resume once we leave Windows Phone 8 limbo land. That's next week! We're certainly not changing our name to Windows Central. Rob

also people want ecosystem and win8 provides that for most people with windows phone and xbox so its relevant

You could change the name to MetroCentral. ;)

While the site's main focus is WP, any mobile MS products are certain to be of interest to such a site. I'm sure iPhone sites also cover the iPad and iPods, so this really is the same principle. Also, finally got to play me some Angry Birds Space. Considerably more fun than the original.

Cause this is now apparently a Windows Phone and Windows 8 blog... ???

At least you will probably see more of this stuff for WP8

Well, Windows Phone 8 runs on the same kernel as Windows 8... so itmakes logical sense to have windows 8 news here, especially with the "3 screen" agenda microsoft has

How is that logical. Not like they can run the same apps.

Yes you can run same apps on WP8 and on W8. Not all, but some.

You can't run the same apps period. Yes the both run on the windows kernel, but windows 8 runs RT and windows phone does not. They are 2 different platforms that give a similar experience.

Ummm RT and WP8 both run on ARM chipsets. explain to me how thats 2 different platforms.

Maybe NotSoTechnoTim... :-P

They are both mobile platforms now.

This.
When this site launched, W8 and WRT weren't even on the radar.

Because they're closely related now especially with the nearing release of WP8 (same kernel). WP will benefit, in my opinion, from Win8. Its definitely relevant. :)

Meant to reply to those asking why windows 8 mattered here. :P

Aww, I thought it said windows phone. -.-

If I'm not mistaken we get angry birds star wars the day of release. Space is a fun game. Much better than the first iteration. :D

I'm betting that it will be only for Windows Phone 8, though.

This is great. I'm assuming that this will also work on Windows 8 if I purchase it on my Surface but what about WP8? I can already see that owning Fruit Ninja, Rocket Riot, and Hydro Thunder on WP7 doesn't mean I get them on Surface.

If you're asking if you have to purchase twice then: Yes, of course. :) MS isn't in the business of just giving you a bunch of free sutff.

How is it free if you purchased the app on one device and want to play it on another? Its already paid for. Is Android or Apple like this also? Meaning separate payments for apps between their phones and tablets?

Absolutely not, if you buy an app from iTunes, you can load it on any device attached to your account. If Microsoft is truly doing this it's a HUGE mistake.

Just like you have to pay for the "same" app on Xbox.

sigh, got my hopes up. Wasn't expecting to read a boring Windows 8| article.

Can't you read? Article titles says "Windows 8", not "Windows PHONE x".... So what the hell did you expect?

Loving the w8 content on WP central. We R just reacting to recent events.

This only means they have NOTHING to report about Windows Phone. 2 days before the official launch and our team cannot get their hands on even ONE leak!! This is either extremely good news or terribly bad. MSFT either did amazing job with hiding these stuff till launch or there isn't anything we don't know about Windows Phone 8!

"2 days before the official launch and our team cannot get their hands on even ONE leak!!"

Err..we had a Verizon leak last night and the live-lock-screen last night. Do you not read the site?

Stop bitching about it being Windows 8 news. If you want WP to succeed, you better pray that Windows 8 succeeds.

If Angry Birds is the yardstick to measure the success of an app store then that yardstick is a few inches too short

i just felt the need to express how food the surface is. but it needs more serious games. japanese import rpg please.

Come on, come to my Lumia 900!! I'm getting the 920, but it would be nice to have it on my 900 too.

4.99? Need similar pricing of games and apps compared to other platforms

Angry Birds Space for Windows XP and Windows 7 was the same price, so why is this going to be different. Same price as what other platforms? iOS? Android? Those aren't even in the same league as Windows 8

Same app, same functionality. It should be the same price. Windows 8 doesn't make the full screen app experience any different.

Ordeith is correct. Same function should be same price, not 4 dollars more. Why should I pay 4 dollars more on a surface than an iPad?

Now we need HALO ,GEARS OF WAR, MAKE THEM APPLE PEOPLE DROOL OVER XBOX QUALITY GAMES

Doesn't work. Downloaded on two separate windows 8 machines and both crash out on the initial rovio screen. Annoying when it cost over £3.00.

I saw this on the msft store... Like what I said I want a colored tablet..i want a cyan surface with black touch cover

$4.99??? Really?! I got this game for only 99 cents for my iPhone! Jeez...

Agreed, .99 for the HD version on my ipad. This much of a price difference is disappointing. Paying a dollar or so more when wp7 first came out is understandable, but with windows 8 that in my opinion is unacceptable. Rovio must have an agenda...

I think windows phones 8 will be very similar to w8..by the way the rep told me that WP 7.8 update is coming out the whole month November

As annoying and crappy the price may be, I do like the fact that they brought it out and it is fully functional. As long as they keep it updated I won't feel totally screwed. This could be part of the Windows RT isn't a large phone os, it's a pc os mentality and they may feel they can charge prices more in line with pc game prices instead of the .99 value phone/tablet price. I don't mind paying a bit more until the platform gets some real market share so that devs can still make some money and justify supporting us. I'm just damn glad to see popular games!

Sorry, but RT isnt PC mentality.... Its basically an enlarged WP WITHOUT Phone functions.... And yes, I've tried the Surface RT but my £200 cheaper Win8 Pro upgraded Tab kicks Surface RT to the curb IMO

When is the wp 7.8 due ???

برامج شبكة البرامج تحميل برامج
Windows Central Newsletter
Get the best of Windows Central in in your inbox, every day!
Thank you for signing up to Windows Central. You will receive a verification email shortly.
There was a problem. Please refresh the page and try again.