Angry Birds Star Wars II for Windows Phone gets the REAL Battle of Naboo update this time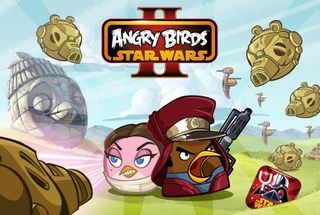 Last week, Rovio was kind enough to update all of their Angry Birds games for Windows Phone 8 with new content. This included an update for Angry Birds Star Wars II, which was supposed to bring the Windows Phone version in-line with the December 5th iOS update.
For some reason, the new "Battle of Naboo" levels did not show up for many Windows Phone users after installing the update. We'll never know what went on there, but it hardly matters any more. Today the game received an update that corrects the issue with the previous patch. At last we can battle for Naboo like the cool kids are doing!
Version 1.2.1 Release notes
This update's release notes are the same as the previous one since it's just meant to get the previous new features working. Here they are again:
Continue the fight against the Bird or Pork Side in the latest Battle of Naboo chapter with 44 new levels and 3 new free characters!
20 NEW PORK SIDE LEVELS! Launch an attack on Naboo's capital city and face the Jedi Master Qui-Gon Jinn in the big boss fight!
20 NEW BIRD SIDE LEVELS! Face the enemy on the devastated battlefields of Naboo and then continue the battle in space!
TELEPODS! A groundbreaking new way to play! Now teleport your favorite characters into the game by placing your Angry Birds Star Wars Telepods* figures on your device's camera!
NEW SECRET LEVELS! Find the hidden maps to unlock 4 secret levels!
NEW FREE CHARACTERS! Play as Padme, Captain Panaka and Zam Wesell for free!
Finishing the fight (for Naboo)
If you've seen the Star Wars prequel films, you might be asking "Who cares about Naboo?" I mean, Naboo provided the setting for the Phantom Menace, and that movie is used to torture prisoners in some countries.
Naboo is the home of Jar Jar Binks, Boss Nass, and lots of Battle Droids. It has that big underwater city with giant carnivorous fish and you have to go through the planet's core for some reason. It ain't no Tatooine, is all I'm saying…
Well, the "Battle of Naboo" is the third set of levels in Angry Birds Star Wars II. More levels means more fun, so that's why it matters.
When players first select the Episode, they'll be prompted to choose between the Bird and Pork sides. Whichever choice you make, you'll have to live with for a while. You'll only have access to that side's unique levels until you accumulate 35 stars within them.
Each side has one treasure map collectible for unhappy avian players to find. In the Bird side, you'll spot the map on level B3-7. Playing as the Pork side, you'll find it on level P3-6. Collect a treasure map for two secret levels, so you'll get four secret levels in total from the Battle for Naboo maps.
For more Angry Birds Star Wars II guidance, check out the walkthrough videos at Angry Birds Nest or Arsenic17's Achievement Guide.
Angry Birds Star Wars II – Windows Phone 8 – 41 MB - $.99 – Store Link
Thanks to Jonathan R. for the tip!
Windows Central Newsletter
Get the best of Windows Central in in your inbox, every day!
Paul Acevedo is the Games Editor at Windows Central. A lifelong gamer, he has written about videogames for over 15 years and reviewed over 350 games for our site. Follow him on Twitter @PaulRAcevedo. Don't hate. Appreciate!
Do the telepods actually work?

Haven't tried on WP8, but the option is there now. Worked well enough on iOS, if you're asking about telepods in general.

Yes they do on my lumia 1520. However i have to hold my phone at a specific angle for them to read it. I think they need bright lighting to go through the clear stand to assist the camera reading the barcode.

Warning this game has god damn tough achievements (last 10 especially)

Not that hard, not one of the worst Angry Birds to get all achievements, on TrueAchievements 2,437 tracked gamers have this game, 220 have completed it (9.03%). The worst is the classic, only 3% completed it on the site.

This is the easiest Angry Bird game yet to 100%. It'll take awhile just because you have to play for 24 hours or something but that can be easily idled. Overall it's an extremely easy 100% gamerscore.

Am i the only one completely bored of the Angry Bird franchise?

Yea me too honestly and unfortunately :/

I wonder, has something changed with xbl cert process for wp as these updates for xbl enabled games are happening faster and faster. This or im being far too optimistic. Is MS ending 2013 with a bang that will make 2014 WP yr?

Since switching to WP8, Rovio has seemed to have an easier time with updates. Maybe they get preferential treatment, maybe not.

That thought had crossed my mind. I wonder if there are incentives also?? Now all we need is cloud saves support and all is good.

I think if they did they wouldn't have dropped Xbox on Go!

Updating....but still waiting for GTA San Andreas, really, really want this game so badly, can't imagine what will it be like on my 920

Still on the fence about this one. Me and CJ go way back and I'm just not so sure outr gang wars will be the same...

I would like to see games like Limbo for WP.. or some physics based games, like Stair Dismount. It would be great. :)

I give up from Rovio: another update and this game still isn't available in here in Brazil. And it already has a Brazilian certificate in the store...

Waiting for subway surfer update for 512 mb

Path : coming soon, stay tuned, coming very soon, stay very tuned what else? I've been waiting since July 11 until now so don't let me be a PATHetic guy

What does that have to do with Angry Birds?

Lol +920. I'm hoping for a windows 8 release soon.

My 10 year old cousin had played all level of all angry bird now he will be happy to know more new level had come. And still cleared Angry Birds Space only

Will this ever be available for the Surface???? Yes, I've bought it for my 928 but I want to play it on the Surface 2.
Windows Central Newsletter
Thank you for signing up to Windows Central. You will receive a verification email shortly.
There was a problem. Please refresh the page and try again.