Angry Birds updated across the board with new levels and characters!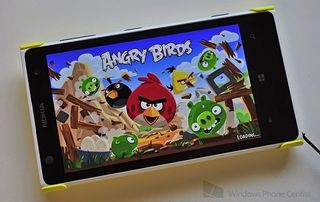 If you have be experiencing wantingness for new gaming levels to your favorite Angry Birds game, today is your lucky day. Updates have gone out to just about every Windows Phone 8 Angry Birds gaming title, adding new levels, characters and features.
We will start with the original Angry Birds game being updated to version 4.0. Based on the Windows Phone store details the update adds 30 extra levels in a new Short Fuse episode. You also have 15 new levels in a Birthday Party episode and a new wave bomb feature.
Angry Birds Rio
Angry Birds Rio makes the jump to version 1.8 and adds twenty-six new Rocket Rumble levels, two new characters and fireworks.
Angry Birds Seasons leaps to version 4.0.1 which adds twenty-five new levels with four bonus levels. There is a new Arctic level and a new underwater attack where you can plan a surprise attack on the pigs by flinging the birds under the icy Arctic waters.
Angry Birds Star Wars
Angry Birds Star Wars adds thirty new levels with version 1.5 that includes fifteen new space battles that feature a massive Imperial Star Destroyer and fifteen Death Star levels. You also have the possibility to unmask Lard Vader to see who is hiding behind the mask.
And do not worry, Angry Birds Star Wars II is also in on Rovio's massive update wave. The update takes Angry Birds Star Wars II to version 1.2.1 and delivers the latest Battle Naboo chapter to the game with forty-four new levels and three new free characters. This includes twenty new Pork Side levels, twenty new Bird Side levels and four new secret levels.
Angry Birds Star Wars II Telepod Support
The update also brings Angry Birds telepod (opens in new tab) support to the game where you can teleport your favorite character into the game through your Windows Phone camera.
The update collection delivers over 125 new levels to the Angry Birds Windows Phone games with the only version of Angry Birds not receiving an update being Angry Birds Space. Add all this with the minor updates Angry Birds Go! has been receiving and Rovio is giving the Windows Phone platform a good bit of well-received attention.
You can find the updated versions of the Angry Birds games through the following Windows Phone Store links or by scanning the QR Codes below. Each game is available for Windows Phone 8 and has a trial version. The full version of each game is currently running $.99.
Thanks, everyone, for the tips!
Angry Birds (opens in new tab)
Angry Birds Rio (opens in new tab)
Angry Birds Seasons (opens in new tab)
Angry Birds Star Wars (opens in new tab)
Angry Birds Star Wars II (opens in new tab)
Windows Central Newsletter
Get the best of Windows Central in in your inbox, every day!
George is the Reviews Editor at Windows Central, concentrating on Windows 10 PC and Mobile apps. He's been a supporter of the platform since the days of Windows CE and uses his current Windows 10 Mobile phone daily to keep up with life and enjoy a game during down time.
I just hope this won't destroy my saves. I updated Cut the Rope once, lost all my game progress...

I had the same thing. I just completed the game 2 weeks before the update...
They really need an option to save the savegames in the cloud...

I also had this problem. May have been tolerable if it added new levels.

Angry birds go for 512 MB Ram WP??

Careful what you wish for. Game runs hot, sometimes crashes even on my 920

Woaw. What is 2013 turning into?
What will 2014 bring?
Stay tuned.

Official "BackItUp" app By Nero released for Windows phone. http://www.windowsphone.com/en-us/store/app/backitup/b42a2e17-5f24-4e7c-...

Cool... tip the wpc team... :)

Looks like it only does photos.

havent got the update for Angry Birds Star Wars II.. i downloaded Angry Birds Star Wars II on promotion period by changing the region US to UK.. should i change the region to UK to get the updates for Angry Birds Star Wars II?

Same here, got all of em that way, but the others have an update

Can't get the star wars II one either...but got all the rest

Yeah I can't updat ABSW 2

I really hope this update fixes the issues I've had with Star Wars 2 - after the first flung bird, the game would slow down to like 1 frame per 20 seconds, then it might or might not freeze thereafter. Unplayable!

I can't update Star Wars 2 :)

Me too :( Store show last update: 23-12-2013, version is correct, but button 'Update' is hidden

Just wait a few hours. The updates don't go live at the same time around the World.

I still can't update it...

Oye yeah i feel lucky i grabbed all angry birds for free that day lol :D gonna update them all

Own all free versions from that lucky day...:)
Bt wat about 512mb support for angry birds Go..???

Now just Telepod and log in fixes for Angry Birds GO!

I wish they would just hurry up Rovio Accounts. At the moment I have a few Angry Bird games on my phone and a few on my tablet but with no overlap as I don't want to be replaying levels.

I wish they make all the angry birds game free for a day on Christmas as a gift to all WP users. That would really be awesome ain't it ?

Last time I updated a Angry Birds game I lost my saves, same for Cut the Rope.

I would still have these games if all my progress wasn't lost when changing phones :'( kind of annoying to have to start over....

They should have a system where your progress is saved thru your Microsoft Account...at least until they eventually let us save apps on the SD Card or maybe thru skydrive...

I updated Angry Birds Star Wars II...no new levels showed up

Missed that promo. Oh well, they're only $.99. Still a cool promo to take advantage of.

Angry Birds Go for Nokia 3310 when?

Uc browser also updated with new features

I've been getting daily updates for Angry Birds GO. I'm hoping that's the reason it doesn't have XBL, so that there's still hope their next game will have it.

An xbox game being updated :o

Five Xbox games being updated :o

What kind of sorcery is this :o

Now all we need is angry birds friends! Should work just fine without xbox support because then they can use the Facebook connect. And telepods support for angry birds go!

Any new achievements added?

I have asked this several times....but.......does anyone have at least any idea if any new titles will ever come to windows 8?

Me either anybody idea why?

Most importantly, the Angry Birds update fixed a problem I was having where the game kept shutting down every time I tried to open it.
Windows Central Newsletter
Thank you for signing up to Windows Central. You will receive a verification email shortly.
There was a problem. Please refresh the page and try again.