Angry Birds Star Wars II update for Windows Phone adds Rise of the Clones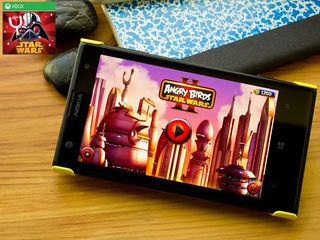 Rovio has finally released a new version of Angry Birds Star Wars II for Windows Phone that includes a major update, adding the new Rise of the Clones chapter.
The update was first released for iOS devices a few weeks ago, but at least Windows Phone owners didn't have to wait too long to get this new content. There's quite a lot for fans to check out in this update:
NEW ELEMENTS! Navigate the fast-flowing waters on stormy Kamino, and get an extra boost from the air turbines on Coruscant!
20 NEW PORK SIDE LEVELS! Destroy the Republic's Clone Army on Kamino and face off against the mighty Jedi!
20 NEW BIRD SIDE LEVELS! The Sith have taken over the skies of Coruscant – use the Force to take them down!
MORE SECRET LEVELS! Track down the hidden maps to unlock two secret levels on each side!
LAST CHANCE BIRD! If you need just one more bird to complete a level, try using the Last Chance Bird!"
You can download Angry Birds Star Wars II for just 99 cents right now in the Windows Phone Store.
The release of the surface 4

And still isn't available here in Brazil. AB Go and Epic also.

Why aren't you watching the match???

I Love it that rovio supports wp

Half Time.. :) The scoreline would have been 3-1 in the additional min. neymaaaarrrrr...........................

The Indians are more excited.. Aren't we?

Rovio has always been able to update their Xbox games with bug fixes and new content. Same goes for EA, doing an awesome job with updates.

All my angry bird games crash when I open them. Someone else who has that problem?

Microsoft need to add cloud save to all games

They actually did introduce an option on WP8.1. The developer just needs to use it.

Would like these games to be universal apps

I'm surprised it got any update! :D

0,99€ in Europe so it's not a big deal for a game that is beautifully designed and offers many hours of fun gaming. :)

Why Microsoft always think for money.... Why they don't make such game free

Microsoft ant getting any money if you buy angry birds.

They do get a cut from every application sold in the store.

Unfair comment, pavel_pau. Didn't you read the news yesterday where WPCentral told us that MS is lowering prices for their OneDrive clients and adding extra 8 Gb free space for the free OneDrive client? And that's just one example...

Maybe because they didn't even make the game? you expect them to give away for free something that is not their property? you must be confusing Microsoft with Google...
Windows Central Newsletter
Get the best of Windows Central in in your inbox, every day!
Thank you for signing up to Windows Central. You will receive a verification email shortly.
There was a problem. Please refresh the page and try again.