Angry Birds Star Wars still planned for Windows Phone 7 (and Windows 8)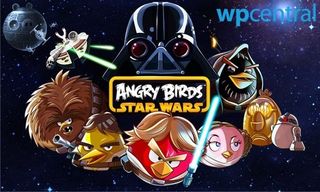 Today's news that Angry Birds Star Wars launched on Windows Phone 8 at the same date and the same price as the iOS and Android versions is a landmark event for Microsoft's new mobile OS. Such parity has long been the hope and dream of Windows Phone 7 gamers. Speaking of which, said gamers who are unable to switch over to Windows Phone 8 in the immediate future might be feeling left out now that such greatly-desired titles are launching on WP8 but not 7. We're seeing that sentiment in our article comments and forums already.
As it happens, Nokia has commented on the possibility of Angry Birds Star Wars coming to Windows Phone 7. Check out their quote and our analysis after the break.
Pimping those 920s
Nokia's Lee Brooke has just posted an article about the arrival of Angry Star Birds Wars, I mean Angry Birds Star Wars on the Nokia Conversations blog. He describes the game in detail and makes sure to emphasize what a good purchase it makes for new Lumia 920 and 820 owners. But of most interested to is the following quote:
XNA and the dark side of the Force
Windows Phone 8 version
The implication here is that Rovio will launch a separate version of Angry Birds Star Wars specifically for Windows Phone 7. Why not publish it at the same time as the WP8 game? Put simply, it's a lot harder to code games for WP7 than WP8. That's because WP7 lacks direct hardware access and support for popular programming languages like C++. WP7 games must be developed in XNA, which is a functional but less than versatile platform aimed at aspiring developers rather than experienced ones. Yes, a simple game like Angry Birds can be done with XNA (WP7 already has the original, after all) but it still takes more time and money than with WP8.
Besides, WP8 is understandably a higher priority right now anyway. The freshly launched mobile OS needs compelling software in order to help it take a foothold and eventually catch on with the wider mobile audience. Like it or not, WP7 is no longer the future of Microsoft's mobile plans. But it will continue to receive support from some developers for the foreseeable future, as Nokia's comment proves.
Another consideration: financially, creating two separate versions of a game doesn't make sense for most developers. Yes, art and assets can be used between both versions, but the porting process (especially in the case of WP7) is very much like producing a whole new game. It's very likely that Nokia is actually helping to fund the WP7 port. After the big push they gave their WP7 Lumia handsets earlier this year, Nokia wants to keep existing buyers happy for at least a little longer. So while Angry Birds Star Wars is available to all Windows Phone 8 users, the WP7 version may actually be a Nokia exclusive. The recently launched Angry Birds Roost app needs some mileage, after all. No word on Angry Birds Space coming to WP7, but we'll update if we hear anything.
Windows 8?
Another question Microsoft fans may have is what happened to the Windows 8 version of Angry Birds Star Wars. We've seen reports that the tablet/PC version appeared briefly on the Windows 8 store but was quickly pulled. It looks like a simultaneous launch was planned until a last-minute problem popped up. Expect the Windows 8 version to arrive quite soon. It will probably cost $4.99, just like Angry Birds Space. The inflated price is a markup for the higher resolution tablet/PC version, a common practice among tablet games.
To play either game on both Windows 8 and Windows Phone 8 (or 7), users would need to purchase each version separately. While existing Windows Phone 7 software can be redownloaded on WP8 devices for no extra charge, Microsoft considers Windows 8 a separate platform. Hopefully they will eventually allow universal purchases for Windows 8 and WP8 games, much as iOS currently offers… But don't count on it.
Windows Phone 8 love
Angry Birds Star Wars cost 99 cents on Windows Phone 8. Get it here on the Windows Phone Store.
Update: The Windows 8 version is now available for $4.99.
Get the Windows Central Newsletter
All the latest news, reviews, and guides for Windows and Xbox diehards.
Paul Acevedo is the Games Editor at Windows Central. A lifelong gamer, he has written about videogames for over 15 years and reviewed over 350 games for our site. Follow him on Twitter @PaulRAcevedo. Don't hate. Appreciate!