Angry Birds Star Wars arrives for Xbox on Windows Phone 8 in a timely fashion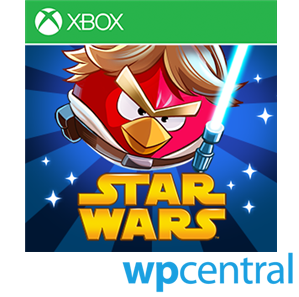 Yesterday, Angry Birds Space became the first Windows Phone 8 game available for purchase. While its appearance may have disappointed those Windows Phone 7 gamers who can't upgrade to WP8 anytime soon, Space is exactly what WP8 needed to kick off its bid to seriously compete with iOS and Android. Sure, the game arrived about 7 months later than on competing platforms, but it's timed perfectly with Microsoft's new mobile OS launch.
Today Windows Phone Angry Birds fans discovered even better news. Angry Birds Star Wars, first announced for Windows Phone alongside every other version on October 8, has just launched for Xbox on Windows Phone 8. That's right, day and date with the iOS and Android versions! That's a far cry from the days when Rovio almost couldn't be bothered to even announce a WP version, let alone support WP7 Angry Birds with the same updates as the other platforms.
An avian galaxy far, far away
Angry Birds Star Wars is more than just a crossover. It's Rovio's attempt at reaching gamers who don't care about Angry Birds – gamers like yours truly, if we're being honest. And further enhancing this version's cred with geeks and hardcore gamers, it's based on the original Star Wars film, not the generally loathed prequel films.
At launch, Angry Birds Star Wars packs 80 levels of pig-busting fun, with free Hoth levels teased for the future. The new stages start out on Tatooine, where Luke Skywalker first met the creepy, err kindly old man who pointed him to his destiny, and travel through movie locations all the way to the Death Star. Some levels take place on ground and resemble traditional Angry Birds stages, while others happen in low-gravity space environments, just like yesterday's Angry Birds Space.
Heroes and villains
The best addition to Angry Birds Star Wars is undoubtedly the Star Wars-themed characters. Each bird is based on a classic character, and they even have unique abilities from the films. After firing Luke, you can tap the screen to make him swirl his lightsaber, while Han can fire three blaster shots wherever the player aims. It adds a new layer of control and strategy to the series that is sometimes looked upon as too simple by many gamers. Fan-favorite characters R2D2 and C3PO made the cut as well, but they're only available in levels unlocked by reaching star milestones or finding hidden eggs.
Don't think the bad guys are just pigs in this installment. Well, they are still pigs, but now they're dressed as imperial forces and popular villains. Players will fling the heroic birds at such villains as Stormtroopers, sand people, Darth Vader, and the Emperor. Darth Vader even uses the force to levitate blocks into the player's path; take him out and the blocks plummet.
Missing microtransactions?
The other versions of Angry Birds Star Wars offer a few forms of PDLC from the start, including a 'Path of the Jedi' level pack and limited access to the Mighty Falcon (based on the Millennium Falcon). So far, we're not seeing the option to purchase these goodies in the WP8 game, putting it at a slight disadvantage. Perhaps Microsoft is revising their PDLC model for WP8 and hasn't settled on new payment options yet. If we've just overlooked the PDLC options in this version, let us know, faithful readers!
Into the garbage chute, flyboy!
Windows Phone 8 players, your only exclusive gaming options right now are Angry Birds Space and Angry Birds Star Wars. Space has 150 levels of bird flinging while Star Wars offers just 80. But with clever artistic design and a theme beloved by many, Angry Birds Star Wars might just be the one to get. Of course, Star Wars costs only 99 cents – the same price as the iOS game – so buying both won't break the bank.
Get Angry Birds Star Wars for Windows Phone 8 here (opens in new tab) at the Windows Phone Store. No, this game will not play on Windows Phone 7 devices. Yes, upgrading to WP8 as soon as possible is a terrific idea.
Thanks, everyone, for the tips!
Windows Central Newsletter
Get the best of Windows Central in in your inbox, every day!
Paul Acevedo is the Games Editor at Windows Central. A lifelong gamer, he has written about videogames for over 15 years and reviewed over 350 games for our site. Follow him on Twitter @PaulRAcevedo. Don't hate. Appreciate!
Wow, we're big time now :)

I read an article from wmpoweruser that said that the WP7 version is coming later. Not sure exactly what it's waiting on, but it suggested that WP 7.x wasn't being ignored...we'll see, I guess.

I think these developers are waiting for 7.8 because some may want that their app Tiles are resizable.

Nokia has worked with rovio to bring this game to WP and the game's launch was announced by nokia only, on thier conversations blog, and in that blog they said they are working with rovio to bring the game to WP7.x phones but they didnt guarantee anything in that regard for more info you can read the post at conversations.nokia.com

P.S i'm surprised this is not a Lumia Exclusive

I'm actually glad it's not a Lumia exclusive. Why pis* off a subsection of the relatively small WP8 owner group so early in WP8s life cycle?

ya i'm glad too even if i'm a Lumia owner but still i'm surprised

Lol! Nokia doesn't care about pissing off HTC/SAMSUNG users. If Nokia was instrumentral in bringing this game to the platform, especially if they foot some of the cost, it is simply an act of generosity. Nokia doesn't need this app for exclusivity as the verdict for the masses seem to favor the Lumia 920 as the WP device to own.

WP7 games take more effort to code then WP8 does, that's where the delay is. And that's why you'll be seeing TONS of WP8 only games that won't work on WP7. Especially with Rovio who will only develop for WP7 if they are paid to do it.
Don't expect Angry Birds for WP7 devices ever again.

No, games are NOT harder to develop on Windows Phone 7, developers just don't want to take their bloated iOS code and port it to XNA.

Exactly. Rovio is making these games for W8, having them work on WP8 is just an extra. Rovio has never and will never give support to WP7 willingly.

Yes they are, dude. In fact, most popular game engines like Havoc, Unreal, and Unity are not available on WP7 and never will be. (Unreal isn't announced for WP8 yet, but still.)

Developing games for WP7 is not particularly harder but only if you are developing for WP7 ONLY. If the game has to be developed for multiple platforms then WP7 is a major pain in the arse.

Why make a game ONLY for WP7 when you can make a version that is compatible with Windows 8, Surface and WP8? No brainer.

the source is the official nokia conversations blog:
http://conversations.nokia.com/2012/11/08/angry-birds-stars-edition-use-the-eggs-luke/

they state:
As for when Angry Birds Star Wars might arrive on Lumia phones running on Windows Phone 7.5 – Rovio and Nokia want to make sure everything works as well as it can before they launch the game, but we'll update you as soon as we know more. In the meantime, go and download Angry Birds Roost to access some free goodies and use the Angry Cam to liven up your photos.

I wish purchasing games/apps for Windows Phone would also give you access to the same game/app version on Windows 8.
This is good news, though!

I was going to ask... if I purchase it for W8, will I be able to get it free on my Lumia. Not even for games, but in general.

Anyone else upset at the split in the OS? I convinced a lot of people to switch the WP7 in order to grow the platform I loved. Only to have to explain later why none of us will be getting new games and apps...

New games and apps will still be coming for a while. The transition to WP8 is difficult right now, but it's the only way we could ever receive games like this one the same date as other platforms (WP8 is much easier to develop for).

Wow, two Angry Birds and Cut the Rope waiting for me when I upgrade tomorrow. Looks like you'll have a lot more to write about in the future Paul. :)

You could play Cut the Rope today, I played a lot last night on my 900. :-)

I know, but might as well download it tomorrow assuming all my progress will be lost and such. :)

Yup, I'm waiting on my Lumia 920 to purchase Cut the Rope as well. Maybe we will get game progress backup between device upgrades with WP8.

This time tomorrow morning, I will be installing this on my lumia 920.

meh...Angry Bird got old fast.

Integrate Star Wars into just about anything, and the geek in me can't resist!

I did upgrade to WP8 and should have my device today. I am glad I did.
On a side note, I feel bad for all those who got screwed over and are "stuck" with WP7 in the meantime. I bought a Lumia 900 1 month before they announced it will not be upgraded to 8. I immediately e-mailed Steven Elop from Nokia and he re-assured me not to worry too much about WP7.5 getting left behind on apps. We're already seeing it and it's not even officially out in the US for the most part.


Maybe because I'm a first gen WP user since 2010 I had accepted the absence of "popular" apps as a way of life. Never been a big app whore to begin with (had and iPhone 3G previously) and while those popular apps didn't appeal to me I understood how their presence would make WP more appealing.


I don't understand the current line of thinking concerning WP7.x , it was already getting left behind on apps BEFORE WP8 was even announced. Especially for games, those devs would rather make games that are easily portable to multiple platforms (between iOS and Android). WP7 wasn't supported by the major mobile gaming engines that are used to make all these games. Now that it takes relatively less effort we will see more day and date app release on WP8.

All the reasons that the "split" happened make sense. You may not want to accept it but it was necessary for WP to even have a version 8, 9, 10 to begin with. Sticking with the kernel in WP7 would have guranteed a Palm/WebOS exit out of the mobile market.


All the reasons that the "split" happened make sense. You may not want to accept it but it was necessary for WP to even have a version 8, 9, 10 to begin with. Sticking with the kernel in WP7 would have guranteed a Palm/WebOS exit out of the mobile market.

That makes all the sense in the world but people will choose to bitc complain.

Preach it, Odog! I also went in early on this WP thing (OG Focus). I got used to not having many apps but then again I was more attracted to the WP features and UI anyway. You're right about WP7 being left behind on apps. If it wasn't for the Lumia 900 coming out in April there'd probably be no WP 7.8 at all. A lot of noise to please the 900 owners. I can understand it, I suppose, but I bet you MS cannot wait for WP7 to become a distant memory.

Doesn't appear to be on Windows RT yet, any word on when its coming to tablets?



Haven't had a Windows phone since my Motorola Q but I get my 920 tomorrow. Why do some of the phone games say Xbox on them, is an Xbox Live account required?

It's because they're linked to Microsft's Xbox gaming service, so typically you'll get achievements for them.

Not REQUIRED by recommended. You are not required to play with a Gamertag on the Xbox 360 either, but it is free and recommened to keep track of all your cool gaming stuff.

It was on the Windows 8 store last night, but quickly pulled. When I tried to download it I received an error that it no longer exists on the store.

the fascination with this game is ridic. after the first one, i didn even bother finishing it.

I could say the same for CoD, Halo, GoW or any repetitive FPS. Not a big fan of the genre. But it has its fans, so they must be doing something right.

Looks like the first game to get for my lumia 920 when it arrives tomorrow!

Give us Halo, not this crap!

You didn't notice how popular this exact game is?

Every incarnation if Angry Birds is the exact same game. Popular yes, Halo level No. If Halo should ever make its way to a Windows Phone, you'd have a defining MAJOR hit on the WP platform.
I'm waiting for the day a serious Xbox game gets released on Xbox, Windows 8, and Windows Phone at the same time.

This version actually has a lot of new features compared to past games. But I would argue that Angry Birds is more popular than Halo worldwide, though not more popular with the console gaming crowd. And yes, WP8 defintiely needs a Halo game - I've commented on that in past articles.

Can someone with Lumia 920 check if the pigs and birds in Angry Birds Star Wars or Angry Birds Space appear very pixelated? I want to know if this is issue with the lack of proper 720p screen support or it is general shitty-ness of the port...

BOOOOOOOOOOOOOOOOOOOOMMM!!!! One more Epic game title is landing on our promising Windows Store!
Now that REAL mobile phone game titles are coming to the Windows Store and at the correct price of 0.99$ it will be nice to see a permanent price drop of old WP games from 2.99$ to 0.99$.
It's not nice to pay 0.99$ for Angry Birds Space/Star Wars,Cut The Rope and for nice games like Contre Jour and more to pay 2.99$.
Finaly developers and MS woke up and are making serious moves to make Windows Store even more competitive! P.S Hope to see "Where's My Water" coming on WP8 cause i love it :)

Windows Central Newsletter
Thank you for signing up to Windows Central. You will receive a verification email shortly.
There was a problem. Please refresh the page and try again.