Angry Birds Space arrives on Windows Phone 8 with strange Xbox Achievements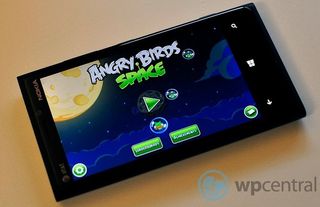 Windows Phone 8 gamers are in for a treat this week. Not only can they play the delightful WP7 game Cut the Rope, but they get a WP8 release too. Rovio's Angry Birds Space is now available for Windows Phone 8. It looks like an excellent port, although at least one reader has found the Achievements to be decidely unusual.
I can has Achievements
Remember how every single one of Final Fantasy's Achievements were secret for no discernible reason? (We quickly published an Achievement Guide to help out with that.) Well, our tipster found Angry Birds Space to be pretty much the same way, except not by design. Instead, each and every Achievement reads: "String: Placeholder" for both its title and description. As such, players affected by this glitch have no way of knowing what the Achievements actually are. They can still earn a few, but will probably need to check out the descriptions online somewhere for guidance. Check out the screenshot at right to see what the anomaly looks like.
The Achievement weirdness does not affect every user, as our own Daniel Rubino can see them just fine. It seems to be either an installation error or a random WP8-specific bug of some type.
Update: It turns out that the developers simply forgot to translate the Achievements into German. With a phone set to English, the Achievements will display correctly.
Oh yes, the game
Here's how they should look
Angry Birds Space is the first true sequel to Rovio's bird-flinging physics puzzler. Since the 150 included levels now take place in space, gravity no longer affects birds. They now fly in a straight line instead of downward, while pigs float off helplessly when struck. Some stages will have moons and other objects with their own gravity though, altering the dynamics of their puzzles. Two new bird types round out the list of improvements.
Angry Birds Space costs just 99 cents and there is a free trial. WP 8 owners, get it here on the Windows Phone Store.
Thanks to Mark Tepper for the Achievement screenshots!
Windows Central Newsletter
Get the best of Windows Central in in your inbox, every day!
Paul Acevedo is the Games Editor at Windows Central. A lifelong gamer, he has written about videogames for over 15 years and reviewed over 350 games for our site. Follow him on Twitter @PaulRAcevedo. Don't hate. Appreciate!
Most of us don't have a wp8 phone yet. :'(

So sad for no device get the game.

But it is good I'm getting the 920.

Rovio is the worst sw house ever. They were not able to port a stupid and simple 2D game to xna in 2 years :D :D
They did not say the truth also. They promised ab for lumia 610 and where is it? Never trust to them.

Ask Romney to buy you one.

Probably a bug which, hopefully, will be sorted out soon.

Hah, how funny. I'm sure this will get straightened out by the time I get my hands on a WP8.

Didn't look like that for me. The 1st achievement is to pop all the balloons during credits. Im on htc 8x

this seems like a middle finger to us WP7 adopters....are they bringing it to WP7 or do i have to upgrade to enjoy this game?

No, it won't be coming to WP7. See our previous article for a brief discussion about the reason for that.

lame...this is bigger fragmentation then i ever experienced with android. Even the worst android headset plays this game running gingerbread. It seems like this is the beginning of the end for my poor 710.

Bigger fragmentation than Android because you can't get a game? You know full well that this is no different than any other phone platform. Not every game or app that runs on the latest iPhone runs on previous versions. Not every game or app that runs on the latest Android runs on the previous version. It's fair to say that you're disappointed that something you want isn't available for your phone. To say it's "bigger fragmentation than i ever experienced with android" is absolutely ridiculous.

This is not a fragmentation issue, it is the Rovio incapacity issue.

Unfortunately it was probably written natively so porting to WP7 would have been a lot more work.. =/

Yeah, it's SUCH a middle finger. Not getting a game that we were never promised. Stop being so entitled and upgrade like you were going to anyway.


Yes it was promised: http://www.wpcentral.com/angry-birds-space-destined-touch-down-windows-p...

The kernel change is going to be cause for some real short term fragmentation and frustration for early adopters. But I understand for the platform as a whole the change was needed.

+1

Obviously it would have been nice to have backwards compatibility, but the change was necessary and WP7 users will just have to suck it up until they get a new phone.

Does it run at a higher frame rate than Angry Birds?

Will I have to buy the game again since I already bought the Surface version?

i hope not, i was thinking the whole point of 1 platform 3 devices it is good for all devices in the ecosystem. Wishful thinking is not being realistic though.

Yes, you would need to buy it twice in order to play on both platforms.

Thanks for the reply Paul. I understand how it is. Kind of like the games built for the iPad that cant be played on iPhone and require two app purchases. I guess I was hoping for not having to re-buy all the apps on both.

Why is the RT version 4.99?

Tablet version are always higher. THey are HD versions
It's the same on iPad vs iPhone.

Awesome! Works great on my 920. Was a quick DL too. LTE in my area with my 920 has tested 26Mbps download and 6Mbps Upload!

Odd. Maybe they rushed it out a little bit and this got glossed over. No big deal though, like you say it's just similar to a game where all the achievements are secret.

Personally i dont like any angry bird game that much. However lumia 900 owners will be disappointed. The legacy hardware can support these kind of light games

Es una estupides y falta de respeto a los que tenemos WP 7.5...!!!! Van a empezar a dejarnos atras ... Nos obligan a migrar a otras plataformas... Y lo escribo en español para que de perdida si les interesa saber la opinion de los consumidores latinos batallen un poco... En fin!!!!

A uds que tengan WP7.5 no van a ser dejados atrás. Pero si pase es la naturaleza de la tecnología, nada personal.

Will this be available for the 7.8 update?

Very annoyed with this game - it does not have proper graphics for 720p resolution, so most of the pigs and birds look very pixelated. Shoddy job Rovio!

Buying a $600 phone just for this!

And it begins..... Only for WP8

The Mobile Gaming Industry is at a point where it must sustain at least 3+ OS's (iOS, Android + WP, BB, MeeGo, Alibaba, Symbian ... ++ Windows, MAC, Linux ++ with all their versions.
It's too much to bare, or the greatest oportunity?
Is it ever going to be "only one"?
I guess not. Not so soon.
I am waiting for a survey to find out what OS/Enviromnent/SDK is better and faster to develop for - from desing point of view: Java, Objective C, .Net, C ... ++ Flash, HTML 5 ++
Windows Central Newsletter
Thank you for signing up to Windows Central. You will receive a verification email shortly.
There was a problem. Please refresh the page and try again.