While a lot of modern devices are moving us slowly towards the USB-C future of tomorrow, we're not quite there yet and a bunch of our existing phones, tablets, and accessories are rocking something else. Fear not, though, as Anker has one cable to charge them all and right now you can snag it for a record-equalling low price at Amazon. The Anker Powerline II 3-in-1 Charging Cable drops down to just $11.24 when you enter code AKBF3IN1 during checkout, saving you $7 off the regular price. That code works on both the black and white versions.
Charge everything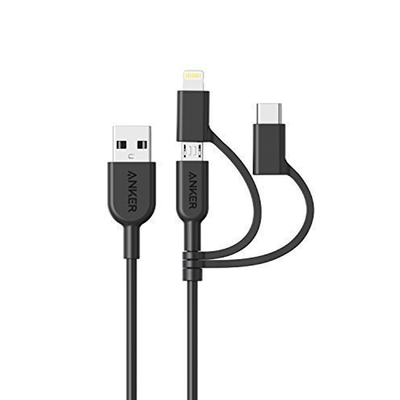 Anker PowerLine II 3-in-1 charging cable
If you have a smartphone, you need this cable. It's that simple. It has USB-C and Micro-USB connectors, is MFi-certified for Lightning, and is backed by a lifetime warranty. It's one cable that can replace three others, so stock up now!
$11.24 $17.99 $7 off
The cable itself is a 3-foot Micro-USB cable that just happens to have two additional adapters connected right to it. There is one for Lightning ports to charge your iPhone and iPad, along with a USB-C connection to charge your newer Android devices and accessories. It offers a max speed of 2.4A on both the Lightning and Micro-USB chargers, and 3A on the USB-C end. The Lightning connector is MFi-certified, meaning that Apple has approved it for use in safely charging and syncing your iPhone or iPad. The cable is durable, too, allowing for over 12,000 bends without breaking.
Existing owners give the cable 4.1 out of 5 stars based on over 350 reviews. Anker is so confident that you'll love this cable and won't have issues with it that the company is backing it with a hassle-free lifetime warranty. These are handy to have around since not everyone uses the same devices these days. This coupon is only available for a little while, so be sure to grab a few of these to have in your car, home, travel bag, and more while you can.
We may earn a commission for purchases using our links. Learn more.