Another in-depth look at the Xperia X1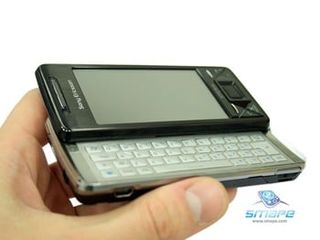 Oh, man, we've been chomping at the bit for this one ever Dieter got an early look at the Sony Ericsson Xperia X1 back at CTIA (opens in new tab), and we're still hoping for a Vodafone release in the coming weeks (opens in new tab).
In the meantime, here's a new up-close look, brought to you by sm@pe (Smart at Personal) via Engadget Mobile (opens in new tab).
In case you've forgotten, here' what we're looking at:
Windows Mobile 6.1 Pro, with custom home screen "panels."
GSM 850/900/1800/1900, loaded with 3G goodness, of course.
A Qualcomm 528 MHz processor.
256 megs RAM/512 megs ROM.
3-inch, 800x480 pixel touchscreen.
3.2MP camera, with auto-focus.
MicroSD card.
Bluetooth 2.0.
aGPS.
WiFi.
1500 mAh battery.
And a price tag of somewhere around $1,100 before contracts and rebates.
Sm@pe also does a side-by-side spec review with the HTC Touch Diamond, which goes along nicely with what Dieter found at WES 2008 (opens in new tab), when the X1 and Diamond were caught hanging out together.
This ... can't ... come ... soon ... enough!
Windows Central Newsletter
Get the best of Windows Central in your inbox, every day!
Oh, please, pretty please...come to Verizon Wireless.