Another Sea of Thieves server test takes place this weekend
Sea of Thieves is back for more hijinks over the next few days.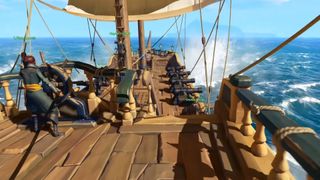 Recently, Rare conducted a Sea of Thieves scale test to determine how servers responded during heavy player counts. While the first test was a success, there is still room for improvement and accommodating even more players.
Today, the developer announced that a second test would start on Friday February 23, 2018 at 7 AM EST and end on Sunday February 25 at 5 AM EST. The goal of this is to see how the latest multiplayer updates hold up and to hit a higher number of concurrent players than before. Gamers can participate in the scale test by downloading the beta build from the Microsoft Store and playing it over the weekend on Xbox One or Windows 10.
Sea of Thieves is an upcoming exploration-based pirate game from Rare. The developer is known for many famous franchises including Banjo-Kazooie, Conker, and GoldenEye. However, in recent years, the team focused on developing Kinect games for Xbox One and Xbox 360. This was a curious decision, so when Phil Spencer became Head of Xbox in 2014, he assigned Rare a new project. Sea of Thieves is a shift for the developer and a concept the team hasn't tackled before.
The game has been delayed a few times but we finally have a concrete release date. As announced at The Game Awards 2017, Sea of Thieves is now scheduled to launch on March 20, 2018. The game will also support Xbox Play Anywhere and native 4K resolution on Xbox One X.
Keep an eye on WindowsCentral.com/Gaming for all the latest in Xbox and Windows 10 gaming, accessories, news, and reviews!
Asher Madan handles gaming news for Windows Central. Before joining Windows Central in 2017, Asher worked for a number of different gaming outlets. He has a background in medical science and is passionate about all forms of entertainment, cooking, and antiquing.
Um, don't get your hopes up...regardless of what this article says, it isn't available for everyone to download and test this weekend. It's still closed :(

I just tried again. I just wandered aimlessly around the seas for 2-3 hours. Once again a very empty and lifeless world. I didn't find any other ship. I thought I would see a lot of ships but this was really empty. And it doesn't look good for a game that's suppose to be a multiplayer only game. I just moved from outpost to outpost and visiting the odd island where I had to deal with few weak skeletons. What I did find a lot of is those shops on the outpost. A lot of random things to buy. This is very disappointing as for me it just looks like a game that was made to sell stuff. This was really boring for me. I don't think I'll try it again and just uninstall it.

Me and three friends played more than 15 hours last session and had a blast. This truely will be a great game!

Well, I guess this isn't for everyone then. I really can't myself playing this for 15 hours straight. I think I would fall asleep along the way. I guess this could be interesting if you have a bunch of friends who are all hyped for this and you actually meet other players or ships and there is an actual story. The only "life" I saw is NPC who didn't have a voice (whose dialogue I had to read) and who were moslty trying to sell me stuff.. Oh yeah and those skeletons. If games as a service is : "we'll put you in a big lifeless world, with no real goal, no real story, no splitscreen, no voice acting, awkward combat, overall average graphics but hey it's ok we have loads of shops where you can buy stuff", then no thanks I'm fine. This is really not for me... It's been a major disappointment. I feel like Ive wasted few hours...

I'm sorry that you didn't have a good time. I just downloaded the beta last night, and wandered in to a game with three others running around. They were nice, and patient with me. They showed me how to do stuff like make sense of the maps, collect items, fight sharks, access the mermaids/men. All this to say that I think the strength of this game is going to be spending time with real people. It wasn't designed for single player gameplay. It'll be interesting to see how this game does upon release. I was pretty impressed, and found myself dissapointed when I had to jump off and leave those guys and gal that I shared my first adventures with.

None of my friends were excited for this, so none signed up for the insider program. So initially I played the beta with strangers. And it was ok initially as you learn the game. But the novelty quickly wore off, as I found myself discussing random stuff with others as we moved from island to island. I thought the game itself was quite empty actually. Yesterday, I already knew how to play it so I just tried to play it alone and that's when I saw how empty and lifeless this game really is. You know, I wonder if the "fun" part is actually more hanging and goofing around with friends. There has been topics about big open world games where going from point A to point B takes actually way more time than the actual quests or missions. Here they filled that space with water. So there is a lot of time "doing nothing"... It could have been different if I actually saw other ships during that time but there were hardly any players... And if it's about spending time or hanging around with friends there are so many other games that does that. So many other games where there is a lot more things that can be done... I'm actually sad about how this turned out. I was hoping for so much more. I was hoping for an actual story, actual purpose. Or if it was a GTA online type of game, they would have a lot of things to do... I'm sorry but this looks like a huge lifeless open world game with a lot of generated side quests, with poor mechanisms, average graphics, little to no attention to details, which depends on the gamer's friends for it to be "fun" and is filled with shops.
Windows Central Newsletter
Thank you for signing up to Windows Central. You will receive a verification email shortly.
There was a problem. Please refresh the page and try again.