Anyone can now start Skype chats without making an account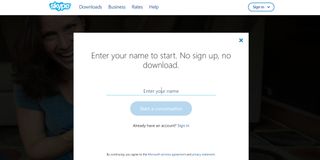 Using Skype for a quick chat or video call just got a whole lot easier. Microsoft has announced that anyone can now use Skype right away as a guest user without registering an account or even downloading the Skype application itself. The purpose of the move is to allow anyone to fire up a quick chat, even if one of the participants doesn't have time to sign up for an account.
From Microsoft (opens in new tab):
Getting started with a guest conversation is pretty easy, overall. You simply need to head to Skype.com (opens in new tab), click "Start a conversation" and then enter your name. From there, you'll be given a unique link that you can share with others to easily join your conversation. From there, you can chat over messaging, voice chat or video calls. You can even share files and show others what you're doing by screen-sharing.
If you'd like to try out guest conversations, you can head to the Skype on the web to give it a shot now. Also be sure to let us know what you think in the comments!
Dan Thorp-Lancaster is the former Editor-in-Chief of Windows Central. He began working with Windows Central, Android Central, and iMore as a news writer in 2014 and is obsessed with tech of all sorts. You can follow Dan on Twitter @DthorpL and Instagram @heyitsdtl.
Yeah, this sounds like a huge feature that will ultimatley increase the number of Skype users. I can't tell you how many applications I refuse to use just beause I don't want to sign up for an account. This will make it so that anyone can use Skype to communicate, without any entry barriers, which is quite beneficial.

So this version of Skype is basically an adaptation of the guest entry which is used in some websites for quick chat, that simply gives a random name such as 'Guest7289703' to the person who logs in at the moment...but with more Skype advantages!?

Seems also like Skype and Skype4Business are getting closer. I'd love to have full integration.

Interesting. I wonder if both people can be "guests" chatting to one another.

According to mspoweruser the other user can also be a guest. Interesting way to have conversations which just disappear - kind of like a burner phone :)

Great now this will lead to more prank or spam calls or messages

Why do you say that? The "guest" has to send a the skype generated link to the other party. It doesn't sound, from the description here, that the guest can directly call someone via their skype or email name.

Oh then it won't be a issue

If I have an account and start a group/conference call, is it possible to send an invitation link to an extra "guest" who doesn't have an account?

Microsooooooft! Smart move. They really seem to be trying to disrupt themselves in all their products.

@Tunde Fajimi"They really seem to be trying to disrupt themselves in all their products." is exactly what need to take place when trying to change a conservative and restrictive culture into a more progressive one which is not easy to do and yet this maybe just temporary.

Its like Omegle, but sender have to do some efforts towards their friends..

i want MSFT to fix the lag of skype having lately... its been laggy for months now... my friends get my messages very late and i get his messages very late there is kind of delay

Skype is a giant mess. Don't know where to start. Double contacts, endless adding of contacts: syncing doesn't delete contacts, can't delete conversations. I hate skype.

I have none of these issues on skype uwa. Sorry I used speak to text and I didn't see what I typed.

I don't doubt that you are having those issues, but I think there may be something damaged or corrupt in your particular account or with the client you are using. I use Skype with many people, including many outside of my company, and I've not heard of any of those issues from anyone else before. Their support is pretty good. I suggest reaching out and seeing if they can fix your problems.

I agree, especially after this: http://www.theverge.com/2016/11/8/13561024/microsoft-skype-baidu-linkedi... Secondly, I had to laugh when I read this. Who has to use a guest account when Microsoft automatically signs you into a Skype account by default with your MSA when using Outlook Mail? Doesn't matter whether you want one or not! Smdh!!!

Ok now, let's advertise this properly and you have a winner.

Just now i tried. It's asking my skype name, email or phone number. Why? I am from India.

Are these Guest chats/video calls monitored or logged and traceable by linking the temporary guest username to your ip address? Just curious.

Too late...WhatsApp video calll has arrived.

Very interesting, this should take off with proper messaging.
Windows Central Newsletter
Thank you for signing up to Windows Central. You will receive a verification email shortly.
There was a problem. Please refresh the page and try again.