ARCHOS 50 Cesium phone with Windows 10 Mobile due in November for £99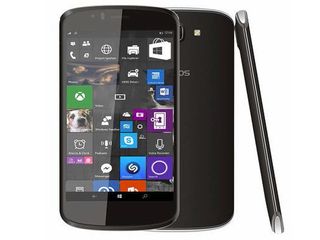 France-based ARCHOS has announced one of the first smartphones that will be released with Windows 10 Mobile installed. The 5-inch ARCHOS 50 Cesium phone is coming out sometime in November for £99.
The hardware specs on the ARCHOS 50 Cesium are, as expected, mostly on the low-end of the smartphone spectrum:
Display - 5-inch 1280x720
Processor - Qualcomm Snapdragon 210 quad-core CPU at 1GHz
RAM - 1GB
Internal storage - 8GB
Expandable storage - microSD card slot for up to 32GB
Rear camera - 8MP
Front camera - 2MP
Battery - 2100mAh
ARCHOS plans to show the phone as part of its IFA 2015 lineup next week in Berlin. Windows Central will be there with first-hand reports from the show floor.
Source: ARCHOS
Windows Central Newsletter
Get the best of Windows Central in in your inbox, every day!
It will appeal to some, but not me...

Looks like it won't appeal to your cat either... lol.

You know a cat?
A furry little thing with feisty eyes and dangerous claws? No? Okay.

Still, what ?! Where did his or any cat came from ?

The first posters avatar.

I guess people on the WC app, like me, won't get it.

Well, the wc app for ANDROID does support avatars... Posted via the Windows Central App for Android

Bummer! Now, we need this on WP... Jay, you hear me?

Why in the world would the Windows Central app for Android be more feature rich than the Windows Phone app? Is it really that much harder to code for WP?

Well.. WC app for WP haven't been updated for a while... Maybe a Windows 10 M version is on the way ;)

I believe because the androdi app is based off tapatalk while the windows phone appis a custom designed app.

Not bad specs for a low ender... Not bad at all.

the processor worries me though, everything is a great improvement from my 635, but the proccessor, if i am not mistaken is a step down? Is that qalccomm even lte capable? I am not sure

Yes I believe sd210 can get LTE. I think that's the only difference with sd200 Posted via Lumia 520 XL

Could have fixed the icon sizes so they're not all mumbo jumbo

Get the blu win hd lte, for same price, better processor Best phone, probably

The race to the bottom has started!

Fat lot of good it did before.....

The race has started wince last year. This is nothing new but I guess it is for Windows Phone

It's not bad, some people might like it.

Interesting to see how WinMo 10 as a final build runs on this.

It has gigantic top/bottom bezels. Could have add another half inch as the buttons are on-screen :)

This is quite normal in the industry. The space is actually used to house electronics, particularly micro-USB or whatever other charging connector is there.

I get this is a mobile phone fan site, what I don't get is why people aren't mature enough to understand not everyone needs or wants a high end phone. I mean, I sometimes read cars' magazines and I don't see people dishing city cars. Why our community is so detached from reality ?

Because most of the people who comment here are morons.

I just hate how they say the next Lamborghini is coming soon....!

Thank you for this comment. While I think the prototype is nice for the flagships coming this fall, I don't want one because I have no need for a highend phone. I'm fine with a nice looking phone that will meet my needs. Exactly, I don't really hear people in real life saying that it is a shame that you want to drive a Honda Accord over a BMW. Some people might because of the money that you make, but that isn't very common. Most people are just like oh a BMW is nice! but don't talk crap about a Honda Accord.

Sadly, I do belong to some car forums, and they do say a lot of that. it's a vocal minoraty though, just like most groups of turds.

Because most people want the best. They want the best house, car, vacation, watch etc. If you had a choice of a brand new BMW 3 Series or a Honda Accord, most people would go for the BMW because it's a better car. It's the same for phones, if you have the choice of a fast phone with lots of memory and a HD display, why would you choose the slow one with almost no memory? People want the best/fastest of everything, that doesn't make them bad people

Hey, if the gas companies were subsidizing my car purchase, I would be driving something different than I am. Of course I might only be able to put one brand of gas into my car, and maybe couldn't drive it everywhere at full speed, because of gas availability, but hey, I only paid $50 for my luxury car, and had to promise to only buy their gas for two years.

Why does W10 for mobile has unsymmetrical ugly icons? Even the background thing is ugly... Why can't MS unify looks of W10 and W10 for mobile

It's not icons, they're different sized tiles, you can size them as you want. Icons are very 10 years ago.

I mean to say the glyphs on tiles are unsymmetrical..few are big few are small..even though tile is square .. For eg the store icon appears to be a bigger than others

This sizing issue was corrected in a recent build. This screenshot was clearly taken with a build from June or prior.

I like this kind of icons

That's a screenshot from an older build

That's not the way it shows in the current version. This one is definitely not shown running the latest version. Wait until the official W10 Mobile ships, everything should be ironed out by then. fwiw the current version the store icon inside the box is not that big.

This phone looks incredibly ....generic.


One of the worst official renders for a phone I've ever seen :x

Im assuming it wont support LTE? If it does, then for less than £100 it's a bloody steal

its snapgragon 210 does support LTE but who knows if it will be in this budget phone

Specs are not bad,but mobile looks very ugly Posted via the Windows Central App for Android

Yeah, I'm not a fan of the phone's design at all but yay for another OEM embracing W10 Mobile.

W10 Mobile is then supposed to be ready by November? Or comes with beta?

W10M will be released before November.. Most probably on second week of october or before

Thats what they said about wp7,& 8 but most stores didnt stock till about November December

Looks like nexus 4 from the front. And the 720p display with snapdragon 200/210 needs to stop. Just staaaahhhhhppppp

The smartphone market is trying to get rid of all displays running resolutions lower than HD. The Snapdragon 210 is full capable of doing it, but it's performance can't compare to higher end processors...not a surprise.

Reminds me of the nexus 4, I like !

I honestly think "WE'" as windows users should ask for a level of performance that must be met.. No less than a 600 series snapdragon processer with nothing..I mean nothing less than 2GB of system memory, eveytime I see 1 GB and a 200 series cpu I cringe..I WANT POWER!..lol I bought a Lumia 640 XL and yes I can notice the difference of the 1GB to 2GB in smoothness. I just today bought a lumia 640 to test my theory on. I will be starting a new youtube channel and these 2 phone will be my first reviews. Just to say I am a android user "LG G3" which works wonderful. But I've also had..in the last 12 months Lumia 920..red,900 cyan broken but wanted to test it out,1020 yellow love that camera,830 which was run over by a VW bug..dont ask..I'm stll pissed but the driver was nice enough to compensate me for the loss. 1520 3 of them in total red,yellow,red.. So i know my way around a windows phone.

Wooww u have moneyyyy.. gift me a phone.. I cant find any lumia in lebanon (joke but if u want I wont mind) Posted via the Windows Central App for Android

Thanks for being a true technologist who isn't to biased to try other things!

Yeah I noticed with ea's wp8 game collection my ativ s 1 gb of ram wasnt going to cut it so I ended up importing an l929(wish I would've gone for a ativ se instead as it took denim to fix dropped calls when using lte but now I need clear los to use lte & internet sharing stopped working & I really dont use the camera)

If they used them specs they couldn't sale the phones for 99 dollars and when you are trying to gain maket share you have to get as many people not just a few to buy your phone so if the most people in this whole world don't have the money to buy a 800 dollar phone. Or even a two hundred dollar phone. So Microsoft has to cater to the biggest user base

Don't give me this, "don't ask" bit. You can't throw out, my 830 was run over by a VW, with the follow on that somehow it was the VW driver's fault, and say don't ask. So, why was your phone laying in the road? Where there caution signs up saying 'caution, phone in road'?. Come on, this is interesting.

Decent spec fir the price!

There are so many low end windows phones provided by nokia/microsoft that I wonder what motive does these other companies have to create even more low end phones. I personaly would not buy a low end windows phone from any other company than nokia/microsoft because not only they have made the best ones but also in the same price as this phone im my country you can buy the lumia 535. So there is absolutely no reason for me to buy a phone like this.

That's the philosophy that has driven manufacturers away from Windows Phone, and the reason Microsoft is actively slimming down their Windows Phone range.

Blu isnt all bad for the price

One ugly render, good price though. Could of updated render with likely UI

This reminds me of the nexus 4

I agree..they(Other manufacturers) would have to do something special ..

Instead of knocking the specs for an obviously low-to-midrange device, consider what ARCHOS is actually doing here: giving the user a choice. From the linked PDF: "'By providing a choice between two almost identical hardware models, we allow the customer to focus on what they like on the inside: the user interface. Android and Windows are both fantastic and provide varied software experiences,' says Loic Poirier, CEO of ARCHOS." If only other manufacturers would follow suit...

Not a bad looking phone. I just wish the low end started with the 410 instead of the 210. Would think the parts are cheap enough now. Still nice looking for a low end.

Why does WP only get low ends or recycled high ends from manufacturers ugh

Again....this company ripped me out of so much money with garbage product quality and even worse customer support, that I cant even begin. If you have to chose between and Archos product and setting your money on fire....get the fire going.

This seems serviceable. Also a reasonable price.

Oh cool, it comes with Project Spartan.

Yawn, another 5" phone. Who needs it?

Sad how this is a piece if crap compared to the soon to be released Diamond S they have coming to Android Posted via the Windows Central App for Android

Not a bad budget phone. I noticed that most 3rd party Windows Phones with 5 inch screens have a small interface like they're running at the resolution of a 1520.

When are they going to release their pc stick

We don't expect insane Octa core MediaTek SoCs but at least start Windows 10 Mobile from SD 410 or 415 SoC!

I just looked at the PDF it said Windows 110 for the OS Lol Posted via the Windows Central App for Android

It looks like there are 4 rows of tiles, I thought only full hd phones had 4...

4 rows is the normal amount. 6 is the higher tile density, but even my 635 supports that in Win 10.

It's not really that bad looking just sorta retro in appearance. It would be nice for the lower end standard to provide enough internal storage for a full 8gb available to the user.

Companies like LG can gain good market share with windows 10 mobile. LG produces good hardware not equivalent as a Lumia Imo its good for consumers who have option.

M i the only one who thinks the windows 10mobile icon pack looks like straight from trash can

I like the fact that every writer at windowscentral is now deleting my comments from all posts. This shows the respect and power of truth. Truth wins,,.

No 805+, no continuum, no interest...
Windows Central Newsletter
Thank you for signing up to Windows Central. You will receive a verification email shortly.
There was a problem. Please refresh the page and try again.