Argos is offering the Lumia 535 for £89 in the UK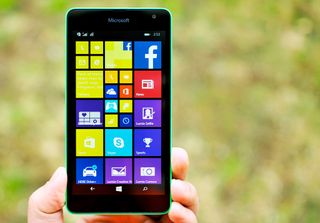 Looking to buy a Lumia 535 in the UK? Argos has the SIM-free variant of the handset on sale for just £89 ($135), which is less than the £97 ($146) price Amazon UK (opens in new tab) is quoting for the device.
Not sure as to which budget Lumia to choose from? Check out our comparison thread to find out which device among the Lumia 530, Lumia 532 and Lumia 535 suits your needs.
If you've already settled on the Lumia 535, be sure to see what we think of the first Lumia that bears Microsoft's branding:
Source: Argos (opens in new tab)
Thanks for the tip Hassan!
Windows Central Newsletter
Get the best of Windows Central in in your inbox, every day!
Harish Jonnalagadda is a Senior Editor overseeing Asia for Android Central, Windows Central's sister site. When not reviewing phones, he's testing PC hardware, including video cards, motherboards, gaming accessories, and keyboards.
Got mine from there the other day. No touchscreen problems, bug fix was already pre-installed, UI stuttered a bit but switching off the screen magnifier fixed it. Such a nice phone for the price especially in comparison to the 530, which they really need to discontinue.

Yeah, agree re 530. The 532 will supersede 530. Same size & shape (best thing about it), but has 1gb RAM and FFC.

Hopefully the 532 will have a better quality screen, something similar to the 520 perhaps. I found the 530 screen painful to look at.

530 screen is horrific. 520's was great.

Still looking for a place to buy replacement shells for that phone. but I guess it will be cheaper to buy a new phone anyways :)

Bargain. Very tempting price. Unusual for Argos!

I know right! They are normally very expensive when it comes to sim free phones. They had at least 10 units of stock in each colour in my local store too. The orange one is named 'Nokia Cheetah' though for some reason...

Very tempting indeed. May pick one up. Trying to resist lol

I just got the 735 from Carphone Warehouse for £129 and got a fitbit band free from Microsoft (after seeing the post on this site). I think this is a better deal than the 535. Posted via the Windows Central App for Android

no 4g kills it for me. I nearly reserved one!

Really? HSPA isn't fast enough for you? Do you use your phone as your only internet connection or what do you need LTE speeds for?

It is one of those guys who want everything that is available in a low budget phone. like asking in a dacia logan for self adjusting side mirrors when you put it into reverse

Good news!! (insert Top Gear James May meme) The new Dacia will now have self adjusting side mirrors when you put in reverse!

Yes. Agreed! How come some people see the phone specs and say "AARGH! No LTE!" when it is a low budget phone? LTE costs money. 3G is cheap. I remember the 3G market in the year 2004 (384 kbit/s) when the phones were expensive and hard to find. In Sweden I think only Three sold them and Nokia had nothing to show, I believe.
And then, the prices ... hundreds of British £ pounds (expressing it in pounds currency for your convenience). Sure, LTE is cirka 6 years old, but it sure is not cheap enough to fit the sub-100 pounds phone category. There cannot be any profit left there if you were to implement it.

Amazon are listing it as 4G capable and so does www.phonearena.com

They have the wrong info. No version of the 535 is 4G capable.

While you are technically correct, there are (have been?) operators that class HSPA as 4G. TBH, I don't understand the issue, when I'm out of LTE coverage I get H+ and that's more than fast enough for everything I do anyway.

I tried 4G LTE for a while but with speeds of 20Mbits on 3G I really haven't had any use for it. It's plenty fast for everything you might want to do on your phone and also for when you need to share your network with a PC

Yes, but they are liars. It only confuses novice users and make them believe 4G is pointless.
I myself use a carrier without LTE supported in my region. It sucks, really does. My subscription is sort of a good deal right now, and my carrier is the best choice right now, so .. just have to deal with the situation until I find a better solution. LTE is available from all the other carriers, though. I just do not think they can deliver the same performance in phone call voice quality and overall call stability twenty-four seven, 365.

Is that network unlocked, too?

Is that single SIM, or are all 535s dual SIM phones?

Single SIM. The dual-SIM version won't be sold in the UK officially (unless imported).

thank you, useful to know.

Dang. Nice catch, completely missed this. Guess I'll order from Amazon.fr instead. WTH are they releasing two different versions for, and why is the single-sim version more expensive than the dual-sim model?!

get the dual sim version from amazon.fr without long delays

I would only recommend this if you can live without the manufacturer warranty. The UK repair centre will not repair a non-UK version of the phone under warranty.

well.. you can always send it to france, right? We are also talking about a 100Euro phone here:) .. would probably just get a new one :)

So low you can just buy a new one, indeed. I, too, would adore simultaneous, dual-SIM, two different carriers. Some would like same carrier - one for work, one private. Wish they were officially selling all over Europe. Never mind: found a Lumia 630 online in Sweden just now. Sounds cool, but not ideal. Would have been thrilled about it, had it been possible on my 1020. But there never existed a 1020 dual SIM, unfortunately.

Really, if you're after a dual-sim phone, and can live with the "basic" features of the 535 - order it from amazon.fr, they even have some for less than a hundred euro now (as new, usually means tatty packaging - but if there's anything wrong with it you still have your 30-day return windows, where they pay shipping, just like shopping at Elgiganten, just cheaper :p).

I'm pretty sure they would be breaking EU law if they tried to pull that trick!

While that may be true, depending on the service centre, it's not what's stated in the warranty terms and conditions by Nokia/Microsoft nor is it in accordance with EU regulations. Not to mention, Amazon... Nuff said :)

Is this phone available in UK via stores?

You mean retail stores? If so then yes, Argos are currently stocking it in store.

I was thinking of getting the 735 for a friend as she has a crappy android phone at the moment (can't remember the model), and loves taking selfies. The 535 is a bit closer to my budget though, especially with this Argos deal!

I just got the 735 on pay as you go upgrade from carphone warehouse for £129 and got a free fitbit band from Microsoft worth £79 with it. Love everything about this phone so far as I was upgrading from a 630 and wanted a camera with a flash and 1gb ram to run Nokia beamer. Best value phone I have ever bought. Posted via the Windows Central App for Android

A beautiful yellow themed start screen ruined by stupid Nokia apps... For shame.

This phone must be awful. I have a 1520 and its the worst phone I've ever had.
Back to android for me

Goodbye. FWIW, the 1520 is, by far, the best phone I've ever had - even with the F@#!ing oversensitive touch screen issue.

I'm really really confused with my Lumia 535. Even after the update it's touchscreen is close to unusable. Microsoft should clearly announce that it's a hardware fault and you need to get it repaired

Try to reset it, there were people for whom this worked.

My friend also had this problem..he did reset it...and it is better now...you can try that...or use Nokia software recovery tool to download and install the latest version..

Anything which needs single touch is somewhat bearable but beyond that multi touch is still fucked up even sometimes ghost touch shows up

Did you try software recovery ???

A reset is probably not going to help any (other than thru the placebo effect). People have claimed soft and hard -resetting as well as OS and firmware updating their 1520's helped for a while but there is actually evidence this is a hardware issue so... It also happened on early 930's IIRC.

I've never understood why Argos sell a great range of Windows Phones but still can't be bothered to make an Argos app for the platform? They're creating market share but wasting an opportunity to capitalise on all those new users Posted via the Windows Central App for Android

At kikatek.com is 88£ the single sim version but only on black. Got mine from there, has no touchscreen problems. At this price it's a nice phone, what I like the most is the big screen even though the resolution is not that good at least is 5 inches. :)
Windows Central Newsletter
Thank you for signing up to Windows Central. You will receive a verification email shortly.
There was a problem. Please refresh the page and try again.