ARM unveils Cortex A72 processor architecture, coming in 2016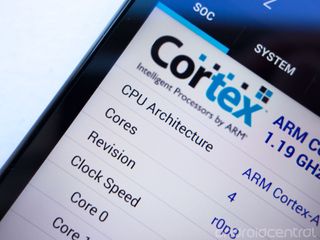 ARM, the company responsible for practically every mobile processor base design out there, just took the wraps off of a new chip design today. Called the ARM Cortex A72, the new reference chip is claimed to sport twice the performance of its Cortex A57 chip, as well as 3.5 times the performance of 2014's Cortex A15. Additionally, ARM says the new design also reduces energy consumption by 75 percent over last year's devices.
Alongside the A72 announcement, ARM also ushered in a new version of its Mali GPU architecture, the Mali T880, which it says will offer 1.8 times the graphics performance of today's Mali T760, offering up console-quality graphics on your mobile device. Furthermore, ARM says that the improvements in the GPU and CPU architecture will provide support for 4K video playback and recording at a crazy 120 frames-per-second.
Of course, all of this supports ARM's big.LITTLE tech that saves on energy consumption while maximizing performance.
If you're excited at the possibilities of this new architecture, you might want to temper that a bit. As of the announcement, ARM says that licensees include the likes of HiSilicon, MediaTek, and Rockchip, but it doesn't expect to actually start shipping hardware until 2016. It looks like we have quite the wait until chipmakers can stuff processors in based on this design into your Windows Phone.
Source: ARM
Cambridge, UK, Feb. 3, 2015
ARM today announced a suite of IP that will enable a new standard for premium experiences on 2016 mobile devices. At the heart of this suite is the ARM Cortex-A72 processor, which is the highest performing CPU technology available for developing mobile SoCs today. In target configurations, the Cortex-A72 processor will deliver CPU performance that is 50X greater than the leading smartphones from just five years ago. The ARM premium mobile experience IP suite also offers a significant graphics upgrade generating a stunning visual experience for users at up to 4K120fps resolution. Devices with this new industry-leading technology suite are expected to enter the market in 2016.
The ARM premium mobile experience IP suite offers the most compelling mobile technology available today. Alongside the Cortex-A72 processor is the new CoreLink CCI-500 interconnect and the new Mali-T880 GPU, ARM's highest performing and most energy-efficient mobile GPU, along with Mali-V550 video and Mali-DP550 display processors. To further ease chip implementation, the suite also includes ARM POP IP for the leading-edge TSMC 16nm FinFET+ process.
"Our new premium mobile experience IP suite with the Cortex-A72 processor delivers a decisive step forward from the compelling user experiences provided by this year's Cortex-A57 based devices," said Pete Hutton, executive vice president and president, products groups, ARM. "For multiple generations, together with our partners, we have delivered the leading-edge of the premium mobile experience. Building on this, in 2016 the ARM ecosystem will deliver even slimmer, lighter, more immersive mobile devices that serve as your primary and only compute platform."
The 2016 Premium Mobile Experience
The premium mobile experience IP suite addresses the ever-increasing demands of end-users for their primary, always-connected mobile devices capable of creating, enhancing and consuming any content. For 2016 devices, ARM and its partners will boost the mobile experience associated with use cases such as:
Immersive and sophisticated image and video capture, including 4K120fps video content
Console-class gaming performance and graphics
Productivity suites requiring fluid handling of documents and office applications
Natural language user interfaces capable of running natively on a smartphone.
Introducing Cortex-A72, the Highest Performance ARM Cortex Processor
More than ten partners, including HiSilicon, MediaTek and Rockchip, have already licensed the Cortex-A72 processor, which is based on the ARMv8-A architecture that delivers energy-efficient 64-bit processing while providing full backward compatibility to existing 32-bit software. The Cortex-A72 processor will deliver substantial new benefits:
Sustained operation within the constrained mobile power envelope at frequencies of 2.5 GHz in a 16nm FinFET process and scalable to higher frequencies for deployment in larger form factor devices
3.5X the performance of 2014 devices based on the Cortex-A15 processor
Improved energy efficiency that delivers a 75 percent reduction in energy consumption when matching performance of 2014 devices
Extended performance and efficiency when the Cortex-A72 CPU is combined with a Cortex-A53 CPU in ARM big.LITTLE™ processor configurations.
CoreLink CCI-500, Extending Efficiency Across the SoC
The CoreLink CCI-500 Cache Coherent Interconnect enables big.LITTLE processing and delivers system power savings thanks to an integrated snoop filter. CoreLink CCI-500 delivers double the peak memory system bandwidth and offers a 30 percent increase in processor memory performance compared to the previous generation CoreLink CCI-400. This enables more responsive user interfaces and accelerates memory intensive workloads such as productivity applications, video editing and multi-tasking. CoreLink CCI-500 fully supports ARM TrustZone® technology for a secure media path enabling protection of multimedia content when used with the Mali product family.
Mali-T880, A Ground-Breaking Mobile Graphics and Visual Experience
The new Mali-T880 GPU delivers 1.8X the graphics performance of today's Mali-T760 based devices and a 40 percent reduction in energy consumption across identical workloads. The Mali-T880 enables high-end, complex use cases to be enjoyed on power-constrained mobile and consumer platforms with its advances in energy efficiency, additional arithmetic capabilities and scalability. For mobile gamers, the result is a more advanced gaming and console-like experience. Native support for 10-bit YUV provides stunning fidelity for premium 4K content, complementing the Mali-V550 video processor and Mali-DP550 display processors.
Energy-efficiency continues to be the guiding design principle across the spectrum of the Mali product family, including a diverse set of proven, system-wide bandwidth reduction technologies. In premium device configurations, the Mali-V550 video processor fully supports HEVC decode and encode on a single core. In addition, it offers scalability up to 4K120fps with its full eight cores. The Mali-DP550 display processor offers enhanced capabilities for offloading tasks such as composition, scaling, rotation and image post-processing from the GPU to maximize battery life.
Improved Time-to-Market with FinFET Technology
The new POP IP for advanced TSMC 16nm FinFET+ enables any silicon vendor to migrate from 32/28nm process nodes with predictable performance, power results and time-to-market. ARM POP IP will enable Cortex-A72 processors to sustain 2.5 GHz in smartphones and scale to higher frequencies for larger form-factor devices in typical conditions. POP IP also supports implementations of the Mali-T880 for TSMC 16nm FinFET+.
Advancing Mobile Ecosystem Innovation with ARMv8-A Leadership
The mobile ecosystem is already taking advantage of the benefits of ARMv8-A with the move to Google Android™ 5.0 Lollipop. The new IP suite builds on this, enabling partners to deliver even more performance in the slimmest of form factors without compromising battery life. Over the course of 2015 and 2016, ARM expects significant adoption of Google Android 5.0 Lollipop in the premium mobile device market, further unleashing the capabilities of 64-bit ARMv8-A based CPUs. This opens the door for more application developers to take advantage of the doubling of SIMD multimedia (ARM NEON™ technology) and floating point performance, crypto instructions to protect consumers data and 4GB or higher memory support; delivering the next-generation premium mobile experience.
Get the Windows Central Newsletter
All the latest news, reviews, and guides for Windows and Xbox diehards.
Dan Thorp-Lancaster is the former Editor-in-Chief of Windows Central. He began working with Windows Central, Android Central, and iMore as a news writer in 2014 and is obsessed with tech of all sorts. You can follow Dan on Twitter @DthorpL and Instagram @heyitsdtl.