Explore the world of photography near you with AroundMe for Windows Phone 8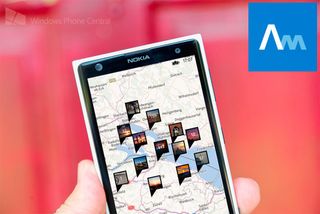 Location data that's embedded in the EXIF data of photos can be incredibly useful. Apps like Nokia's StoryTeller make a strong case for giving your photos permission to know where they were at during the moment the photons hit the sensor. AroundMe is a new app for Windows Phone that also gives you an exciting look at how photos become better with location data. Let's check it out.
AroundMe is a new app that lets you see what pictures have been taken around you. With the app you can also navigate around the world and explore photos for a given location. Here are the main features you're getting with AroundMe:
Discover pictures from around you or from anywhere in the world
4 image-sources: Flickr, 500px, Instagram and Panoramio
Beautiful Live-Tile cycling through pictures around you
Possibility to set picture as lockscreen background
AroundMe pulls in photos from Flickr, 500px, Instagram, and Panoramio. Arguably the largest networks build around photography on the web at the moment. The app can either show photos that are around your current location or you can go into the settings to select a specific spot on planet Earth to see photos from. In the settings you can control the search radius and which networks you want to get results in from. There's also an option to only have the Live tile update on Wi-Fi and not use up your cellular data.
Tapping a photo gives you access to either enlarge it, set it as your lock screen, view in Internet Explorer or navigate to it using a navigation app like HERE Drive or Waze. You can also tap the icon with the four squares to view all the images in a grid versus on the map.
Why AroundMe? This app has so many potential use cases. From scouting out a location for a picnic or photo shoot to curing boredom, AroundMe is a solid app.
Want to get AroundMe? It's a free app for Windows Phone 8 devices that is ad-supported. For just $1.49 you can remove the ads with an in-app purchase. Try it out today in the Windows Phone Store or by using the QR code below!
This looks like a cool app.

Everyone should download it we all can make it great

How on earth do you guys get any decent battery with such apps using your gps location all the time? I have Bing Weather and that drives me crazy by the number of times it pulls my location and drains battery!

? This doesn't run in the background, It pulls GPS only when you open the app. Furthermore, apps can pull GPS info from the device using the Orion service, meaning the GPS data is pulled and stored for other apps to access instead of refreshing every time e.g. cold start.

Thanks for that, think need to Bing it further to understand this whole gps thing. Currently I keep my location off all the time

Here's an old, somewhat outdated GPS vs aGPS tutorial. Things are even better today with Wi-Fi,aGPS, Snapdragon SoC, more towers, etc. And here's an article on Orion (Microsoft).

Thanks a bunch, great starting point! Enjoyed the read. #FeelingEducated

So if I'm close to the bunny ranch...

Bingo. Set Hugh's house as your location and you'll see a ton of Instagram pics from Playboy models or those invited to party at the mansion. Which also brings up a good point.. when sharing photos make sure you're away of any privacy settings / your location / etc.

I miss that random picture puller app, can't think of the name, but that got heat for unfiltered results. Is this the same except location and not service wide random, so unfiltered?

Can't wait to see everyone's food around me.

This app may increase criminal cases.

This App is an extension from a online tutorial on Channel9 (http://channel9.msdn.com/Series/Windows-Phone-8-Development-for-Absolute...). I've done it myself, even though this is more developed with additionell sources etc. So, either buy it och develop it yourself. :)

sounds weird but I wasn't aware of that Channel9 tutorial until a friend told me of it after I nearly finished the app and already decided the name to be "AroundMe" :)

the developer should change the app name "AroundMe" is also another app i use to find ATMs, bars, clubs etc closeby.
Windows Central Newsletter
Thank you for signing up to Windows Central. You will receive a verification email shortly.
There was a problem. Please refresh the page and try again.