Ask Ziggy makes the move to Windows Phone 8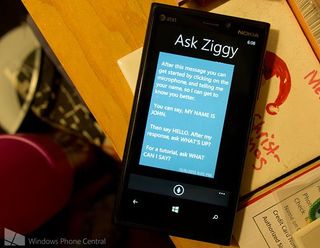 The popular Siri (opens in new tab)-like app Ask Ziggy has been updated to version 2.8.1 and is now compatible with Windows Phone 8. Along with Windows Phone 8 compatibility, the update gives Ask Ziggy a new icon, a few bug fixes, a new speech to text provider. Additionally, the list of languages available for translation has been reduced to the most popular languages.
For those not familiar with Ask Ziggy, it's a speech powered interface to activate many of your Windows Phone applications. From calling a contact to finding out what the weather forecast is to checking your calendar, Ask Ziggy gives your Windows Phone more of a hands free feel. It can tap into your Windows Phone calculator to solve math problems and search the web for answers to questions like, "Who is Bob Hope?".
Ask Ziggy is a free app for your Windows Phone and you can snatch it up here at the Windows Phone Store.
Thanks, Pranaya, for the tip!
George is the Reviews Editor at Windows Central, concentrating on Windows 10 PC and Mobile apps. He's been a supporter of the platform since the days of Windows CE and uses his current Windows 10 Mobile phone daily to keep up with life and enjoy a game during down time.
Its about time I missed this app...

The app still has problems.. When tapping the mike and asking it a question, it takes long for a response. In order to get a response fast, you have to tap the mix, ask a question and then tap the mix again to get the response. I'm on T-Mo. HTC 8X...

Not available in the Canadian store yet by the looks of it.

Does it integrate with the stock voice recognition like other apps do?

http://upload.wikimedia.org/wikipedia/en/6/64/Ziggy-cartoon.jpg

Ask Ziggg is awesome. I use to set up reminders which also integrates to my Windows Calendar!! Hope to get WP8 features

I asked "are there any places around to eat" ziggy recites the lyrics to "they don't know" by Jon b. I uninstalled the app, but after it finished.

I'm sorry but one of the worst apps ever.

I keep getting "I'm sorry but I am having technical difficulties. Please try again. " i uninstalled till later.

That is all it does for me as well.

This app sucks uninstalled

I really wanted this to be a good ap, but I also only got the technical issues response. Uninstalled it and gave it a bad rating. Hopefully they will get it fixed for the L920

Can't get it to work... Says technical problems. Not unlike siri in this way. ;-)

I think Ziggy would be better if it took advantage of WP8's native speech engine and just added commands to the database.

Ziggy never worked for me, never got a right answer or response, it doesn't even understand 90% of the sentences I say.

My htc 8x has this built in if you hold down the start button


This is SUPPOSED to be more intuitive, but it sucks.

so much hate in these comments.
its not working for me right now.
i'm guessing the developers would appreciate specific things that aren't working as well as you expected them to instead of "it sucks"

I understand your point of view but since launch even with all the updates it hasn't worked correctly.

There isn't a whole lot to add unfortunately. For me, I get an error no matter what I say. Can't even get passed startup. Others, it seems are getting the wrong info kicked back to them.

Disappointing. Does not work on my 920.

Hi, we're working on getting it fixed as soon as possible. Give it another try. Contact us at support(at)ask-ziggy.com if you continue having technical issues.

It's having hard time processing my name. WTH

Also can't get beyond the introduction. 'Sorry having technical difficulties'.. Standing by.

Yup, that's where I'm stuck.

Ziggy worked quite well on my WP7 device. Now on WP8, I am also getting the "technical problem" message. I will give the developer a chance of a couple of days to fix it before I say it sucks....


Edit: After updating my WP7 device, Ziggy refuses to work because of a "technical problem" :-(

Keeps interpreting my commands wrongly, despite my effort to speak like a robot. Uninstalled shortly after installation.

I'm also getting the "technical issues" message on my Lumia 920

Just did the update and now it's not working, it says "sorry I having technical issues can you try again" I guess they still have a few bugs to work out....
Verizon HTC trophy 7.5

Hi pmhgeneral, we're working on getting it fixed as soon as possible. Give it another try. Contact us at support(at)ask-ziggy.com if you continue having technical issues.

Still having problems I uninstalled and reinstalled still no good. Now no voice at all it just says processing answers. Please fix this.

Yep - no worky on Nokia 920 - "Sorry i'm having technical difficulties". Boooo!

Hi, we're working on getting it fixed as soon as possible. Give it another try. Contact us at support(at)ask-ziggy.com if you continue having technical issues.

I ask "I need a coffee" just like in the "What can I say" section, and it replied to me and told me a story about a kid who died close to a coffee shop!!!! WTF!!!!!!!!!!!!!!!!!!!!!

It never worked for me kept saying having technical difficulties

Hi, we're working on getting it fixed as soon as possible. Give it another try. Contact us at support(at)ask-ziggy.com if you continue having technical issues.

It is working now for both WP7 and WP8 users. There were issues with traffic, that have been resolved. We apologize for the inconvenience and thank you for your patience.

still having technical issues at this writing

Still issue. "Server error"

I installed ask ziggy on my lumia920 when it was released to Wp8, had the technical issue message and uninstalled, I reinstalled today and it is working well, recognizing the majority of my commands but it does lag when listening and processing...i wish that worked a little faster. Also, I had to hunt down where to give suggestions about the app; it would be great if there was a feedback section in askziggy app to help the hardworking devs with ideas or problems encountered. I asked ziggy to find barbershops near me and it pulls up a limited list of barber shops via yelp so I downloaded an around me app which uses Bing and It pulled up 5 times as many listings. In the future it would be nice to see an ability to add which providers you want to use to find places, set reminders, calendars, tasks etc....

App not working today.....major lag not even a technical issue error message given.
Windows Central Newsletter
Get the best of Windows Central in in your inbox, every day!
Thank you for signing up to Windows Central. You will receive a verification email shortly.
There was a problem. Please refresh the page and try again.