Asphalt Overdrive brings 80s racing to Windows Phone and Windows 8.1, now available for free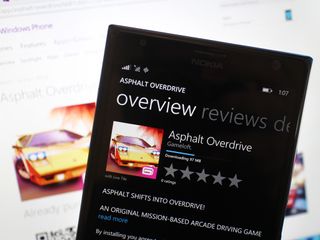 Asphalt Overdrive is now live in the Windows Phone Store. Overdrive is the latest installment in the Asphalt mobile racing series. This new racing game from Gameloft is available for free, but does include in-app purchases.
Here's what you can look forward to in Asphalt Overdrive:
Drive high performance, fully-licensed cars across California's scenic highways in the 80's:
4 Daytime and 2 Night Time Southern California Environments
Retro 80's Graphics
80's inspired soundtrack
A Mission based progression with different challenges /sub-missions and various gameplays:
Getaway
Stunt Run
Destruction
Restriction Run
Daily Test Drive
Boss fights: Challenge the Turf boss to unlock the next area and re-match him to get his car
Accessible Game control:
Swipe left or right to change lanes and take down cars
Swipe up or on the sides to perform stunts
30 prestigious fully Licensed cars
Challenge the world:
Leagues: Compete against each other and get promoted to higher Leagues
Gangs: Connect with other players, Get rewards and Access to Exclusive cooperative events
Grab the game and let us know what you think! And yes, it does support 512 MB devices. Enjoy! Note: We'll add the Windows 8.1 link once it goes live soon.
Windows Central Newsletter
Get the best of Windows Central in in your inbox, every day!
Downloading on my L520
Flipboard should learn from them

So true. Man only 97mb! Yay! :) my 520 is happy!

It has in game additional download and..... needs to be online to play....sigh......

The car in The game flips better than Flipboard

You sir, are a perfect candidate for the greatest social movement in mobile gaming history: #SaveXboxWP. Details here.

Exactly what I was thinking(is this using dx9)

It's not only 97MB it keeps downloading data as the game progresses! :(

Tru dat. Even I thot a 97 Mb runner game shud run butter smooth on my Lumia 625.. But I was wrong. It crashes and lags alot. Even more than the asphalt 8 I've experienced. Played the game for a while, Guess the Game has many glitches.. Need a fix.

Ahw no cheevs, had high hopes from Gameloft but seems Ubisoft has taken their place

But why the fuck it is only 97mb??

Because Gameloft developers have large penises. They don't need big cars.

Haha,, but I too have a large penis that even not sufficiently fit on their cars comfortably :P

Any girls on this forum..please note....sachinpandey has a large penis!!!!

Haha,,, :D contact me if u r a cute girl.

U seem to be desperate. Announcement not working it seems. LOL.

Because it's not a real racing game. It's only another lame endless runner. :(

No Xbox - no buy.
Ubisoft ftw!

Nothing is free: seconds and megabytes are very real costs.

No, he's not disgraceful. Disgraceful is the person who judges other people for their preferences. No Xbox, No Download from me either. #SaveXboxWP (join the cause).

Gameloft is also owned by Ubisoft.

Gameloft is not owned by Ubisoft. The CEOs are brothers...

Ubisoft is the parent company of Gameloft which makes it a subsidiary. Companies do not rely on who the CEO or founders are. When they quit, Gameloft will still be owned by Ubisoft regardless of who's running both of them.

Must have missed that detail. I've worked both at Gameloft and at Ubisoft and I can tell you they are extremely different, even down to the choice of corporate IM software.

Got bore with asphalt series

Cool, I love the 80's (though I was born in the 90's)

What do you love about the 80's?

Mostly the music, but I also like the style, the colors... :)

No Xbox support. Posted via Windows Phone Central App

So Xbox games are awesome.

+Free for all +just 97MB app +512MB RAM devices suported -Xbox Live A can't see any issue....wait a minute: freemium app??

These forum has a lot of unlogical complain lol

in my country we say: ES: "siempre debes encontrarle el frijol al arroz" EN (literal): "you always find the bean into the rice" Which means that people always find something to complain about.

"Si lanzas una piedra a cada perro que te ladre o un obstáculo, nunca llegaras a tu destino"
-Benjamin Franklin.

"Si haces el paso de la muerte, ya no se te vuelve a parar" Adolecente granoso.

Can't find it in the Windows store. Gotta wait i guess.

Just go to the more section and hit download app. It will take you to the app in the store.

Are you sure he is using wpcentral app?

Won't load. Connection timeout.

Same here. Connection timed out.... Uninstalled....

Downloading.... Can't wait to check it out

"Request timed out" everytime I try and launch it. Irrelevant of whether over mobile data or WiFi.

Anyone else getting the error that connection timed out

Same here, request timed out...

WE'VE TANKED THEIR SERVERS! BEHOLD THE POWER OF WINDOWS PHONE! WE ARE NUMEROUS ENOUGH TO CAUSE DDOS! Sigh. Connection timeout. +920.

Oh, and Sam? The tag link ("Asphalt Overdrive is now live in...") at the beginning of the article takes me over to the tag... on Android Central. I mean, it looks like you wrote the same piece about being live in the Google Play store, too, but c'mon, trolling the WPCentral readers? ;)

Same error, Lumia 1020, Russia

Damn it Gameloft I wont download any game from you since you dropped Xbox Support

This marks 18 straight Gameloft games without Xbox support. Tell them directly how you feel about that. Details here.

FCUk you gameloft,,, are you kidding with the name of asphalt?????? Asphalt 8 iz far much betta thn this.

Yeah, the Asphalt series used to be fun, now they turned it into a cheap endless runner. It costs a lot less to create, and they're going to make as much money if not more than with the other ones. The problem with these lame games is that people still download them, so developers don't see the need to create a good game. They can just make a cheap easy game that's been done hundreds of times already and just apply their 3d models over it and make thousands of dollars. I personally am sick of it so I'm definitely not going to help them in any way by downloading it.

Come on..game aren't easy to make(even though you are a giant game development company). They might have worked a bit less on this asphalt game but planning and designing them are fairly painful. By the way, I loved those 80' theme.

Take example of Activision where Call of duty was a pretty awesome series and then suddenly Ghost arrived to destroy the reputation :/

Watch your language please.

Try this to get around timed out error switch off WiFi and cellular load game when you see errror message switch on WiFi game should download some more and should work.

Retro "80's graphics"???
lmao.. graphics in the 80's looked nothing like this!!! And I loved the 80's as well... miss them dearly! (was born in the 60's)

Please say it has a delorean!

I think it will be near 1gb but 97mb only

Some data will be downloaded in game, another 50 mb i think.

I just played it and to be honest it sucks I didn't even like it u wanna select a new car just swipe and it will download the car and its information for you it does the same thing for each and every car and every mode u wanna play u have to wait for it to download additional content WTH?? The additional content is like 30-40 mb although this is much different from airborne I still love the airborne this game sucks by the way I'm using 1520

Yeah, theit additional downloading of content really sucks.Gameloft games are huge in size, but I think additional game files helps in availability for 512 ram phones

The game is hot as hell is definitely good

Downloaded fine, but tbh you guys aren't missing much. It's not a traditional endless runner that rewards skill and fast swiping. It's a Gameloft Runner where the game arbitrarily decides your car isn't fast enough and you're gonna keep getting busted until you buy a faster car, ideally through IAPs. Oh, and you need 'fuel' to play the game, even in single player, and if you run out, guess what? IAP time! :D

Are the IAPs as ridiculous as those in Six Guns? :/

Not working error request time out

Keep retrying... I had the same issue..!!

Will it work after retrying ?

I think I'll pass on this one.

So laggy on my lumia 520 :/

No lag on my 520 .-. Try turning the sounds off!! :3

Absolute no lag on my L520. Sounds inclusive!!!

I've been getting "Request timed out" messages from 3 Gameloft. Games I have, namely: Despicable Me: Minion Rush, World at Arms & finally this Asphalt Overdrive game.. Anybody has a solution for all this? :/

Yay another pay-to-win, just like Asphalt 8..

8 is not pay-to-win, its pay-to-complete the game FASTER

This has nothing to do with the Asphalt 8 and it's kind of a pay to play game..

Goddammit. It downloads stuff every few races. So that's how they cramped the install to 97mb. It hurts the gameplay really.

Hmmm, don't think this is a keeper!

so quitee 3d heavy game works fine on 512mb but Flipkart needs 1 gig ? im relly confused

Flipkart does not need 1 gig. Please try the app before commenting. Stop trolling, start downloading.

I think he meant "Flipboard" :P

He meant Flipboard! Not flipkart! Lmao

No XBOX no download, even on iOS has GAME CENTER! All devs hate us or something, we deserve the same support like others plataforms

I concur! Tell them directly via #SaveXboxWP, details here.

It's a good weekend for Windows phone users.

wow, every car, every board download , download download, that's why its so small of a file, lol and need fuel to play, wow

Those who has connection timed out, uninstall and install again, otherwise played this game, nothing special everything very simple

Cool! Downloading for Windows 8.1

Anyone else having a crash problem. After the first race the game crashes and when I open it it crashes when its close to finish loading on the load screen

I didn't like it much.... Asphalt 7 & 8 are addictive... P.S.: Matter of personal choice

It sucks pretty bad, don't download. It's a lame runner-style game and there are a ton of additional downloads required throughout the game and just like with most of their other titles, it requires "fuel" to play and it you run out, you must wait for it to refill or pay to play.

Yeah I am having a crash problem I opened the game for three times and it crashes when the race ends

Got through the instructional run and now the game is either frozen or loading the next run r e a l l y s l o w.

Downloaded eagerly and was disappointed. :/ The game is a nightmare with worst graphics compared to other asphalt games with data downloading for every car and race with unsinspired gaming modes solely concentrating on IAPs. Uninstalled..!! #Lumis620

The game lags like hell on my 1020...!
Anybody facing the same issues?

Yeah, on my 1020, too. Uninstalled after 7 minutes...

Same on my 920. On the plusside it makes your phone feel slick like new when you return to the Start Screen! :P

could have been million times better if it did not have additional downloads after every freaking race once you start playing the game :(

Gameloft, no Xbox-Live...no thanks. *returnstoUbisoft'sgames*

I had to uninstall it within 10 mins after trying all possible modes and tricks. No Joy at all.

where is the version for windows 8.1?

If it truly was 80s style it'd have wireframe models omg not realistic enough

Oh damnnn don't even bother with this 512mb users lol lags like hell on 520 and too many additional content you'll end up going to over a gig for every 30-40mb for each level or browsing through the cars lol useless.

Buy a better Phone and stop complaining

I agree. I was 512MB user too, but then I took an arrow in the knee. lol jk. now I've upgraded to 1520. worth the upgrade. awesome phone!

Still lags on the 920 and 1020 so yeah, no escaping the fact it's a terribly rushed release =/

Needs optimization like almost every game and app on the WP store!

I played the game for like 7 minutes. My phone got so hot it literally almost burned my cheeck when I put my phone against it. MS needs to fix these bugs on this phone man...

Lol who the hell puts their phone on their cheeks!? Lmao

He was just indicating how hot it was!!!!

Anyone who takes a phone call?

Wonder why games lag so bad on 512mb devices even when they say optimized for 512mb lol wonder if its the game or the OS lol even games for 1gb devices lag lol

They should make these games have Xbox or psn support. That way you sign into either and can get achievements.

this game looks like Dungeon Gems. I hope it won't reset my progress after wasting a tons of hours playing. :/

Am I dreaming or what. Overdrive is just 97 MB and yea as usual supported for 512 MB devices. I hope other companies learn from Gameloft how to make great games for 512 MB devices.

You are only in the midway of your dream

Hold up, no reviews yet? What gives...?

basically it's subway surfers of cars... With pink color everywhere it looks girly...I'm Disappointed. Asphalt 8 is the best game.

Who said pink is girly color. Windows phone central is also in pink.

...i like the 'twist' of this endless runner game...I remember those drag racing events of NFS, but without the manual transmission... :D

When will it be available for Windows 8 pc??

Whats is the total size including installation files

Its showing 540mb for me... while playing it requires internet to download certain things...

Its showing me error message.....

This is the worst game in Asphalt series, also worst endless runner.
Gameloft, why you made this shit?

Do you win a phone for trying this game?

Not what expected, just an endless runner game.

The game looks like for 3+ years old kids... Not really high IQ you need for play this. Just other easy game.

Yeah..and also with pink colour everywhere, it looks girly... Gameloft could have named it something else,the name asphalt is not justified.

The color scheme was popular in the 1980s, which is the inspiration for the game. You shouldn't feel insecure about the color pink, either. It won't hurt you. ~ ~

Oh..so you need a high IQ to play which game....Asphalt8 Airborne????

Game download oly 97 Mb but inside the game lot of data's downloading..

Not installing in neither windowsphone nor PC

you guys should write all your comments to the store itself so the developers/gameloft can immediately see it

Nice game must play just downloaded it

Yes a lot of stuff is downloading later in the game, so better use Wifi ;-)

Bad game...
Internet is required to play.
Bad game.in every stage and car u have to download ...

What 97MB?
Cant believe.. :D

I was able to play the game for a few hours and now I keep getting a message that say " Request timed out. Check you connection or try again later" there is nothing wrong with my connection so it must be something to do with the Gameloft servers.

I can't edit my name in the game, but on license plate. It still shows the name as "Driver <some number>"

Wow, this game is spammy with the notifications.

This is just the car version of Temple Run!!! Is this the future of racing games, where you don't actually drive/maneuver?
Windows Central Newsletter
Thank you for signing up to Windows Central. You will receive a verification email shortly.
There was a problem. Please refresh the page and try again.