The ASUS ZenBook 17 Fold OLED is the first foldable PC you'll definitely want to buy
ASUS is launching a foldy boi, but it won't be here until the middle of the year.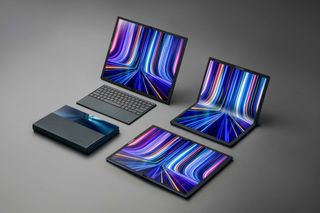 (Image credit: ASUS)
What you need to know
ASUS is debuting its brand new ZenBook 17 Fold at CES.
Besides folding, it packs quite the spec sheet.
The full launch isn't expected until Computex in the summer.
Is 2022 going to be the year the foldable PC really kicks off? If ASUS has anything to say about it, then yes. Revealed for the first time at CES 2022, the ZenBook 17 Fold OLED is the company's first foldable PC. And on a very early look, it's going to kick some serious ass.
The full launch of the ZenBook 17 Fold OLED isn't scheduled to happen until Computex in the summer in ASUS' backyard out in Taiwan, but it's kicking off the year in style with a sneak peek. There's plenty we still don't know about it, but we do have some snippets of goodness to get excited over.
ASUS ZenBook 17 Fold OLED
Swipe to scroll horizontally
Category
ASUS ZenBook 17 Fold OLED
Display
17.3-inches (unfolded), 2560 x 1920, 4:3
12.5-inches (folded), 3:2
100% DCI-P3, Pantone validated
Processor
Intel 12th Gen Core i7 U-series
Graphics
Intel Xe
RAM
Up to 16GB LPDDR5
Storage
Up to 1TB PCIe 4.0 SSD
Front Camera
Dedicated IR Camera for Windows Hello
Built in 5MP webcam
Security
Windows Hello
Connectivity
Wi-Fi 6E, Bluetooth 5.2
Ports
2 x Thunderbolt 4, 1 x 3.5mm audio jack
Audio
Harman/Kardon quad speakers
AI noise cancellation
Battery
75Wh
65W USB-C charging
Fully unfolded this is a pretty large device with a 4:3 aspect ratio and a massive 17.3-inches of screen real estate to play with. Imagine a 17.3-inch version of the iPad Pro and you're probably close to what this will be like. Of course, the beauty of a foldable is that it doesn't have to just be a massive tablet, you have options.
When folded, that display shrinks down to a 3:2 aspect ratio at 12.5-inches, and whichever way you choose to be, you have a full, proper wireless keyboard you can use with it. Alternatively, you can make use of an on-screen keyboard, it's up to you. The wireless keyboard that comes with the ZenBook 17 Fold OLED is the same full-sized layout that you will find on the rest of the 2022 ZenBook range, and with a kickstand built into the leather part of the device, you're never going to be looking for something to prop it up against.
Impressively, considering it's a foldable, you're getting a true Ultrabook processor inside from Intel as well as 65W USB-C charging, quad speakers, and Windows Hello support from a dedicated IR camera. Features like Windows Hello and Harman/Kardon audio are a staple of all 2022 ZenBooks, as is an OLED display, and that's also what you get on the ZenBook 17 Fold OLED. Here it also boasts a color sensor to detect the ambient light and change the tone of the screen to match for comfortable viewing. Much like Apple's True Tone on the iPad.
It's a shame we're still about half a year from seeing truly what this thing can do, but if foldables are going to be a thing in 2022, ASUS is certainly setting a high bar already.
Windows Central Newsletter
Get the best of Windows Central in in your inbox, every day!
Managing Editor - Tech, Reviews
Richard Devine is a Managing Editor at Windows Central with over a decade of experience. A former Project Manager and long-term tech addict, he joined Mobile Nations in 2011 and has been found on Android Central and iMore as well as Windows Central. Currently, you'll find him steering the site's coverage of all manner of PC hardware and reviews. Find him on Mastodon at mstdn.social/@richdevine
I can definitely see a lot of artists possibly gravitating to this.

Not for artist who draw since this seems no pen support. And crease are not great to draw on, unless they solved that in that device.

We don't know about pen support yet. It's like six months from its proper launch at this point, still much to learn and I'm sure much to finalize on the hardware.

I hope they will, it will be an added value and usability at least for note taking.

Exciting times, ASUS are having a great show...

But...why? I mean sure it's call and all, but unless they find a way to integrate the keyboard with the screen, then all you end up with is two things to carry around

Like how Apple users carry a MacBook Pro and an iPad? It's about flexibility. A PC that can adapt to various new use cases (including as e-readers), or for drawing/inking. You don't need to use the physical keyboard. You can use the on-screen one and as haptic tech improves, it'll get better for many people. This is how new categories start. People said "but why?" with Surface Pro, too. That worked out.

yeah, or how ipad pro users also carry a keyboard with them... and anyway, you can clearly see in the (renders?) pictures, it's attached to the thing in laptop mode. The keyboard is folded in the screen like a taco :)

True, but also as an iPad user of 10 years, I rarely carry a keyboard with me and often just use a vertical sleeve sling back attached to my waste to slip in and out my 12.9 iPad. As long as the virtual keyboard is up to snuff AND Microsoft continues to make Windows 11 90%+ useable in touch, a physical keyboard/trackpad would be more as an option than it would be a necessity for the majority of use cases. The other difference between an iPad and Windows tablets is of course the Operating System/Software, the iPad and its software was built from the ground up to be only as touch Windows has to be flexible enough to do essentially both.

The difference is iPads run 1.9 million iPhone apps and Windows devices run 35 million computer programs.

If you look at the top render you can see (albeit small) that the keyboard is inside the folded up device when closed. Still lots to learn about it but AFAIK you can do that. So it's not two things to carry about at all.

Yeah, similar to how Lenovo did as well. Nothing new here really. It can act like a traditional laptop, just thicker that's all.

It's like the Lenovo but the lines look much sleeker. The Lenovo version is a chunky monkey (I think it's also smaller, which contributes).

Yeah, Lenovo looks more rugged while this design of Asus is something I dig more. Though Lenovo got like a leatherette material that feels more like a notebook. Which is nice as well.

This is better since the magnets make it portable while when working you can put the screen on a stand and use the keyboard at a distance (better ergonomics than a laptop).

The keyboard actually fits between the screen halves when folded. Just like an iPad and a MacBook.

Perhaps I missed it but does this have pen support?

I don't think we know yet.

That would make it great. It would be weird to omit pen support.

Yeah, it looks like it was made for a pen. Hopefully it is being considered.

I think pen, keyboard/trackpad and mouse support is pretty much becoming a minimum standard for all touch devices bigger than smart phones. Especially for Windows devices they have to be flexible and powerful enough to handle all manner of inputs.

Yes it does and a pen is included...

An integrated trackpad only makes sense with a laptop. Of course, none of this makes much sense to me anyway.

But it is a laptop? The keyboard literally turns it into a 'regular' 12.5-inch laptop. Or you use it detached and it's a 17-inch all-in-one. Not entirely sure how it doesn't make sense? Unless you're just assuming this is some glorified iPad, which it is not.

It has a laptop mode. The integrated trackpad makes perfect sense in that posture. In fact it would be questionable to remove it.

I can clearly see how a lot of people will have all kinds of things to say about it being impractical and bla bla bla... All i can say is that I can't wait to get my hands on one!!

Noticed no one is talking about Windows Os adaptability to this category like where Android 12L is needed to unleash what the foldable phones have to offer. I believe that is because all the snaps feature and screen layouts built into windows 10 and 11 have been waiting for this type of devices.

https://mspoweruser.com/asus-folding-laptop-will-reportedly-arrive-in-q2... https://twitter.com/dsccross/status/1478841764878471168?s=21 Microsoft is slow getting Windows 11 compatible with these devices. We haven't heard anything from them about this and it isn't like folding screen laptops haven't been talked about for years now. Eternally behind.

Well nothing new with the OS so far when it comes to adaptability with this device, except when you attach that keyboard. It doesn't do like W10X does where you can have "laptop posture" where the lower half can become virtual track pad and keyboard. Here based on the demo, still looks like regular Windows desktop with Touch Keyboard sliding out.

How would you know? Do you work for Asus or were you on the team responsible for this computer tablet. Of course not...

I want this for work. Being able to unfold into a 17" screen will be great for traveling and making everyone in Starbucks jealous.

The 12th gen i7 U + the form factor sounds great, but if there's no pen support, it'll be super weird and almost pointless.

Very few people use pens. It certainly isn't a deal breaker.

Is that really true? Why are people buying all these pen enabled devices then? I certainly use my Surface Pen.

I am quite sure pen use is very niche. They aren't buying these devices for the pen.

You have zero evidence to support what you are saying. Anyone in the Stem fields would the pen as do people who annotate documents and journal articles.

As a tablet user of 10 years, foldable tablets or hybrid laptop/tablets are definitely intriguing. Probably in the future powerful tech can be crammed into slim and foldable tablet/phone factors along with OS/Software that also excels with touch, that keyboards/track pads just simply end up being optional inputs like gaming and power use.

The Zenbook 17 Fold OLED is, dare I say here, what the Surface Neo was meant to be.

"Imagine a 17.3-inch version of the iPad Pro and you're probably close to what this will be like." Hardly. This thing is still running mouse-and-keyboard Windows, with mouse-and-keyboard apps. iPads run an actual touch screen OS with touch screen apps. I would take a non-folding 17 inch iPad over this any day. Microsoft desperately needs a modern touch screen OS, with apps that don't require a mouse and keyboard. 25 year old Windows is going to doom things like this.

Think you kinda missed the point there. I was referring to the form factor when unfolded.

IBM famously stated "We live in a post pc world" that also means computing is no longer confined to the traditional sit at a desk with a desktop computer. We live in a more mobile, ironically though we stay more at home, world where we can access anything anywhere, anytime on the go or on the couch and this extends to how we interface with computers. I agree. Microsoft needs to bring Windows interface and how we interact with it into the 21st century and beyond - That is at least be as equally as usable and scalable from smart phone sizes >10" to these 17"+ tablets and everything in between, as well as be fluid and seamless in m/kb, touch/gestures, pen and who knows what inputs will be in the future. Phone, desktop and tablet mode will not do. It has to be one UI that is seamless across the board. It will be a massive challenge, but the foundations laid down would pay off for decades ahead and should not be impossible for a multi-trillion dollar corporation like Microsoft from trying to achieve excellence. MS has to stop and throwing out half baked disappointments and abandonments like Zune, Surface Curia/Neo, Cortana, Windows mobile, etc… Microsoft has a habit of not persevering and pulling through. Example - Microsoft had no business and idea when it came to video game consoles, so it had to rely on people who actually were in the industry and had a passion, they created the Xbox console, not Microsoft. It would make sense Microsoft get people who design and use tablet touch interfaces..e.g. some ex Apple and Android employees would be a good start to get them to lead influence design Windows 11' UI to be near equally as usable in touch/gestures as it is mouse/keyboard.

Wrong. iPads run smartphone apps used on iPhones. Surface products generate 6 billion in revenue. Moreover they have expanded to to Pro, Go, Pro +, X, Laptop, Laptop Go, Studio, and Studio Lapto, so MS does not desperately need anything...

Perfect device to read comics and graphic novels.

It is shame that Windows 10X is still shelved. Who knows when or how Microsoft will reimplement the dual-screen UX to Windows 11, at least there is no sign yet except for minor things like the Touch keyboard which really looks like ported directly from W10X and that Touch Keyboard is integral to the dual-display UX from W10X. There is alot to work on with window management on Windows 11 to make way from that of W10X experience, especially when W11 got full desktop UI where it allows floating windows while W10X did not originally

How about going the other way, having a small 8" or whatever device when closed up, yet it unfolds to a 14" screen? The SP8 and SPX are almost too big to be used as tablets now. A physically smaller device that can function folded with a virtual keyboard or with a hardware keyboard when fully unfurled would be nice.

ASUS is likely going after its core market with this as well as those early adopters. If it's not big enough to be used comfortably as a laptop it's a completely different category really.

The problem is that current Windows 11 UI isn't optimised for anything smaller than 10 inches. Heck, even Microsoft don't recommend it and put a minimum requirements not to go below 10 inches. The fact we lost the dedicated Tablet Mode UX, anything smaller display would be not be great if not horrible for Windows 11.

SP8 and SPX are too big to used as tablets? IPad Pro is 12.9" and has been a popular size for years, obviously it is not too big and Apple is considering doing a 15" iPad Pro.

Please with that nonsense. iPads aren't computers which is why their unit sells and market share is crashing. They are just big iPhones that run smartphone apps.

Its like a Surface Neo but making more sense with large canvas when unfolded, I like it.

Shut up and TAKE MY MONEY!

Yet another ASUS with a defective trackpad?

Great article it is really informative and innovative keep us posted with new updates. It was really valuable. thanks a lot https://fivenightsatfreddys.online

This feels... too small. A bigger version that is 18 inches when FOLDED would have had great potential as a "portable big-monitor" setup. The aspect ratio is too tall as well, ultrawide would have been better suited for this use case. Both Lenovo Thinkpad and Asus ZenBook's take on the foldable display feel like huge missed opportunities that had too many corner-cuttings in order to save costs.

Yet another silly post by someone who things they are. Smarter than multi-billion dollar tech companies. You have even seen the project let alone used it.
Windows Central Newsletter
Thank you for signing up to Windows Central. You will receive a verification email shortly.
There was a problem. Please refresh the page and try again.