AT&T fights back at anti-merger arbitration cases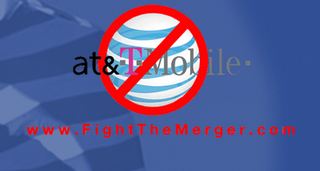 AT&T has filed lawsuits in eight different jurisdictions to defend itself against a wave of arbitration cases filed by Bursor & Fisher on behalf of over 1000 AT&T customers. The New York law firm started a website called FightTheMerger.com to find a horde of AT&T users to file individual arbitration cases against Ma Bell, in order to prevent the acquisition of T-Mobile. The method of attack was chosen because AT&T's terms of service bar customers from filing lawsuits against them, instead offering the option of third-party arbitration.
AT&T issued a statement to each court claiming that Bursor & Fisher intend to proceed with each case individually, that they are actually launching a thinly-veiled class-action suit, which is prohibited by the terms of service as well.
So it looks like a battle of semantics versus loopholes that will ultimately be decided in the courts. But even if AT&T prevails in this matter, there is still a long road ahead. A seemingly wary FCC still needs to approve the deal, and there is a long list of other challengers as well, including advocacy groups, politicians and other carriers.
Source: AllThingsD; Via: TechCrunch
Windows Central Newsletter
Get the best of Windows Central in in your inbox, every day!
I love how AT&T (and other telecoms) forces their customers into arbitration for any disputes and then turns around and says they can't use it. Arbitration is a horrible anti-consumer joke anyway.You made the arbitration bed, AT&T. Now you have to sleep in it.

At&t is not saying that they cannot use the arbitration system, just that the lawyers are trying to turn the individual arbitrations into one large class action suit. They also said that the arbitration suits are pointless because they will have no impact on the merger anyway.Just more time and money spent litigating in our courtrooms, instead of someplace useful, like education for kids.

I understand that arbitration isn't meant for things like this.The point here is that the customers are not allowed to fight AT&T in court. They cannot file any kind of suit against AT&T, class-action or otherwise. Their only recourse for any and all disputes is arbitration. AT&T wanted this, they made it this way. And now they're trying to take that away in this case, so that their customers have no voice at all.The real issue here is forced arbitration. Companies shouldn't be allowed to take away your right to sue them. It's so anti-consumer it's ridiculous.

It's not necessarily true that the consumers have no voice in the merger. The FCC allowed tons of consumers (educated or not) to comment. And there were a lot of "u shldnt lt att and tmobile mrge cuz it wld be bad and wld make prices higher". It made me sad.

You would think AT&T would rather fight a single case rather than 1000+ individual cases. Are they worried?Incidentally, I think arbitration law needs to be updated to less disadvantageous to the customer. Rather than force the customer to fight in arbitration in the location of the company's choosing, the customer should be able to duke it out in the location closest to company presence and customer. Why should I have to travel across the country when my carrier has a physical, corporate-owned shop located five minutes from my door stop?
Windows Central Newsletter
Thank you for signing up to Windows Central. You will receive a verification email shortly.
There was a problem. Please refresh the page and try again.