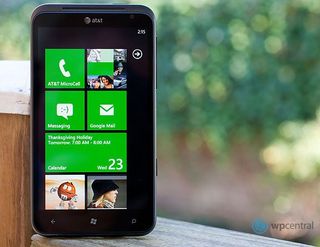 While I was impressed with the Samsung Focus S, Dan kept telling me "wait until you get your hands on the Titan." I expected to see a quality Windows Phone in the HTC Titan but was very skeptical of the 4.7" big screen. The Focus S was large enough with the 4.3" screen but would a 4.7" screen be too big?
Short answer... No.
HTC engineers have done a fantastic job of balancing a large screened device on a thin platform to minimize the bulk. The Titan feels comfortable in the hand, thanks to more beveled or curved sides and the 4.7" screen really shines. Add an 8mp camera with all the bells and whistles, a 1.5ghz processor, 16gb of storage, and a 1650mah battery and the Titan becomes a very strong performer.
Don't get me wrong, the Samsung Focus S is also a quality, large screen Windows Phone but the Titan has just as strong (some may say stronger) of an appeal. While the Titan may have an lengthy model designation (HTC PI39100) it's a solid Windows Phone. To read more on the AT&T HTC Titan, hit the break.
Design:
One word...Solid. The battery cover not only covers the back of the phone but also the sides to create a comfortable, solid, uni-body design.
Feel:
The aluminum uni-body design fits comfortably in the hand. While the Titan has some heft to it (5.6 ounces) it doesn't weigh you down.
Performance:
Powered by Windows Phone Mango, a 1.5Ghz processor and a lasting 1650mAh battery, the HTC Titan will keep you going throughout the day.
Quality:
From the camera to phone quality to screen quality the HTC Titan is a strong performer and represents the Windows Phone line extremely well.
---

Large screen, great battery life, solid construction, solid camera.

---

While size is manageable some my find it too large. The micro-usb port on the side may also present issues with car mounts. The buttons could be larger but its not a deal breaker. Occasional graphic skips with some games is also present.

---

The AT&T HTC Titan is a quality Windows Phone and only bolsters AT&T Windows Phone line-up. The Titan gives customers the option for a large screened device that is a solid performer while maintaining a comfortable feel. There's always room for improvement but if you're looking for a large screen Windows Phone, it'll be hard to go wrong with the Titan.
Design
As much as been said about the sheer size of the Titan, when I first cracked the seal on the box my first thoughts were, "Well that's not too big." and after using the Titan for a few days my initial impression has held true. Sure, the Titan has a 4.7" screen and dwarfs other Windows Phones such as the Samsung Focus Flash but HTC has done a commendable job of designing a frame around this massive screen to essentially reduce the overall size of the phone. While the Titan is a large phone, it lacks the bulk one would expect from a 4.7" screened device.
Measuring 5.14 x 2.78 x .39 inches the Titan is just over a quarter inch larger than the HTC HD7S (4.8 x 2.68 x .44 inches). Surprisingly, the Titan weighs in at 5.6 ounces which is lighter than the HD7S (5.71 ounces). HTC trimmed a lot of the bulk off the Titan by curving the sides of the phone more and designing the battery cover to fit more closely to the back of the phone. Compared to the other big screen, second generation Windows Phone the Titan is .18" taller than the Samsung Focus S (4.96 x 2.63 x .33 inches) but 1.8 ounces heavier.
The Titan has some heft to it when compared to the Focus S but it isn't a cumbersome weight. The balance between the large screen, thin form factor and weight is so that the Titan feels comfortable in the hand.
Quick item of note with regards to the color of the AT&T Titan, where the International version is black the AT&T version is gun metal gray with black accents around the screen and buttons. It's not too light or too dark of a shade of gray but does distinguish it from other Windows Phones. I would have liked a little texture on the back of the Titan but will admit the cold, smooth aluminum does feel good in the hand.
Moving around the Titan, your 3.5mm headphone jack and power button rests at the top of the phone. Along the right side you will find the volume rocker and camera button and along the left side of the Titan is the micro-USB port.
Down below is the microphone and battery cover latch with the three traditional capacitive touch buttons are on the Titan's face. An 8mp camera is to the rear of the phone while a 1.3mp camera is on the upper right corner of the phone's face.
Buttons manipulated, for the most part, with ease and they are large enough to use without having to contort your fingers. I would have liked to have seen the buttons be a hair wider and the power button raised just slightly to be a little more accessible, but as is they do just fine.
The battery cover is a sturdy, light weight piece of aluminum. The body of the Titan slides into the battery cover creating a uni-body design. The battery cover is basically a shell that encompasses the Titan's working body. There is a hard rubber rim that runs along the edges of the Titan's screen that raises up just slightly to give the screen a bumper of sorts.
The only reservation I have with respect to the design of the Titan is with the micro-USB port's location. The micro-USB port rests on the lower left side of the Titan and is likely placed there to accommodate the horizontal placement in the HTC Desktop Cradle. The problem in placing the micro-USB port on the side of the phone is that if you use the Titan with a car mount/cradle, the arm clamps may cover up the port. If you need to plug in a car charger, the port may not be accessible. This by no means is a deal breaker but something to consider.
All in all, the Titan is a solidly built, nicely designed, large Windows Phone. The only drawback, and this is more of a subjective measure, is that some may see the Titan as being too big. However, I wouldn't judge the Titan on the specs alone. You really need to get your hands on the Titan to figure out if it's too large for your tastes. You might be surprised at how comfortable the design is.
Screen
The Titan's centerpiece clearly rests with its massive 4.7" WVGA, 480x800 screen. Rumor has it that the screen is protected by Gorilla Glass (which would be an added bonus) but regardless the screen is a solid piece of work. The Titan's screen quality definitely will hold its own up against the Super AMOLED screens and is of better quality than the Super LCD screen of the HD7S. There seems to be a touch more contrast, brightness and color saturation with the Titan's screen when compared to other HTC Windows Phones which helps the Titan's performance indoors and outdoors.
With regards to responsiveness, the Titan screen performed very well. I didn't experience the "ghosting" that is present with other HTC Windows Phones and everything performed as it should.
Video playback is nice on the Titan but there is an occasional graphics skip with some games. It's more noticeable on the more graphically intense games such as Fruit Ninja or Let's Golf 2. I'd describe it as a stutter or pause between graphics transitions such as going from the developer logo to the main menu (see the overview video). It's not a deal breaker and hopefully this is something that can be addressed with a software fix.
The large screen definitely has its benefits in every aspect of using your Windows Phone. From more elbow room to type to large print size to read to larger gaming images the Titan's screen is impressive.
Under the Hood
The HTC Titan is fitted with a single core, 1.5ghz processor that moves things along rather nicely. You have 512mb of RAM and 16gb of storage with the Titan. There is no memory expansion slot.
Of the 16gb of storage, out of the box with everything pre-loaded you will have just shy of 13gb of storage available. AT&T was fairly gently on the pre-loaded software with the AT&T suite of apps and YPMobile. All of which can be uninstalled to free up additional storage room.
The HTC Titan has all the bells and whistles to make the most of Windows Phone 7.5 such as the gyroscope and digital compass. There are a few unique settings with the Titan that include a hearing aid setting that will boost your in-call volume and the HTC Sound Enhancer is now incorporated into the OS as a permanent setting. You also have the Internet Sharing (requires a specific data plan to activate) option and SIM Applications settings that we've seen on other AT&T Windows Phones.
Everything is powered by a 1650mah battery that is a welcomed sight (or is it site?). The battery easily lasts a full day under moderate to heavy use. I'm ending an average day with approximately 40% of battery life remaining.
Camera
The HTC Titan is fitted with two cameras. An 8mp f2.2 camera with dual LED lights is to the rear of the camera while a 1.3mp camera rests in the upper right corner of the Titan's face. The rear camera is a 28mm, wide angle lens that is nice for landscapes and group shots.
The Titan also is fitted with a BSI imaging sensor, just like the HTC Radar, that is designed for low light situation. The BSI sensor is a back-illuminated sensor uses a novel arrangement of the imaging elements to increase the amount of light captured and thereby improve low-light performance. Combine the BSI sensor and f2.2 lens and the Titan is well suited for indoor, low light conditions. It's not going to light up the room but it may mean you'll only have to turn on one lamp instead of two for those indoor shots.
Software driving the camera is your typical Windows Phone app with two settings that should be recognized. Along with ISO, Metering, Picture Modes, etc. you will find a Panoramic Setting and Burst Mode (same as with what's on the HTC Radar). The Panoramic Setting allows you to stitch or combine multiple landscape shots to create a larger, panoramic image. The Burst Mode will crank off five frames in about two seconds to capture action scenes rather nicely. Why these two settings are not standard with all Windows Phones is a mystery.
Quick note on the Panoramic Setting is that it will take three photos and stitch them together. A horizontal line will appear in the center of your screen to guide you in between shots. Once you take your first shot you move along this line to take the second and third shots (done automatically once you reach a designated point on the line). It is important that you follow this line carefully. If you deviate from this line the stitching will not be smooth. Look at the corner of the house and towards the right corner one of the vertical lines didn't match up exact. It's more evident with the power lines. Still, not a bad picture and when you keep things straight, the Panoramic Setting is great.
As far as image quality is concerned, the Titan is a very good performer with respect to still images and video captures. Still images were sharp and I am impressed with the Titan's macro (close up) abilities. Color saturation could be better but what can't be adjusted in the settings can be adjusted for with post-processing software.
The video sample below includes two bits of footage. One captured on a gray, cloudy day and the other on a sunny day. Video quality was good under both lighting conditions.
All in all, I was pleased with the camera performance on the HTC Titan. I'm still not ready to give up my DSLR but I would be comfortable using the Titan for more casual or spontaneous events.
Phone Quality
No complaints whatsoever with regards to the Titan's performance as a telephone. Earpiece volume was loud, the microphone picked up my voice nicely and the speakerphone was good. Even the vibrate feature was noticeably stronger than other Windows Phones on the market. The vibration was easily felt through a belt case or when carried in a jacket pocket.
We have heard that the volume fluctuated in the earpiece and came across as tinny but in the short time I've been using the Titan, I didn't experience any issues with the volume. If anything the volume was loud enough that I had to dial it back a little. I also experienced good results listening to music through headphones.
All in all, the AT&T HTC Titan is a solid performer as a telephone with really no complaints, concerns or reservations to note.
So, which is better?
Now that the Titan has been released, the twenty-dollar question is, "Which is better, the Samsung Focus S or the HTC Titan?".
For the most part, these two Windows Phones are neck and neck as to which is better. I would say it all boils down to your tastes in thickness and weight except for two quirks with each phone; the auto-brightness setting on the Focus S and the graphics lag with the Titan.
For those not familiar, the auto-brightness setting on the Focus S dims the screen about a notch lower than other Windows Phones. It also seems to fluctuate more. I had gotten used to things until I started using the Titan, who's auto-brightness works like a charm, and the quirkiness of the Focus S really stood out. I'm also forming the opinion that this quirkiness is effecting battery performance.
On the Titan side of the coin, there is the graphics lag but it doesn't occur as constant as the auto-brightness quirk does on the Focus S. While I see the lag with Fruit Ninja, I don't see it with Trine's Hangman or Angry Birds. The dimness of the screen on the Focus S isn't as isolated.
So which is better? I don't think you can go wrong with either in that both phones are well built, have great looking screens (even though one is dimmer), 16gb of storage, respectable cameras, good call quality and feels comfortable in the hand. However, taking everything into consideration, I have to give the edge to the Titan. While there is the graphics lag it's not as consistently present as the auto-brightness quirk. If Samsung and HTC can fix these quirks, the choice becomes more difficult. Likely returning to being a choice based solely on your preference of weight and thickness.
Summary
The AT&T HTC Titan is following suit with the other second generation Windows Phones by offering customers another quality Windows Phone. It may not meet everyone's needs or taste but it gives us another quality phone to consider. The Titan also gives AT&T a solid Windows Phone line-up.
On paper, the Titan may be confused with a Windows tablet instead of a Windows Phone. But don't let the specs discourage you from considering the Titan as your next Windows Phone. HTC did a really good job by combining the 4.7" screen with a frame that doesn't feel bulky. You really need to handle the Titan before writing it off as too big. I was leaning that way until I picked the Titan up and realized how comfortable it was in the hand.
While I can understand the appeal of a smaller device for pocketability, the 4.7" screen has merits of its own. The screen quality is up there with the Super AMOLED screens and the screen size makes games/videos a little more enjoyable. Pictures seem to have more "pop" with the larger display, text is easier to read, and you have more real estate to view webpages. To balance the larger screen and avoid the Titan from coming across as bulky, HTC lightened things up and made the frame a bit more contoured.
While the Titan is an impressive phone, it's not without faults. You have the graphics lag that occurs on occasion and the power button can be tricky to get to at times. Over the past few days, I've gotten used to the power button and hopefully a software fix will resolve the graphics lag. Luckily, none of the short comings on the Titan are detrimental and the Titan remains a strong performer.
Price wise, AT&T is offering the Titan at $199.99 with contract and $549 out of contract. Deals are already cropping up for the Holiday Season to lower these prices such as the penny deal going on at Amazon Wireless. The biggest challenge in purchasing the Titan may be simply finding one. While the Titan launched on Sunday, November 20th, many stores did not receive their inventory due to shipping delays until several days later. And what was delivered was very low in number.
Overall, it's really hard to find anything terribly critical on the Titan. From build quality to camera performance to battery life the Titan is a solid performer. Whether or not the Titan is the Windows Phone for you probably boils down to personal tastes.
The Titan will offer you a solidly built Windows Phone with ample storage space, a fantastic screen, a very nice camera and good call quality. While not everyone will like the larger size of the Titan, for those who do find it appealing, you'll find yourself with a very good Windows Phone. Arguably, the best out there.
George is the Reviews Editor at Windows Central, concentrating on Windows 10 PC and Mobile apps. He's been a supporter of the platform since the days of Windows CE and uses his current Windows 10 Mobile phone daily to keep up with life and enjoy a game during down time.
I have a question regarding the buttons. In particular the power and camera buttons. Are they as difficult to push as the HD7's? For example on the HD7 I find it's difficult to do a half press to focus and then continue with a full press to take a picture without accidently moving the phone.

The buttons are an improvement from the HD7S but, in my opinion, the power button could be wider and raised just a smidgen. I really haven't had any issues with the camera button but it could probably stand to be a little wider.

The power button is a bit hard to deal with, I agree. I find myself having to hunt around to get it to activate.
The camera button, on the other hand, works very well. The half-push to focus is easy to do without taking a picture and there's a very good tactile feel to pushing the button all the way in.
Also have an HD7, and overall, the Titan buttons are better.

I cant help but wonder if I'm the only person experiencing problems using Tango with the TITAN. I love this phone, and have no intentions of trading up...but everyone I call using Tango is complaining that they either can barely hear me, or can't hear me at all, even when shouting directly into the microphone. Have you, or anyone else come across this situation? I could really use some feedback on this. Please note that I have went through the typical lengthy troubleshooting methods, and with no success.

Try going to settings and turning off the HTC attentive phone options and the Audio enhancements. That fixed a couple of wierd issues for me.



And make sure when you are holding the phone for video calling you are not overing up the mic. It is pretty natural to hold it in a way to cover up the mix, or at least have your hand near it, I suspet.


I went to my local AT$T store on Wednesday to comparison shop the Titan. After seeing and handling it, I agree with George's statement, "...it all boils down to your tastes in thickness and weight." I found the Titan to be a little too big for my hands. My 8 year old son who was with me commented that it looked like a mini tablet. So, I'll be ordering the Focus S online on the 26th. That being said, neither of these two devices, the Focus S and Titan, perfectly align with my preference for an ideal device. I wish I could have the camera features and screen brightness of the Titan, and the size and weight of the Focus S; that would be my perfect device. In the end, these two devices are so close in features and specs, that I believe that many buyers are going to have a difficult time choosing between the two, like I did.

Fleon, I tried disabling the attentive phone, and to no avail...i even tried uninstalling/reinstalling afterwards and still no results. And enahs555, I don't cover the mic so I know that isn't the issue. I'm starting to think it's a hardware issue, and need to replace the phone.

I was hoping to see more comparisons between the displays/screen quality of the Titan and Focus S, something more than just a homescreen comparison. I do a lot of web browsing on my phone, well used to, until I got an iPod Touch. I wanted to see what web browsing was like between the Titan and Focus S. Specially with white background webpages, where the Focus S supposedly has problems, and zooming in where the Titan supposedly gets pixellation problems.
Also is the auto-brightness that much of a big deal when you have the option to turn it off on the Focus S? Would the Titan still edge out the Focus S if the auto-brightness was turned off?
Overall a great review though.

I've had my Titan for a few days now and haven't seen any resolution issues either within game playing or internet browsing. I did notice the stuttering when playing video games however. I'm definitely hoping this will be cleaned up with the next phone update. The USB slot on the side is annoying. All things considered, this phone definitely gets a 9 out 10.



I could be wrong, but did you accidentally post the same photo of the side of the device twice? The second photo should be of the left side and bottom, but is just a copy of the right side and top. I've been eagerly awaiting this review, and am off to finishing reading it - can I look forward to a Focus S/Titan head-to-head article?

Just finished reading and realized you integrated a head-to-head Focus S comparison right there in the review. AWESOME REVIEW! Thank you so, so much. This article reminds me why WPCentral is my go-to WP7 blog.

Thanks. Heading to fix it right now.

Lol @ AT&T microcell. They still heave the weakest coverage in building.

I hate T-Mobile so much. I want this phone so much. I'm hoping that LG will annouce something nice during thier event on 12/1. A nice 4.3+ screen for T-Mobile.

Dude you really needa chill, the HD7 isn't that much more inferior than the titan (I have it and I love it). You are getting better coverage and faster data speeds than AT&T at a lower monthly price so really no need to complain. I think OEMs may be a little scared of the pending merger, once it fails(which is looking very likely) then the good stuff will come.

Nah, I don't need to chill. I also have a HD7 which I also love. But lets face it most certainly is much more inferior to the Titan. Bigger better screen, faster CPU/GPU, 4G, a gyroscope and a better camera. AT&T gets the Focus S, the Focus Flash, and the Titan. T-Mobile get the Radar, which is a nice phone in it's own right, that is inferior to the cheaper Focus Flash. And now there are rumors that T-Mobile may be getting the nokia 710. Really? Another low/mid range phone?

This deal needs to fail already so that I can move on.

I've gotten speeds on this HD7 that are faster than AT&T "4G"

Dude, have you seen the HD7's screen? Just compare it to the Radar and even that is a far upgrade to the HD7. All HTC needs to do is keep the same design, combine it with the new SLCD screens, a 1.3mp front facing camera, and the new f2.2 cameras they use now. That would be the perfect phone.

nothing in the review about how fast the HSDPA+ WORKS ??

Works fine. Faster than 3G but slower than T-Mobile's 4G. I'm hesitant to comment on data speeds because the reception/coverage in your area may be better than in my area or visa versa.

I for one would like a more detail in the description of the screen. I fail to believe that 800x480 stretched out to 4.7" would be as sharp as my Quantum at 3.5". Are you sure there's not the slightest bit if pixelation or jaggedness when zooming in on web pages or documents?

I'm working on a more detailed comparison on the screens. Comparing the Focus S and Titan with video playback, gaming graphics, photos, and web viewing. I have not experienced any pixelation or jaggedness with the Titan. Sure you can enlarge a view too much to create pixelation or distortion but you can do that with any screen. The Super AMOLED Plus screen of the Focus S does have blacker blacks that gives the screen a little richer appearance but the Titan is brighter, has a touch more contrast and even with the auto-brightness turned off on the Fous S, I give the Titan a slight edge in overall screen quality. Now that's not to say the Focus S's screen sucks wind because it's respectable in its own right.

Thanks for the reply George. My ATT store still doesn't have one to look at that's why I'm asking. Looking foward to additional review...

Update to my previous comment(s): I had replaced my TITAN with another TITAN, exchanged at the at&t store...and I am still getting complaints about the volume quality of my microphone. I don't know what else to do, and I am at my wit's end with this problem. Can anyone please help me resolve this situation...i am finding no indications of anyone else having this problem, nor am I finding any type of info about it on the internet. I have tried over 4G & Wi-Fi, and of course, to no avail.

The Titan sounds like an awesome phone but I would need more to convince me to upgrade while only 10 months into 3 year contract. Though I would buy it in a second if it also was 32+ MB, had a better front camera, was NFC and LTE ready.

I just went into the AT&T store today and they had a demo running. Wow! The HTC Titan is the best device I've ever held in my hands, hands down. Gorgeous, sleek, and just a joy to use. I really hope this phone comes to T-Mobile. That's all I want for Christmas.:D

Just got my first windows phone ( HTC titan ) today for free from Microsoft store!...i really love the phone so far. :)

I too was in an AT&T store the other day, and saw the Focus S and Titan side-by-side (and also next to an iFruit 4), and all I can say is that the Titan looks amazing. I liked the Focus S, but you could really tell a difference of the Titans screen, FFC and Rear Camera. All were better looking and performed better than the Focus S. I have a Focus right now, and if the Titan had a 32GB option, I would have upgraded my phone that day. However, I really am waiting for the 2012 Q1/Q2 phones to be announced, as I have a feeling they will be offering better specs (LTE, NFC, larger capacity, etc.) Let's hope that sales continue to increase for MS and the ODM's so that they can finally stop being hesitent and release higher capacity devices. It is just plain weird that ODM's are resistent to offering larger capacity devices. I really wish that MS would answer why none have been released yet (and no, I don't count the POS Dell device.) I truly want NAND devices, not NAND + MicroSD.

I just got two Titans today for free on the black friday deals going on in the microsofts stores. I went to my local microsoft store here in the mall of america and got two Titans. I have to say that I am very impressed with the improvement on the device from the HD7s!!!!!

I love this site and I love WP7 but I think there needs to be more attention to proofreading in these articles if they're going to garner any credibility. Some of the grammar is just atrocious.

I simply cannot express the how impressed I am... This phone is amazing. The Screen is beauty. Color repoduction is very neutral and faithful, very nice dynamic range in graytones and shadows. When I compared it to the iphone 4s, it made me realize that most important thing on a smartphone is its Display. Hands down. If HTC made cars, then the TITAN is a Range Rover HSE LUX.

Tell me if I got a bad phone when I demoed the HTC Titan and Focus S at an ATT store. So I am comparing them with my Sam. Focus in hand to justify an upgrade. The Focus is nice. The phone is fast and feels great. The "silver blue tint on the whites" is noticable now that I know that is on the phone. That got me a little weary about getting the Focus S.
But the HTC Titan... Big but felt nice and balanced. Camera was nice including the quality of the FF camera. What I noticed was huge amounts of ghosting. George Ponder says there isnt any ghosting like the other HTC devices but that is the first thing I noticed on the Titan was the ghosting. I didnt even know that was an issue and this review was not out when I looked at the Titan about four days ago.
- When scrolling on the homescreen the letters are a blur.
- Web browsing was not very appealing because whether scrolling on full screen or zoomed in scrolling, the blurring effect was such a turn off I stopped demoing the phone, but not before going to the same websites on my phone, the Titan and the Focus S. The Titan was the only one with the ghosting effect. Why are either one of these phones a top pick or best windows phones when both have some serious issues. I say serious issues because using my Focus is something I am proud of and the quality of the experience from the OS and hardware is unlike other phones and smartphones I have had before.
The Focus S has a very noticable blue silver tint effect and the Titan (the one I demoed at ATT), had major ghosting effect and now I see it has gaming stutter issues. If a slightly faster experience and FF camera are the two upsides and the downside is what I laid out, then they can keep their 2nd gen, cheaper made phones and I'll stick with my Focus. Am I wrong in my review of the two phones? did I miss something?... I will demo another two at a different att store. Your thoughts?

Titan vs Focus-S. I was also in confusion to get which one. These are the things which I had in my mind:
Screen: Titan has more natural colors, so felt good when I saw a video and some pictures I took in the store. But when you look at home screen Foucs-S looks better because of clear blacks. Also saturated colors actually look good on tiles. Anything that has white background (email, xbox live hub) Titan was better than Focus-S because of bluish nature of White color on SuperAMOLEDplus. I was also avery curios about pixel density, but Titan (~199ppi) is good enough to use.
Size: Titan is bigger but felt good in hands, as many reviwers said "you have to see it to believe it". Focus-S is also good in hands (may be better).
Even though I like Titan, before going to store I thought Focus-S might have an edge over Titan becusae of SuperAMOLEDplus and smaller size. But after I saw both of them... I was 100% sure of Titan.
So, go to store have a look (if you have a store near you which has both in display). I don't why AT&T decided to go with gray body (whatever gray it is) instead of black :(

Ordered Titan on Amazon for 1cent. Waiting for it!

Amazing.. I, too, went to an AT&T store to test out them both and brought my wife with me. I was leaning to the Titan over the Focus S as I almost always like HTC over Samsung until I got my hands on both. Than I was completely the opposite. I found there to be a "lag" on the Titan that just wasn't there on the "S". Everytime I hit a command on the Titan, it filled it just a second or so slower than the S. Also, that lag that Mr. Ponder refered to in his review was really noticable to me on internet commands. I found both screens were great, but that the colors really popped off against the "S" against that darker hue of the screen's black. Those live tiles just lept off the screen!!
Now, camera comparison's were easy- Titan easily had more options and better quality. The screen size was a nice advantage to the Titan as well- I really wasn't sure that a .7" bigger screen would offset the larger size of the phone overall. But I was wrong yet again. Holding side by side, the screen was a MONSTER difference, enabling some of those smaller text captions to be read easy. The HTC Hub has it all over the Samsung hub as well. Nice customization from HTC, and Samsung just feels like a throw away.

I grabbed the "S", and my Wife jumped on the Titan. I was especially pleased with her decision as she was all in on Android until she played with the Titan. ( I am coming from a Palm Pre, she is coming from a Blackberry.)


I wish WP would have made a CDMA version of this phone for Verizon's network. I would have bought one. This comes back to the problem WP has right now: no presence on the #1 carrier in the country. Verizon has only had the Trophy, which at best is a mid level type of phone. WP needs to have HTC or Samsung (preferably HTC) make a great high end and mid range phone for Verizon's network. Microsoft also needs to speed up their chassis and spec requirements to make their phones competitive with IOS and Android. I understand Apollo will solve alot of these issues but when your playing from behind like Microsoft is, you have to come out with a BANG and for whatever reason, not having a presence on the #1 carrier is not the way you do it.

Totally agree. ANY new WP had been released on Verizon, I would have made the switch from AT&T in a heartbeat. But the Trophy just can't compete with the Titan or the Focus S. Throw in how many Verizon customers may be interested in WP if a great device showed up, and Microsoft has some problems.

Seeing's how Verizon's reps were at least at Nokia world, and at least there is hope. Sprint's situation seems even more bleak for future WP.

Does anyone know if the gaming stutter is fixed with the latest update from HTC?
And how many of you have experienced ghosting in the screen?

Haven't seen an update come across from HTC yet. Ghosting... some have seen it from the demo phones in stores but I have yet to see any ghosting.

Hey George, Thanks for replying to my comment I made. I went to another ATT store that had the S and Titan on display. (The phones did not have the demo software on them and the salesman didnt even know they had the phones, typical, but I digress). I dont know if it is really called ghosting but if you have the Titan available go to a site on two different WPhones. I tested gamespot.com. Slightly zoom in and scroll up or down. The words turn into a blur while moving. This blurring effect does not occur on my focus or really on the S either. Perhaps Im just fixated on it but Im sure Im not the only one, lol.

why do the same manufacturers that build devices for android with 32GB build devices for WP with 8 and 16GB? I'm dying to ditch my android for a wp device but what gives? Lame :(

I ordered through Amazon to take advantage of the 1 cent deal. They were back ordered until Dec 8, so I decided to find another way to get it sooner. AT&T website had it in stock, but they were charging me tax based on the full price of the phone and I had to wait for it in the mail. Went to the local mall, and was surprised to see a Windows phone kiosk and manned by 5-6 people on top of the escalator promoting windows phone. Finally some marketing effort from AT&T and Microsoft! As I was getting ready to buy the Titan from the AT&T store, I learned that the Microsoft store was selling the phone for free. Nada. Zip. No tax based on the phone's full price. Drove an hour to the MS store and wow...definitely worth it. The mall which the store was located in had Windows phone banners and posters everywhere. The store was crowded, there was a lot of MS products, computers, phones, and the employees were very helpful. The employees there didn't show any arrogance or smugness compared to a certain competitor's store. Was lucky and got the last Titan in the store. Walked away with the Titan without paying a dime. Phone is solid, well built, fast - definitely the best Windows phone I have used so far. And I have used the HTC HD7s, Dell Venue Pro, and HTC Arrive. Only quip I have is the 16gb of storage without any way to expand. The Dell Venue Pro I had possessed 32GB of storage.

About the gaming stutter, ElektroDragon in the forums says: "SOLVED! It was the SRS Enhancement for the audio. When turned on, both phones stutter like mad when in games! With it off, both are fine. Word of caution if you also have a Titan. Music SRS is the culprit. Video SRS seems fine... but might cause video stutter, who knows." Can more users confirm this?

I didn't notice the game stutter until playing Fruit Ninja where I had it several hangs on every game I played. I even exited the game made sure no background task was running and it continued when I went back in. I turned it off and it was resolved instantly no freezes at all. . So wanting to recreate the issue I turned it back on and I couldn't make it happen. I tried 5+ games exiting completely and trying it again with no luck.
So I think you are on to something. I am going to leave it on until I repro it again to make sure it wasn't a one time oddity for the graphic glitch. Once I see it comes back I'll leave it off and try to make it happen.
I really don't notice it changing the sound of the phone all that much really. So leaving it off isn't a big deal to me.




What is a good case for the Titan? Just got one and i absolutley love it so need to protect it! There do not seam to be many...at all

I have been using the Ecolife Hydro case that's sized for the HD7. My guess is that we're still a few weeks out from seeing cases sized and marketed for the Titan.

Does anyone get the bug where sound quality is dramatically affected when the search bitton is pressed and the bing mobile page loads? I'll be lisening to a zunecast and ill press the search button and the crisp audio quality will change to complete crap.

I ordered my HTC Titan, contract free, yesterday and cannot wait to finally play around with Windows Phone Mango!

Damn you WP7 because of your recommendation I have bought this phone.....any reviewer you says call quality is good on this phone need to retire from technical reviewer job, you got to be kidding me ....
Google "Terrible Call Quality" in google and first link will show up, HTC acknowledge issue but not ready to do anything about it...device has basic call quality issue, bluetooth implementation sucks, bad internmet access and several places where other phones are able to get signals Titan is not seeing signals, and this is when it claims to be 4G phone....Iphone 3gs was giving me much better and smooth experience in those areas....

Hotspot is another issue if you are using hotspot for an hour and then try to make a call, it wont call at all (phone is hot)
if you started hotspot surfing internet on laptop, then try making a call and laptop internet gets disconnected
I am using it from day 1 and got several complains about other person had issue hearing me....
You guys have mentioned none of that...I dont trust you anymore as no reviewer could have missed these glaring issues


Windows Central Newsletter
Get the best of Windows Central in in your inbox, every day!
Thank you for signing up to Windows Central. You will receive a verification email shortly.
There was a problem. Please refresh the page and try again.