AT&T Lumia 950 'Double tap to wake' firmware update available via WDRT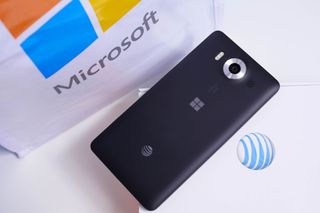 Owners of the AT&T version of the Lumia 950 can now download the 'Double tap to wake' firmware update via the Windows Device Recovery Tool.
As we have reported on before, the firmware update includes the return of "double tap to wake" to modern Windows 10 Mobile devices along with a fix for recurring Wi-Fi disconnections.
Download the Windows Device Recovery Tool (opens in new tab)
Here is the full changelog posted by Microsoft (opens in new tab):
Wi-Fi connectivity improvements, including fixes for Wi-Fi connection dropping randomly and Wi-Fi scan occasionally not returning any results.
Support for double tap to wake enabled.
Bluetooth connectivity improvements.
Stability and reliability improvements.
Camera improvements, including improved image and video quality, improved Auto-focus and fix for a problem that was causing slow motion capture to skip frames for some users.
Cellular connectivity improvements, including fix for a problem that caused occasional network loss for some users.
Audio quality improvements, including fix for a problem that caused voice call audio to get scrambled for some users.
It's worth mentioning that getting the firmware update via WDRT will also wipe your Lumia 950 down to its factory settings. It's very likely that AT&T will release the firmware via an over-the-air update in the coming days that will avoid this issue.
Thanks to dashrendar and the Windows Central forums for the tips!
Blerg! Just reset two days ago. Here we go again.

Better to be two days ago than two months ago.

In gonna get crazy. I'm gonna restore from a backup!

"let's go crazy, let's get nuts..."

THAT'S A LOT OF NUTS!!!!!! YOU WANT FRIES WITH THAT?????.....HE JUST LEFT......WITH NUTS!!!!!!!!

If I do this, do I have to change a setting somewhere to turn double-tap-to-wake on?

Yup, I believe it's in "Extras".

actually it is in both extras and personalization

Personalization is quite different from "personel settings".

I am Dutch, don't use Eglish.
Settings >> personel settings >> navigation

It's nowhere on the 650 :(

It's in 'Settings'>'Personalisation'>'Lock Screen'

Blah! Me too. Reset my wife's to get her out of fast ring. Will do it again today.

Does the 950 or 950xl have glance screen too?

Yes, but you can't have it turn off when charging. :( Why does MS remove features such as this?

Don't hold your breath. AT&T has only activated this on iPhones, not even their Androids have it.

I'm pretty sure many devices appeared when I filtered att website to only show ones with wifi calling.

I'm gonna wait. She's running smooth, currently.

Aaaaaaand I'm downloading the package....

My biggest issue is the wifi connectivity. The rest of it I can live without

I'll just wait...and wait...and wait...

Just do an iphone 7 review already. Im sure one of the writers are itching to

Yeahhh i know. Just that the lack of buzz around here is sad. I hope at least they will do a comparison article. Like X3 vs Iphone7

Well, if you think it's sad, please leave and go bore someone else with your iPhone7 crying.

Haven't you heard it's official... They are going to stop making lumia phones... It's over Posted via the Windows Central App for Android

Which really wasn't that big of a surprise. Don't know why you are bringing that up. Microsoft wants OEM's to build phones and oh.... look OEM's are building windows mobile phones! Surprise, surprise :)

Would've been better if there was at least one other big OEM with a W10 phone. HTC 10 would've been a nice fit with the name and all, or a Samsung model as well since they also did Windows phones before

True, and I certainly hope more OEMs (including big ones) continue to join and make Windows phones.

Yeah, but who do you consider big? Other than Samsung, everyone is struggling with Android as it is.

I can plug headphones in on my Lumia, and charge the battery, leaving the usb port free.

I can't wait for the ota update (yet I waited 2 months)!

it'll be another two months for the ota update

I feel it won't. It should soon since we know now at&t looked at it and confirmed it is ok to release. Im sure it won't be 2 more months. If it is, I wish I had an unlocked phone.

You don't need an unlocked phone to so this.

Unlocked phones get things faster cause at&t is slow with updates

Nice! Maybe now I will consider the AT&T version in my search for a Lumia 950.

I'll sell you mine. I have two red Mozo cases I'll throw in.

I read on at&t forums a while ago that it might be released ota on September 14, but im not gonna be 100% sure about that day. I hope its coming soon.

Finally! But I'll wait for the OTA update.

Be careful though, it looks like it might take you back to the TH2 OS, not AU.

In the article: "It's worth mentioning that getting the firmware update via WDRT will also wipe your Lumia 950 down to its factory settings".

Yes, but I mean it doesn't make any sense. Since AU is officially out in the Production ring, the WDRT should have the latest stable release. It might be worth waiting for that to happen (if it's in the plans).

It wipes my Lumia 640 back to windows phone 8.1 which was factory so it makes sense.

No firmware update for older Lumia phones, we all face that wifi issue!?

I didn't have wifi issues on my 920 running w10m, just my 950.

I've a Lumia 830 and the screen tearing issue is so annoying and many other defects and issues in this phone.

WiFi + Windows 10 = poor experience. At least on upgraded PCs. Slowly but sure, though, as new PCs are released "built for Windows 10" things should get better.

Being Friday, I doubt we'll see the OTA update before Monday.

So tempted but I don't wanna do all the extra work. But so tempted...

But I have real work to do! LOL

They should really make it so you can update your phone without restoring.

I agree, something has to be done about the upgrade process! It seems like any update i take without a hard reset runs like hot garbage....

I've updated about 25 times without hard resetting and my phone runs better now than it has since I got it.

Same here I just meant via the recovery tool. An option to update without a factory reset.

They have. It's called OTA. My unbranded unlocked 950XL gets its updates that way very nicely. So does my 950. It's just tied to when AT&T choses to release it.

Well obviously. I meant updating via the recovery tool but without restoring.

Bluetooth fixes...wait for it...
Will this solve the recurring Band 2 keyboard and Cortana issues finally??

Hopefully some unlocked 950 owners can answer that for you since they've had the update for a while now.

I have the XL and it seemed to me to have fixed those band issues, also fixed bluetooth disconnect issues I had (the issue was I was disconnected from a device but my phone thought I was still connected, only fix was a reboot of the phone) I was very happy for this firmware and my wife has been waiting for it for a while now, she never had the wifi issue but the cellular signal issue has been a constant problem for her 950

Have the 950XL and it fixed the Band 2 keyboard for me along with Cortana. So I would think this would fix the 950 as well.

Ugh. I would have liked to have the camera improvements for this weekend as I'll be taking a bunch of pictures. Oh well. Thanks at&t for being slow as usual.

Try pro shot. Did some side by side comparisons ans pro shot beats the native camera by a mile.

Wow, two months after general release, and it's still not OTA. Thank you, AT&T for comfirming the reason I will never buy a carrier phone ever again. :-)

Better than the 5 months 830 owners on AT&T had to wait for an update last year :)

Haha, Nutella. Nice Avatar

Better late than never though...like the 640XL.

Ugh, just release it already... Works just fine on my 950xl... No diff **whatsoever** between the two...

Now bring firmware to 1520 next thanks :-)

Dude I finally retired my 1520 three days ago for the 950; this device I'd a beast and I love being able to text via on hand. Of course I'm still hoping this is a place holder until a Surface phone is released or a super phone outside of the HP Elite X3 which is non-consumer facing.

When they say that it is "non-consumer", what does that mean outside of HP's marketing focus? It will do anything and run anything that any other Windows mobile device will.

Why is it older vesion of the OS?

Probably be casue it was actually release before the aniversary update. AT&T is dragging in releasing it.

So how should I play this? Backup>>WDRT for firmware update>>Set up as new device>>Grab the Anniversary update via OTA>>Factory reset and restore from backup?

Unless you're having issues, I would wait until AU is installed as part of WDRT.

WDRT to reset and get firmware, then try loading the backup. If problems, WDRT with fresh install. Sucks, but proper firmware is more important if one has time to burn.

That's the process I followed, except I opted to join the Release Preview (via Windows Insider app) before grabbing Anniversary Update OTA. Took a lot of patience, but worked great.

Need to put pressure on att to have wifi calling on 950

Where's the guy fist bumping the police officer? Very happy your finally getting your firmware. Been there!

I replaced my 920 the day AT&T dropped the price on the 950 and still try to double tap to wake. I ready for this update.

Firmware DOES have Double Tap to wake and it works. And it is on an older build. Got the AU update downloading now with the new firmware installed. Will factory reset again after update. Locked ATT Lumia 950 using WDRT.

FYI, the black ATT Lumia 950 is out of stock online, you can only get the white one. Once it is gone, the 950 will cease to be on the ATT website probably.

How does this affect the already sub par battery life of my 950 because my 920/1020 died quick with it on

taking the plunge right now. To restore from a backup or not to restore from backup. that is the question.....

Restore from backup check and see if everything run smooth if not don't restore

LOL! Are you KIDDING? AT&T isn't going to do SQUAT. They've historically been abysmal in support of Windows Phones, and I seriously doubt they are going to roll this update OTA for a platform that's about to be ended. It's just so adorable that you believe they might roll the update.

who said the platform is about to be ended?

Have you not been reading the articles about Microsoft preparing to END Lumias? Why would AT&T even bother after that...or even now, for that matter?

From a few blogs, no one reputable

HP will be quite disappointed to hear the platform is about to come to an end. :P Feel free to wait for your Droid OS updates when you switch over.

At&t and has supported windoes phone better than Verizon, T-Mo and sprint combined. Obviously they will release it, as this firmware has been in general release for two months and they have been testing it. Why spend that time resting and approving it, if they have no intention of releasing it? Please, use just a little bit if common sense. I know that's a rare thing now a days, but you'll look less like a ranting lunatic.

The life of an Insider: So many master resets and backups. But firmware updates are always worth it.

Just pulled the trigger. A minor hear attack when I was stuckin the bios screen with the arrows...turns out my computer had a corrupt firmware copy. Uninstalled WDRT and reinstalled. Solved. Gears churning 10586 installed...went for the backup restore...all apps updated and now going to 14393.67 Wish List item for MSFT- How about dump 10586 after WDR and moving to 14393.

Im in the release preview. Are we going to receive this update in this ring?

OTA update will soon be available I guess. But at this time we're not going to receive direct firmware update. You need the MDRT.

Firmware should be available OTA in the near future for all AT&T 950s regardless of the build you are running. I've always run insider builds on AT&T and still always received firmware updates when they are released OTA. No need to WDRT unless you want to start fresh or just have to have it now.

That depends on your carrier. Firmware updates are not part of the insider program.

I've been having problems since the anniv update so I'm not going to wait for the OTA. I'm going device recovery for new firmware > anniv upate > full reset. I don't think restoring from a backup is a good idea post anniv update or with the new firmware- seems to have been a lot of changes.