AT&T Nokia Lumia 900 is on the move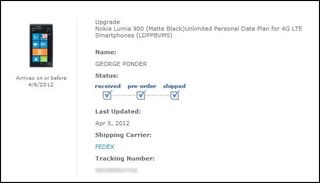 You can forget all the rumors that preorders for the Nokia Lumia 900 had sold out and the Windows Phone was on backorder. We are hearing that several pre-order customers are receiving shipping notifications on their Lumia 900. We even received our own notification from AT&T just a few minutes ago. I have a mental image of the FedEx loading docks being covered with pallets upon pallets of the Lumia C's.
I was late to the party, pre-ordering the Lumia 900 on April 2, 2012. According to the FedEx tracking information, the Lumia 900 will be at my doorstep tomorrow. There is always the possibility that some of the later orders on the Nokia Windows Phone might not get delivered tomorrow but AT&T Retail Stores are still expected to have plenty Lumia C's in stock on Monday, April 9, 2012.
So who else got their shipping notification today? If so, let us know in the comments and make mention of when you pre-ordered the Lumia 900. We've also got a WPCentral Forums discussion (opens in new tab) going on from those who have recieved their shipping notices.
Windows Central Newsletter
Get the best of Windows Central in in your inbox, every day!
George is the Reviews Editor at Windows Central, concentrating on Windows 10 PC and Mobile apps. He's been a supporter of the platform since the days of Windows CE and uses his current Windows 10 Mobile phone daily to keep up with life and enjoy a game during down time.
I guess my problem was ordering from a store. Mine still says "Processing" online and I ordered the morning of the 30th.
Just watch - AT&T will f* me over and I won't get the thing until middle of next week.

I ordered online on the 30th and show the same thing.

Ditto, this sucks and blows.

I also ordered from the store on the 30th and mine is still processing... It'll be complete bullshit if I don't get mine tomorrow.

Pretty sure you will. Just talked to somebody who dug around and found there was plenty of stock to send mine today as planned. They are shipping them all night so there are still lots to get to.

Expect a shipment today at SOME point.

Well, after several chat sessions, including one asking why my "shipping date", when it finally did have one, was 4/4/2012, my Lumia C is finally OFFICIALLY shipped and on it's way!

Same here. I "upgraded" from AT&T iPhone4 (paying full $99) at a company store at 2:45pm ET on 3/30 and still haven't received my tracking info. In fact, when I call the 866 number, it says they have no record of my having an order - eventhough I have a confirmation email and it shows on my order page on att.com. ::shrug::
I understand that this "ad-venture" between AT&T, Nokia and Microsoft is aimed at establishing Windows Phone 7 as a mainstream OS for phones and to do that they are focusing on grabbing new customers. HOWEVER, as a long time AT&T customer, I would hope to be treated with at least a little priority service.
Maybe it's time to start posting to social media sites?
On a positive note, I'm excited about the move to WP7 and am loving WPCentral and it's forums. :)


No way! You too? Why did you decide to jump ship? I am getting off the iPhone 4 express because of two reasons: I am tired of the boring static interface and I need a larger screen. I am not ditching Apple totally of course. I love my iPad and my iMac (which wp7 phones work great with. The Mac sync connector just got updated). I find out tomorrow if I made a good decision, in any case.

Same boat as you guys last Nov when I jumped ship. In 4 months you'll find out you didn't. If you loved apps before, you'll find it sorely lacking in WP. Don't let the talk of "most major apps are there" fool you. Yes several cross platform apps are there but their quality are shit compared to Android and iOS. They are mostly second rate ports. Let me know if the "refreshing" look becomes tiring. Besides the homepage and second layer, the straight edged design UI becomes dated, like 1980s when computer designers didn't know such things as radiused corners or the use if gradient coloring. In the fall when you're stuck with a 2 year phone with last years specs while others enjoy new Nokia and other hardware with modern specs (dual it quad core, hi-rez,etc) and WP8 you'll be asking if it was worth it. And come summer or fall when the new iPhone comes out with iOS 6 and larger screen, you'll def be asking if it was worth it. WP7 as it stands now is different yes, but becomes average with user experience as months wear in.

You will love WP it's totally different coming from Android and iPhone. No more Mr. Freeze and Mrs. Lag.

Welcome to WP world and We love WPCentral.

I didn't get any email notification or anything yet, but if I check my order status on the AT&T page, it says it shipped and gives a tracking number for my black one.
Of course, knowing Fedex they'll come at a time where I'll just barely miss them and have to wait until Monday anyway.

U can get one and use it on tmobile

Verizon. I want one... Any suggestions?

Only until T-mobile refarms their spectrum which is in progress

Yeah, in-store order for me on the 30th - still processing.

Lumia C? Help me out on this...

Right? Did I miss something??

Lumia C is the Chinese version.

How would he order the Chinese version from AT&T?

George, what method are you using to get the order info above? Is that the Premier website?

Yes. It was ordered through the Premiere site.

I went to the email they sent when i ordered phone and clicked on check status

I ordered online on the 30th and mine still says "Processing" but what is confusing me is why they are sending me a "micro SIM card for an Apple iPhone???"

Oh you messed up now you will get an iPhone instead of Lumia 900. JK! :-P

I ordered via Premier over the phone on the 30th before the online ordering was live. Still says processing for both the phone and my "replacement SIM for Apple iPad."

Lots of phones got preordered. They'll be updating shipping info for a while. I'm waiting to see my update come through as well.They promised if you ordered before yesterday that you'd have it tomorrow and they've been at this for a while so I have a little faith that they'll pull it off.

You are either an eternal optimist or have never had extensive dealings with AT&T :-)

I ordered online on 04/01 and FedEx states I will have it tomorrow by 3pm in California

One thing FedEx doesn't say is if a signature is required. Anyone know?

Signature is required but it's like most deliveries. If you get deliveries on a regular basis and know the delivery dude, sometimes they'll leave it.

Rogers canada - under Order Information: Shipping process has begun.

Well, it appears that only the consumers who placed their orders online are getting the shipments and tracking numbers, whereas, the customers who went early into a corporate store on 3/30 still have not received anything. It really sucks that AT&T is giving precedence to online orders even though I ordered mine in-store hours earlier than when it was available online =(

Actually before the pre-orders started, the word was if you ordered on line you might get your device a little earlier. That is why I ordered mine on line in the first place and I live 2 blocks from major AT&T branch.



Nope I ordered online and I have yet to see an update to my order status. Still shows processing.

ovrkast.
I noticed that too. but I think there might be a reason for it not showing up as shipped. If you ordered it in a store, then it might be being treated as part of a larger shipment of phones to a store. whereas the online ones are individual phones to a residence.
I also ordered from my store on the 30th. so my order also says the same as yours, and in order to pull up that order, I needed to put in the zip code of the store instead of my home address. which makes me think they're handling the 'store phones' slightly differently.
The way it was told to me was that "they" (the store) would give me a call when they received the phones. I just assume my phone will be a random one they pull out of thier stock as opposed to a phone that was earmarked especially for me.





I was specifically told at the store it would be shipped to my home. When I pull up order status, i am using my home zip code and the online status page "shipping address" is my home.

Also ordered in store and was told it would be shipped to my home (to be recieved tomorrow). However, there is no shipping address on my att.com order page. It just has my name in the Shipping Address Info box. My receipt shows to ship to my home address. Wonder if I should contact them?

I went through the Chat support and just had them verify my shipping address. Yep - home.

That's strange. I ordered mine in the store, and they gave me the choice of having it shipped to my home/billing address or to the store.
I picked the store as I will be in that general area on Friday afternoon, so its easier to stop in and take care of the setup


Update to my own post - since I posted this it's changed to 'shipped' with an ETA in the store by 3pm tomorrow. I'm gonna go in before Happy Hour and see if I can pick it up. then it truly will be HAPPY HOUR :)



How is the phone listed for you on the AT&T order status page?
Mine is listed as "NOKIA 900 BLU PHONE"

Good to know. The store rep that helped me wasn't entirely certain he had the right SKU!

I feel you xmarklive. T mobile let me down on this one! Sucks!!!!

I just checked mine and it said shipped and arriving tomorrow by 3PM. so everyone keep checking. Virginia Beach

Does it say whether a signature is required for delivery?

No, the FedEx site does not say if signature is required.

The guy from the store said Fedex DOES NOT ask for signature and would just leave the package there, so be prepared to stay home if you're worried.

Ordered mine 4/2 in store because couldn't get instant rebait online. Mine say, "pending shipment"

I am envious George I gave my daughter my upgrade about a month ago when her 3GS was dying and I was thinking that it might not be out until April 22 at the earliest and her upgrades not ripe until May 6, 2012 so I wait till then. UNLESS ATTT shiones on me because I'm a good Dad and gave her my upgrade (not holding my breath)

Still waiting for mine to ship. If you leave a note on your door to the deliviery person saying that they can leave the shipment on your porch and you take full responsibility, they will usually leave it. I've done that in the past with other shipments that require a signature. Or, you can leave a note directing them to a neighbor who you know will be home and they can sign for it. Either way should work.

Think you were late to the party? I just ordered mine last night. Thought that might push me to the back of the line but not so. Just got my shipment notification and will get it tomorrow! So jacked!
Hope everyone who preordered gets it tomorrow.
Happy page-refreshing!

Well, 5:00 P.M. CST and still no status change. It's funny though, seems we're all like a bunch of kids waiting for Santa. LOL

Congrats all you Lumia 900s future owners!

Could it be that they're shipping black first or that the blue handsets were more popular?

No, I pre ordered black early and they have not shipped mine either.

Another in store order with no ship date just processing :(

I placed mine online on the 31st...cyan version....i got the notification that it was. Shipped today and will get it tomorrow :-)

I just chatted with customer service. They are insisting that pre-orders are shipping today. They also said it was happening on a first-come, first-serve basis. Which is, of course, complete BS given the number of people that ordered in the last day or so and are apparently already getting shipping notices via email.

After several hours on March 29th trying to explain to ATT customer service that I had not used my upgrade 2 weeks prior when switching to T-Mobile, I was dropped 3 times during transfers.

I drove 3 hours (San Jose to Sacramento) while on hold with zero success. Pulled into an ATT store while on the phone and then finally went inside upset. They told me the only option to upgrade was to come back the next day on March 30th. I did and spent 30 minutes upgrading. My order is still "In Processing". If I dont get a shipment notification today and a phone tomorrow I will cancel the upgrade. What a joke this rollout has been simply to upgrade from my 800.
Now I see the reviews and they messed up the 800's smooth glass design. Sounds like I need to cancel and go to the Titan 2 or possibly revert back to my Galaxy Note although I promised I was staying with Windows for good. This simply shows how Apple does get some things right. Give someone the device while they are excieted about it!

Pre-orders didn't start until the 30th. What made you think you would be able to do it a day early?

How much you want for your 800?

Dude chill out...don't hate, meditate =P

Why the hell would you cancel your order and goto Android because of this? Idiot!

how does the author have an unlimited lte data plan? i am holding onto my euro titan because i thought there are no l
onger unlimited data plans?

He was likely an unlimited plan holder...they didn't strip anyone of that plan. Just stopped offering to people that don't have it. I experienced that with the ZunePass where I get 10 song credits a month. Love it! Hate it when I forget to use them though!

att.com/orderstatus site down for maintenance, redirecting to home page..... Apparently we crashed it lol

Cyan 900
Shipped. Listed as having already been picked up by FedEx. ETA at Home Address by 4:30pm tomorrow

Crazy = Everytime one of you posts your order has shipped, it makes me more angry. Yet I cannot stop pushing refresh! Grrrrrrrrr

Don't loose sleep over it, meditate about it. ha ha ha

I didn't get an email but I just checked order status, and I am shipped and getting delivery at home tomorrow by 3 pm! I am very excited!


Mine just shipped. It doesn't show up on the "Premier" page. I had to go to att.com/orderstatus to finally see that it shipped.

Have to wait till April 22nd to place my order since some of family members wants white and some wants black.

therefore I missed an option to get the phone for free and now have to wait like 2 more weeks till I get my Lumia 900.

I really can't wait anymore and that shipping confirmation picture up there really doesn't help with waiting...

Mine shows as shipped, but I did not get an e-mail. FedEx says it will be delivered by 3 pm. Gonna leave a note on the door just in case signature is required.
I ordered a black 900 online, the store couldn't order it for me.

Edit: I just got a shipment notification e-mail from AT&T. It states that I use the SIM from my old phone (Samsung Focus) in my new phone. I thought the 900 has a different SIM for LTE?

Seriously lame. I ordered my cyan Lumia on 3/30, and have yet to see a shipping confirmation. Yet people who placed orders on 4/2-4/4 are getting confirmations.

If I had known this, I would not have bothered pre-ordering in the first place. My job is super close to the AT&T store - I should've waited to get the phone there on release day apparently.

Edit: Shipping conf. came around 9:15. My guess is the in store orders were simply processed after the online ones. Not the fairest way, but in the end we all get them at the same time. So I take back my prior complaints - they did pull through and ship mine tonight as well.

I ordered at the store on Sunday, 4/1. No email, but checked link on order and shows tracking number. Clicking the tracking # shows my black 900 is in route for delivery tomorrow. BTW, it shows a "Various SIM card", also.

And on the unlimited data plan, I have had an unlimited plan that dates back to the early 2000s with the PDA plan (using WinMo). The guy told me I HAD to change my plan because I was going from 3G to LTE. I also had to pay $50 for the 5GB plan as he told me that's the plan you HAVE to have to 'hot spot' with your phone ... internet sharing is not allowed/supported with the 3GB plan.

Anyone else get this schpeel or did I get bamboozled?

You don't have to give up your unlimited to get LTE. They just want you to pay more for data. But if you already have a tiered data plan, you unfortunately DO need the 5gb plan if you want to tether.

I had to give up my unlimited iPhone plan when I moved to the lumia, but they're still charging me the same for unlimited LTE, so I figure its a wash .. unless they've bait-and-switched me ..
I added the unlimited text too at the same time.. the 200 per month just wasn't cutting it anymore - thats one advantage the iDevices have - they can automagically switch to imessage if I am near wi-fi ... most of my texting pals are iphone users
Truly, this is the only downside of switching to Windows phone, that I have found thus far.



The store rep told me it was an additional $5 to go from 3GB to 5GB for tethering. Sounds like you're getting bamboozled.

I am thinking Premier orders are shipping first. Another thought..are east coast orders going out first?

I am premier and also an AT&T business partner with discounts. Ordered at noon on 3/30 from California. - no ship yet

Well, there's been a change on the order status page for my order!
It now says my phone will ship...wait for it...4/4/2012. (and it still says PROCESSING).
#fail

Ordered mine over the phone through the Premier site on 4/4 and got my shipping notice today.

Oops! My bad--I ordered 4/3.

Ordered online. Arriving Friday!

Does anyone know if you ordred via Wal-Mart, if they will ship early?

I hope I get mine, but I am starting to wonder. I live in Hawaii, and I ordered at a Store on the 30th, at about 6 pm EST (noon Hawaii time), and I am a premier customer.
My order status page still says Backordered.

Ordered mine at store on 3/30 will be here tomorrow by 4:30

Just got my shipping notice, I ordered slightly before it was supposed to go on sale online. I paid the 99, Att order phone support said that the people that paid zero happend by accident and their orders were being reviewed, whatever that means...

Just received my notice of shipping info. ~San Francisco

Ordered in store 3/30 will arrive tomorrow

i placed my order on Amazon: still shows item not shipped ETA 4-12 to 4-16
????? anyone else ordered on Amazon. im in Atlanta GA
here is the info from the Amazon page........ Shipping Estimate: Apr 9, 2012 Delivery Estimate: Apr 12, 2012 - Apr 16, 2012
dm

Rogers Canada - shipped! Although I wanted Cyan more

Just got my shipment email :-D

However, i called 1-866-391-0749 and entered my WIRELESS number for my order and it stated that my order has been processed and is in the warehouse to be shipped and i should get an email soon.
i called this number and got a tracking number from fed ex !!!!!!!!!!!!!!!



I was worried about mine since it was shipped out of fort worth but looks like it has left that area. Ordered mine on 4/2.


Checking both the Premier page and AT&T's "My Orders" page and neither one indicate having shipped. This waiting sucks, big time.

I just got my notification. My Lumia 900 will be here tomorrow! I also got the bumper for it. I cannot wait!

Only reason I'm obsessing is because I'm paying full retail for 2 phones and as of yet, no update on the shipping. So, if they don't come tomorrow AT&T can say goodbye to $900.00+ dollars. I'll just get them at the Microsoft store on the 9th.
EDIT: Just checked my credit card and it has been charged, so am assuming that means they have shipped. At least I hope that's what it means. LOL

I am with you. Paid full retail for one on 3/30 online, have a Premier account and I am still in process. Will be plenty ticked if it does not arrive tomorrow.

just got my shipping confirmation!
Very excited - first smartphone
Now I can stop reading forums packed with Android/Iphone Fanboy haters and enjoy my phone!
By the time my contract is up, Wp8 will be well established and I am sure there will be some great options. For now I will enjoy what I have.

Both of my cyan Lumia 900 phones have shipped! Will arrive by 3pm on 4/6!!!

I ordered in-store on the 30th, the cyan, and just got tracking info emailed to me at ~7:40 PM CDT. My package was "picked up" around 6:45 PM CDT, AT&T, through their automated order status number, said by 8:00 PM on the 6th would my package arrive, FedEx actually says 3:00 PM.

Ordered mine 4/4 and just got the shipped notice. It will be here tomorrow before 3pm. I'm so freaking excited! I hope it doesn't dissappoint.

Just checked my email and @ 9:15pm at&t says my Lumia will be in my hands tomorrow @ 3 pm... We will see... =P

Still no notification (email or text) but I checked status myself and got a tracking number. My Lumia has left the Fort Worth fexEx facility. Delivery scheduled for 4/6/12, by 3:00pm.
Ordered in store (corporate store) on Sunday afternoon. Having it delivered to the store, so it might actually get there a little early. My rep will text me when it arrives. I work less than five minutes away. Will be on standby.

I ordered the black Lumia 900 on 3/30/12 but I'm thinking of swapping it out for the cyan version Monday. I received my shipped email today showing a FedEx delivery for tomorrow.

Instead of stressing and worrying like all you guys I'm going to walk into the store Monday afternoon and walk out with a Lumia 900. And no, my life won't end because I waited til the 9th instead of the 6th lol!!

The sanest post I've read yet, no offense to the rest of you guys and gals, lol.

Pre-ordered online on the 30th and I received my shipped confirmation email and tracking number. I'll be busy all day tomorrow so I won't get to play with my new phone until Saturday.

First come first serve is b.s. Cause I order the lumia 900 c on 4/30/2012 around 9:30 I'm 1000% sure that I was the at my store and just got confirmation tonight at 10pm it'll be in at 3pm

I received the email from FedEx that my order was shipped and that tomorrow by 4:30 approximately my Nokia Lumia 900 will be at my home.

I have also received shipping information with arrival on April 6 by 3PM. Yeah Baby!

Their status site is down

Pre-ordered on the 4th and it is getting deliverd today. Hopefully I am home, becuase I can't wait!

Ordered mine on website on Sunday, 4/2. Arrived at my house at 10:30 this morning. Will set it up this evening.

Mine was delivered 20 minutes ago. Charging up and waiting on AT&T device activation. This is a beauty!!!!

Mine finally shipped..ordered ATT web sight.upgrade..last night..shipped, will b here Monday.. Oh well about today or tomorrow..all I know is she is on the way!!!
Windows Central Newsletter
Thank you for signing up to Windows Central. You will receive a verification email shortly.
There was a problem. Please refresh the page and try again.